This website uses cookies to ensure you get the best experience while browsing it. By clicking 'Got It' you're accepting these terms.
Ted Glick: It's Time to Stop FERC's Rubber Stamping of Fracking Infrastructure Projects
May. 18, 2015 09:52AM EST
Energy

"If someone is upset with fracking, they should probably talk to the states." —Norman Bay, Chairman of the Federal Energy Regulatory Commission (FERC), May 14, 2015
Why protest? Why demonstrate? Why nonviolent direct action? Part of the reason is to put pressure on those in power to smoke them out, to get them to say things publicly they might otherwise not say, to expose the truth about how and why things are working the way they are.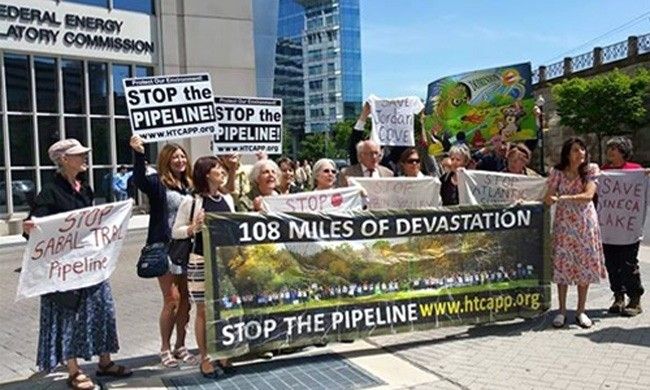 FERC has more to do with fracking than any other federal agency, and much more than any one state. They approve interstate pipelines to carry fracked gas, compressor stations to push the gas along, storage terminals to store it and, for the last two years, export terminals to ship it around the world. Without this infrastructure, fracking wouldn't be happening.
Norman Bay is not stupid. He knows this. And yet, because FERC has been a target of nonviolent direct action for more than 10 months, organized by Beyond Extreme Energy (BXE), and because BXE is planning a return to FERC from May 21-29, he has been thrown off, saying and doing things that have not been helpful to resolve "the situation" they are now in.
Bay made this ridiculous statement on the day that FERC had its monthly public meeting. But it was not held on the regular third Thursday of the month that it has been held for years and years. Bay and his fellow FERC Commissioners canceled it because of a disingenuous concern, they said, for "the safety of FERC staff and the public" in the face of BXE's publicly-announced plans to take nonviolent action at FERC on that day.
To add insult to injury, on May 14, the day that this meeting was rescheduled, dozens of members of the public were kept from the room where the "public" meeting was held, six were detained by Federal Protective Services police and three were arrested.
I was contacted by a reporter after this action, wanting to know why BXE was engaged in this campaign, where it came from. I proceeded to explain to him that it had emerged out of years of experience by lots of grassroots people trying to get a fair hearing from FERC concerning pipelines, compressors and storage and export terminals being proposed for their communities. These are people who played by FERC's rules, going to the one public meeting attended by FERC staff to learn about the proposed project, becoming an official "intervenor," presenting well-researched arguments against proposed infrastructure projects, filing large numbers of comments with FERC, appealing a FERC decision within the FERC administrative process and the results were always the same: FERC approval of what the gas industry wanted.
Many of us who had never heard of FERC, now understand that it is a rubber stamp for the fossil fuel industry.
A month ago a story, Employees negotiate for industry jobs under agency's eye, published by E&E's Greenwire and written by Hannah Northey and Kevin Bogardus, reported on the corrupt, internal FERC culture which explains FERC's rubber-stamping ways:
"Employees at the Federal Energy Regulatory Commission have deep ties to the industry they regulate, according to agency documents detailing their job negotiations and stock holdings.
"Ethics records throughout 2014 show agency staff seeking employment with grid operators, law firms and utilities that the agency has jurisdiction over and often meets with as it sets new orders and rules. In addition, FERC employees have held stock in or remain part of pension plans from companies that can be affected by the agency's work. Greenwire obtained the 88 ethics documents under the Freedom of Information Act.
"The disclosures reflect how FERC, which oversees the interstate transmission of electricity and permitting of gas infrastructure, is regulating an industry that many of its staffers are well-suited for and often courted to work in."
This corruption, this washing of hands of any responsibility for the massive harms of fracking and its threat to the climate, is why hundreds of people are planning to participate over the course of BXE's May 21-29 Stop the #FERCus actions. FERC is rattled. It's time to ratchet up the pressure.
YOU MIGHT ALSO LIKE
Koch Brothers Claim Another State in War on Renewables
Victory! University of Washington Divests from Coal
EcoWatch Daily Newsletter
Variety of fermented food korean traditional kimchi cabbage and radish salad. white and red sauerkraut in ceramic plates over grey spotted background. Natasha Breen / REDA&CO / Universal Images Group / Getty Image
Even if you've never taken probiotics, you've probably heard of them.
These supplements provide numerous benefits because they contain live microorganisms, such as bacteria or yeast, which support the healthy bacteria in your gut (1, 2, 3, 4).
Pexels
Singapore will become the first country in the world to place a ban on advertisements for carbonated drinks and juices with high sugar contents, its health ministry announced last week. The law is intended to curb sugar consumption since the country has some of the world's highest diabetes rates per capita, as Reuters reported.
A typical adult takes around 20,000 breaths per day. If you live in a megacity like Beijing, with many of those lungfuls you're likely to inhale a noxious mixture of chemicals and pollutants.
Fred Stone holds his brown swiss cow Lida Rose at his Arundel dairy farm on March 18 after a press conference where he spoke about PFAS chemical contamination in his fields. Gregory Rec / Portland Portland Press Herald via Getty Images
By Susan Cosier
First there was Fred Stone, the third-generation dairy farmer in Maine who discovered that the milk from his cows contained harmful chemicals. Then came Art Schaap, a second-generation dairy farmer in New Mexico, who had to dump 15,000 gallons of contaminated milk a day.
Protesters attend the 32nd annual Fur-Free Friday demonstration on Nov. 23, 2018 in Beverly Hills, California. Ella DeGea / Getty Images
California Governor Gavin Newsom signed into law a bill that that bans the sale and manufacture of fur products in the state. The fur ban, which he signed into law on Saturday, prohibits Californians from selling or making clothing, shoes or handbags with fur starting in 2023, according to the AP.
By Simon Evans
During the three months of July, August and September, renewables generated an estimated total of 29.5 terawatt hours (TWh), compared with just 29.1TWh from fossil fuels, the analysis shows.
A demonstrator waves an Ecuadorian flag during protests against the end of subsidies to gasoline and diesel on Oct. 9 in Quito, Ecuador. Jorge Ivan Castaneira Jaramillo / Getty Images
Protesters block the road outside Mansion House in London during an XR climate change protest. Gareth Fuller / PA Images via Getty Images