This website uses cookies to ensure you get the best experience while browsing it. By clicking 'Got It' you're accepting these terms.
Tar Sands Blockade Continues Against Keystone XL
Sep. 26, 2012 08:17PM EST
Energy

Watching from a distance is hard. I'm on the move setting up our big roadshow assault on the fossil fuel industry, but the real action is in Texas, where a growing number of blockaders are trying to shut down work on the southern section of the Keystone Pipeline—and where TransCanada, according to the people at the Tar Sands Blockade, is turning more than a little sadistic.
Here's the story from this morning, as it's been emerging from a flurry of emails and tweets. (No video—police aren't letting journalists or observers near the site). There are eight—no, now nine—people in makeshift tree houses in a grove of forest that TransCanada needs to obliterate to push their pipeline through. It's on private land that was taken with threat of eminent domain, a tactic that the company has used repeatedly to bully landowners from Nebraska to Texas, but despite the protests of everyone from Sierra Clubbers to Tea Partiers, TransCanada is going ahead full bore with construction.
Until this morning when, in an effort to protect those tree-sitters, two other protesters locked themselves (one arm each) to the logging equipment. This slowed operations and it angered the police.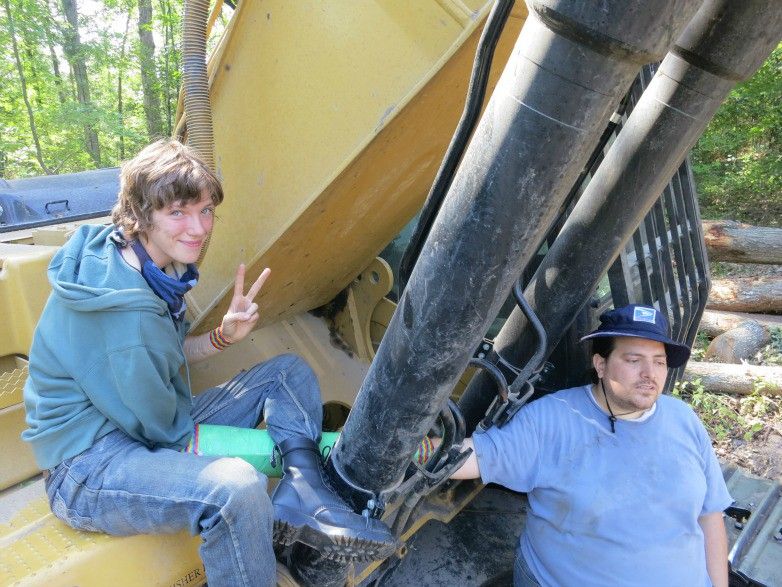 Shannon Beebe and Benjamin Franklin from Texas are locked to Keystone XL construction machinery protesting the pipeline.
Here's how organizers of the protest described what happened next:
A plain-clothes police officer was among the aggressive officers to implement torture tactics. He put [Benjamin] Franklin in a chokehold cutting off his breathing, and bent him over backwards in an attempt to make him pass out. Franklin reports difficulty swallowing because of bruises sustained to his esophagus.
The most physically aggressive was the ranking officer, a Lieutenant with the Wood County Sheriff Department under the observation of TransCanada employees. He twisted and contorted the tube that [Shannon] Bebe and Franklin had locked their arms into, cutting off circulation to their hands and cutting abrasions into their hands and forearms.
Franklin and Bebe then describe pepper spray as the most painful part of their ordeal. Police sprayed into their lockdown tube, and the chemicals burned their already-open wounds.
Fortunately they were able to make it through their mutual torture by intimating personal reassurances to each other. Franklin and Bebe say they were able to endure the pain knowing that they were in it together. Despite the immense pain our brave blockaders remained locked to the machinery for several hours - determined to stop this toxic tar sands pipeline.
After the pepper spray didn't work the police again conferred with TransCanada employees before sending someone back to the police car to bring a taser. Franklin and Bebe were each tased for one second. Then Franklin was tased for 5 entire seconds. He described the pain as immense and almost physically unbearable.
Afterwards, John, the senior TransCanada supervisor openly congratulated the aggressive Sheriffs Department Lieutenant on a "job well done." To which the Lieutenant replied: "if this happens again we'll just skip to using pepper spray and tasing in the first 10 minutes."
This is obviously a lot harder than what any of us underwent in the civil disobedience outside the White House last fall that delayed the northern section of the pipeline a year. In fact, it's hard to imagine—handcuffing someone and then tasering them? (And on a day when the University of California was forced to pay $1 million to the peaceful protesters they pepper-sprayed at UC Davis last year).
But given all the ways that Transcanada has bent the facts and warped our political system in their pursuit of tarsands profit, it maybe stands to reason they're willing to twist arms too.
P.S. If you want to support the protestors down in Texas, they've got info about how to help out here. 
Visit EcoWatch's KEYSTONE XL page for more related news on this topic.
EcoWatch Daily Newsletter
Artist's conception of solar islands in the open ocean. PNAS
Millions of solar panels clustered together to form an island could convert carbon dioxide in seawater into methanol, which can fuel airplanes and trucks, according to new research from Norway and Switzerland and published in the Proceedings of the National Academy of Sciences journal, PNAS, as NBC News reported. The floating islands could drastically reduce greenhouse gas emissions and dependence on fossil fuels.
Marcos Alves / Moment Open / Getty Images
More than 40 percent of insects could go extinct globally in the next few decades. So why did the U.S. Environmental Protection Agency (EPA) last week ok the 'emergency' use of the bee-killing pesticide sulfoxaflor on 13.9 million acres?
EcoWatch teamed up with Center for Biological Diversity via EcoWatch Live on Facebook to find out why. Environmental Health Director and Senior Attorney Lori Ann Burd explained how there is a loophole in the The Federal Insecticide, Fungicide, and Rodenticide Act under section 18, "that allows for entities and states to request emergency exemptions to spraying pesticides where they otherwise wouldn't be allowed to spray."
Simple swaps that cut down on kitchen trash.
Sponsored
By Kayla Robbins
Along with the bathroom, the kitchen is one of the most daunting areas to try and make zero waste.
View of downtown Miami, Florida from Hobie Island on Feb. 2, 2019.
Michael Muraz / Flickr
The Democratic candidates for president descended upon Miami for a two-night debate on Wednesday and Thursday. Any candidate hoping to carry the state will have to make the climate crisis central to their campaign, as The New York Times reported.
By Sharon Kelly
On Monday, the Wall Street Journal featured a profile of Scott Sheffield, CEO of Pioneer Natural Resources, whose company is known among investors for its emphasis on drawing oil and gas from the Permian basin in Texas using horizontal drilling and hydraulic fracturing, or fracking.
Pexels
By Craig K. Chandler
The federal government has available to it, should it choose to use them, a wide range of potential climate change management tools, going well beyond the traditional pollution control regulatory options. And, in some cases (not all), without new legislative authorization.
Denis Poroy / Getty Images
By Dan Gray
Processed foods, in their many delicious forms, are an American favorite.
But new research shows that despite increasing evidence on just how unhealthy processed foods are, Americans have continued to eat the products at the same rate.
By Sarah Steffen
With a profound understanding of their environmental surroundings, indigenous communities around the world are often cited as being pivotal to tackling climate change.