This website uses cookies to ensure you get the best experience while browsing it. By clicking 'Got It' you're accepting these terms.


The best of EcoWatch, right in your inbox. Sign up for our email newsletter!
Over the last year, no area of sustainability has drawn as much interest from students in Columbia University's Sustainability Management graduate program than the environmental performance of the fashion industry. One of these students is Kwesi Blair, who has, himself, worked in the retail of fashion for a decade, and who has experienced, firsthand, the need for sustainability management in that industry. In this interview, Blair, discusses the integration of sustainability into the fashion industry. The M.S. in Sustainability Management program, says Blair, "has given me the tools to help integrate sustainable practices across all business units."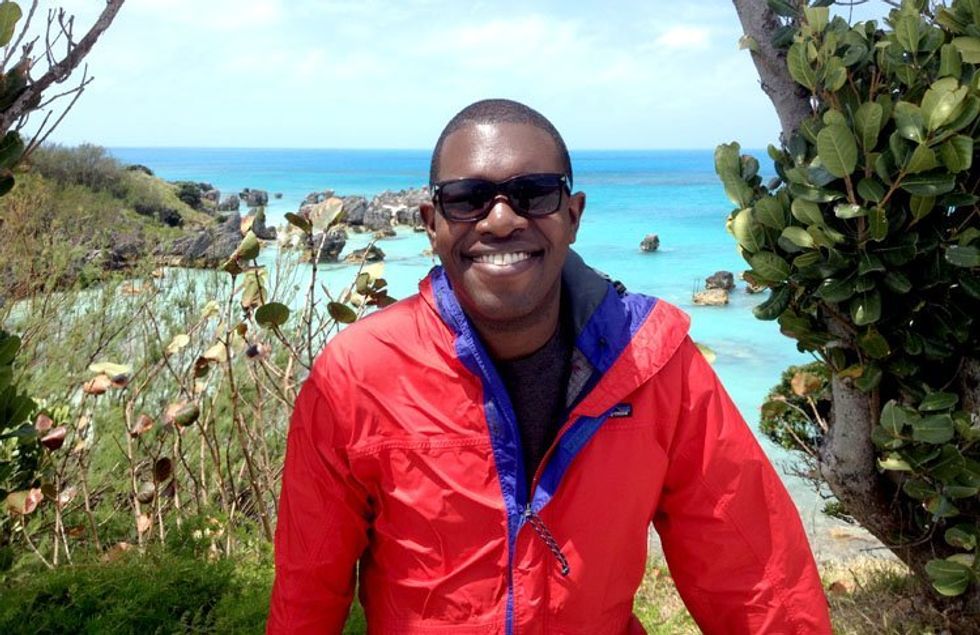 1. What is your current job and what are the responsibilities associated with your position?
I am Senior Vice President of Strategy at Robert Burke Associates. I am tasked with developing solutions for how brands and retailers think through growth, positioning, consumer engagement and relevance. I travel often to cities all over the world to assess opportunities for brands, and determine optimal strategies for entering new markets. I also regularly advise investors who want to understand whether or not certain brands and retailers are viable investment targets.
2. What have you found in your field that needs to improve and how do you intend to do so once you achieve your degree?
I have worked in fashion and retail developing strategy for over a decade, and continue to be disappointed and concerned by the lack of awareness or action within the industry around sustainability. I would like to use my degree to help brands navigate realistic sustainable goals that will ultimately improve their businesses, while taking responsibility for their environmental and social impacts.
3. What do you think is the most important sustainability challenge?
I believe the most important challenge is clearly communicating what sustainability means and getting people to understand why it's critical from a business perspective.
4. How have you applied what you've learned in the program so far?
I was able to introduce the GRI framework to a client and help them develop a materiality matrix for defining what issues relating to sustainability were most important to the company. This served as the foundation for the company to develop a sustainability report and establish clear, measurable goals.
5. What do you think is the most beneficial aspect of the MSSM program related to your career?
I think the program has given me the tools to help integrate sustainable practices across all business units in the retail industry. I often interact with a variety of teams who work in silos (design, marketing, logistics, finance, etc.) and rarely communicate with each other. I have a better sense of how best to create a realistic sustainability plan that can be applied to an entire organization, and identify where to generate the most impact. I feel comfortable discussing the value of having a sustainability strategy within the context of dollars and cents, which is what all business leaders ultimately care about.
6. Beyond the classroom, what extracurricular sustainability related have you engaged in with your fellow sustainability management students?
I've enjoyed going to a few happy hours outside of classes. The students in our program come from so many backgrounds and places around the world, and everyone is eager to share what they know. I've found that most students are very generous with making connections to people who might be able to offer some professional guidance or insight. It's a very welcoming environment.
7. What is your favorite class in the MSSM program so far and why?
Having the experience to work on a real problem with my fellow students was extremely valuable, having the opportunity to travel to Butte, Montana, in Lynnette Widder's Responsiveness and Resiliency in the Built Environment class was great preparation for Capstone. Also I got to spend more quality time with a few of my classmates.
8. What tips do you have for your fellow students who are looking for a job in sustainability?
Every person that you meet in the program is a possible resource or connection. Ask questions and learn about what people do and who they might know. Also, the professors and lecturers are very committed to helping students, so don't be shy about asking them about tapping into their network.
9. How has collaborating with your fellow students in projects in the classroom benefited you professionally and personally?
It's been really valuable to work with people who have a completely different frame of reference and skill set than me. The idea of sustainability touches on so many parts of an organization, so it's been really good to better understand how different professionals approach issues and solve problems. I feel confident that I can effectively communicate with CEO's, architects, scientists, investors, engineers, marketers and everyone in between.
The M.S. in Sustainability Management, co-sponsored by the Earth Institute and Columbia's School of Professional Studies, trains students to tackle complex and pressing environmental and managerial challenges. The program requires the successful completion of 36 credit points. Those credit points are divided among five comprehensive content areas: integrative sustainability management, economics and quantitative analysis, the physical dimensions of sustainability, the public policy environment of sustainability management, and general and financial management. Visit our website to learn more.
YOU MIGHT ALSO LIKE
Earth Institute Student Transforms Passion Into Action
Sustainability Management in Practice: Student Work Helps Establish Conservation Act in Palau
Earth Institute Students Help an Urban Farm Rethink Its Future
Turning passion for the environment into action that transforms how organizations do business requires skills and training. Columbia University's graduate program in Sustainability Management prepares students to change organizations in this way, graduating students like James Ossman of Etsy. In this interview, Ossman answers questions about how he integrates sustainability across the firm's global operations.
James Ossman, global operations manager at Etsy
What are the responsibilities associated with your position?
I'm the global operations manager at Etsy, which is a marketplace where people around the world connect, both online and offline, to make, sell and buy unique goods. In this role, I'm responsible for internal operations at our nine global offices. I design and oversee our strategy for facilities management, health, safety and security, and I also partner with departments throughout the company to help implement their programs at our international locations. This includes things like our food program that features locally sourced lunches (called Eatsy), our community-based partnerships and employee volunteering programs, our team celebrations, and more.
On a day-to-day basis I spend a lot of time managing the global team that makes our offices creative, weird, sustainable and fun places to work. I also develop policies, tools, and systems that support Etsy's rapidly scaling physical presence and employee population.
I also wear a second hat at Etsy, serving as the co-leader of our Zero Waste task force. In this capacity I'm responsible for our efforts to increase the rate of waste diverted from landfill, and reducing the overall quantity of waste we produce.
Do your current job responsibilities align with the professional goals that you originally had when you began the MSSM program?
When I enrolled in the MSSM program, I didn't have a clear idea of what I wanted to get out of it. I knew I was looking for a career transition into the private sector, and that I was interested in working for companies that have a business model that promotes sustainability.
At some point along the way, I started to focus in on B-Corps, and the idea of working for a company that really embeds sustainability in the fabric of its DNA. I didn't want to be part of a sustainability department in a company where I would be fighting an uphill battle to convince other departments of the value of sustainable approaches, but rather, to do the job function that I know and love (operations) in a company that demands I take a sustainable approach to my work. My job at Etsy really achieves that goal 100 percent.
What inspired you to work in sustainability?
My professional life provides a huge amount of personal fulfillment for me, and because of this I really put my heart into whatever I'm doing. I need to feel connected to the mission and values I'm promoting through my work in order to stay motivated. It's also important that I can feel and see my impact. Working in sustainability keeps me connected to the environment around me and allows me to create and contribute to the world that I want to be a part of.
What has been your biggest challenge associated with sustainability?
I would say that my biggest challenge related to sustainability has been prioritizing where I focus my energy. Etsy is all about building for the long term, and I'm trying to instill that value into my approach to sustainable operations. I have had to resist the urge to jump into more glamorous sustainability initiatives, because it's most important that I build a solid base of systems and processes that set us up for success down the road.
What has been your biggest accomplishment associated with sustainability?
When I started in this role, Etsy was already doing amazing things to reduce its waste and increase its diversion to landfill. This year we took the next step and established formal sustainability goals that we will be publicly announcing. I led the effort around our waste reduction targets. It was great to be able to pull together all of our awesome work to build sustainable systems and engage employees under a single strategy. Now with a clear target in sight, I've been able to focus our efforts to set us on a path to achieving our goal.
What skills has the MSSM program taught you that you think have proven useful to your current position?
I've used a lot of the analytical skills, such as cost benefit analysis and accounting, in my current role. I also have applied many skills gained through my capstone project developing a zero waste strategy for a municipality in upstate New York.
What was your favorite class?
I approached the program looking to leave with a new tool kit of hard skills. GHG reporting, cost benefit analysis, decision models, GIS and others all helped me to achieve this, and were classes I really enjoyed.
How do you intend to utilize your degree in furthering your career?
At the moment, I'm feeling quite settled in how the MSSM program has helped to advance my career. It's great to know though, that I always have a network and the skills I gained in the program to fall back on when I'm ready for my next step.
What tips do you have for your fellow students who are looking for a job in sustainability?
Think beyond jobs with the word sustainability in the title. There are lots of companies out there modeled around sustainable products and services, or that hold sustainability as a core value. In companies like this, you can work in any role and sustainability will be a major part of what you do.
What do you think is the most beneficial aspect of the MSSM program with regard to your career?
I walked away from the program feeling more confident in my analytical skills, and well-versed in the science, theory and language of sustainability. For me, this has been the difference between being interested in and passionate about sustainability, and being able to lead sustainability initiatives with authority.
The M.S. in Sustainability Management, co-sponsored by the Earth Institute and Columbia's School of Professional Studies, trains students to tackle complex and pressing environmental and managerial challenges. The program requires the successful completion of 36 credit points. Those credit points are divided among five comprehensive content areas: integrative sustainability management, economics and quantitative analysis, the physical dimensions of sustainability, the public policy environment of sustainability management, and general and financial management. Visit our website to learn more.
YOU MIGHT ALSO LIKE
Sustainability Management in Practice: Student Work Helps Establish Conservation Act in Palau
Earth Institute Students Help an Urban Farm Rethink Its Future
2015 Was Record-Breaking Year for Investment in Renewable Energy
EcoWatch Daily Newsletter
In the beginning of 2015, David Prieto went off to Palau to study manta rays as part of his study of sustainability management at Columbia University. By the end of that year, the small island state in the western Pacific Ocean had used Prieto's work to pass a new law that protected manta rays from the growing traffic of boats that promise tourists a close-up experience with the majestic fish.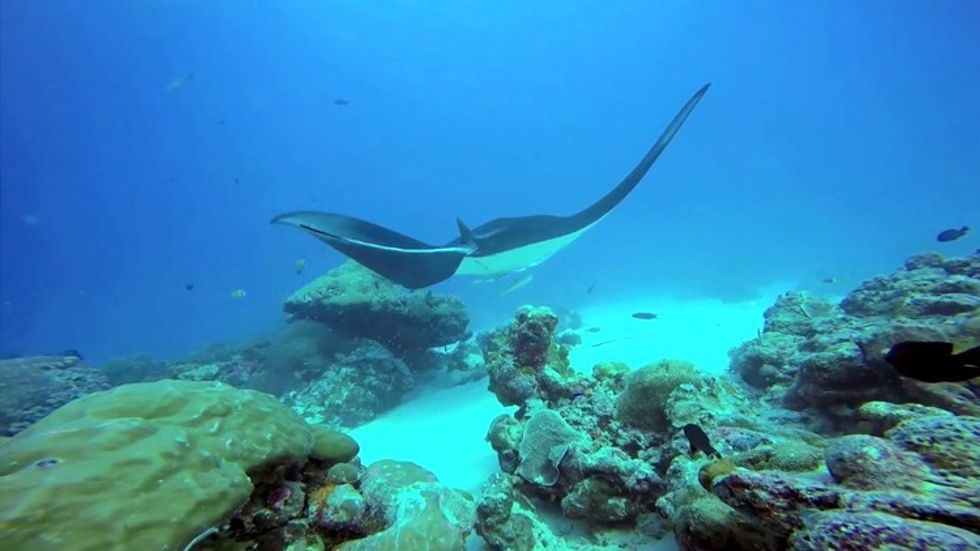 The Manta Ray Conservation Act of the Republic of Palau helped to create the sixth largest marine sanctuary in the world. The area spans the German Channel, a key maritime route, and the only direct passage from the tourist center in Koror to the most popular manta ray watching sites in the country. With tourism growing more than threefold since 2000, boats have increasingly injured manta rays in the German Channel. Manta ray watching tourism contributes more than U.S. $6.8 million annually to the economy, or about 2.5 percent of GDP.
Prieto worked with The Manta Trust, a nongovernmental organization, to develop sustainable tourism management practices. The study involved understanding the effects of boats on manta rays, accounting for the perceptions of tourist boat operators and divers, and forging a management plan that could safeguard the fish, while also preserving the livelihoods of the operators.
Survey results showed that the year 2015 was a poor one for manta ray watching. Divers reported that the number of boat operators in the German Channel had increased by 90 percent since 2010. This growth in traffic, the divers said, was bad for the manta rays and for tourism.
Prieto and his colleagues proposed measures that became part of Palau's new law. Under the Conservation Act, boats are prohibited from entering parts of the German Channel, and there are penalties for violators. The law also provides for ranger, who will enforce the law, training of operators, and a public awareness program for divers and snorkelers.
The work in Palau helped Prieto complete a Master's degree in Sustainability Management, a joint program of Columbia's Earth Institute and the School of Professional Studies.
The new law, Prieto said, "was just a piece of the larger puzzle towards conserving the vast resources that our oceans have to offer, but this achievement could not have been accomplished without the support of The Earth Institute."
The M.S. in Sustainability Management trains students to integrate environmental concerns in the operations of organizations. The curriculum comprises 36 credits in the areas of integrative sustainability management, economics and quantitative analysis, the physical dimensions of sustainability, the public policy environment of sustainability management, and general and financial management.
YOU MIGHT ALSO LIKE
Why Midwest Floods Are Critical to the Restoration of the Louisiana Coast
Farmers Key to Bringing Monarch Butterflies Back From the Brink of Extinction
NASA: 4 Billion People at Risk as 'Water Table Dropping All Over the World'
In the Fair Haven section of New Haven, Conn., rates of obesity and diabetes are high, and access to healthy fresh food can be limited. For some residents of this low-income neighborhood, New Haven Farms is just what the doctor ordered.

The small non-profit agency grows vegetables on several plots around the city, and conducts classes in basic nutrition and healthy cooking. New Haven Farms grew out of a program run by the Fair Haven Community Health Center, which serves the largely low-income, Hispanic neighborhood. Doctors actually prescribe the program as one way to help patients at risk from diet-related diseases like Diabetes 2 learn a healthier lifestyle.
Last fall, a team of students in the Earth Institute's Master of Science in Sustainability Management program traveled to Connecticut to study the New Haven Farms operation and come up with ways to expand its growing capacity and the number of people it serves. This "Capstone Workshop" was one of several conducted by teams of students in the Master of Science in Sustainability Management program and serves in place of a thesis, giving students a hands-on experience consulting for a real-world client. This video tells the story of what the New Haven Farms team did.
The New Haven Farms wellness program runs for 16-20 weeks during the growing season and has served nearly 200 people since 2012. The staff cultivates a little over an acre of land, primarily at two sites. The produce goes into a community supported agriculture program that for a fee provides low- and middle-income residents with fresh vegetables weekly during the growing season. The program also runs a farm stand and sells vegetables to local restaurants.
One garden plot sits next to the Quinnipiac River just beyond Interstate 95, nestled beneath a massive wind turbine, on a quarter acre loaned by Phoenix Press. Participants come here for classes in cooking and nutrition, and to learn about farming. Some of the residents have emigrated from rural areas in Latin America where farming was a way of life; but in this urban setting, their options for using those skills are limited.
Over on Ferry Street, an abandoned lot has been turned into another lush garden. One portion is lined with rows of tomatoes and other vegetables. A second section, on loan from the New Haven Land Trust, is set aside for small, raised-bed gardens that make up the "garden incubator" program. Here the graduates of the wellness program can cultivate their own small plots of vegetables. They get farming advice from the New Haven Farms and land trust gardeners. Such partnerships have been crucial to the development of the program.
One of the goals of New Haven Farms is to keep people in the neighborhood involved in community farming, perpetuating the lessons learned in the farming and wellness program. The agency also runs a youth program to teach youngsters early on about the value of fresh produce and healthy eating. ("Cherry tomatoes are the secret to getting kids into vegetables," advises farm manager Jacqueline Maisonpierre.)
The challenges for the students were diverse: How to create a financially sustainable model, increase the staff, grow more vegetables and expand the wellness program to more people, and build a more ongoing relationship between community members and New Haven Farms.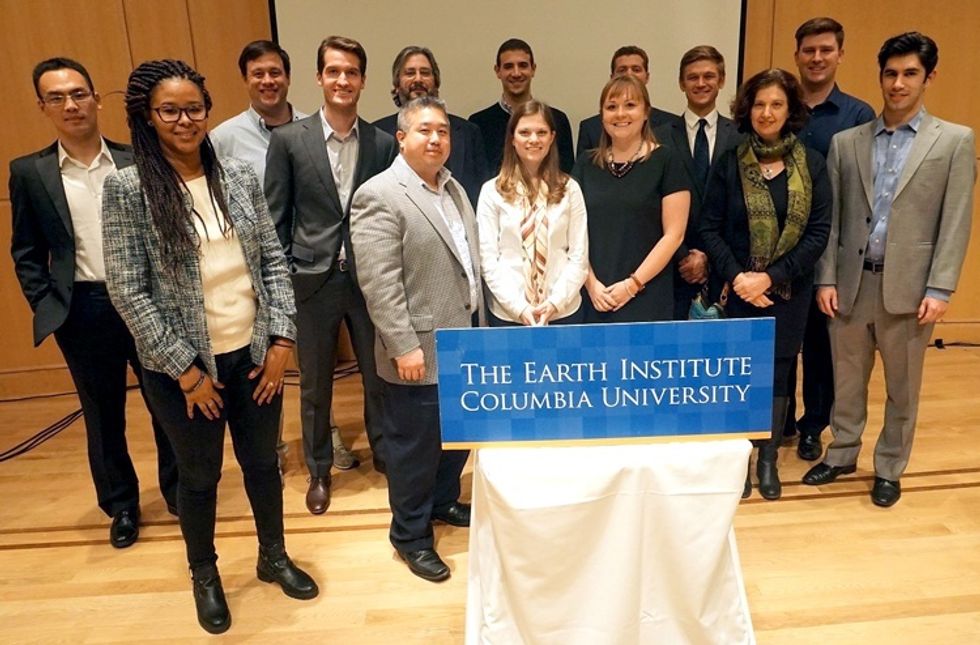 Students from the sustainability management program who worked on the New Haven Farms project. Photo credit: Tim Lyons
The 14 students in the sustainability program who took on these challenges came to Columbia from places as diverse as Los Angeles, Brooklyn, Greenwich, Conn., Toronto and Beijing, and brought to the project a range of experience—environmental consulting, sustainable farming, urbanization issues, finance, public administration, management. They interviewed New Haven Farms staff, studied New Haven's demographics, and investigated other urban farm and wellness programs. Their advisor was Thomas Abdallah, chief environmental engineer for the MTA/New York City Transit.
In the end, they came up with a detailed presentation that outlines several ways New Haven Farms could build its programs into the future. For instance, a modest investment in alternative farming techniques such as a "hightower" greenhouse and hydroponics could expand the growing season and potentially double crop yields. That could mean more produce to sell, raising more money for the program.
The students also recommended adding a third full-time staffer and suggested ways for the organization to build partnerships with other local organizations and increase financial stability.
The Capstone Workshop is a key feature of the M.S. in Sustainability Management program, co-sponsored by the Earth Institute and Columbia's School of Professional Studies. The program trains students to tackle complex and pressing environmental and managerial challenges. An information session on the program will be held from 6 - 7:30 p.m., Feb. 17, at the Faculty House on Columbia's Morningside campus. For more on the event, email Allison E. Ladue at ael2133@columbia.edu; to register, go here. The next application deadline for the program is May 15.
YOU MIGHT ALSO LIKE
Michael Pollan: Return to the Kitchen to Forge a Deeper Connection to the Ingredients We Use to Nourish Ourselves
15 Best Foods for Detoxing Your Body
Ben & Jerry's Launches Vegan Ice Cream Line With 4 Non-Dairy Flavors
13 Herbs and Spices That Will Reduce Inflammation in Your Body
Hampshire College in Amherst, Massachusetts, may be a small school at 1,400 students, but it's making huge leaps and bounds in sustainability. The school will soon be home to a living building and will be the only college generating all of its electricity from solar energy.
The Living Building Challenge is the most world's most rigorous environmental standard buildings. It requires net-zero energy waste and water systems, as well as sustainable, local construction materials. There are only eight school buildings worldwide that have been certified to date. Hampshire's 17,000-square-foot R.W. Kern Center—slated to open March 2016—will be the ninth.
"This building wears our culture on its sleeve," Hampshire President Jonathan Lash told the Christian Science Monitor. "The Living Building Initiative challenges people to build buildings that leave no footprint, that push the boundaries of what is possible and that promote positive social and ethical standards."
The current estimate for the project is $11 million. "The building costs about 10 percent more than a traditional building of its size," principal contractor Jonathan Wright of Wright Builders Inc. told the Washington Times.
But those costs will be recouped by long-term energy savings. "A building of this size would typically use 7,000 gallons of water a day; we estimate the Kern Center will use 150," Lash said. "And honestly, if we're saving $500,000 dollars [annually], why not?"
It's not just about saving money in the long run, though. The socially conscious college felt an obligation to take the lead. "What if, in 10 years, 20 percent of the nation's buildings met something like this standard?" Lash asked. "Think of the impact and the quality of people's interactions with each other [because] physical spaces define how we interact."
The project has been bold, to say the least. The college eliminated a roadway and parking lot in the middle of campus to site the building, converting the rest of the space back into meadows and pathways. The school also stopped mowing 15 acres of lawn at the students' requests, allowing the area to be restored to a meadow. "Students have been tracking the return of wildlife and we've been able to save about $30,000 a year," Lash said.
Hampshire will also install 19 acres of solar panels next year and SolarCity is offering Tesla batteries with 10 kilowatts of storage to provide back up power during periods of low generation. Additionally, the school sources food from its campus farm and other local farms.
"I want our students to experience a culture that is always challenging itself to become sustainable," Lash said. "A lot of students are enthusiastic, but everyone agrees that what we're doing feels right and matches our values."
Hampshire College's initiatives are receiving praise far and wide. "These sustainability initiatives are impressive and inspirational," wrote Sharon Chen in a blog post on Solution Generation, "especially because students are the ones who are pushing for green changes; as Lash puts it, 'if anything is to change, it would happen with kids like these.'"
"Today's young people are tomorrow's leaders, and with our future resting on such passionate and determined college students, we are in good hands," said Chen. "From solving billion dollar problems to successfully lobbying corporations for green changes to reducing on-campus waste, students are demonstrating that they not only care about solving our climate challenge, but that they fully intend to do so."
YOU MIGHT ALSO LIKE
World's First Off-Grid EcoCapsule Runs Entirely on Renewable Energy
Solar-Powered Water Wheel Removes 350 Tons of Trash From Baltimore Harbor
$300 Underground Greenhouse Grows Your Food Year-Round
Couple Builds Greenhouse Around Home to Grow Food and Keep Warm
Today at 6.30 a.m., a dozen students began a sit-in at the doorstep of their president's office in opposition to MIT's announced decision yesterday to "not divest [its $13.5 billion endowment] from the fossil fuel industry," including climate denying corporations, and instead "bring them closer." It is the first time in a quarter century that MIT has seen such unrest.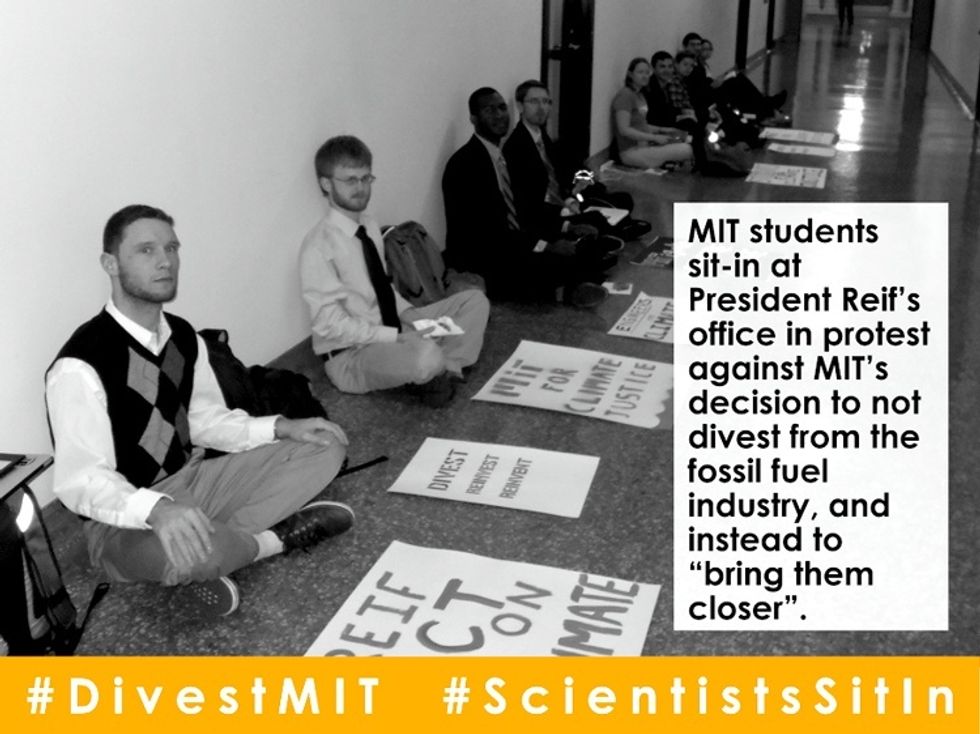 MIT's divestment campaigners are particularly furious that their president has chosen not to sell stocks from coal and tar sands companies, an action backed 9-to-3 by the president's own advisory committee in June.
"Divestment from coal and tar sands is a no-brainer, and would have unified rather than ostracized MIT's community" commented Geoffrey Supran, an MIT PhD student sitting-in, and a member of President Reif's climate advisory committee and of the student group advocating divestment, Fossil Free MIT. "With $2.6 trillion of precedent—including at Stanford, Oxford, and UC—divestment from coal and tar sands is financially prudent, scientifically consistent, morally right, and politically effective."
President Reif's decision to also not address climate science disinformation is another reason why many are protesting. Just this week, congressmen such as presidential candidate Bernie Sanders have called for a federal investigation of ExxonMobil's decades of climate lies. Meanwhile, MIT's plan "deplores" climate science disinformation, yet proposes nothing to deal with it, entirely ignoring the unanimous recommendation of the president's committee for an Ethics Advisory Council to "explicitly combat disinformation and avoid inadvertently supporting disinformation through investments." In fact, the plan argues that MIT ought to strengthen its relationship of "great respect", "candor and collaboration" with fossil fuel companies (even including coal companies), described as "the same" as that between MIT's administrators and its students.
"We're sitting-in because MIT has put money before morals and its students' futures, choosing to side with Big Oil and the Kochs instead of the thousands of students, staff, faculty, and alumni—not to mention our president's own committee—calling for divestment," added Supran.
President Reif's decision comes during a $5.5 billion capital campaign—the largest in the Institute's history. MIT receives more industry funding than almost any other university in the country, its research sponsors including ExxonMobil, BP, Chevron, Eni, Saudi Aramco, Shell, Statoil, Total, and the American Petroleum Institute and its 600-plus members. Climate disinformation bankroller David Koch has given MIT $185 million and is a Life Member of MIT's Board of Trustees. Last November, MIT signed a five-year $25 million deal with ExxonMobil, which has in recent days cited its affiliation with MIT in an effort to greenwash its history of denialist campaigns.
Jeremy Poindexter, an MIT PhD student working on solar cells explained why he is among those camped outside President Reif's office:
"We won't stand idly by while divestment gets tossed aside despite support from thousands of MIT community members. It's ironic that in a climate action plan inspired entirely by divestment, our administration claims that engagement with the fossil fuel industry is a better action. In reality, divestment has a proven theory of change toward limiting warming to 2 degrees C. What's President Reif's? What have MIT's decades of inside-access to fossil fuel interests gotten us? The answer is an industry that has lied about climate science, pours hundreds of millions of dollars every year into lobbying against renewables, and spends hundreds of billions of dollars pursuing a business model scientifically incompatible with holding back catastrophic climate change. And yet MIT has decided to continue investing more than half-a-billion dollars in this industry undermining our own work."
On the action plan's other proposals, Supran commented, "This plan is business-as-usual repackaged. It's a campus emissions target consistent with an unacceptable 3.5 degrees of global warming. It's MIT's ordinary fundraising for energy research, wrapped up in a "$300 million" soundbite. It's too little, too late."
MIT's divestment decision, part of its Plan for Action on Climate Change, flies in the face of more than 3,500 petition signatures from MIT community members, the recommendations of the MIT president's own committee to divest from coal, tar sands, and climate denying corporations, a resolution from Cambridge City Council, and separate open letters from MIT student groups, faculty, alumni, and 33 prominent climate scientists and advocates, among them James Hansen, the President of the Rockefeller Brothers Fund, Noam Chomsky and Mark Ruffalo.
YOU MIGHT ALSO LIKE
Bernie Sanders Demands DOJ Go After Exxon for 'Covering Up' Climate Change
Frustration Builds as Progress Slows at UN Climate Talks in Bonn
Oslo Becomes First Capital City in the World to Divest From Fossil Fuels
6 of Donald Trump's Most Outrageous Tweets on Climate Change
Turning Green's, Project Green Challenge (PGC) initiative mobilizes thousands of high school and college students worldwide each year to transition their lifestyles, practices and mindsets from conventional to conscious through simple and impactful daily actions.
Celebrating its fifth year, this 30-day eco-lifestyle initiative runs through the month of October to empower students to actively change their worldview. PGC incentivizes participants with a grand prize package valued at more than $12,000, including the Acure Green Award for $5,000, $1000 gift card to Whole Foods Market and other eco-fabulous opportunities. You can sign up here.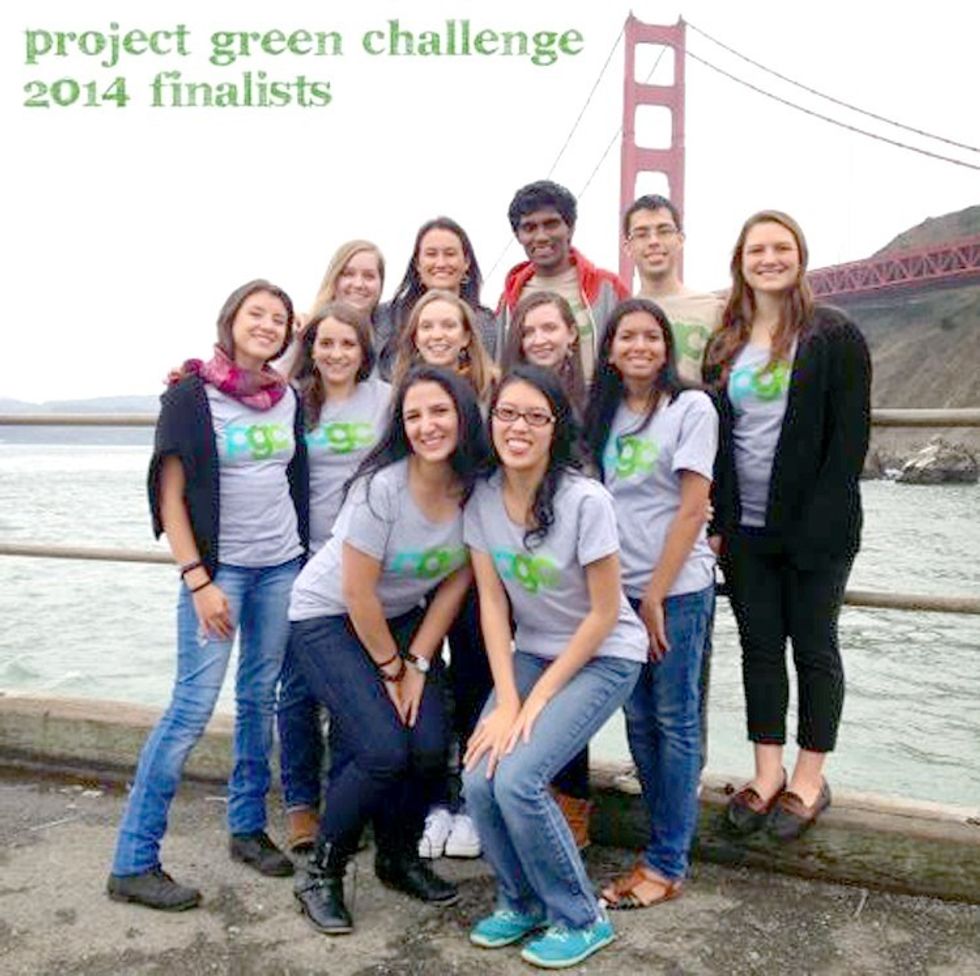 Since its start in 2011, PGC has actively engaged 20,000+ students representing more than 1400 campuses, in 50 states and 45 countries (with a social media reach of 31.5 million). Hosted by Bay Area-based non-profit Turning Green, PGC asks students to complete challenges every day in October focused on sustainability-related themes from food to fashion, zero waste to fair trade and body to economics. Over the course of 30 days, participants share responses, experiences and deliverables on the PGC digital platform and Turning Green's social platforms to acquire points and compete for daily prize packages awarded to 20 outstanding submissions.
"Once I became aware of the impact my lifestyle was having on the planet, there was no going back," said Megan Fuerst, a junior at Ohio State University and president of the Turning Green student advisory board. "PGC taught me that change is not only possible, but crucial. I realized that as a student, consumer, voter and global citizen, I had more power than I ever thought possible. I began to use my voice and my dollars to create a world that could thrive in a socially and environmentally just manner."
Fuerst had this to say about the challenge: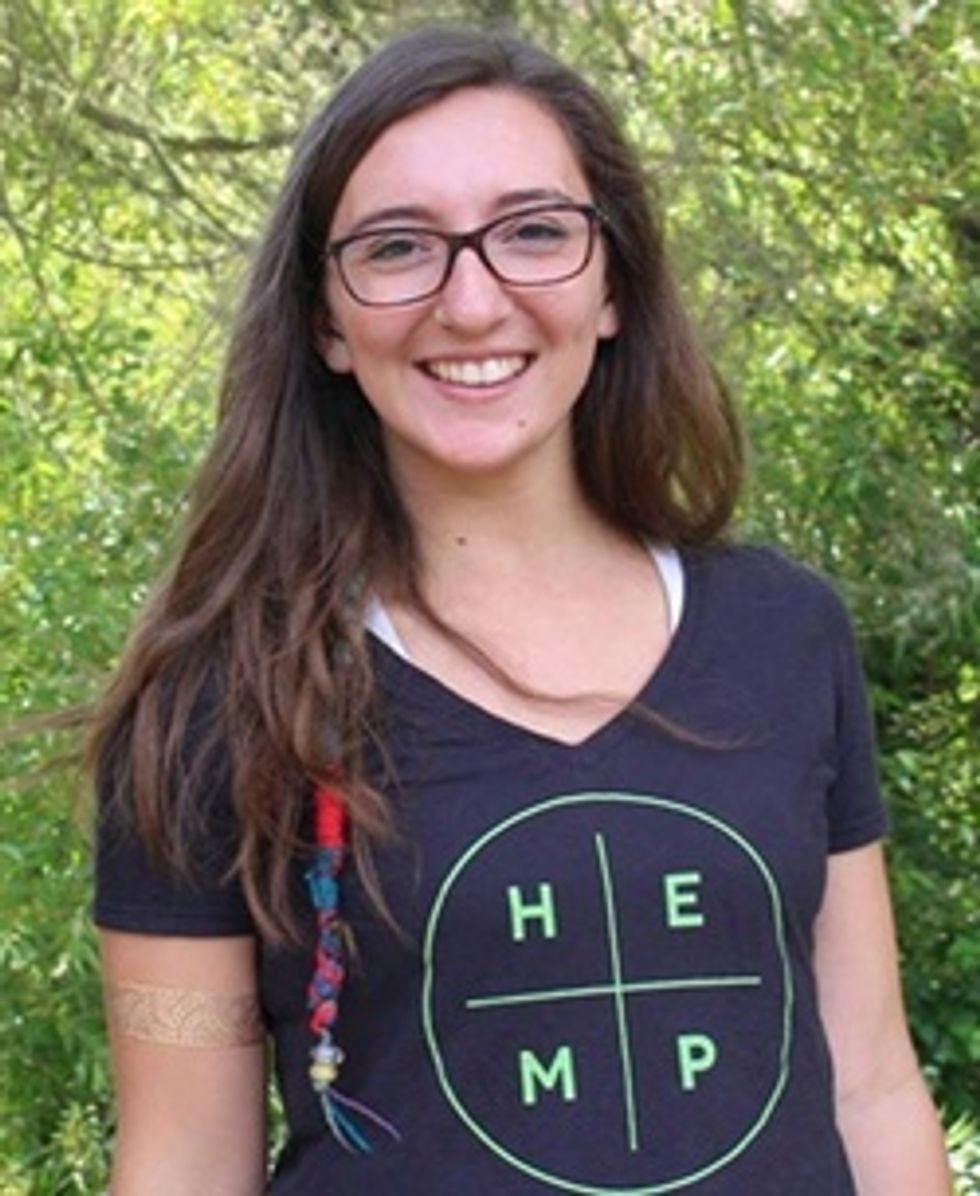 Thirty days was all it took to change my life forever. In 2013, I was one of the thousands of students who participated in Project Green Challenge. In one month, I transformed from an average American consumer to a conscious, engaged and active leader. It was the most eye-opening experience of my life, and I believe that if every student in the world participated in PGC, we could heal the planet tomorrow.
Like most young adults, I felt lost and overwhelmed from the pressure of choosing a career path at age 18. PGC was the first step towards finding my passion, and is truly unique because it relates to all of our daily lives. PGC offers opportunities to learn about a wide variety of topics in a simple and straightforward way. No matter who you are or where you live, PGC is relevant, because sustaining a healthy planet for future generations is the responsibility of each of us as global citizens.
Whether you are a freshman in high school or a senior in college, you will learn something new every day. Participants are challenged to calculate their water and carbon footprints, research harmful ingredients hidden in conventional products, really think about the food we consume and so much more. Once I became aware of the way my lifestyle was impacting the planet, there was no going back. What had started as a fun challenge in hopes of making it to San Francisco for the PGC Finals, turned into a life mission to heal the planet.
As I continued on my PGC journey, I realized that change is not only possible, but also vital. I learned that as a student, consumer, and voter, I had more power than I ever thought possible. This is not taught in a typical course curriculum. Turning Green provided the mentorship and tools necessary for me to start being the change I wished to see in the world.
The introductions to each topic gives participants enough information to become truly informed, and the challenges that follow help mobilize students around the issues they learn about. It really is the full package; information followed by a call to action, providing solutions for each problem presented. PGC's success can also be attributed in part to the amazing prize packages that are given out daily to incentivize students and award outstanding submissions. Participants can win anything from non-GMO food to hemp clothing and organic bedding to yoga mats. All prizes are donated by Turning Green's partners, who are leading the corporate realm of sustainability with their ethical and ecofriendly products. There is no other program in the world that has the capacity to inform, inspire and mobilize students as quickly as PGC.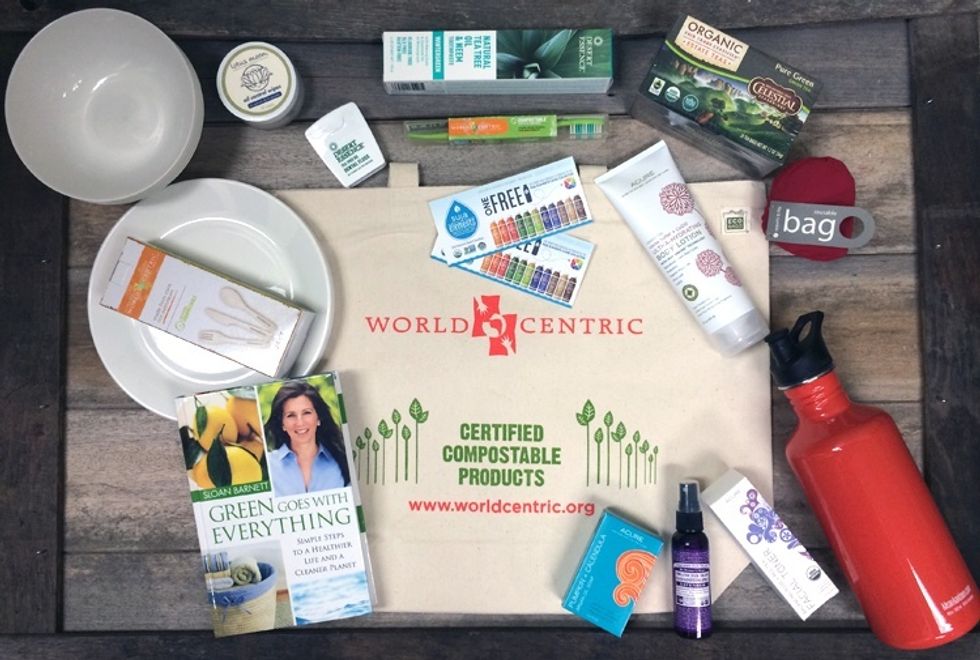 The challenge culminates with the PGC Challenge Finals. Up to16 finalists are selected from the global pool to attend the three-day eco-summit in San Francisco where they collaborate with esteemed environmental leaders, develop strong platforms for social action and present their 30-day PGC experiences to a panel of judges. One finalist will be selected as the PGC 2015 Champion and receive a grand prize package to jumpstart their transition from conventional to conscious.
YOU MIGHT ALSO LIKE
12 Universities Leading the Charge in Serving Locally-Sourced Food
Nation's First School District to Serve 100% Organic, Non-GMO Meals
Many cafeterias around the U.S. are working to provide students with healthy, sustainable meal options. To do this, colleges and universities are changing the way that they purchase and prepare food in their cafeterias and many of them are beginning to source food locally.
Which schools are shaping our eco-leaders of tomorrow? Each year, Sierra—the Sierra Club's magazine—ranks the greenest colleges and universities in the country, and by the looks of this year's list, many of those schools are in California.
Announcing our ninth annual ranking of America's greenest colleges! Did your school make the list? http://t.co/fQMvh4ZMew #coolschools

— Sierra Magazine (@Sierra_Magazine) August 11, 2015
According to Sierra's ninth annual "Cool Schools" index, four out of the top 10 greenest call the Golden State home. This year's winner—the University of California, Irvine—has appeared on the top 10 for six consecutive years and marks its second year in a row in the top slot.
The magazine recognized UC Irvine for its three on-campus solar projects, a 19-megawatt turbine cogeneration plant and for consistently exceeding its energy-efficiency goals. The entire University of California system has a goal of becoming carbon neutral by 2025, with UC Irvine quadrupling its use of solar power in the past year, adding 11,700 panels in June to reduce its annual carbon emissions by 1,500 metric tons, the report stated. The school also debuted UCI OCEANS, a multidisciplinary effort to save marine life.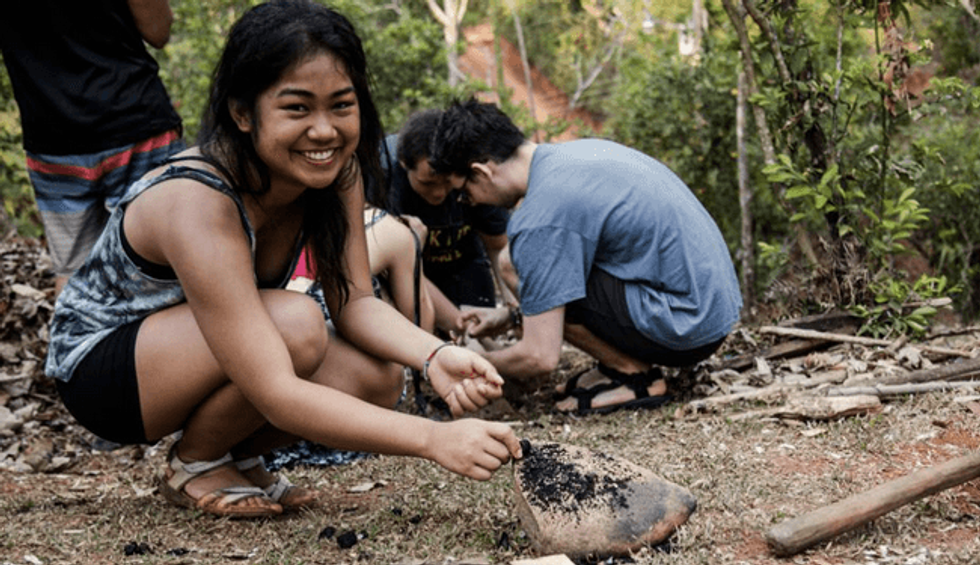 Sierra
According to Sierra, the UC Irvine also diverts 80 percent of campus waste, gets its energy from clean sources and offers students and employees train rebates, bus-­pass discounts and a free shuttle in order to ditch the car.
Wendell Brase, administrative vice chancellor at University of California Irvine, told Southern California Public Radio that the college doubled its energy efficiency from 1993 levels. "I think perhaps UC Irvine's done more than any university that I know of in showing just how far deep energy efficiency can go in reducing our carbon footprint. We're less than a year short of proving that it's possible to reduce energy use per square foot by 50 percent compared to the baseline we started with when we really started focusing on this about two decades ago," Brase said.
Brase added that the savings achieved by increased efficiency are reason enough for his campus to go green: "If we weren't motivated at all to be green or sustainable or environmentally conscious and just did what we've done for reasons of saving taxpayer dollars and tuition payer dollars, it would still have made perfect sense to do it all."
A report from the Princeton Review found that a strong majority of college-bound students are seeking schools with a commitment to sustainability.
Here are the top 20 schools. Check out this link for a complete ranking of all 153 schools.
1. University of California, Irvine
2. University of California, Davis
3. University of Wisconsin—Oshkosh
4. Colorado State University (Fort Collins, CO)
5. Oberlin College (Oberlin, OH)
6. University of Connecticut
7. University of California, San Diego
8. University of Washington, Seattle
9. Lewis & Clark College (Portland, OR)
10. University of California, Berkeley
11. University of South Florida (Tampa, FL)
12. Green Mountain College, (Poultney, VT)
13. Arizona State University (Tempe, AZ)
14. Middlebury College (Middlebury, VT)
15. University of North Carolina at Chapel Hill
16. Dickinson College (Carlisle, PA)
17. College of the Atlantic (Bar Harbor, ME)
18. University of California, Santa Barbara
19. Colby College (Waterville, ME)
20. Portland State University (Portland, OR)
"Young people understand the need to confront climate disruption and jump-start our economy. That's why students across the country have joined the Sierra Student Coalition's Seize the Grid campaign—demanding 100 percent localized clean energy on campuses," said Karissa Gerhke, national director of the Sierra Student Coalition.
"'Cool Schools' is a showcase of campuses taking concrete steps toward those goals. We look forward to working with these schools in taking the next step and committing to 100 percent clean energy," Gerhke added.
To come up with the list, 153 four-year, degree-granting undergraduate colleges and universities were rated based on a extensive questionnaire about their campus sustainability practices. The survey, called the Campus Sustainability Data Collector, was created by the Sierra Club, Association for the Advancement of Sustainability in Higher Education (AASHE), Sustainable Endowments Institute (SEI) and Princeton Review.
"We're so inspired to see how colleges are taking the lead on addressing climate change," said Avital Andrews, Sierra magazine's lifestyle editor. "From building green to saving water to offering hundreds of eco-classes, these schools' efforts are profound, and are changing not only the campus grounds, but also the minds of the students they're educating."
Each year, this is the issue of @sierra_magazine that I work hardest on. And it's finally here! #coolschools pic.twitter.com/gdQph56Xss

— Avital Andrews (@avitalb) August 10, 2015
YOU MIGHT ALSO LIKE
Students Demand Aramark Serve Sustainably Caught Tuna
Victory! University of Washington Divests from Coal
Unity College Students Are Putting Biodiversity Loss and Global Warming Into Focus
Many students have vowed to ramp up their divestment campaigns at universities across America this spring. One group who has garnered much media attention is Divest Harvard, which is wrapping up a week-long campaign known as "Harvard Heat Week." Harvard has the largest endowment of any university in the world at $36.4 billion, and hundreds of alumni including Bill McKibben, founder of 350.org, and former Colorado Senator Tim Wirth are participating in the group's efforts this week.
Shout out from Harvard Yard to brave students arrested yesterday @DivestUMW pic.twitter.com/HpXm6FYJQo

— Bill McKibben (@billmckibben) April 16, 2015
After a week of sit-ins that have shut down administration offices at Massachusetts Hall, President Faust finally reached out directly to students with Divest Harvard. ''I would be happy to meet with you and a representative group of your student colleagues when you have ceased disrupting university operations,'' wrote President Faust in an email.
The students however were not pleased with the offer for another closed door meeting and called for a more open process on divestment that schools like MIT have convened. Divest Harvard has made multiple requests for a more transparent process involving the entire student body, faculty and alumni. The group knows there is strong support for divestment because the student body voted 72 percent in favor of divestment and hundreds of faculty and thousands of alumni signed a letter supporting the initiative.
Divest Harvard has agreed to the meeting with the president, but explained that they would not stop protesting as long as Harvard continued to invest in fossil fuel companies. "Recent SEC filings revealed that the university septupled its investments in oil and gas companies last fall," says Divest Harvard.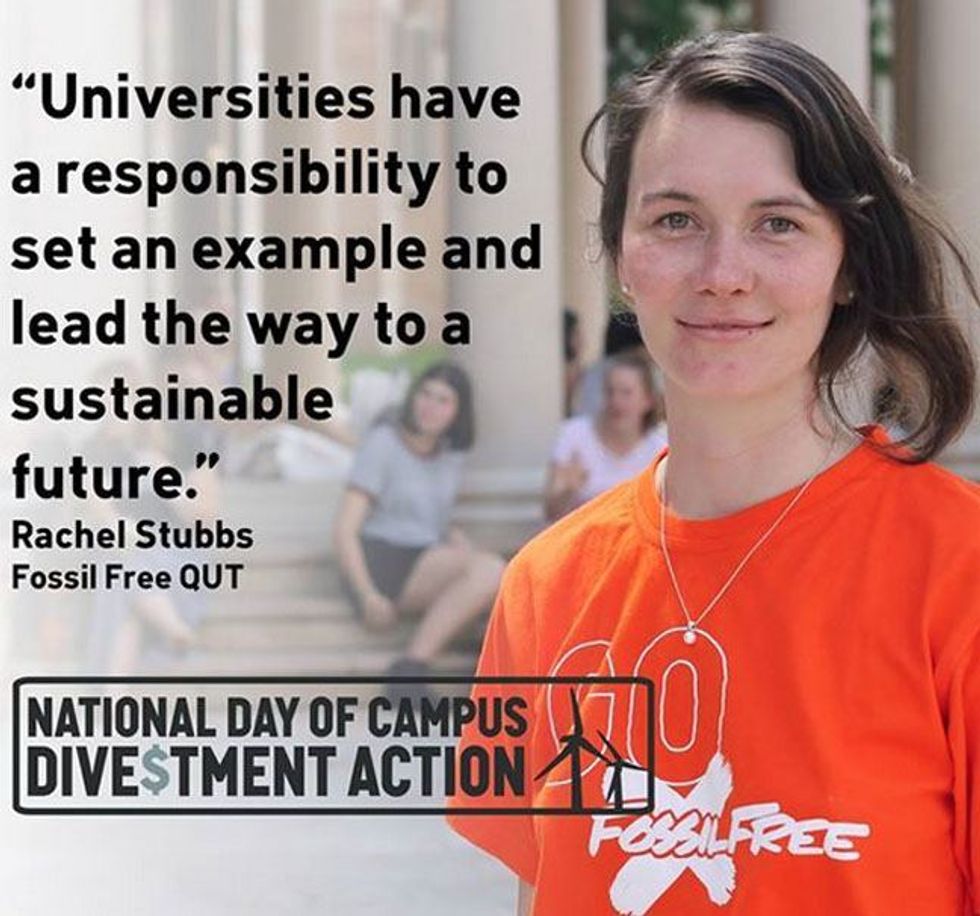 New data released this week from the South Pole Institute and Fossil Free Indexes reveals the massive climate impact of Harvard's stock portfolio. South Pole Institute concluded that the current CO2 emissions of Harvard's investments equal 11 million tons of CO2, equivalent to the state of Rhode Island. A different study by Fossil Free Indexes put the emissions from the total reserves owned by Harvard's portfolio at 100 million tons of CO2, which is equivalent to the emissions from thirty-three 500 megawatt coal fired power plants running for a year.
"Assuming that Harvard will continue in the meantime to invest in fossil fuels, we will continue to act with the full support of the movement that you have seen this week. This is what the urgent climate crisis requires," they continued. "After three years, we are glad to hear that you are interested in having a productive discussion about divestment. We look forward to moving this process forward."
Yesterday afternoon, Divest Harvard received a powerful endorsement with Harvard Overseer Kat Taylor, an alumni, releasing a statement in support of divestment. Hundreds of students from surrounding area colleges are expected to join Harvard activists this evening for a rally to close out the week of sit-ins on campus.
Democracy Now! covered Divest Harvard's campaign yesterday on their show. They spoke with Harvard student Talia Rothstein, one of the coordinators of Divest Harvard, and Harvard science professor Naomi Oreskes, author of the book Merchants of Doubt: How a Handful of Scientists Obscured the Truth on Issues of Tobacco Smoke to Global Warming.
Rothstein talked about the actions students, faculty and alumni have taken this week to demand divestment, and Oreskes talked about the apparent disconnect between what we say we know about climate change and our failure to take meaningful action.
Watch here:
Two other schools saw some heat yesterday, as well. More than 35 students at Wesleyan University occupied President Michael Roth's office. They are part of the newly formed Coalition for Divestment and Transparency, calling for divestment from the prison-industrial complex, the Israeli occupation of Palestine and the fossil fuel industry. The students chose to take action yesterday because it marked the anniversary of Roth's participation in a sit-in for divestment from South African apartheid as a Wesleyan student in 1978.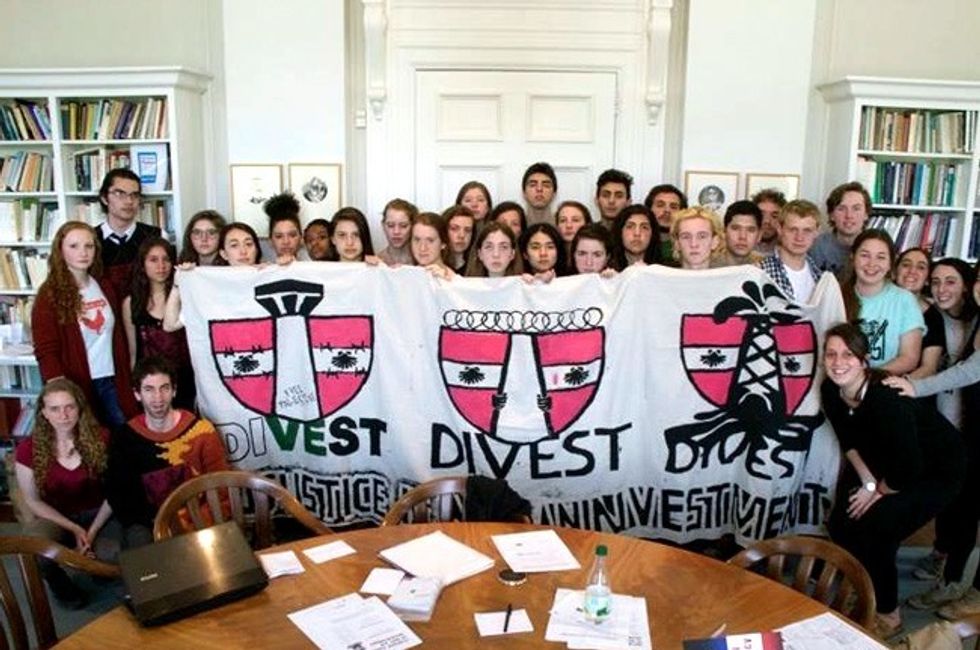 More than 35 students at Wesleyan University occupied the president of the university's office demanding divestment. Photo credit: Coalition for Divestment and Transparency
The coalition read a manifesto signed by Students for Justice in Palestine, Wes, Divest!, the campus divestment campaign, and Ujamaa, an identity group for black students. The manifesto cited that both Students for Justice in Palestine and Wes, Divest! have passed resolutions in the Wesleyan Student Assembly and have met with Roth.
The Committee for Investor Responsibility, another student-led organization, recently proposed coal divestment to the Board of Trustees but they refused to vote on the matter. The students are calling for a commitment to divest from socially and environmentally irresponsible industries and for greater transparency and accountability of Wesleyan's $793 million endowment.
Organizers from Fossil Free CU at the University of Colorado Boulder also took action yesterday. Some of the members were participating in a three-day occupation of an administrative building, while other activists had their fourth meeting with the Board of Regents this school year.
"Fossil Free CU is occupying Norlin Quad to send a message to our administration that investing in the corporations that are perpetuating climate chaos is wrong," said graduate student Alana Wilson. "So, we're asking the nine CU Regents, 'Whose side are you on?'"
Fossil Free CU invited three finance experts to the meeting with the Board of Regents. John Powers, an alumni of CU-Boulder's Business School, founder of Alliance for Sustainable Colorado, and a member of the Boards and Finance Committees of the Educational Foundation of America and Prentice Foundation, joined Fossil Free CU and has agreed to be a resource for the CU Regents. "The question isn't if CU is violating its fiduciary responsibility by divesting; it's whether CU is violating its fiduciary responsibility by not divesting," Powers said.
Ultimately, the CU Board of Regents voted 6-3 against the formation of a committee that was proposed to focus on sustainable investments and divestment possibilities. A resolution affirming their standard portfolio, proposed by Regent Carson and seconded by Regent Sharkey, who said she does not agree that there is a problem with the climate, passed. Fossil Free CU has vowed to keep up the fight.
YOU MIGHT ALSO LIKE
'Heat Week' Demanding Divestment from Fossil Fuels
First Country in the World Dumps Fossil Fuels As Divestment Movement Heats Up
Funny or Die Video: How to Diagnose Climate Change Denial Disorder
Early this morning, Swarthmore Mountain Justice launched a sit-in for fossil fuel divestment at Swarthmore College. Students at this Quaker college in Pennsylvania helped launch the campus divestment movement, which is now active at hundreds of universities across North America, Europe and Australia. The 37 students and six alumni are asking the Swarthmore Board Investment Committee chair Chris Niemczewski and board chair Gil Kemp to "return to the negotiating table and agree to end the college's investments in a rogue industry that violates Swarthmore's Quaker values and recklessly imperils a just and sustainable future for our generation," according to a statement from the group.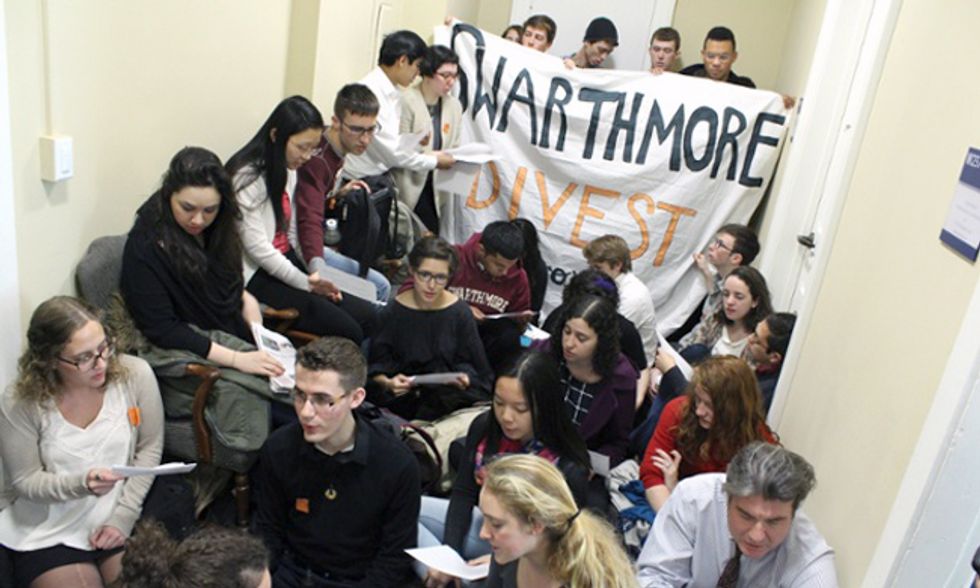 "It is unconscionable for Swarthmore, as an institution of higher education with a commitment to social responsibility, to invest in an industry that is actively destabilizing the future that our education is meant to prepare us for," said Sophia Zaia, a freshman and sit-in organizer.
The campaign has strong support from the campus community: 1,100 faculty and alumni and 970 students (61 percent of the student body) signed a petition demanding the college divests from fossil fuels. It even has a very high profile endorsement: Christiana Figueres, the UN climate chief, who graduated from Swarthmore in 1979.
The group has chosen to sit-in because talks with the university, which started four years ago, have stalled, according to The Guardian.  The group has a proposal, on which they consulted with the vice president of finance at Swarthmore, that shows how the college can fully divest by 2020, the same year that global emissions must peak in order to avoid catastrophic climate change. "Despite this, the board rejected this historic opportunity to show international leadership on climate," said Chris Malifronti, a freshman and sit-in organizer.
It's hard to believe the university wont budge because even the Board of Manager's recently-hired investments expert, Gregory Kats made a public call for fossil fuel divestment. The university "dismissed divestment as a symbolic gesture and warned divestment would slice $10 to $15 million off the income generated from Swarthmore's $1.6 billion endowment, much of which goes for scholarships," said The Guardian. The students reject that argument. "The investment committee denies the existence of the carbon bubble and false claims that no active managers can pursue a fossil-free investment strategy effectively. We know this is wrong," Guido Girgenti, a political science student, told The Guardian. "The carbon bubble poses a serious financial threat to our endowment."
The sit-in is happening at a pivotal time in the divestment movement. Many campuses have been pushing for divestment for years and many of those campaigns have succeeded. Norway made headlines last month when its sovereign wealth fund, the largest in the world, made plans to divest. The wildly successful Global Divestment Day took place a little over a month ago with fossil fuel divestment groups taking direct action all over the world. Jibreel Khazan of the Greensboro Four lunch counter sit-in has called climate change young people's "lunch counter moment for the 21st century." Young people must be taking Khazan's message to heart: Oxford alumni occupied a building on campus on Monday to peacefully protest the university's decision to put off addressing fossil fuel divestment until May. One alumna went so far as to say, "If the university does not divest from fossil fuel extraction I have decided to hand back my degree, in protest."
YOU MIGHT ALSO LIKE
Oxford Alum Says, I Will 'Hand Back my Degree' If University Does Not Divest from Fossil Fuels
First Country in the World Dumps Fossil Fuels As Divestment Movement Heats Up
Google X Announces Revolutionary Flying Wind Turbines at SXSW