This website uses cookies to ensure you get the best experience while browsing it. By clicking 'Got It' you're accepting these terms.
Top 10 Universities Taking the Lead on Sustainability
Dec. 17, 2014 09:00AM EST
Sustainia, a Scandinavian think tank, and the International Alliance of Research Universities (IARU) have partnered to produce the Green Guide for Universities, which offers tangible solutions to address environmental sustainability from some of the top universities in the world. The guide contains 23 case studies in sustainability from universities such as Yale, Cambridge, Peking and Copenhagen University.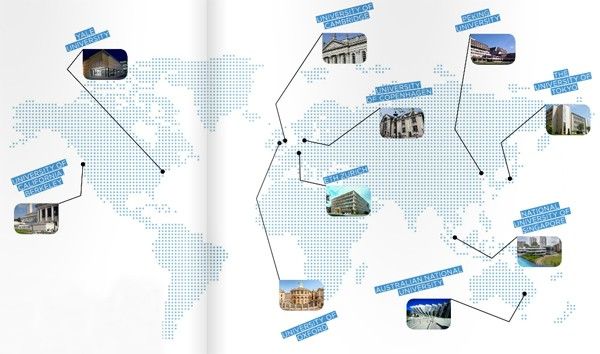 This guide, which is free, provides steps to begin the work, including ideas for "a portfolio of easy-to-access tools and guidance for building maintenance, green purchasing, transportation, and employee and student involvement across campus and between departments." Each chapter of the book focuses on a particular topic in campus sustainability, such as buildings, transportation and purchasing. At the end of every chapter, there is a section that highlights challenges other universities might face and offers solutions to those challenges.
"We are very excited to see top universities unite to promote sustainability initiatives and goals, and hereby highlight the change that the education sector can drive," said Laura Storm, director of Sustainia.
Ralph Eichler, Chair of IARU, emphasized the crucial role universities play in advancing sustainability: "Universities have the opportunity to create cultures of sustainability for today's students and tomorrow's leaders, and to set their expectations for how the world should be. The Green Guide provides real-world examples to inspire innovative and creative action at universities around the globe."
Universities have historically been engines of social change and this guide allows them to discover best practices and charge ahead on taking the lead in the sustainability movement.
Here's a summary, provided by Sustainia, on some of the initiatives that have been implemented at each of the 10 participating universities:
Yale University: Two initiatives are sustainability training for the core purchasing staff and the creation of a Sustainability Services Corps that, among other things, performs energy audits and benchmarks energy usage among the buildings on campus.
Peking University: Biking and walking are encouraged by placing car parking outside the campus area.
University of Oxford: Sustainable building policies are creating new standards for building design on campus. A business travel toolkit gives tips for the most appropriate mode of transportation for staff.
University of Copenhagen: A Green Campus Office was established in 2008 to develop policies and action plans for energy efficiency. Rector at the University of Copenhagen Ralf Hemmingsen said, "We have reduced our energy consumption per person by 20 percent, and we have cut our CO2 emissions per person by nearly 30 percent since 2006. Many of our buildings have been made more energy efficient, for example by replacing ventilation units, installing LED lighting, insulating pipes and making laboratory work more energy efficient."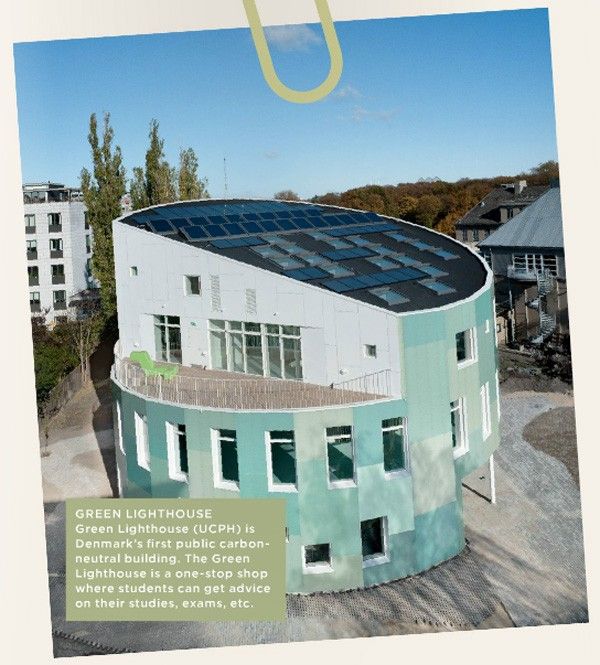 University of Cambridge: The Gurdon Institute created an awareness campaign on how to save energy, an inter-lab competition with cash prizes and a visualization tool to make staff aware of energy use.
University of California Berkeley: The Energy Management Initiative stopped treating energy as a free commodity on campus. Instead, departments now get money back if they use less energy than estimated.
ETH Zurich: Triple bottom line principles have been implemented in the planning, construction and operation of new buildings. The university also does a life-cycle cost analysis to ensure it's using a sustainable and holistic approach to construction and maintenance. A major underground heating and storage project will make the heating of campus carbon-neutral.
National University of Singapore: Students have utilized monetary incentives such as a plastic bag tax and a rebate for individuals who use reusable lunch boxes and water bottles.
Australian National University: An organic waste recycling program diverts approximately 136 tons of food and biological waste from the landfill each year and converts it into a high-grade compost used at students' vegetable gardens and in the campus landscaping.
University of Tokyo: A sustainable campus fund provides a subsidy to give each graduate school an incentive to invest in energy conservation.
YOU MIGHT ALSO LIKE
Adieu to Colbert: Celebrating His Top 5 Eco-Segments
Columbia Sustainability Alum Transforms Vacant Lots Into Urban Gardens
EcoWatch Daily Newsletter
Large food companies are following in the footsteps of fast-food restaurants such as Burger King and KFC by offering meat alternatives. Getty Images
By Elizabeth Pratt
Hormel, Kellogg's, and Kroger are among the large companies now planning to offer "fake meat" products at grocery stores.
Experts say the trend toward plant-based meats coincides with consumers' desires to eat less meat.
However, experts urge consumers to closely check package labels as a product isn't necessarily healthy just because it's described as plant-based.
In grocery stores and fast-food outlets around the U.S., a revolution is taking place.
Colombia rainforest. Marcel Oosterwijk / CC BY-SA 2.0
Many of us think of the Amazon as an untouched wilderness, but people have been thriving in these diverse environments for millennia. Due to this long history, the knowledge that Indigenous and forest communities pass between generations about plants, animals and forest ecology is incredibly rich and detailed and easily dwarfs that of any expert.
picture-alliance / Newscom / R. Ben Ari
By Wesley Rahn
Plastic byproducts were found in 97 percent of blood and urine samples from 2,500 children tested between 2014 and 2017, according to a study by the German Environment Ministry and the Robert Koch Institute.

Pexels
Medically reviewed by Daniel Bubnis, MS, NASM-CPT, NASE Level II-CSS
Hot yoga has become a popular exercise in recent years. It offers many of the same benefits as traditional yoga, such as stress reduction, improved strength, and flexibility.
Lara Hata / iStock / Getty Images
By SaVanna Shoemaker, MS, RDN, LD
Rice is a staple in many people's diets. It's filling, inexpensive, and a great mild-tasting addition to flavorful dishes.
An image of the trans-alaskan oil pipeline that carries oil from the northern part of Alaska all the way to valdez. This shot is right near the arctic national wildlife refuge. kyletperry / iStock / Getty Images Plus
The Trump administration has initialized the final steps to open up nearly 1.6 million acres of the protected Alaskan National Wildlife Refuge to allow oil and gas drilling.