This website uses cookies to ensure you get the best experience while browsing it. By clicking 'Got It' you're accepting these terms.
Divest From Fossil Fuels Movement Explodes Across the U.S.
Apr. 17, 2015 08:49AM EST
Many students have vowed to ramp up their divestment campaigns at universities across America this spring. One group who has garnered much media attention is Divest Harvard, which is wrapping up a week-long campaign known as "Harvard Heat Week." Harvard has the largest endowment of any university in the world at $36.4 billion, and hundreds of alumni including Bill McKibben, founder of 350.org, and former Colorado Senator Tim Wirth are participating in the group's efforts this week.
Shout out from Harvard Yard to brave students arrested yesterday @DivestUMW pic.twitter.com/HpXm6FYJQo

— Bill McKibben (@billmckibben) April 16, 2015
After a week of sit-ins that have shut down administration offices at Massachusetts Hall, President Faust finally reached out directly to students with Divest Harvard. ''I would be happy to meet with you and a representative group of your student colleagues when you have ceased disrupting university operations,'' wrote President Faust in an email.
The students however were not pleased with the offer for another closed door meeting and called for a more open process on divestment that schools like MIT have convened. Divest Harvard has made multiple requests for a more transparent process involving the entire student body, faculty and alumni. The group knows there is strong support for divestment because the student body voted 72 percent in favor of divestment and hundreds of faculty and thousands of alumni signed a letter supporting the initiative.
Divest Harvard has agreed to the meeting with the president, but explained that they would not stop protesting as long as Harvard continued to invest in fossil fuel companies. "Recent SEC filings revealed that the university septupled its investments in oil and gas companies last fall," says Divest Harvard.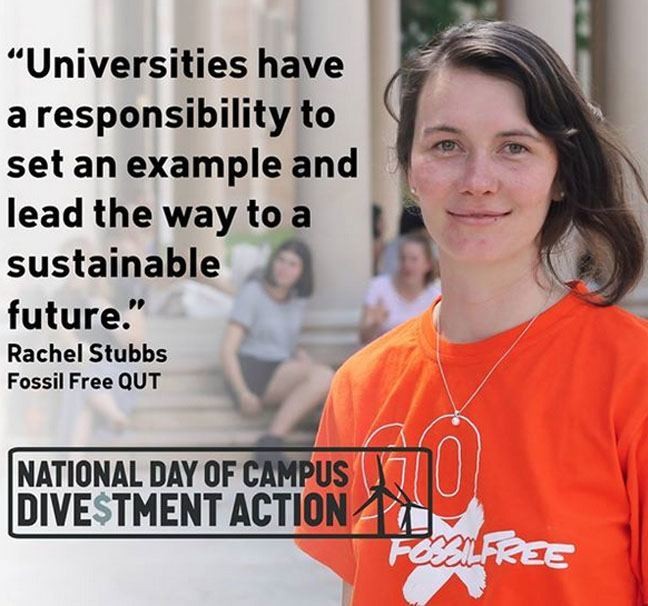 New data released this week from the South Pole Institute and Fossil Free Indexes reveals the massive climate impact of Harvard's stock portfolio. South Pole Institute concluded that the current CO2 emissions of Harvard's investments equal 11 million tons of CO2, equivalent to the state of Rhode Island. A different study by Fossil Free Indexes put the emissions from the total reserves owned by Harvard's portfolio at 100 million tons of CO2, which is equivalent to the emissions from thirty-three 500 megawatt coal fired power plants running for a year.
"Assuming that Harvard will continue in the meantime to invest in fossil fuels, we will continue to act with the full support of the movement that you have seen this week. This is what the urgent climate crisis requires," they continued. "After three years, we are glad to hear that you are interested in having a productive discussion about divestment. We look forward to moving this process forward."
Yesterday afternoon, Divest Harvard received a powerful endorsement with Harvard Overseer Kat Taylor, an alumni, releasing a statement in support of divestment. Hundreds of students from surrounding area colleges are expected to join Harvard activists this evening for a rally to close out the week of sit-ins on campus.
Democracy Now! covered Divest Harvard's campaign yesterday on their show. They spoke with Harvard student Talia Rothstein, one of the coordinators of Divest Harvard, and Harvard science professor Naomi Oreskes, author of the book Merchants of Doubt: How a Handful of Scientists Obscured the Truth on Issues of Tobacco Smoke to Global Warming.
Rothstein talked about the actions students, faculty and alumni have taken this week to demand divestment, and Oreskes talked about the apparent disconnect between what we say we know about climate change and our failure to take meaningful action.
Watch here:
Two other schools saw some heat yesterday, as well. More than 35 students at Wesleyan University occupied President Michael Roth's office. They are part of the newly formed Coalition for Divestment and Transparency, calling for divestment from the prison-industrial complex, the Israeli occupation of Palestine and the fossil fuel industry. The students chose to take action yesterday because it marked the anniversary of Roth's participation in a sit-in for divestment from South African apartheid as a Wesleyan student in 1978.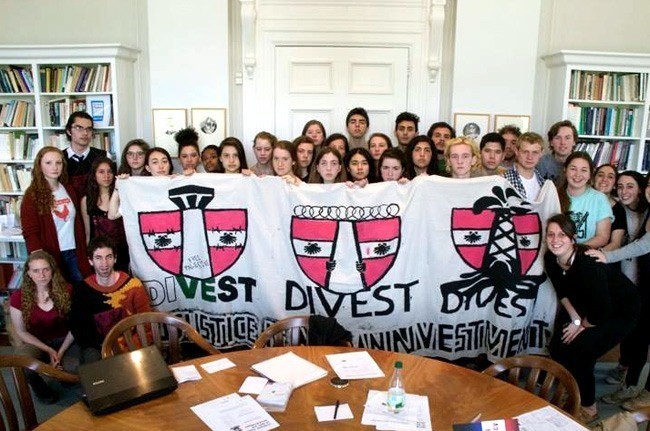 More than 35 students at Wesleyan University occupied the president of the university's office demanding divestment. Photo credit: Coalition for Divestment and Transparency
The coalition read a manifesto signed by Students for Justice in Palestine, Wes, Divest!, the campus divestment campaign, and Ujamaa, an identity group for black students. The manifesto cited that both Students for Justice in Palestine and Wes, Divest! have passed resolutions in the Wesleyan Student Assembly and have met with Roth.
The Committee for Investor Responsibility, another student-led organization, recently proposed coal divestment to the Board of Trustees but they refused to vote on the matter. The students are calling for a commitment to divest from socially and environmentally irresponsible industries and for greater transparency and accountability of Wesleyan's $793 million endowment.
Organizers from Fossil Free CU at the University of Colorado Boulder also took action yesterday. Some of the members were participating in a three-day occupation of an administrative building, while other activists had their fourth meeting with the Board of Regents this school year.
"Fossil Free CU is occupying Norlin Quad to send a message to our administration that investing in the corporations that are perpetuating climate chaos is wrong," said graduate student Alana Wilson. "So, we're asking the nine CU Regents, 'Whose side are you on?'"
Fossil Free CU invited three finance experts to the meeting with the Board of Regents. John Powers, an alumni of CU-Boulder's Business School, founder of Alliance for Sustainable Colorado, and a member of the Boards and Finance Committees of the Educational Foundation of America and Prentice Foundation, joined Fossil Free CU and has agreed to be a resource for the CU Regents. "The question isn't if CU is violating its fiduciary responsibility by divesting; it's whether CU is violating its fiduciary responsibility by not divesting," Powers said.
Ultimately, the CU Board of Regents voted 6-3 against the formation of a committee that was proposed to focus on sustainable investments and divestment possibilities. A resolution affirming their standard portfolio, proposed by Regent Carson and seconded by Regent Sharkey, who said she does not agree that there is a problem with the climate, passed. Fossil Free CU has vowed to keep up the fight.
YOU MIGHT ALSO LIKE
'Heat Week' Demanding Divestment from Fossil Fuels
First Country in the World Dumps Fossil Fuels As Divestment Movement Heats Up
Funny or Die Video: How to Diagnose Climate Change Denial Disorder
Plus, learn if there's one that's best for your health.
Catherine Falls Commercial / Moment / Getty Images
An invasive Amynthas worm, also known as a crazy snake worm, Asian jumping worm and Alabama jumper Tom Potterfield / Flickr
By Jason Bittel
My wife and I built a house two years ago on a few acres of woodland outside of Pittsburgh. The backyard is full of maples, poplars, briars and common spicebush. Two-lined salamanders and grumpy-looking crayfish wade among the rocks in the small stream that runs down the edge of the property. Deer, raccoon and opossum tracks appear regularly in the snow and mud. Sometimes, my trail-cam even catches a pair of gray foxes as they slink through the night.
AleksandarNakic / Getty Images
By Kate Murphy
No matter the time of year, there's always a point in each season when my skin decides to cause me issues. While these skin issues can vary, I find the most common issues to be dryness, acne and redness.

David Woodfall / The Image Bank / Getty Images
By Sam Nickerson
The U.S. Environmental Protection Agency (EPA) in April 2018 proposed relaxing standards related to how it assesses the effects of exposure to low levels of toxic chemicals on public health.
Now, correspondence obtained by the LA Times revealed just how deeply involved industry lobbyists and a controversial, industry-funded toxicologist were in drafting the federal agency's proposal to scrap its current, protective approach to regulating toxin exposure.
Steve Irwin poses with a three foot long alligator at the San Francisco Zoo on June 26, 2002. Justin Sullivan / Getty Images
February 22 is the birthday of conservationist and beloved TV personality "Crocodile Hunter" Steve Irwin, who would have been 57 years old today.
Irwin's life was tragically cut short when the barb from a stingray went through his chest while he was filming in 2006, but his legacy of loving and protecting wildlife lives on, most recently in a Google Doodle today honoring his birthday.