Earth Institute Students Help an Urban Farm Rethink Its Future
In the Fair Haven section of New Haven, Conn., rates of obesity and diabetes are high, and access to healthy fresh food can be limited. For some residents of this low-income neighborhood, New Haven Farms is just what the doctor ordered.

The small non-profit agency grows vegetables on several plots around the city, and conducts classes in basic nutrition and healthy cooking. New Haven Farms grew out of a program run by the Fair Haven Community Health Center, which serves the largely low-income, Hispanic neighborhood. Doctors actually prescribe the program as one way to help patients at risk from diet-related diseases like Diabetes 2 learn a healthier lifestyle.
Last fall, a team of students in the Earth Institute's Master of Science in Sustainability Management program traveled to Connecticut to study the New Haven Farms operation and come up with ways to expand its growing capacity and the number of people it serves. This "Capstone Workshop" was one of several conducted by teams of students in the Master of Science in Sustainability Management program and serves in place of a thesis, giving students a hands-on experience consulting for a real-world client. This video tells the story of what the New Haven Farms team did.
The New Haven Farms wellness program runs for 16-20 weeks during the growing season and has served nearly 200 people since 2012. The staff cultivates a little over an acre of land, primarily at two sites. The produce goes into a community supported agriculture program that for a fee provides low- and middle-income residents with fresh vegetables weekly during the growing season. The program also runs a farm stand and sells vegetables to local restaurants.
One garden plot sits next to the Quinnipiac River just beyond Interstate 95, nestled beneath a massive wind turbine, on a quarter acre loaned by Phoenix Press. Participants come here for classes in cooking and nutrition, and to learn about farming. Some of the residents have emigrated from rural areas in Latin America where farming was a way of life; but in this urban setting, their options for using those skills are limited.
Over on Ferry Street, an abandoned lot has been turned into another lush garden. One portion is lined with rows of tomatoes and other vegetables. A second section, on loan from the New Haven Land Trust, is set aside for small, raised-bed gardens that make up the "garden incubator" program. Here the graduates of the wellness program can cultivate their own small plots of vegetables. They get farming advice from the New Haven Farms and land trust gardeners. Such partnerships have been crucial to the development of the program.
One of the goals of New Haven Farms is to keep people in the neighborhood involved in community farming, perpetuating the lessons learned in the farming and wellness program. The agency also runs a youth program to teach youngsters early on about the value of fresh produce and healthy eating. ("Cherry tomatoes are the secret to getting kids into vegetables," advises farm manager Jacqueline Maisonpierre.)
The challenges for the students were diverse: How to create a financially sustainable model, increase the staff, grow more vegetables and expand the wellness program to more people, and build a more ongoing relationship between community members and New Haven Farms.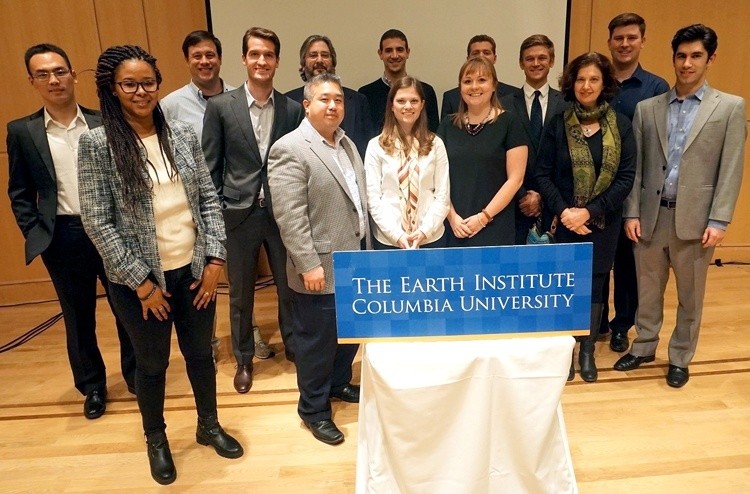 Students from the sustainability management program who worked on the New Haven Farms project. Photo credit: Tim Lyons
The 14 students in the sustainability program who took on these challenges came to Columbia from places as diverse as Los Angeles, Brooklyn, Greenwich, Conn., Toronto and Beijing, and brought to the project a range of experience—environmental consulting, sustainable farming, urbanization issues, finance, public administration, management. They interviewed New Haven Farms staff, studied New Haven's demographics, and investigated other urban farm and wellness programs. Their advisor was Thomas Abdallah, chief environmental engineer for the MTA/New York City Transit.
In the end, they came up with a detailed presentation that outlines several ways New Haven Farms could build its programs into the future. For instance, a modest investment in alternative farming techniques such as a "hightower" greenhouse and hydroponics could expand the growing season and potentially double crop yields. That could mean more produce to sell, raising more money for the program.
The students also recommended adding a third full-time staffer and suggested ways for the organization to build partnerships with other local organizations and increase financial stability.
The Capstone Workshop is a key feature of the M.S. in Sustainability Management program, co-sponsored by the Earth Institute and Columbia's School of Professional Studies. The program trains students to tackle complex and pressing environmental and managerial challenges. An information session on the program will be held from 6 - 7:30 p.m., Feb. 17, at the Faculty House on Columbia's Morningside campus. For more on the event, email Allison E. Ladue at ael2133@columbia.edu; to register, go here. The next application deadline for the program is May 15.
YOU MIGHT ALSO LIKE
Michael Pollan: Return to the Kitchen to Forge a Deeper Connection to the Ingredients We Use to Nourish Ourselves
15 Best Foods for Detoxing Your Body
Ben & Jerry's Launches Vegan Ice Cream Line With 4 Non-Dairy Flavors
13 Herbs and Spices That Will Reduce Inflammation in Your Body
By Itai Vardi
A recent intensification in protests against Williams Partners' planned Atlantic Sunrise pipeline in Pennsylvania prompted a state senator to propose legislation aimed at limiting demonstrations.
Last month, Pennsylvania Sen. Scott Martin (R-Norman) announced his intention to introduce legislation that would pass the costs of law enforcement responding to protests onto the demonstrators. Martin also helped introduce a different bill that would criminalize protests at natural gas facilities.
Keep reading...
Show less
Black Shogun / iStock
The Federal Energy Regulatory Commission (FERC) released its Final Environmental Impact Statement Friday for the Mountain Valley Pipeline, a controversial 303-mile pipeline that would carry two billion cubic feet of fracked gas per day from West Virginia through Virginia.
Keep reading...
Show less
Falcon PEV
The so-called "first and last mile" problem is one of the biggest hurdles with public transportation. How do you encourage more people to take Earth-friendlier commutes when their homes are miles away from the train or bus station?
One solution, as this Estonian electric scooter company proposes, is to simply take your commute with you—literally. Tallinn-based Stigo has developed a compact e-scooter that folds to the size of a rolling suitcase in about two seconds.
Keep reading...
Show less
Connect4Climate
[Editor's note: I'm still in shock after hearing the news that Lucia Grenna passed away in her sleep last week. When we first met in April of 2014 at a Copenhagen hotel, I was immediately taken by here powerful presence. We spent the next couple days participating in a Sustainia climate change event where Lucia presented her audacious plans to connect people to the climate issue. I had the chance to partner with Lucia on several other projects throughout the years and work with her incredible Connect4Climate team. I was always in awe of her ability to "make the impossible possible." Her spirit will live on forever. — Stefanie Spear]
It is with a heavy heart that Connect4Climate announces the passing of its founder and leading light, Lucia Grenna. Lucia passed peacefully in her sleep on June 15, well before her time. We remember her for her leadership and extraordinary ability to motivate people to take on some of the greatest challenges of our time, not least climate change.
Keep reading...
Show less
Jun. 23, 2017 07:29PM EST
Wikimedia Commons
By Stacy Malkan
Neil deGrasse Tyson has inspired millions of people to care about science and imagine themselves as participants in the scientific process. What a hopeful sign it is to see young girls wearing t-shirts emblazoned with the words, "Forget princess, I want to be an astrophysicist."
Keep reading...
Show less
Jun. 23, 2017 01:57PM EST
www.youtube.com
By Andy Rowell
Any day now we will truly witness climate change in action. Within days at worst, maybe weeks at best, scientists predict that a huge section of the Larsen C ice shelf in Antarctica will break off into the ocean, in what is called a major "carving" event.
Keep reading...
Show less
Jun. 23, 2017 02:27PM EST
www.youtube.com
President Trump visited Cedar Rapids, Iowa on June 21 to speak to a large crowd in the U.S. Cellular Center at a political rally organized by his campaign.
As Trevor Noah noted during The Daily Show episode last night (starts at 2:25), the real reason Trump has these rallies is to "get back in front of his loyal crowds and feed of their energy." Noah believes that "Trump supporters are so on board with their dude he can say anything and they'll come along for the ride."
Keep reading...
Show less
Jun. 23, 2017 07:50PM EST
The Kamuthi solar plant in the southern Indian state of Tamil Nadu.
The rapid growth in renewable energy continues to put a dent in the demand for coal.
Coal India, the world's biggest coal mining company and producer of 82 percent of the country's coal, announced the closure of 37 mines that are financially "unviable."
Keep reading...
Show less
Jun. 23, 2017 06:42PM EST
www.youtube.com
By Katie O'Reilly
Two years ago—long before coal became one of the most dominant and controversial symbols of the 2016 presidential election—Bloomberg Philanthropies approached production company RadicalMedia with the idea of creating a documentary exploring the U.S. coal mining industry. Last spring, they brought on Emmy-nominated director Michael Bonfiglio, tasked with forging a compelling story out of the multitudes of facts, statistics and narratives underlying the declining industry.
Keep reading...
Show less