Over the last year, no area of sustainability has drawn as much interest from students in Columbia University's Sustainability Management graduate program than the environmental performance of the fashion industry. One of these students is Kwesi Blair, who has, himself, worked in the retail of fashion for a decade, and who has experienced, firsthand, the need for sustainability management in that industry. In this interview, Blair, discusses the integration of sustainability into the fashion industry. The M.S. in Sustainability Management program, says Blair, "has given me the tools to help integrate sustainable practices across all business units."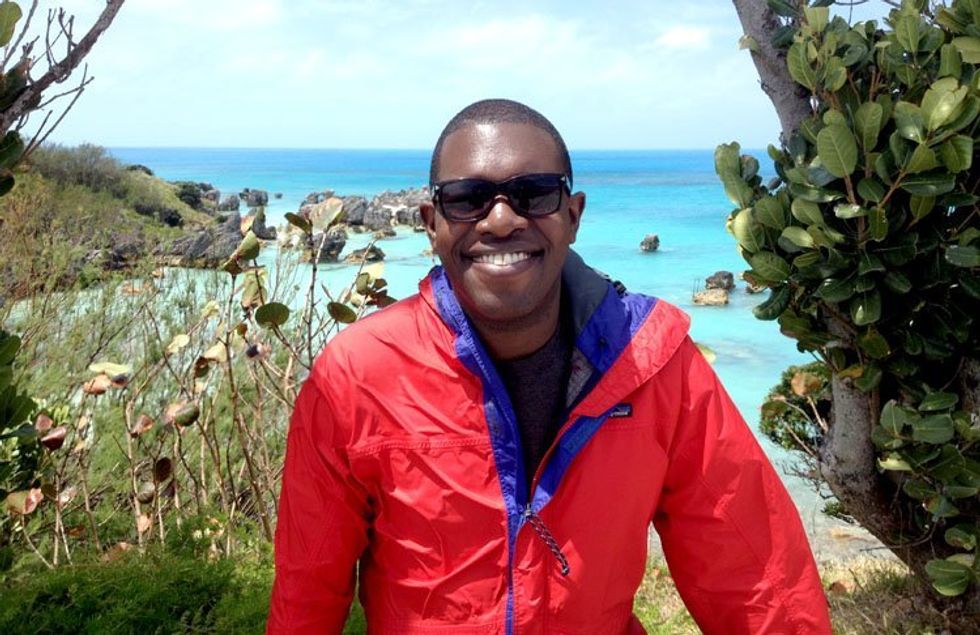 1. What is your current job and what are the responsibilities associated with your position?
I am Senior Vice President of Strategy at Robert Burke Associates. I am tasked with developing solutions for how brands and retailers think through growth, positioning, consumer engagement and relevance. I travel often to cities all over the world to assess opportunities for brands, and determine optimal strategies for entering new markets. I also regularly advise investors who want to understand whether or not certain brands and retailers are viable investment targets.
2. What have you found in your field that needs to improve and how do you intend to do so once you achieve your degree?
I have worked in fashion and retail developing strategy for over a decade, and continue to be disappointed and concerned by the lack of awareness or action within the industry around sustainability. I would like to use my degree to help brands navigate realistic sustainable goals that will ultimately improve their businesses, while taking responsibility for their environmental and social impacts.
3. What do you think is the most important sustainability challenge?
I believe the most important challenge is clearly communicating what sustainability means and getting people to understand why it's critical from a business perspective.
4. How have you applied what you've learned in the program so far?
I was able to introduce the GRI framework to a client and help them develop a materiality matrix for defining what issues relating to sustainability were most important to the company. This served as the foundation for the company to develop a sustainability report and establish clear, measurable goals.
5. What do you think is the most beneficial aspect of the MSSM program related to your career?
I think the program has given me the tools to help integrate sustainable practices across all business units in the retail industry. I often interact with a variety of teams who work in silos (design, marketing, logistics, finance, etc.) and rarely communicate with each other. I have a better sense of how best to create a realistic sustainability plan that can be applied to an entire organization, and identify where to generate the most impact. I feel comfortable discussing the value of having a sustainability strategy within the context of dollars and cents, which is what all business leaders ultimately care about.
6. Beyond the classroom, what extracurricular sustainability related have you engaged in with your fellow sustainability management students?
I've enjoyed going to a few happy hours outside of classes. The students in our program come from so many backgrounds and places around the world, and everyone is eager to share what they know. I've found that most students are very generous with making connections to people who might be able to offer some professional guidance or insight. It's a very welcoming environment.
7. What is your favorite class in the MSSM program so far and why?
Having the experience to work on a real problem with my fellow students was extremely valuable, having the opportunity to travel to Butte, Montana, in Lynnette Widder's Responsiveness and Resiliency in the Built Environment class was great preparation for Capstone. Also I got to spend more quality time with a few of my classmates.
8. What tips do you have for your fellow students who are looking for a job in sustainability?
Every person that you meet in the program is a possible resource or connection. Ask questions and learn about what people do and who they might know. Also, the professors and lecturers are very committed to helping students, so don't be shy about asking them about tapping into their network.
9. How has collaborating with your fellow students in projects in the classroom benefited you professionally and personally?
It's been really valuable to work with people who have a completely different frame of reference and skill set than me. The idea of sustainability touches on so many parts of an organization, so it's been really good to better understand how different professionals approach issues and solve problems. I feel confident that I can effectively communicate with CEO's, architects, scientists, investors, engineers, marketers and everyone in between.
The M.S. in Sustainability Management, co-sponsored by the Earth Institute and Columbia's School of Professional Studies, trains students to tackle complex and pressing environmental and managerial challenges. The program requires the successful completion of 36 credit points. Those credit points are divided among five comprehensive content areas: integrative sustainability management, economics and quantitative analysis, the physical dimensions of sustainability, the public policy environment of sustainability management, and general and financial management. Visit our website to learn more.
YOU MIGHT ALSO LIKE
Earth Institute Student Transforms Passion Into Action
Sustainability Management in Practice: Student Work Helps Establish Conservation Act in Palau
Earth Institute Students Help an Urban Farm Rethink Its Future
EcoWatch Daily Newsletter
Turning passion for the environment into action that transforms how organizations do business requires skills and training. Columbia University's graduate program in Sustainability Management prepares students to change organizations in this way, graduating students like James Ossman of Etsy. In this interview, Ossman answers questions about how he integrates sustainability across the firm's global operations.
James Ossman, global operations manager at Etsy
What are the responsibilities associated with your position?
I'm the global operations manager at Etsy, which is a marketplace where people around the world connect, both online and offline, to make, sell and buy unique goods. In this role, I'm responsible for internal operations at our nine global offices. I design and oversee our strategy for facilities management, health, safety and security, and I also partner with departments throughout the company to help implement their programs at our international locations. This includes things like our food program that features locally sourced lunches (called Eatsy), our community-based partnerships and employee volunteering programs, our team celebrations, and more.
On a day-to-day basis I spend a lot of time managing the global team that makes our offices creative, weird, sustainable and fun places to work. I also develop policies, tools, and systems that support Etsy's rapidly scaling physical presence and employee population.
I also wear a second hat at Etsy, serving as the co-leader of our Zero Waste task force. In this capacity I'm responsible for our efforts to increase the rate of waste diverted from landfill, and reducing the overall quantity of waste we produce.
Do your current job responsibilities align with the professional goals that you originally had when you began the MSSM program?
When I enrolled in the MSSM program, I didn't have a clear idea of what I wanted to get out of it. I knew I was looking for a career transition into the private sector, and that I was interested in working for companies that have a business model that promotes sustainability.
At some point along the way, I started to focus in on B-Corps, and the idea of working for a company that really embeds sustainability in the fabric of its DNA. I didn't want to be part of a sustainability department in a company where I would be fighting an uphill battle to convince other departments of the value of sustainable approaches, but rather, to do the job function that I know and love (operations) in a company that demands I take a sustainable approach to my work. My job at Etsy really achieves that goal 100 percent.
What inspired you to work in sustainability?
My professional life provides a huge amount of personal fulfillment for me, and because of this I really put my heart into whatever I'm doing. I need to feel connected to the mission and values I'm promoting through my work in order to stay motivated. It's also important that I can feel and see my impact. Working in sustainability keeps me connected to the environment around me and allows me to create and contribute to the world that I want to be a part of.
What has been your biggest challenge associated with sustainability?
I would say that my biggest challenge related to sustainability has been prioritizing where I focus my energy. Etsy is all about building for the long term, and I'm trying to instill that value into my approach to sustainable operations. I have had to resist the urge to jump into more glamorous sustainability initiatives, because it's most important that I build a solid base of systems and processes that set us up for success down the road.
What has been your biggest accomplishment associated with sustainability?
When I started in this role, Etsy was already doing amazing things to reduce its waste and increase its diversion to landfill. This year we took the next step and established formal sustainability goals that we will be publicly announcing. I led the effort around our waste reduction targets. It was great to be able to pull together all of our awesome work to build sustainable systems and engage employees under a single strategy. Now with a clear target in sight, I've been able to focus our efforts to set us on a path to achieving our goal.
What skills has the MSSM program taught you that you think have proven useful to your current position?
I've used a lot of the analytical skills, such as cost benefit analysis and accounting, in my current role. I also have applied many skills gained through my capstone project developing a zero waste strategy for a municipality in upstate New York.
What was your favorite class?
I approached the program looking to leave with a new tool kit of hard skills. GHG reporting, cost benefit analysis, decision models, GIS and others all helped me to achieve this, and were classes I really enjoyed.
How do you intend to utilize your degree in furthering your career?
At the moment, I'm feeling quite settled in how the MSSM program has helped to advance my career. It's great to know though, that I always have a network and the skills I gained in the program to fall back on when I'm ready for my next step.
What tips do you have for your fellow students who are looking for a job in sustainability?
Think beyond jobs with the word sustainability in the title. There are lots of companies out there modeled around sustainable products and services, or that hold sustainability as a core value. In companies like this, you can work in any role and sustainability will be a major part of what you do.
What do you think is the most beneficial aspect of the MSSM program with regard to your career?
I walked away from the program feeling more confident in my analytical skills, and well-versed in the science, theory and language of sustainability. For me, this has been the difference between being interested in and passionate about sustainability, and being able to lead sustainability initiatives with authority.
The M.S. in Sustainability Management, co-sponsored by the Earth Institute and Columbia's School of Professional Studies, trains students to tackle complex and pressing environmental and managerial challenges. The program requires the successful completion of 36 credit points. Those credit points are divided among five comprehensive content areas: integrative sustainability management, economics and quantitative analysis, the physical dimensions of sustainability, the public policy environment of sustainability management, and general and financial management. Visit our website to learn more.
YOU MIGHT ALSO LIKE
Sustainability Management in Practice: Student Work Helps Establish Conservation Act in Palau
Earth Institute Students Help an Urban Farm Rethink Its Future
2015 Was Record-Breaking Year for Investment in Renewable Energy
Solar panels can provide electricity for decades, and they have few maintenance needs compared with other energy generation systems. However, regular solar panel cleaning is important to ensure they remain productive. When dust and debris accumulate on the surface of photovoltaic cells, they block sunlight, and less electricity is produced.
The best solar panels come with a power production warranty of 25 to 30 years. Like any device, they lose performance capacity over time. High-quality modules will only lose around 0.5% of their capacity each year, but this is only true for solar panels that are cleaned regularly. According to the National Renewable Energy Laboratory, soiling can reduce panels' annual electricity output by up to 7% in some parts of the U.S.
Rain can naturally wash away dirt and particles from the surface of solar panels, especially if they are tilted. So if you live in a place with regular rainfall, your panels will be less affected by soiling. However, solar panel cleaning services are still recommended two to four times per year to make sure your system stays productive.
Recommended Solar Panel Cleaning Schedule
Solar panels are exposed to dust, dirt and bird droppings all year long. Depending on where you live, there may also be seasonal issues that affect panels, and you must make sure these are handled properly. Below are our solar panel cleaning tips for each part of the year.
Fall
As you might guess, a large amount of falling leaves can block a lot of sunlight if you let them accumulate on your solar panels. However, even a small number of leaves can have a major impact on power generation, due to how solar panels work:
The photovoltaic cells that make up a panel are wired in series. When even one cell is covered completely by a leaf, the entire panel becomes less productive.
Consider that the solar panels themselves are also wired together in strings (series circuits) and connected to an inverter. If one panel in the circuit has issues, all others will be affected.
As a result, a single large leaf can affect an entire row of panels if it fully covers one solar cell. As more leaves accumulate, the electricity output continues to drop.
You can clean the leaves on your own, but you should get a rake that is specifically designed for solar panels. Otherwise, you can damage the surface of the solar panels, and your manufacturer warranty may be voided due to rough handling.
Winter
Snow and ice become the main issue for solar panels when the winter arrives. Most high-quality modules have low temperature ratings and will not be damaged by cold weather, but a thick layer of snow can block sunlight and stop electricity production.
Snow should be cleaned from solar panels and other roof surfaces as soon as possible.
Otherwise, the snow can melt and freeze back into ice, which is more difficult to remove.
The sun can help you by melting some of the snow and ice on your roof, but solar panel cleaning might still be necessary after a heavy snowfall. Again, you will need a specialized solar panel snow rake. Avoid ice scrapers and any other tools that may scratch or damage solar cells.
Spring
There is plenty of pollen in the air during spring, and it can accumulate on solar panels and lower energy production. Regular washing is recommended during this season to prevent pollen buildup. If you're not sure how much pollen you're expected to get, many weather forecasts provide information on pollen levels, and there are also online resources where you can check pollen counts for your zip code.
Pollen allergies are very common, and they tend to worsen during spring. If you or someone else in your home is sensitive to pollen, you might prefer to hire a solar panel cleaning service to avoid direct exposure.
Summer
During summer, the cleaning needs of solar panels will depend on your climate and weather conditions:
In regions that get plenty of rain during summer (hurricane season), there is little need to clean your panels because the weather will do the job for you.
Regions with less rainfall tend to be hot and dry during summer (fire season), and regular maintenance may be necessary to remove extra dust, ash and other particles.
Solar panels can achieve their highest electricity savings during summer, since there are more hours of sunlight per day. However, this is only true when they are kept clean of grime. Dirty solar panels will always have a lower energy output, no matter the season.
How to Clean Solar Panels
Cleaning solar panels on your own can be dangerous — especially if they are installed on a hard-to-access roof area. In these cases, paying for a solar panel cleaning service is a safer option.
Many of the best solar companies offer cleaning services. Some local solar installers may even offer free cleaning for a limited time after your purchase.
You can also get in touch with professional cleaners who specialize in solar panel maintenance.
Another option to keep your solar panels clean is installing a sprinkler system like that from Heliotex. These remove dust and other particles automatically. With this type of system, solar panels can also be cleaned more frequently, as nobody needs to climb on your roof. With no chance for dust to accumulate, you generate more kilowatt-hours of energy over time and your power bill savings are higher, lowering your overall solar panel payback period.
DIY Solar Panel Cleaning
Cleaning solar panels on your own is also an option, especially if you have a ground-mounted solar system that you can reach easily. However, you must make sure the panels are not damaged while taking all the necessary precautions to avoid accidents.
To clean your solar panels without damaging them, take note of the following recommendations:
Use soapy water, avoiding harsh chemicals. Something as simple as diluted biodegradable soap should do the job.
Use a non-abrasive sponge or a soft brush and squeegee.
Use a standard garden hose, since a pressure washer can damage your solar panels.
To keep yourself safe, be extra careful when cleaning a rooftop solar system, especially if you have a high-pitched roof. We recommend wearing personal protective equipment including a hardhat and safety harness at the bare minimum.
Also, make sure you stay hydrated while cleaning your solar panels, and avoid working in extreme heat. The risk of heatstroke should not be underestimated, and you will need emergency medical attention if it happens to you. Early morning and evening are the best times of the day for solar panel cleaning, or you can wait to wash your solar panels on a cloudy day.
Cost of Solar Panel Cleaning Services
Solar panel cleaning companies normally either charge per module or charge a flat rate for the entire array. You can expect to pay between $5 and $10 per panel, or $150 to $200 for the entire system, though prices may vary depending on location, season and other factors.
If you don't have solar panels yet, some installers may offer free cleaning for a limited time after your purchase. However, this shouldn't be the main factor when choosing your solar provider. Free cleaning is a nice perk, but make sure you're actually getting a high-quality installation.
How to Tell When Your Solar Panels Need Maintenance
As mentioned above, solar panels are very durable and 25- to-30 year warranties are standard in the industry. However, solar power systems are only productive when their surface is kept clean. Dust, particles and objects will not cause permanent damage, but their electricity output can be reduced drastically.
If your solar panels are producing less electricity than usual, even with sunny weather, they could need cleaning or maintenance. There are two main ways to detect electricity production issues:
Many solar inverters now come with energy monitoring apps, and you can simply check the electricity production with your smartphone. If there is a significant drop in the daily kilowatt-hour output, the app will let you know.
When your solar panels are producing less electricity, there will also be an impact on your electricity bill. You will notice that more kilowatt-hours are consumed from the grid, which means you pay a higher bill.
Checking your energy monitoring app regularly is a good habit when you have solar panels. You can detect issues faster and get them fixed, instead of waiting for the next power bill. By then, you will have already used a lot of electricity from the grid.
FAQ: Solar Panel Cleaning
Do solar panels need to be cleaned?
Yes, solar panels need regular cleaning, ideally two to four times per year. They are only productive when sunlight reaches their solar cells, and anything that blocks sunlight reduces their output. This includes dust, dirt, pollen, leaves, snow, ice, bird droppings and any other particles or objects that remain on their surface.
What should I use to clean solar panels?
To clean solar panels, you should use a cleaning method that will not damage the cells. Solar panels should be washed with soapy water and a non-abrasive sponge, or a soft brush and squeegee. If you need to remove leaves or snow, look for a specialized solar panel rake and avoid any cleaning tools that could scratch their surface. An easier and safer option is hiring a professional solar panel cleaning company.
Does cleaning your solar panels make a difference?
Yes, cleaning your solar panels has a major impact on panel productivity. According to NREL, soiling can reduce the annual output of your solar panels by up to 7%.
How much does it cost to hire someone to clean solar panels?
When hiring a solar panel cleaning service for your home energy system, you can expect to pay around $5 to $10 per panel or a flat fee of $150 to $200.
Leonardo David is an electromechanical engineer, MBA, energy consultant and technical writer. His energy-efficiency and solar consulting experience covers sectors including banking, textile manufacturing, plastics processing, pharmaceutics, education, food processing, fast food, real estate and retail. He has also been writing articles about energy and engineering topics since 2015.
In the beginning of 2015, David Prieto went off to Palau to study manta rays as part of his study of sustainability management at Columbia University. By the end of that year, the small island state in the western Pacific Ocean had used Prieto's work to pass a new law that protected manta rays from the growing traffic of boats that promise tourists a close-up experience with the majestic fish.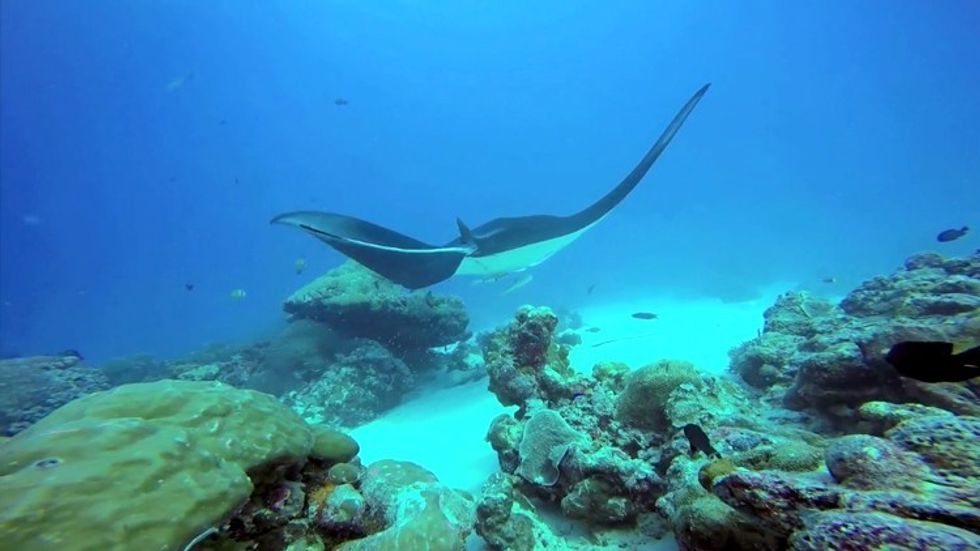 The Manta Ray Conservation Act of the Republic of Palau helped to create the sixth largest marine sanctuary in the world. The area spans the German Channel, a key maritime route, and the only direct passage from the tourist center in Koror to the most popular manta ray watching sites in the country. With tourism growing more than threefold since 2000, boats have increasingly injured manta rays in the German Channel. Manta ray watching tourism contributes more than U.S. $6.8 million annually to the economy, or about 2.5 percent of GDP.
Prieto worked with The Manta Trust, a nongovernmental organization, to develop sustainable tourism management practices. The study involved understanding the effects of boats on manta rays, accounting for the perceptions of tourist boat operators and divers, and forging a management plan that could safeguard the fish, while also preserving the livelihoods of the operators.
Survey results showed that the year 2015 was a poor one for manta ray watching. Divers reported that the number of boat operators in the German Channel had increased by 90 percent since 2010. This growth in traffic, the divers said, was bad for the manta rays and for tourism.
Prieto and his colleagues proposed measures that became part of Palau's new law. Under the Conservation Act, boats are prohibited from entering parts of the German Channel, and there are penalties for violators. The law also provides for ranger, who will enforce the law, training of operators, and a public awareness program for divers and snorkelers.
The work in Palau helped Prieto complete a Master's degree in Sustainability Management, a joint program of Columbia's Earth Institute and the School of Professional Studies.
The new law, Prieto said, "was just a piece of the larger puzzle towards conserving the vast resources that our oceans have to offer, but this achievement could not have been accomplished without the support of The Earth Institute."
The M.S. in Sustainability Management trains students to integrate environmental concerns in the operations of organizations. The curriculum comprises 36 credits in the areas of integrative sustainability management, economics and quantitative analysis, the physical dimensions of sustainability, the public policy environment of sustainability management, and general and financial management.
YOU MIGHT ALSO LIKE
Why Midwest Floods Are Critical to the Restoration of the Louisiana Coast
Farmers Key to Bringing Monarch Butterflies Back From the Brink of Extinction
NASA: 4 Billion People at Risk as 'Water Table Dropping All Over the World'
In the Fair Haven section of New Haven, Conn., rates of obesity and diabetes are high, and access to healthy fresh food can be limited. For some residents of this low-income neighborhood, New Haven Farms is just what the doctor ordered.

The small non-profit agency grows vegetables on several plots around the city, and conducts classes in basic nutrition and healthy cooking. New Haven Farms grew out of a program run by the Fair Haven Community Health Center, which serves the largely low-income, Hispanic neighborhood. Doctors actually prescribe the program as one way to help patients at risk from diet-related diseases like Diabetes 2 learn a healthier lifestyle.
Last fall, a team of students in the Earth Institute's Master of Science in Sustainability Management program traveled to Connecticut to study the New Haven Farms operation and come up with ways to expand its growing capacity and the number of people it serves. This "Capstone Workshop" was one of several conducted by teams of students in the Master of Science in Sustainability Management program and serves in place of a thesis, giving students a hands-on experience consulting for a real-world client. This video tells the story of what the New Haven Farms team did.
The New Haven Farms wellness program runs for 16-20 weeks during the growing season and has served nearly 200 people since 2012. The staff cultivates a little over an acre of land, primarily at two sites. The produce goes into a community supported agriculture program that for a fee provides low- and middle-income residents with fresh vegetables weekly during the growing season. The program also runs a farm stand and sells vegetables to local restaurants.
One garden plot sits next to the Quinnipiac River just beyond Interstate 95, nestled beneath a massive wind turbine, on a quarter acre loaned by Phoenix Press. Participants come here for classes in cooking and nutrition, and to learn about farming. Some of the residents have emigrated from rural areas in Latin America where farming was a way of life; but in this urban setting, their options for using those skills are limited.
Over on Ferry Street, an abandoned lot has been turned into another lush garden. One portion is lined with rows of tomatoes and other vegetables. A second section, on loan from the New Haven Land Trust, is set aside for small, raised-bed gardens that make up the "garden incubator" program. Here the graduates of the wellness program can cultivate their own small plots of vegetables. They get farming advice from the New Haven Farms and land trust gardeners. Such partnerships have been crucial to the development of the program.
One of the goals of New Haven Farms is to keep people in the neighborhood involved in community farming, perpetuating the lessons learned in the farming and wellness program. The agency also runs a youth program to teach youngsters early on about the value of fresh produce and healthy eating. ("Cherry tomatoes are the secret to getting kids into vegetables," advises farm manager Jacqueline Maisonpierre.)
The challenges for the students were diverse: How to create a financially sustainable model, increase the staff, grow more vegetables and expand the wellness program to more people, and build a more ongoing relationship between community members and New Haven Farms.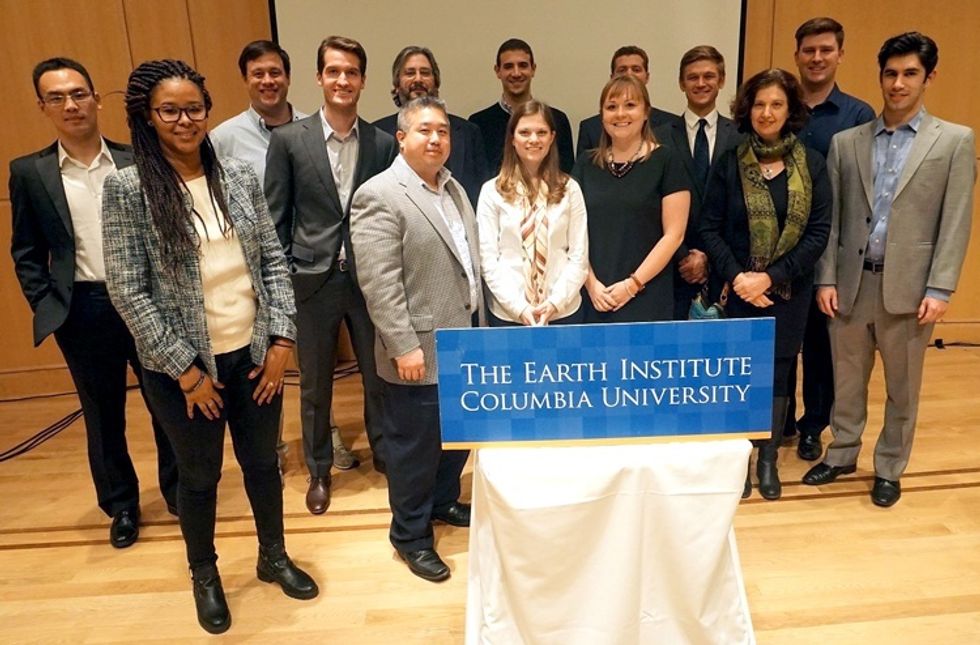 Students from the sustainability management program who worked on the New Haven Farms project. Photo credit: Tim Lyons
The 14 students in the sustainability program who took on these challenges came to Columbia from places as diverse as Los Angeles, Brooklyn, Greenwich, Conn., Toronto and Beijing, and brought to the project a range of experience—environmental consulting, sustainable farming, urbanization issues, finance, public administration, management. They interviewed New Haven Farms staff, studied New Haven's demographics, and investigated other urban farm and wellness programs. Their advisor was Thomas Abdallah, chief environmental engineer for the MTA/New York City Transit.
In the end, they came up with a detailed presentation that outlines several ways New Haven Farms could build its programs into the future. For instance, a modest investment in alternative farming techniques such as a "hightower" greenhouse and hydroponics could expand the growing season and potentially double crop yields. That could mean more produce to sell, raising more money for the program.
The students also recommended adding a third full-time staffer and suggested ways for the organization to build partnerships with other local organizations and increase financial stability.
The Capstone Workshop is a key feature of the M.S. in Sustainability Management program, co-sponsored by the Earth Institute and Columbia's School of Professional Studies. The program trains students to tackle complex and pressing environmental and managerial challenges. An information session on the program will be held from 6 - 7:30 p.m., Feb. 17, at the Faculty House on Columbia's Morningside campus. For more on the event, email Allison E. Ladue at [email protected]; to register, go here. The next application deadline for the program is May 15.
YOU MIGHT ALSO LIKE
Michael Pollan: Return to the Kitchen to Forge a Deeper Connection to the Ingredients We Use to Nourish Ourselves
15 Best Foods for Detoxing Your Body
Ben & Jerry's Launches Vegan Ice Cream Line With 4 Non-Dairy Flavors
13 Herbs and Spices That Will Reduce Inflammation in Your Body
Scientists working in the desert badlands of northwestern Kenya have found stone tools dating back 3.3 million years, long before the advent of modern humans, and by far the oldest such artifacts yet discovered.
The tools, whose makers may or may not have been some sort of human ancestor, push the known date of such tools back by 700,000 years; they also may challenge the notion that our own most direct ancestors were the first to bang two rocks together to create a new technology.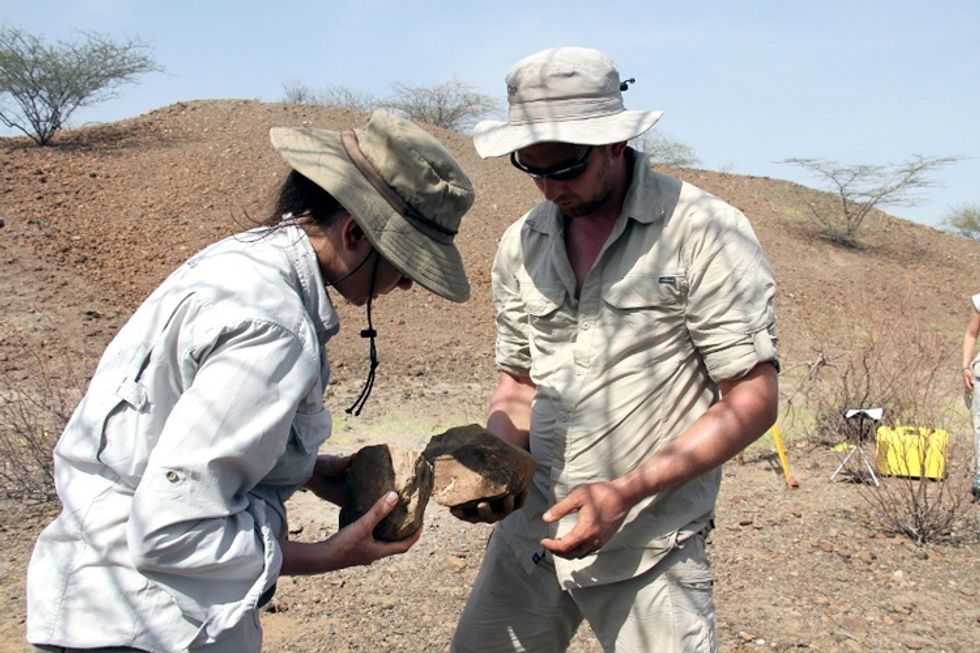 The discovery is the first evidence that an even earlier group of proto-humans may have had the thinking abilities needed to figure out how to make sharp-edged tools. The stone tools mark "a new beginning to the known archaeological record," say the authors of a new paper about the discovery, published today in the leading scientific journal Nature.
"The whole site's surprising, it just rewrites the book on a lot of things that we thought were true," said geologist Chris Lepre of the Lamont-Doherty Earth Observatory and Rutgers University, a co-author of the paper who precisely dated the artifacts. The tools "shed light on an unexpected and previously unknown period of hominin behavior and can tell us a lot about cognitive development in our ancestors that we can't understand from fossils alone," said lead author Sonia Harmand, of the Turkana Basin Institute at Stony Brook University and the Université Paris Ouest Nanterre.
Hominins are a group of species that includes modern humans, Homo sapiens , and our closest evolutionary ancestors. Anthropologists long thought that our relatives in the genus Homo—the line leading directly to Homo sapiens—were the first to craft such stone tools. But researchers have been uncovering tantalizing clues that some other, earlier species of hominin, distant cousins, if you will, might have figured it out.
The researchers do not know who made these oldest of tools. But earlier finds suggest a possible answer: The skull of a 3.3-million-year-old hominin, Kenyanthropus platytops, was found in 1999 about a kilometer from the tool site. A K. platyops tooth and a bone from a skull were discovered a few hundred meters away, and an as-yet unidentified tooth has been found about 100 meters away.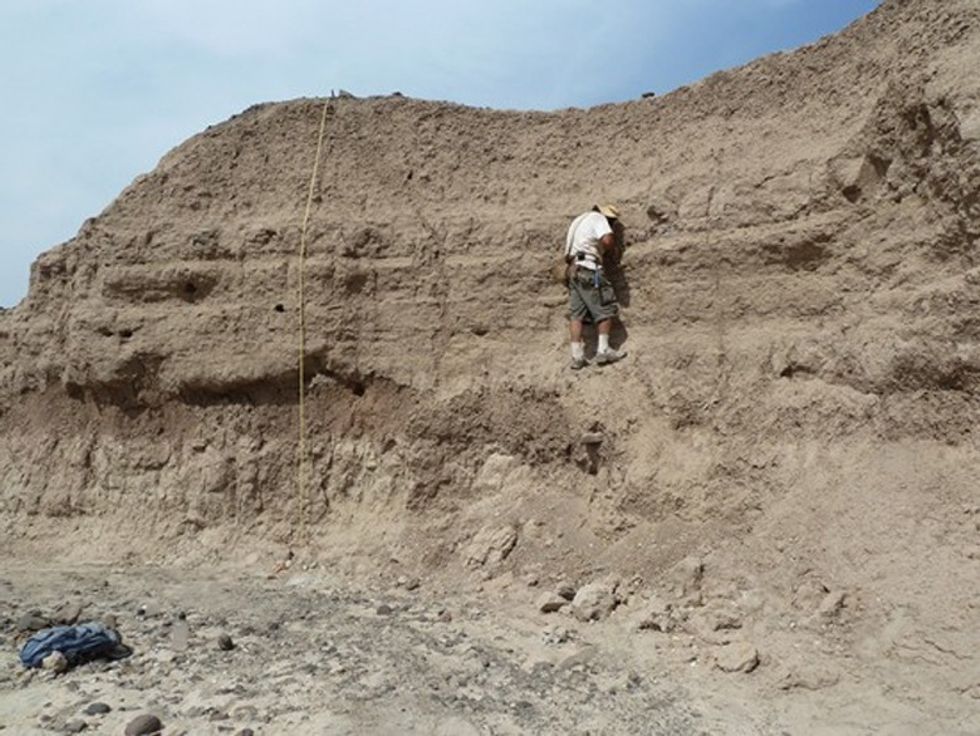 The precise family tree of modern humans is contentious, and so far, no one knows exactly how K. platyops relates to other hominin species.Kenyanthropus predates the earliest known Homospecies by a half a million years. This species could have made the tools; or, the toolmaker could have been some other species from the same era, such as Australopithecus afarensis, or an as-yet undiscovered early type of Homo.
Lepre said a layer of volcanic ash below the tool site set a "floor" on the site's age: It matched ash elsewhere that had been dated to about 3.3 million years ago, based on the ratio of argon isotopes in the material. To more sharply define the time period of the tools, Lepre and co-author and Lamont-Doherty colleague Dennis Kent examined magnetic minerals beneath, around and above the spots where the tools were found.
The Earth's magnetic field periodically reverses itself, and the chronology of those changes is well documented going back millions of years. "We essentially have a magnetic tape recorder that records the magnetic field … the music of the outer core," Kent said. By tracing the variations in the polarity of the samples, they dated the site to 3.33 million to 3.11 million years.
Another co-author, Rhonda Quinn of Seton Hall University, studied carbon isotopes in the soil, which along with animal fossils at the site allowed researchers to reconstruct the area's vegetation. This led to another surprise: The area was at that time a partially wooded, shrubby environment. Conventional thinking has been that sophisticated tool-making came in response to a change in climate that led to the spread of broad savannah grasslands, and the consequent evolution of large groups of animals that could serve as a source of food for human ancestors.
One line of thinking is that hominins started knapping—banging one rock against another to make sharp-edged stones—so they could cut meat off of animal carcasses, said paper co-author Jason Lewis of the Turkana Basin Institute and Rutgers. But the size and markings of the newly discovered tools "suggest they were doing something different as well, especially if they were in a more wooded environment with access to various plant resources," Lewis said. The researchers think the tools could have been used for breaking open nuts or tubers, bashing open dead logs to get at insects inside, or maybe something not yet thought of.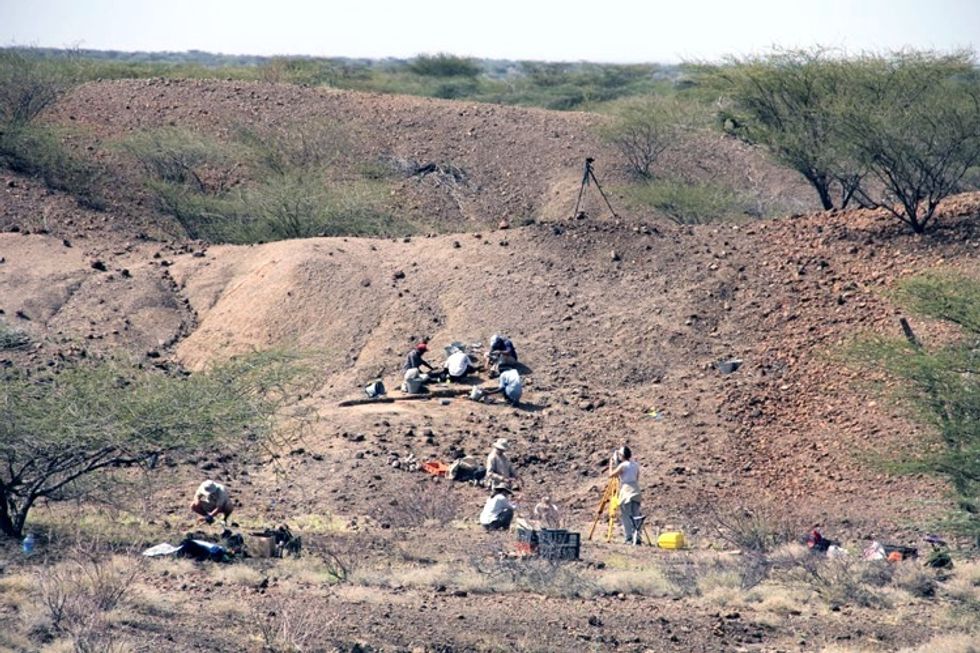 "The capabilities of our ancestors and the environmental forces leading to early stone technology are a great scientific mystery," said Richard Potts , director of the Human Origins Program at the Smithsonian's National Museum of Natural History, who was not involved in the research. The newly dated tools "begin to lift the veil on that mystery, at an earlier time than expected," he said. Potts said he had examined the stone tools during a visit to Kenya in February.
"Researchers have thought there must be some way of flaking stone that preceded the simplest tools known until now," he said. "Harmand's team shows us just what this even simpler altering of rocks looked like before technology became a fundamental part of early human behavior."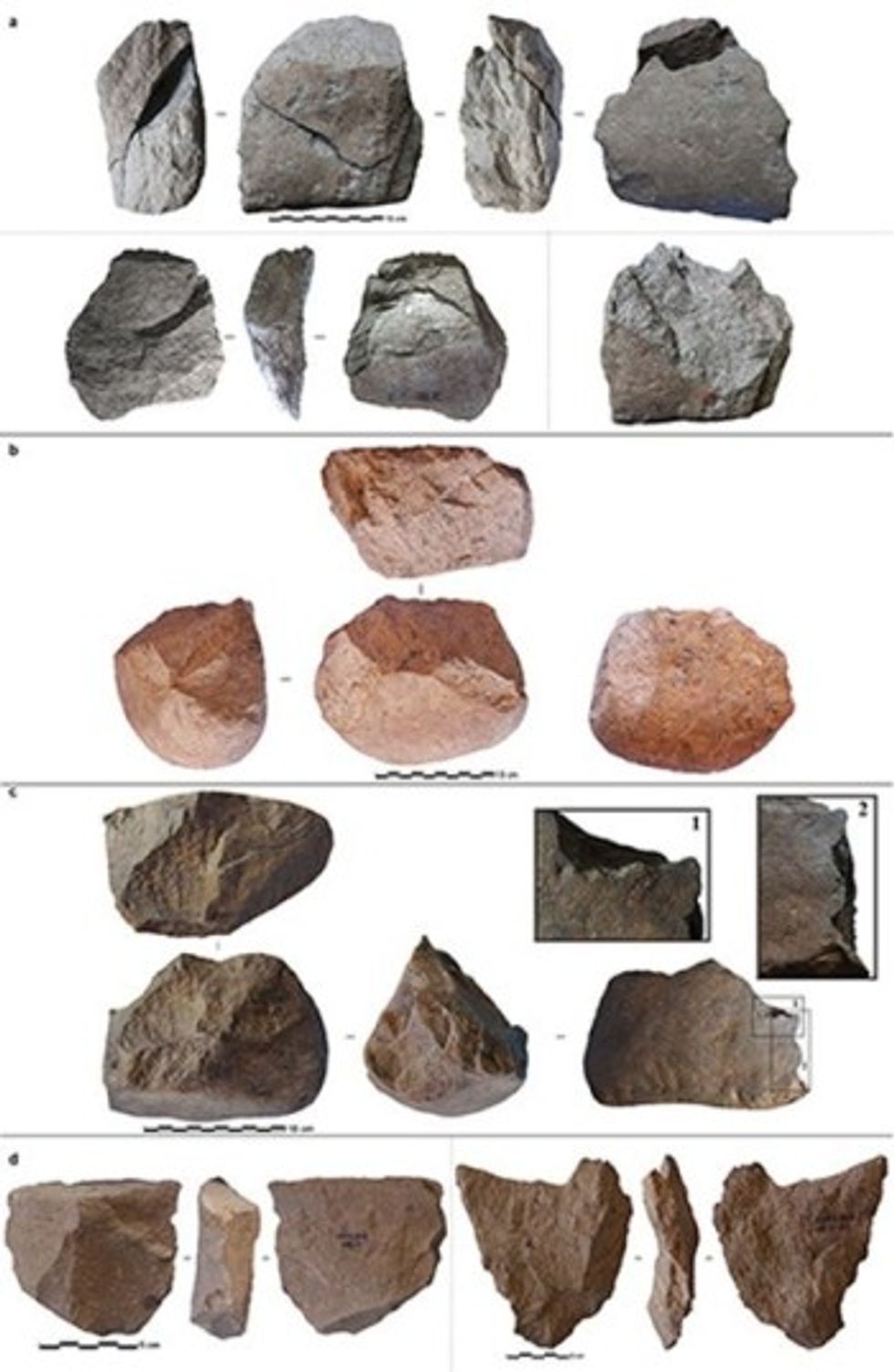 Ancient stone artifacts from East Africa were first uncovered at Olduvai Gorge in Tanzania in the mid-20th century, and those tools were later associated with fossil discoveries in the 1960s of the early human ancestor Homo habilis. That species has been dated to 2.1 million to 1.5 million years ago.
Subsequent finds have pushed back the dates of humans' evolutionary ancestors, and of stone tools, raising questions about who first made that cognitive leap. The discovery of a partial lower jaw in the Afar region of Ethiopia, announced on March 4, pushes the fossil record for the genusHomo to 2.8 million years ago. Evidence from recent papers, the authors note, suggests that there is anatomical evidence that Homo had evolved into several distinct lines by 2 million years ago.
There is some evidence of more primitive tool use going back even before the new find. In 2009, researchers at Dikika, Ethiopia, dug up 3.39 million-year-old animal bones marked with slashes and other cut marks, evidence that someone used stones to trim flesh from bone and perhaps crush bones to get at the marrow inside. That is the earliest evidence of meat and marrow consumption by hominins . No tools were found at the site, so it's unclear whether the marks were made with crafted tools or simply sharp-edged stones. The only hominin fossil remains in the area dating to that time are from Australopithecus afarensis.
The new find came about almost by accident: Harmand and Lewis said that on the morning of July 9, 2011, they had wandered off on the wrong path, and climbed a hill to scout a fresh route back to their intended track. They wrote that they "could feel that something was special about this particular place." They fanned out and surveyed a nearby patch of craggy outcrops. "By teatime," they wrote, "local Turkana tribesman Sammy Lokorodi had helped [us] spot what [we] had come searching for."
By the end of the 2012 field season, excavations at the site, named Lomekwi 3, had uncovered 149 stone artifacts tied to tool-making, from stone cores and flakes to rocks used for hammering and others possibly used as anvils to strike on.
The researchers tried knapping stones themselves to better understand how the tools they found might have been made. They concluded that the techniques used "could represent a technological stage between a hypothetical pounding-oriented stone tool use by an earlier hominin and the flaking-oriented knapping behavior of [later] toolmakers." Chimpanzees and other primates are known to use a stone to hammer open nuts atop another stone. But using a stone for multiple purposes, and using one to crack apart another into a sharper tool, is more advanced behavior.
The find also has implications for understanding the evolution of the human brain. The toolmaking required a level of hand motor control that suggests that changes in the brain and spinal tract needed for such activity could have occurred before 3.3 million years ago, the authors said.
"This is a momentous and well-researched discovery," said paleoanthropologist Bernard Wood of George Washington University, who was not involved in the study. "I have seen some of these artifacts in the flesh, and I am convinced they were fashioned deliberately." Wood said he found it intriguing to see how different the tools are from so-called Oldowan stone tools, which up to now have been considered the oldest and most primitive.
Lepre, who has been conducting fieldwork in eastern Africa for about 15 years, said he arrived at the dig site about a week after the discovery. The site is several hours' drive on rough roads from the nearest town, located in a hot, dry landscape he said is reminiscent of Arizona and New Mexico. Lepre collected chunks of sediment from a series of depths and brought them back to Lamont-Doherty for analysis. He and Kent used a bandsaw to trim the samples into sugar cube-size blocks and inserted them into a magnetometer, which measured the polarity of tiny grains of the minerals hematite and magnetite contained in the sediment.
"The magnetics pretty much clinches that the age is something like 3.3 million years old," said Kent, who also is a professor at Rutgers.
Earlier dating work by Lepre and Kent helped lead to another landmark paper in 2011 : a study that suggested Homo erectus , another precursor to modern humans, was using more advanced tool-making methods 1.8 million years ago, at least 300,000 years earlier than previously thought.
Columbia University's Earth Institute and School of Continuing Education developed the Master of Science in Sustainability Management to train professionals in sustainability. The program emphasizes skills and knowledge that are needed to integrate sustainability in business, and in public and non-profit organizations. The coursework combines the study of management and economic and quantitative analysis with classes in the state of the art in sustainability practice and science.
Current Master of Science in Sustainability Management (MSSM) student Divya Bendre had just completed postgraduate work in Policy Studies and was working in management consulting in Singapore when she stumbled upon an article by Steve Cohen, executive director of The Earth Institute at Columbia University, entitled "Educating Sustainability Professionals" that changed the trajectory of her career path. Divya joined the program because she felt the flexible curriculum would help her to combine her interest in sustainability with her academic and professional experiences. After the program, Divya hopes to continue her work in ESG measurement, disclosure and investment space.
1. What drew you to the Master of Science in Sustainability Management (MSSM)?
Volunteer research-work for a local environmental non-profit brought me to Prof. Cohen's article entitled "Educating Sustainability Professionals" and something just clicked for me—the MSSM program was exactly what I needed to bring together my academic background in engineering and policy, professional experience in the corporate world, and my interests in sustainability. The funny thing is that I was not actually looking for a master's program when I first learned about the MSSM program. At the time, I had just completed a Postgraduate Diploma in Policy Studies and was working full-time in management consulting in Singapore.
2. What do you think is the most important sustainability challenge?
I think the biggest challenge is that sustainability risks and opportunities play out over generations, while planning and accountability processes at governments and corporations usually have short-term horizons—often less than 5 years. It is really important for sustainability professionals to acknowledge this mismatch and paint a realistic picture of the short-, medium- and long-term implications when they are building a case for change. Obviously, this is easier said than done because sustainability issues are so complex and inter-connected.
3. What do you intend to do professionally once you achieve your degree?
I'd like to continue working in the ESG (Environmental, Social, and Governance) measurement, disclosure, and investment space. I see this career path as a natural progression of my past work experience. Before coming to Columbia University, I helped companies quantify and strategize about critical-yet-hard-to-measure issues such as compliance culture, talent retention, and manager quality. It might be a cliché to say 'what gets measured, gets managed,' but I really believe that better measurement and disclosure is necessary for unlocking sustainability innovation in the corporate and public sector.
4. What is your favorite class in the MSSM program so far and why?
My favorite course was Sustainable Finance with Professor Bruce Kahn. Much of the coursework is about framing and quantifying ESG issues in terms of financial risk and returns. Most students in the class had no background in finance, but by the end of the semester we could all build valuation models that integrated companies' sustainability performance alongside traditional financial metrics.
Most of my friends (and my husband and mother) work in the financial services industry, but I'd never felt drawn to it until I took this course. The course showed me how critical the capital markets are for a transition to a sustainable economy and introduced me to some of the sustainability-focused innovation in this space. Ultimately, the course helped me connect the dots between the five curriculum areas in the MSSM program and understand where I my skills and interest fit in the sustainability arena.
5. What skills and tools have you acquired through the program so far?
MSSM professional development seminars on Microsoft Excel and Bloomberg ESG have helped me deepen by analytical toolkit. MSSM workshops have also helped me gain certifications in LEED and GRI Reporting. In my final semester, I am looking forward to adding on environmental data analysis skills in R programming and ArcGIS.
One of the best things about the MSSM program is that it gives students the flexibility to design a multi-disciplinary learning experience that draws on courses, seminars, and student groups across Columbia University. Taking courses in different schools has helped me see sustainability from the lens of different actors. For example, taking Environmental Issues in Business Transactions at Columbia Law School made me aware of the legal risks and liabilities posed by certain types of environmental disclosures in contracts and financial reports.
6. How have you applied what you've learned in the program so far?
I apply what I've learned everyday; the program has made me a more responsible consumer, investor, and citizen. I have also had two internships where I have directly applied my new sustainability analysis skills. Over the summer, I interned at Ceres—a leading sustainability non-profit organization. At Ceres, I applied and expanded my skills in corporate sustainability, stakeholder engagement, and ESG disclosure.
Since October 2014, I have been an intern at the United Nations-supported Principles for Responsible Investment Initiative (PRI). At PRI, I support the Sustainable Stock Exchanges Initiative and UN Global Compact teams on ESG disclosure projects. Our projects cover sustainability reporting as well as ESG communication through financial reports and investor calls. Everything that I have learned from MSSM's Sustainability Management, Sustainable Finance and Sustainability Communications Strategy and Reporting courses are directly relevant for my work at PRI.
7. Beyond the classroom, what extracurricular sustainability related activities have you engaged in with your fellow Sustainability Management students?
Going to conferences and meetings with my classmates has broadened my view of the professional opportunities in the sustainability space. MSSM alumni and the SUMASA (Sustainability Management Student Association) board do a great job of sharing relevant professional networking opportunities throughout the year.
In addition to external events around New York, I participate in workshops and networking events organized by student groups such as the SIPA Energy Association and Columbia Impact Investing Initiative (CI3). Through CI3, I have worked with students from MSSM and SIPA on pro bono consulting projects for social enterprises. My CI3 team designed metrics to help a Mexican rural solar energy company assess the impact of their financial education and community development programs. I also consulted for a wine start-up that helps small family-owned wineries in developing countries get access to American markets.
Students in the MPA in Environmental Science and Policy program enroll in a year-long, 54-credit program offered at Columbia University's School of International and Public Affairs, in partnership with the Earth Institute.
Since it began in 2002, the MPA in Environmental Science and Policy program has given students the hands-on experience, and the analytical and decision-making tools to implement effective environmental and sustainable management policies. The program's 682 graduates have advanced to jobs in domestic and international environmental policy, working in government, private and non-profit sectors. Their work involves issues of sustainability, resource use and global change, in fields focused on air, water, climate, energy efficiency, food, agriculture, transportation and waste management. They work as consultants, advisers, project managers, program directors, policy analysts, teachers, researchers and environmental scientists and engineers.