Today, April 20, 2016 marks the six-year anniversary of the Deepwater Horizon oil rig explosion that claimed the lives of 11 men and caused the largest man-made oil spill in history.
The cleanup crews abandoned the Gulf Coast years ago, claiming that the damage from the spill was "gone" and the media quit paying attention shortly after the wellhead was capped at the bottom of the Gulf of Mexico.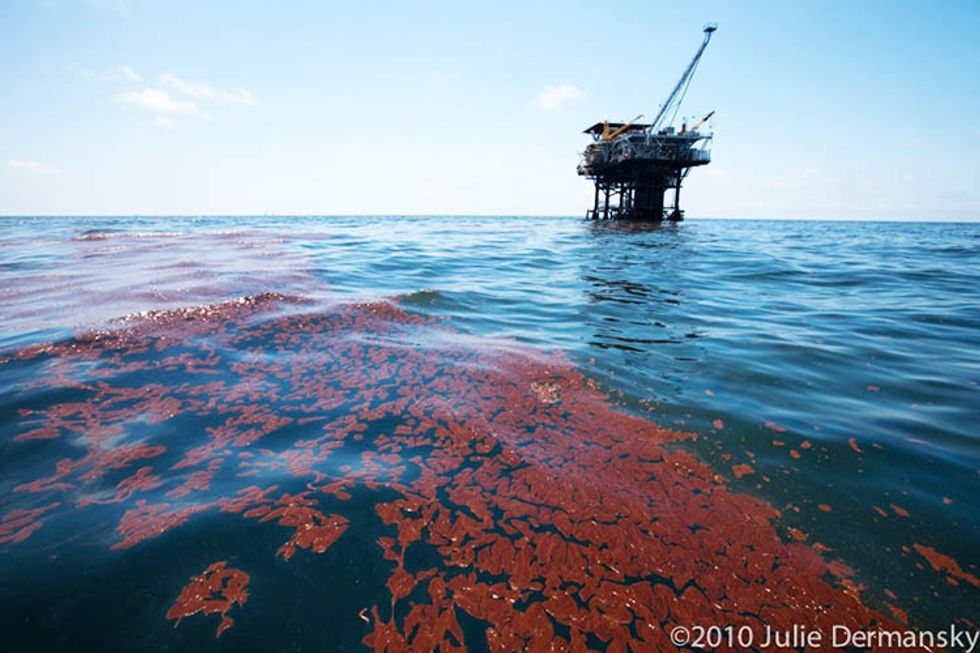 Despite the lack of attention paid to the Gulf region in recent years, the lasting damage of the oil spill is something that remains fresh on the minds of everyone that calls this area home.
Like most disasters that don't involve national security issues, Americans tend to operate under the belief that once the media attention has faded the issue is resolved. They don't understand that the victims of the spill who lost their source of income are still fighting court battles against BP, Transocean and Halliburton.
They haven't heard about the sea life with abnormal growths and heart defects linked to the lingering oil and dispersants that have settled on the bottom of the Gulf. And they are unaware that tar mats and tar balls are still common sights on beaches throughout the region.
Here's a quick primer on what the Gulf Coast has gone through in the last six years for those who haven't been paying close attention:
First, we have the real extent of the damage caused by the oil. Photojournalist and DeSmogBlog contributor Julie Dermansky captured images throughout the oil spill and cleanup process and here are a few that really show, in detail, how bad things were along the shore: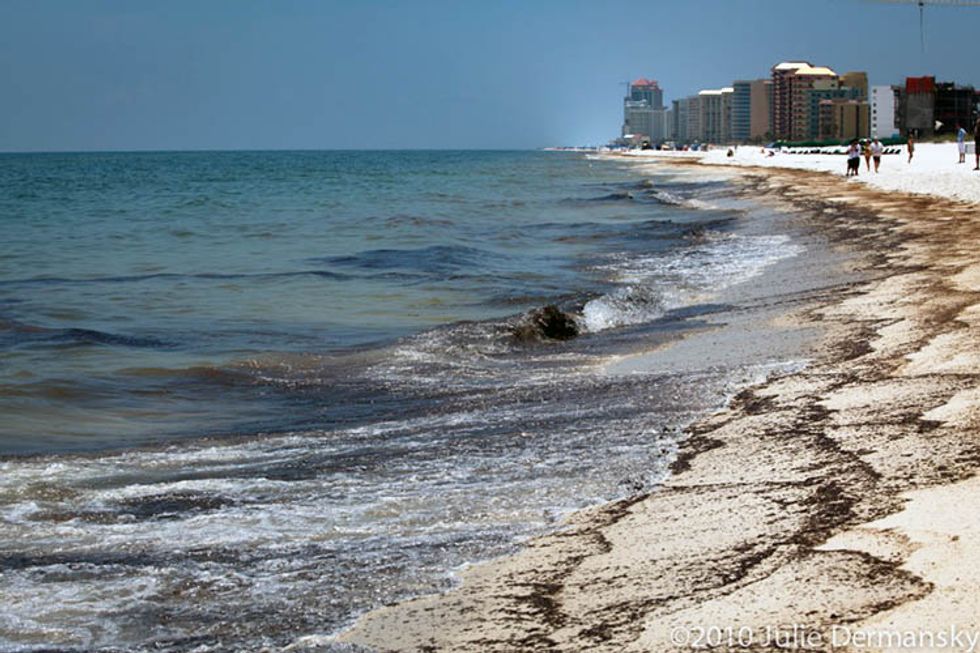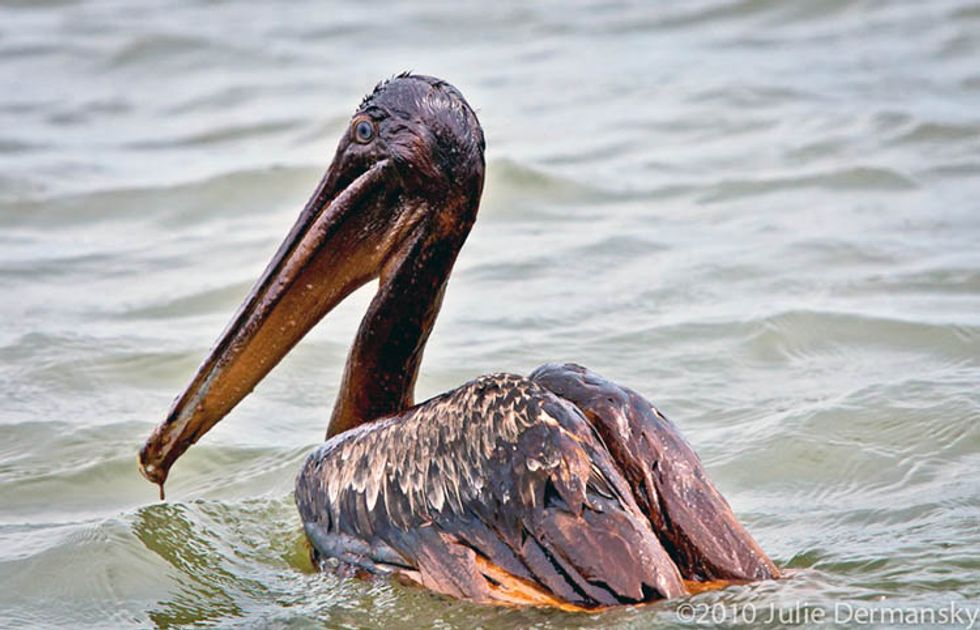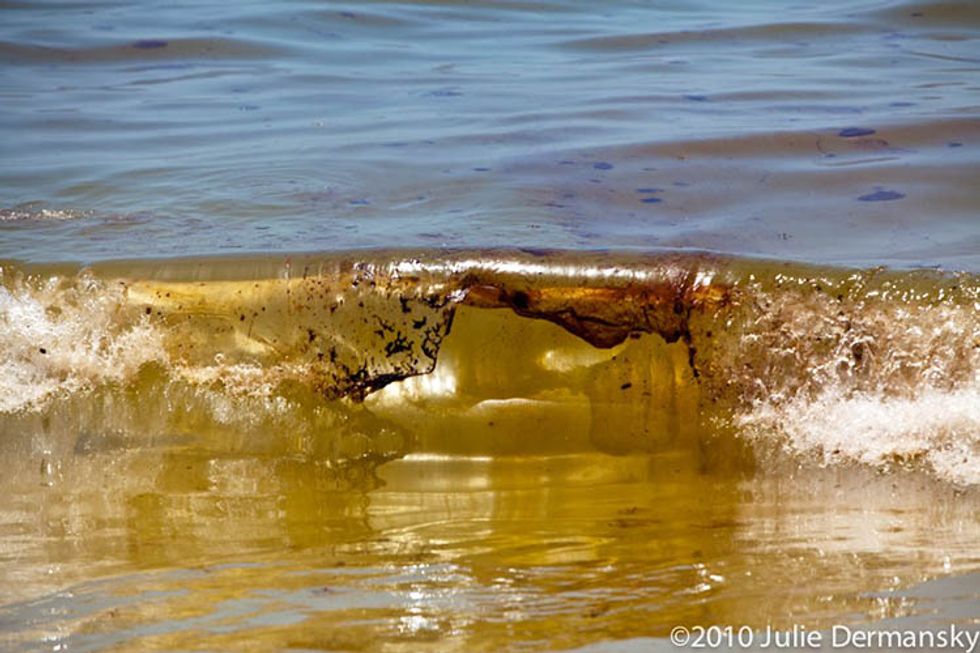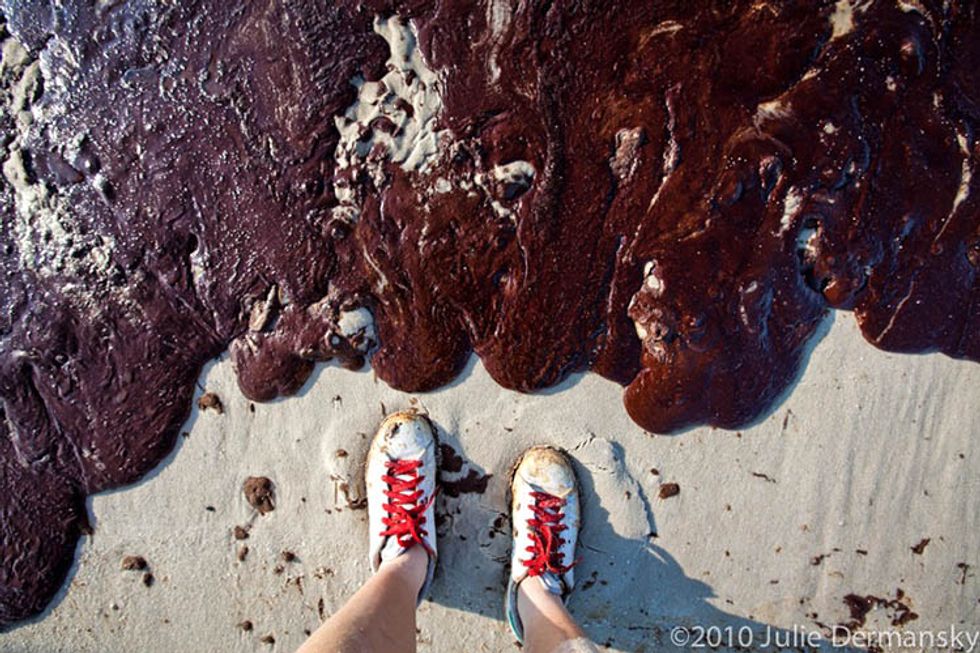 Then there was the insulting report by the National Commission on the BP Deepwater Horizon Oil Spill and offshore drilling in January 2011 that completely omitted some of the most damning information about the cause of the oil spill.
For example, the report failed to mention former Vice President Dick Cheney's role in deregulating offshore drilling activities and the cozy relationship that BP, Transocean and Halliburton that allowed safety measures on the Deepwater Horizon rig to be ignored while safety inspections were virtually nonexistent. Had this relationship not been established, it is very likely that the disaster never would have occurred.
Additionally, there was almost no mention in the national media about BP's long history of ignoring safety measures and actually creating presentations showing that it was cheaper for the company to pay for disasters instead of keeping their facilities up to date on safety measures, even when those disasters resulted in the loss of human life.
Another major story that went largely unreported were the negative health effects of the oil spill.
Workers tasked with removing oil from beaches and wetlands began showing up at doctor's offices with respiratory illnesses as a result of exposure to massive amounts of oil and the dispersant used to break up the oil, Corexit.
Corexit itself has been linked to cancers in both humans and marine mammals, which is why the U.S. Environmental Protection Agency (EPA) initially didn't want BP to use it in the cleanup. However, after BP refused to comply, the EPA backed off its Corexit ban and allowed BP to pour it by the barrel into the Gulf of Mexico.
Then came the PR offensive from BP. The victims along the Gulf Coast became the victims of a new attack from the fossil fuel giant, as they began taking out full-page ads in national newspapers claiming that the claims process was plagued by fraud. While a few cases of fraud were found, reports showed that nearly every claim filed against the company was legitimate, but that didn't stop publications like Politico from allowing a BP executive to write an op-ed slamming the victims of the oil spill as "greedy."
Finally and most recently, there was the fact that not a single executive went to prison for their role in the disaster and the few prosecutions that took place resulted in only probation sentences for things like perjury or hindering an investigation.
Bear in mind that 11 men were killed as a result of corporate negligence and the damage to both the Gulf of Mexico and the health effects of the oil spill are still currently incalculable.
These issues barely even begin to scratch the surface with regards to the extent of the damage caused by the Deepwater Horizon disaster.
But a new report by Oceana has helped to paint a very clear and unpleasant picture of just how bad things are for the environment, human beings and marine life that call the Gulf home.
Six years ago, the BP #DeepwaterHorizon oil rig exploded and sank into the Gulf of Mexico https://t.co/Io2rVBMa4l https://t.co/9En1NSIYUS

— Oceana (@Oceana)1460817181.0
Here are a few key findings from the Oceana report:
Mortality rates for common bottlenose dolphins living in Barataria Bay, Louisiana were 8 percent higher and their reproductive success was 63 percent lower compared to other dolphin populations.
An estimated 600,000 to 800,000 birds died as a result of the spill.
Harmful oil and/or oil dispersant chemicals were found in about 80 percent of pelican eggs that were laid in Minnesota, more than 1,000 miles from the Gulf, where most of these birds spend winters.
Oil exposure caused heart failure in juvenile bluefin and yellowfin tunas, reduced swimming ability in juvenile mahi-mahi and caused gill tissue damage in killifish.
The oil plume caused bleaching and tissue loss in deep-water coral reefs over an area three times larger than Manhattan.
Endangered sea turtles that had migrated to the Gulf from Mexico, South America and West Africa died in the spill, demonstrating the global scale of impacts.
The 50,000 people involved in the spill cleanup were exposed to chemicals that severely damage lung tissue.
Cleanup workers and their spouses reported increased depression and domestic disputes.
Even Gulf residents indirectly affected by the spill suffered from increased anxiety and depression.
It can take a decade or more for oil spill victims to recover from the physical and psychological effects of an oil disaster.
The impact of the oil spill on fisheries could total $8.7 billion by 2020, including the loss of 22,000 jobs.
While the rest of the world forgot to check to see if the victims on the Gulf Coast were made whole, many in the region are coming to terms with the fact that being made whole isn't an option anymore.
The best they can hope for after struggling for the last six years is that they are able to put a few of the pieces of their lives back together as they continue to watch in horror as the environment in which they grew up slowly suffers from the negligence of the fossil fuel industry.
Copyright DeSmogBlog. May not be reprinted without permission.
YOU MIGHT ALSO LIKE
10 Years of Fracking: Its Impact on Our Water, Land and Climate
Danger, Will Robinson: Oil Industry Knew CO2-Climate Link in '68
50 Billionaires Receive $6.3 Million in Federal Farm Subsidies
EcoWatch Daily Newsletter
As the U.S. Department of Justice announced on Monday a final settlement with BP over the devastating 2010 Deepwater Horizon oil spill, groups are warning that the oil giant may still nab a substantial tax break under the deal.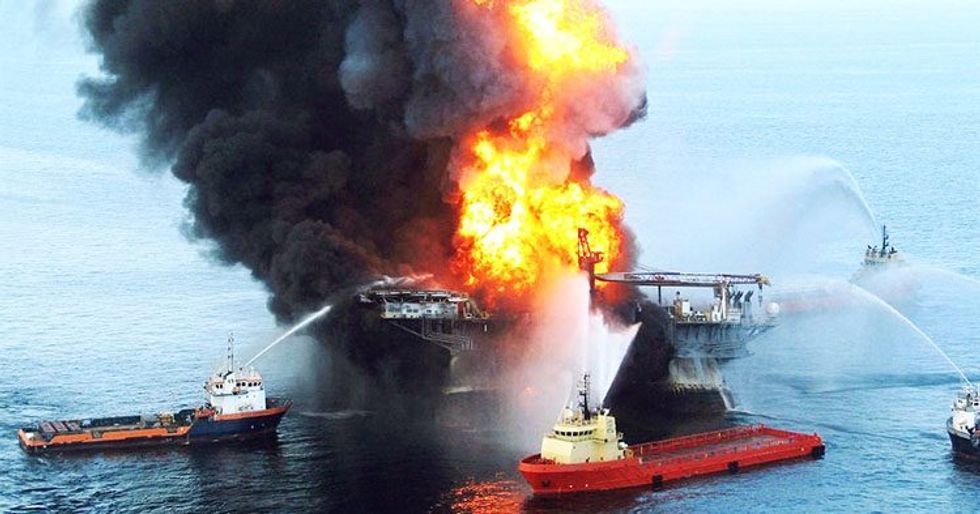 The U.S. Coast Guard battles flames following the explosion on BP's offshore oil rig Deepwater Horizon. Photo credit: U.S. Coast Guard / Wikimedia Commons
Attorney General Loretta Lynch said the $20.8 billion settlement agreement marks the "the largest settlement with a single entity in American history." The resolution includes $5.5 billion to settle civil claims under the Clean Water Act; $7.1 billion in natural resources damages claims under the Oil Pollution Act, in addition to the $1 billion previously committed for early restoration and $4.9 billion in economic damages claims to the five Gulf states and up to $1 billion for local governments.
However, reporting by the Times-Picayune highlighted the little-noticed detail that, while the U.S. Department of Justice has explicitly forbidden BP from deducting its Clean Water Act penalties, no restrictions have been placed on the billions labeled natural resource damages payments, restoration and reimbursement to government, which it can treat as a business expense.
U.S. Public Interest Research Group (PIRG) says this amounts to $15.3 billion that can be written off as the "cost of doing business"—$5.35 billion of which can be claimed as a tax windfall.
"BP was found to be grossly negligent in the Deepwater Horizon case and yet the vast majority of what they are paying to make up for their gross negligence is legally considered just business as usual under the tax code unless the U.S. Department of Justice explicitly prohibits a write-off," said Michelle Surka, program associate with U.S. PIRG. "This not only sends the wrong message, but it also hurts taxpayers by forcing us to shoulder the burden of BP's tax windfall in the form of higher taxes, cuts to public programs and more national debt."
Environmental watchdog group Friends of the Earth also noted that the Deepwater Horizon disaster has already allowed BP sizable tax benefits, including the $10 billion windfall it was able to secure by deducting the cost of its cleanup expenses.
"BP should not be allowed to treat the costs of their disaster as the cost of doing business," said Friends of the Earth climate and energy campaigner Lukas Ross. "We are concerned that this settlement doesn't protect taxpayers. The justice department must ensure that no further tax benefits can accrue to the company responsible for perhaps the biggest environmental disaster in U.S. history."
YOU MIGHT ALSO LIKE
Citigroup Becomes Third Major Bank to Cut Financing to Coal Industry
Bernie Sanders Vows to Stop 'Disastrous' TPP Deal
Ralph Nader: Monsanto vs. Freedom of Information Act
Watch Hillary Clinton on Saturday Night Live Talk Keystone XL and Donald Trump
It was more than five years ago when the Deepwater Horizon offshore oil rig in the Gulf of Mexico blew out, spewing an unknown amount of oil. The April 2010 accident was the worst oil spill to ever occur in U.S. waters and it had far-reaching impacts on the region's economy and ecosystems that continue to this day.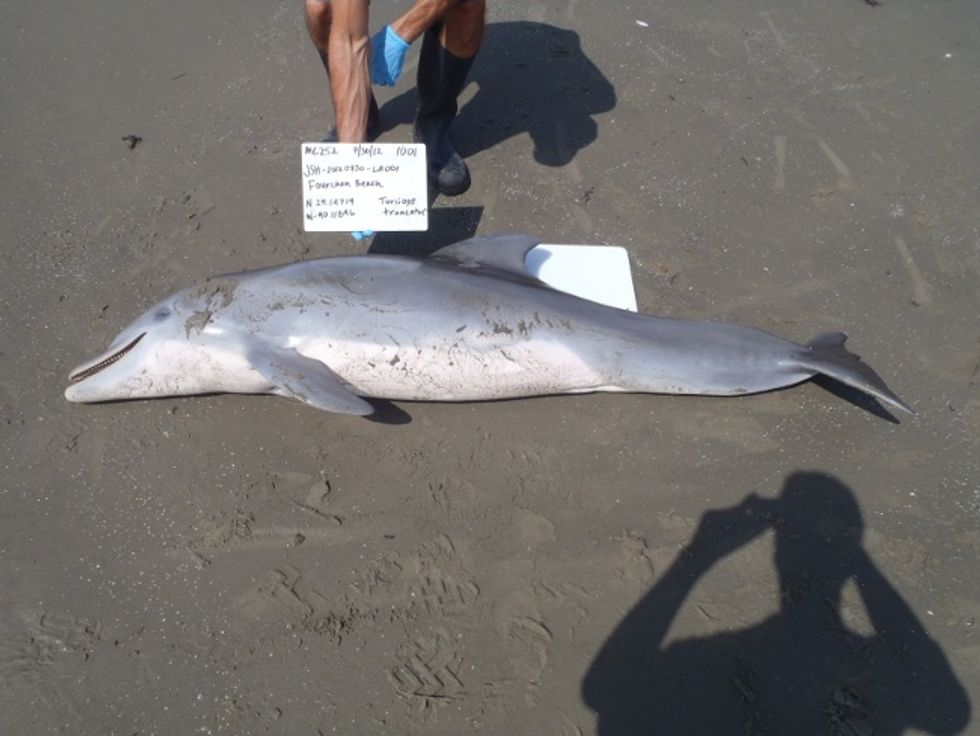 Now a newly released study, funded by the Deepwater Horizon National Resource Damage Assessment, which includes the National Oceanic and Atmospheric Administration (NOAA), National Fish and Wildlife Foundation, BP (the oil company responsible for the spill and others) details the disastrous impact for the spill on the health and mortality of dolphins in the Gulf.
The study, with the very scientific name of Adrenal Gland and Lung Lesions in Gulf of Mexico Common Bottlenose Dolphins (Tursiops truncatus) Found Dead following the Deepwater Horizon Oil Spill, analyzes what it calls "an unusual mortality event (UME)" among dolphins off the coast of Louisiana, Alabama and Mississippi between February 2010 and 2014. More than 1,300 dolphins are estimated to have died.
"The Deepwater Horizon oil spill was proposed as a contributing cause of adrenal disease, lung disease and poor health in live dolphins examined during 2011 in Barataria Bay, Louisiana," said the study. It also analyzed dead dolphin carcasses stranded in the three states between June 2010 and December 2012 and compared the analyses to dead, stranded dolphins found outside the area or prior to the oil spill to come to the conclusion that the die-off was unprecedented and the result of an adrenal gland condition never previously seen in dolphins in the region that made them susceptible to pneumonia.
"The rare, life-threatening and chronic adrenal gland and lung diseases identified in stranded UME dolphins are consistent with exposure to petroleum compounds as seen in other mammals," the study concluded. "Exposure of dolphins to elevated petroleum compounds present in coastal Gulf of Mexico waters during and after the Deepwater Horizon oil spill is proposed as a cause of adrenal and lung disease and as a contributor to increased dolphin deaths."
"Animals with adrenal insufficiency are less able to cope with additional stressors in their everyday lives, and when those stressors occur, they are more likely to die," said Dr. Stephanie Venn-Watson, the study's lead author and veterinary epidemiologist at San Diego's National Marine Mammal Foundation.
"No feasible alternatives remain that can reasonably explain the timing, location and nature of this increase in death," Dr. Venn-Watson said.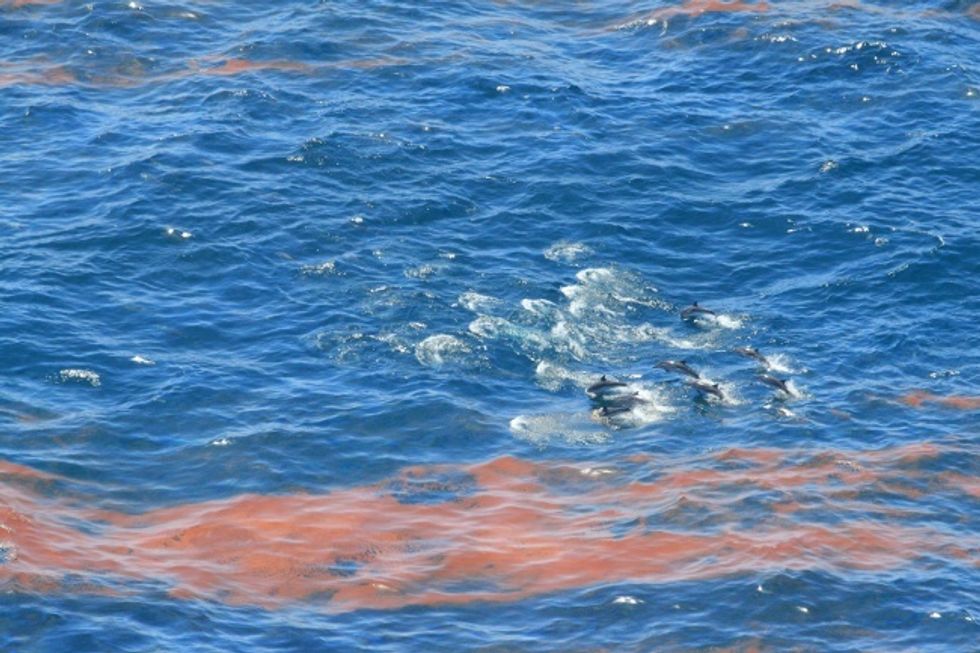 But BP is still adamant that the oil spill did not contribute to the dolphin deaths.
"The researchers suggest that multiple factors likely contributed to the UME," the company insisted in February, referring to a previous, preliminary study. "It's important to note that unfortunately these large die-offs of dolphins aren't unusual. Over the past years there have been dolphin UMEs relating to dolphins all over the world, with no connection to oil spills. The Barataria Bay health assessment mentioned in the paper failed to establish a link between the observed health of the Barataria Bay dolphins in 2011 and 2013 and potential exposure to oil.  It also failed to take into account that Barataria Bay contains numerous stressors that could explain the poor health of some dolphins."
While there had been previous dolphin die-offs in the Gulf, none lasted as long or killed nearly as many animals. The post-Deepwater Horizon die-off claimed three times as many animals and lasted more than three times longer than any previous incident. BP has pointed to the fact that the Gulf dolphin studies noted a die-off that began in February 2010, nearly three months before the oil spill. However, that die-off claimed only about two dozen animals.
Despite the new, more compelling evidence, BP continues its denial. Following the release of the study, BP America Senior Vice President Geoff Morrell told PBS NewsHour, "This new paper fails to show that the illnesses observed in some dolphins were caused by exposure to Macondo oil. Even though the UME may have overlapped in some areas with the oil spill, correlation is not evidence of causation."
YOU MIGHT ALSO LIKE
Captivating Video Shows True Cost of Offshore Oil Drilling
10 Things BP's New Report Doesn't Tell You
BP Oil Spill Left Rhode Island-Sized 'Bathtub Ring' on Ocean Floor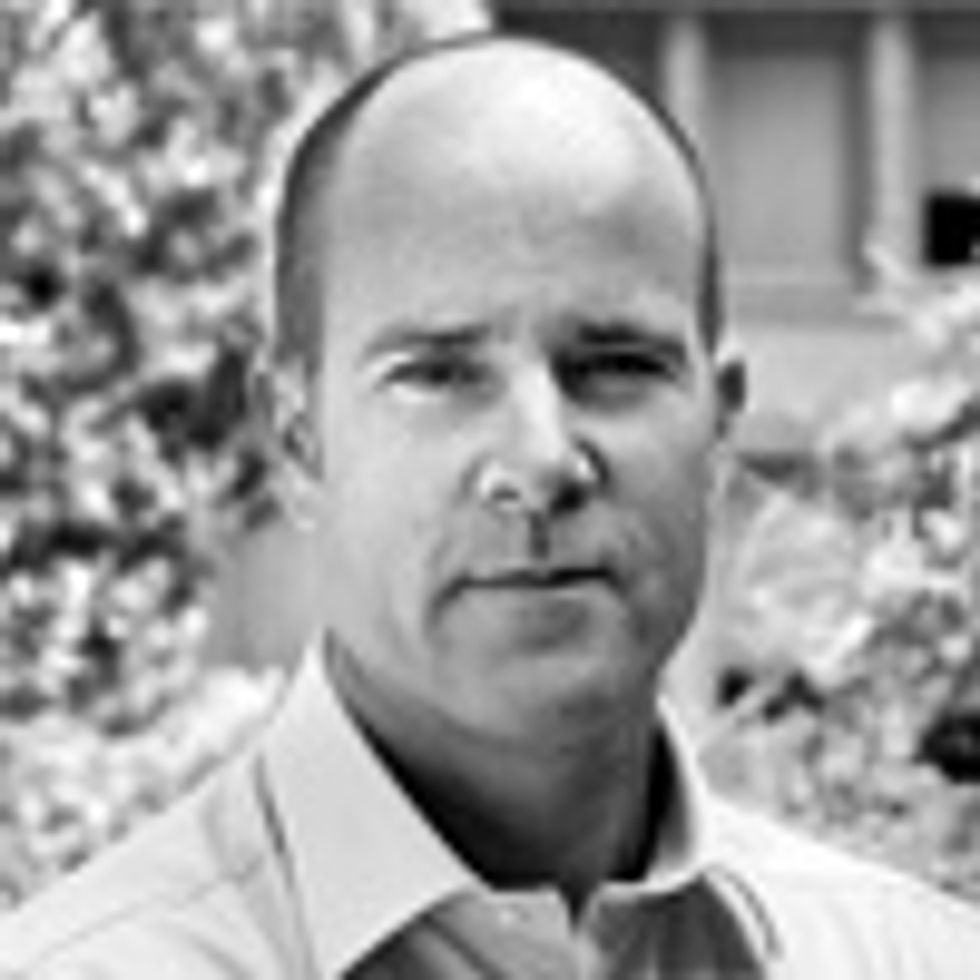 April 20, 2010 should be, to borrow a phrase from Franklin Roosevelt, "a date that will live in infamy." Today is the anniversary of the worst environmental disaster in U.S. history: the explosion of Deepwater Horizon and subsequent oil catastrophe in the Gulf of Mexico. I don't like to call it a spill, because spills are accidents. What happened that day was not an accident; it was a crime.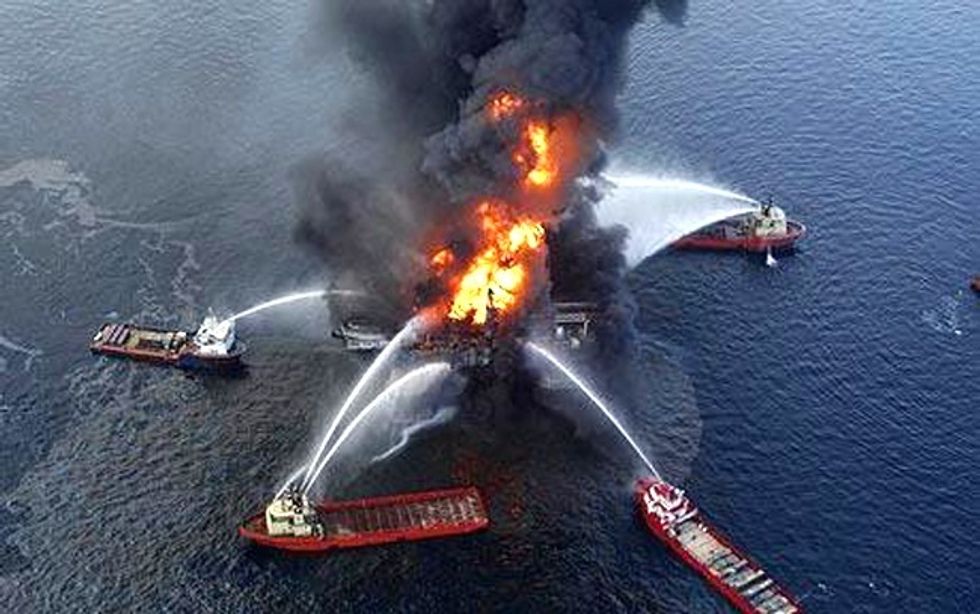 BP, the giant oil company most responsible for the disaster, pleaded guilty in 2012 to 11 felony counts related to the deaths of 11 workers. Last year, U.S. District Judge Carl Barbier ruled that "BP committed a series of negligent acts or omissions that ... together amount to gross negligence and willful misconduct under the Clean Water Act." (The operator of the Deepwater rig and contractors like Halliburton also share some of the blame, although they were found "negligent" rather than "grossly negligent.")
BP, meanwhile, attempted to minimize its financial liability by, for instance, claiming that "only" 2.5 million barrels worth of oil (more than a hundred million gallons) were dumped in the Gulf. (The amount of the fine BP must pay under the Clean Water Act is based on the number of barrels discharged. The actual number was north of 4 million barrels).
No matter how many billions BP ends up paying out, of course, it can never undo all the damages caused by its crime. It can, however, pretend they didn't happen. The company launched a PR campaign claiming that the Gulf has rebounded. Reality, of course, begs to differ. Ten million gallons of oil remain on the seafloor. Multiple studies have found that the harm to fish and wildlife was not only horrific five years ago (800,000 birds; between 20,000 and 60,000 sea turtles), but is ongoing. Concentrations of toxic chemicals in Gulf marshes may persist for decades.
No wonder people question why BP is spending money to soft pedal the consequences of its crime, when it could be using those dollars toward actual restitution.
Five years on, though, what lessons have been learned? Don't trust oil companies to act responsibly? That seems to be the main takeaway for the Obama administration. Last week it announced tighter regulations for offshore oil rigs that it claims should help prevent oil-well blowouts. Those tighter regulations are directly based on what happened in the Gulf in 2010.  Does that mean future disasters don't happen? Of course not.
Yet the administration has also announced that it will allow oil and gas drilling off the coast of Virginia, the Carolinas and Georgia for the first time since the 1980s, as well as three areas for leasing in Alaska, including the Beaufort and Chukchi Sea, where the administration estimates that there is a 75 percent chance of one or more spills. Astounding. Back east, the administration was getting ready to announce oil and gas leases for the Atlantic coast five years ago, along with the usual platitudes about "drilling responsibly" and "minimizing risk." Then Deepwater Horizon happened.
The bottom line is that we don't need the oil that can be found off our Atlantic Coast, no matter what those state governors might tell you. And even if you manage to reduce the risks, and even if no oil company ever again acts with gross negligence for the sake of profits (a bet I wouldn't recommend taking), the consequences of drilling in sensitive marine environments are just too great.
YOU MIGHT ALSO LIKE
6 Arrested at BP Headquarters in Week of Action for Gulf Oil Spill Anniversary
Shell's Arctic Drilling Plans Approved by Department of Interior
On April 20, 2010 BP's offshore oil drilling rig Deepwater Horizon in the Gulf of Mexico exploded, killing 11 workers, causing the largest oil spill ever in U.S. waters and the worst environmental disaster in U.S. history. It impacted wildlife and people, caused health problems from exposure to oil and dispersants, and decimated oyster, shellfish and finfish populations and damaged livelihoods and economies in towns dependent on fisheries. Five years later, much oil remains in the Gulf, but no one is sure how much. BP has fought in court to minimize its responsibility.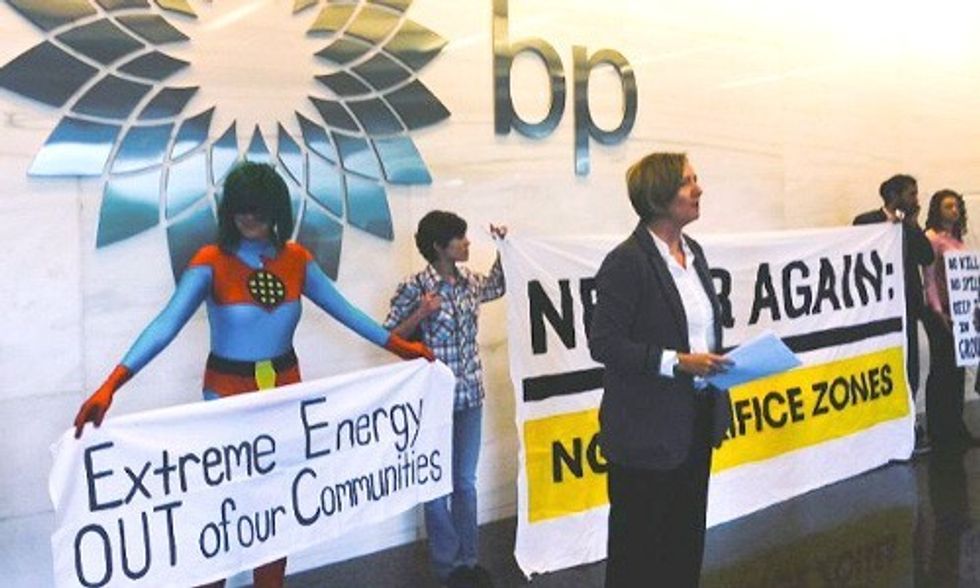 Kicking off a week of events marking the fifth anniversary of that event—with the damage to the environment and the ecosystem of the Gulf region still being added up—activists occupied BP headquarters in Houston. They carried signs with messages such as "Never Again: No Sacrifice Zone," "Extreme Energy Out of Our Communities," "No Kill, No Spill, Keep It in the Ground" and "BP Lies." As Gulf Coast residents stood in the lobby of the building and read a list of questions for BP, such as "Why is BP continuing to fight clean-up efforts in court?," security and police moved in and arrested six of the protesters.
BREAKING: 6 Activists Occupying BP Headquarters 5 Years After Gulf Oil Disaster are being arrested. #NeverAgain pic.twitter.com/6H8nyM7p0L — bryan parras (@HighTechAztec) April 15, 2015
Anne Rolfes, founding director of the grassroots environmental nonprofit the Louisiana Bucket Bridge, was one of those arrested.
"The BP Disaster shows that the oil industry isn't capable of preventing or cleaning up a catastrophe like BP," she said. "Let the disaster in the Gulf of Mexico be a cautionary tale: we should not drill in the Arctic. We should not drill off the Atlantic coast. In Louisiana, our oysters are dying, our fishermen are out of work. BP has killed our livelihood and our culture but instead of taking responsibility for that harm, the best they can do is churn out glossy PR photos of white sand and blue water."
Another of the activists arrested, Cherri Foytlin of coastal southern Louisiana, said, "BP has used false advertising to sell the public a lie. The truth is many have fallen ill due to BP's heavy use of toxic chemicals. Our dolphins and turtles are still dying at unprecedented rates. Our fisheries still struggle to recover. Our hard-working, fishing families still suffer economic losses as BP has done everything possible to dodge their responsibilities to a settlement that they helped to write. Little has changed to protect the life and health of workers on the rigs."
"And BP's oil is still out there on the sea floor," she continued. "Their oil invades our shores to this day. The truth is that the oil is still here, and so are we. We, like the Earth herself, have a right to live. We have a right to thrive. Anyone who keeps us from that is an enemy to us. This is our battle. This is everyone's battle. And we will not yield."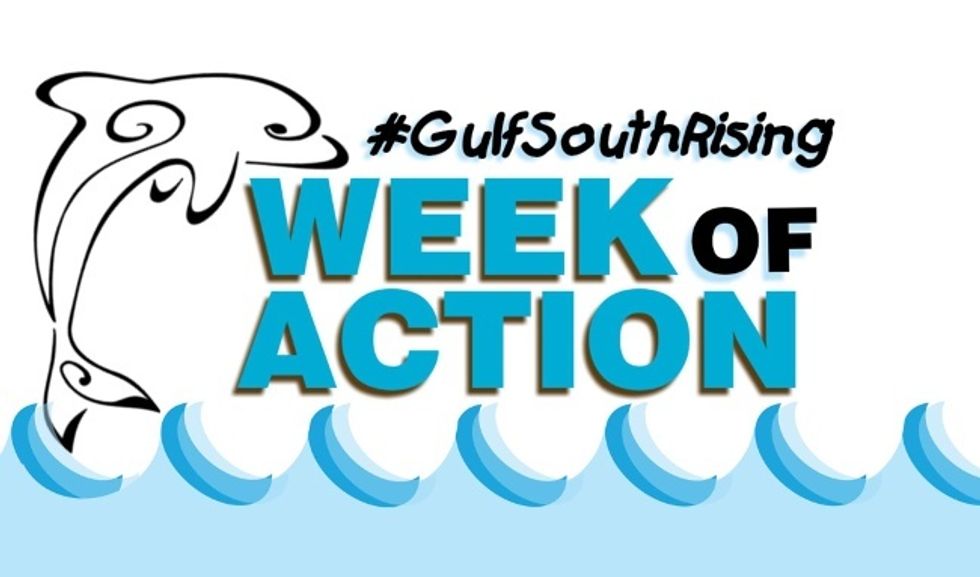 The protest is only one of the ways activists are calling attention to the Deepwater Horizon disaster. Gulf South Rising's Week of Action from April 15-22 includes events all over the Gulf region, including Texas, Louisiana and Mississippi.
They include "Come Fish Off My Boat," launching in Bay St. Louis, Mississippi and traveling to fishing towns around the Gulf all week. "Come Fish Off My Boat is an open invitation to local, state and federal decision makers, as well as, to members of the media to spend a day fishing with Gulf Coast fisher-folk who were affected by the BP Deep Water Drilling Disaster of 2010," says the group.
A protest on San Padre Island against the proposed construction of five liquified natural gas export terminals was planned to coincide with Deepwater Horizon's fifth anniversary. "Fossil fuel companies are bad for coastal communities, and we want to show them that they are not welcome here," say the organizers. "We are not willing to sacrifice our clean air, clean water and biodiverse wildlife habitats for corporate profits."
Other events are also honoring that anniversary. The 7th annual New Orleans Earth Day Festival & Solar Derby says, "This year Earth Day will be the 5th anniversary of the 2010 BP Disaster. What better way to remember the catastrophe than renew our commitments to renewable energy?" And also in New Orleans, the For The Gulf film screening and concert at the Howlin' Wolf honors the clean-up workers, fisherman and families of those who were on Deepwater Horizon.
On Monday April 20, there's an "interfaith memorial and jazz funeral procession for the Gulf of Mexico's losses due to the BP oil disaster...humans, creatures, livelihoods and....truth." Whether the procession will be met by a wall of security in light of the earlier arrests remains to be seen.
"In Louisiana our oysters are dying, our fishermen are out of work. BP killed our livelihoods and our culture" #PayUpBP #BPlies @BP_America

— Tar Sands Blockade (@kxlblockade) April 15, 2015
A demonstration is also being planned outside the annual BP shareholder meeting in London April 16.
Meanwhile, others are reminding us of the lessons to be learned from the disaster, warning against expanding offshore oil drilling elsewhere. Rachel Roberson of Environment America′s Stop Drilling program cautioned against the Obama administration's plan to open the Atlantic Coast to drilling.
"Our precious coasts and wildlife must be protected from the kinds of environmental and economic tragedy the BP blowout brought to the Gulf of Mexico," said Richardson. "That's why we're calling on the administration to rescind their dangerous drilling plan."
"As we learned from the BP disaster, offshore oil spills don't respect state boundaries," said Senator Edward Markey of Massachusetts. "Drilling anywhere in the Atlantic would threaten the Massachusetts and New England economies and environment with the possibility of a devastating spill. Congress needs to act to turn the lessons from the BP spill into laws to ensure that we never experience a similar disaster again."
YOU MIGHT ALSO LIKE
BP Oil Spill Left Rhode Island-Sized 'Bathtub Ring' on Ocean Floor
10 Things BP's New Report Doesn't Tell You
Shell's Arctic Drilling Plans Approved by Department of Interior
BP just released a new report on the state of the Gulf, Gulf of Mexico: Environmental Recovery and Restoration. The glossy report is filled with footnotes and citations, but leaves key pieces of science out.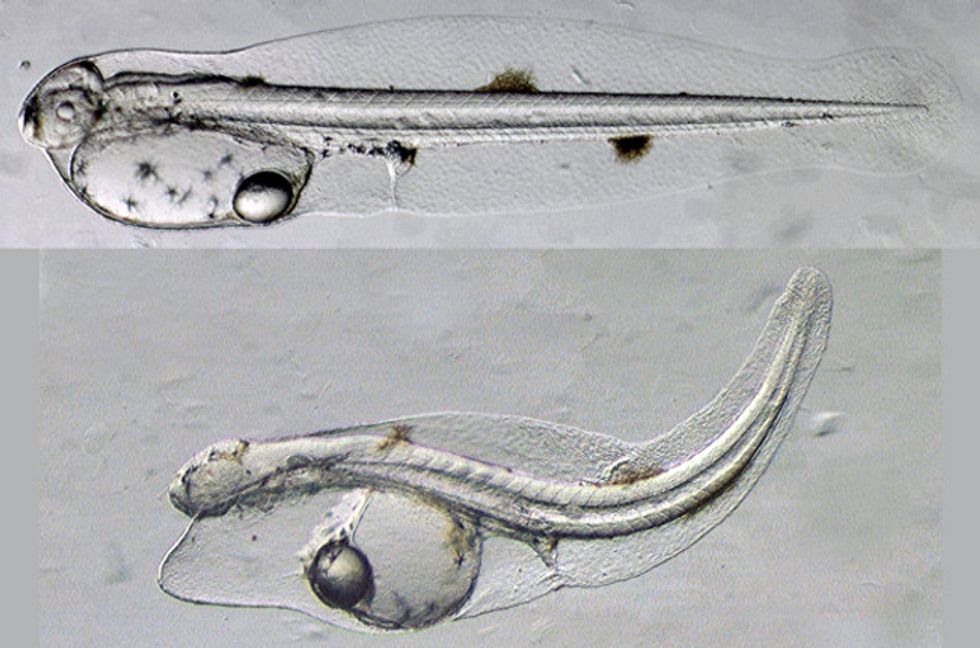 If you are interested in the ongoing impacts of BP oil spill, stay tuned for National Wildlife Federation's upcoming report Gulf Wildlife in the Aftermath of the Deepwater Horizon Disaster: Five Years and Counting. This new report, which looks at 20 species of wildlife or wildlife groups, will be released March 30.
For now, here are 10 important things BP's latest report strategically didn't mention:
1. Dolphins died before the spill–from freshwater
The report says: "An "unusual mortality event" (UME) involving an abnormally high number of dolphin deaths in the Gulf of Mexico began in February 2010, months before the Deepwater Horizon accident."
What it leaves out: The deaths of a cluster of dolphins during the months before the Deepwater Horizon exploded were likely caused by extended exposure to fresh water and unusually cold weather. (Source: NOAA)
2. Gulf dolphins are now very susceptible to an old disease
The BP report says: "NOAA has said that brucella, a bacterium that can infect animals, is "a common thread" in a number of the animals examined. Nearly one-third of the dolphins tested as of Nov. 25, 2014 were positive for brucella."
What it leaves out: In 2011, Teri Rowles, the coordinator of NOAA's National Marine Mammal Health and Stranding Response Program said, "Severe environmental stress, including from exposure to oil, could have reduced the animals' ability to fight infection."(Source: NOAA)
And in 2013, NOAA released a study showing that dolphins in heavily-oiled Barataria Bay had adrenal gland problems consistent with oil exposure that would in fact harm their ability to fight infections.(Source: Environmental Science & Technology)
3. For the Kemp's ridley, anything less than an increase is a decrease
The BP report says: "For Kemp's ridley sea turtles, nesting numbers the two years after the accident were above historical averages."
What it leaves out: Up until 2009, Kemp's ridley nests were increasing exponentially (15-19%) every year. In 2011 and 2012, the number of Kemp's ridley nests—while essentially the same as the numbers seen in 2009—were still below expectations. Even more troubling are the significant decreases in nests seen in 2010, 2013, and 2014. (Source: Gulf States Marine Fisheries Commission)
4. Sperm whales in the Gulf have high levels of toxic metals
The BP report says: "While data analysis is ongoing, BP has not seen any evidence indicating that oil or dispersant compounds from the Deepwater Horizon accident have impacted the health of whales in the Gulf."
What it leaves out: Researchers have found higher levels of DNA-damaging metals such as chromium and nickel in sperm whales in the Gulf of Mexico compared to sperm whales elsewhere in the world. (Source: Environmental Science & Technology)
And a recent study found that the two dispersants used in the Deepwater Horizon spill—Corexit 9500 and 9527—were both found to be damaging to sperm whale cells and DNA. (Source: Aquatic Toxicology)
5. Oil exposure damages fish development—in many species
The BP report says: "A study by university and government researchers examined the overlap between spawning habitat and oiled waters and concluded that the spawning area for bluefin tuna extended much farther west than previously known and that "the proportion of spawning habitat impacted by oil was generally predicted to be small (<10%)."
What it leaves out: Estimates vary on how many larval bluefin tuna may have been exposed. One NOAA study estimated that the figure could be as high as 20 percent. (Source: NOAA)
And a recent comprehensive laboratory study found that a chemical in Deepwater Horizon oil can cause irregular heartbeats in bluefin and yellowfin tuna that can lead to heart attacks, or even death. The resulting heartbeat changes significantly altered the development of other organs. The researchers suggest that many other vertebrate species in the Gulf could have been similarly affected. (Source: Science)
6. Right after the spill, red snapper and other fish had unusual lesions
The BP report says: "Researchers from the University of South Alabama and Dauphin Island Sea Lab in Alabama took samples of reef fish from the Alabama and western Florida Panhandle coasts from January 2010 to June 2011. They found no significant evidence of diseased fish in those populations."
What it leaves out: In the aftermath of the spill, a number of fish caught in the Gulf between eastern Louisiana and western Florida had unusual lesions or rotting fins. Lesions were most common in bottom-dwelling species, including red snapper, and were particularly common north of the wellhead. (Source: Transactions of the American Fisheries Society)
7. An unusual lack of young red snapper
The BP report says: "In an Auburn University study published in 2014, researchers found no evidence that the spill affected young red snapper populations on reefs off the Alabama coast."
What it leaves out: Both 2010 and 2011 had the lowest numbers of juvenile red snapper seen in the eastern Gulf fishery since 1994. (Source: NOAA SEDAR)
8. Seaside sparrows on oiled sites less likely to fledge
The BP report says: "Data from studies that BP conducted independently indicate that in 2011, the spill did not adversely impact bird productivity – how successful birds are at producing offspring. Brown pelicans, laughing gulls, great egrets, black skimmers, bald eagles and ospreys were studied.
What it leaves out: Preliminary data from 2012 and 2013 indicate that seaside sparrows from nests on unoiled sites were significantly more likely to fledge than those on oiled sites.. (Source: BioScience)
9. Oil is still washing up on beaches
The BP report says: "Since some of the heavily oiled areas were last surveyed a year or two earlier, NRDA teams resurveyed the areas in 2014 and determined that a total of just one mile remained heavily oiled."
What it leaves out: Recent studies of beach shoreline in Alabama suggest that tar balls are likely to continue washing up for years to come on Gulf Coast beaches, and could pose a risk to organisms living on or near those beaches. (Source: Science of the Total Environment)
10. Oil remains in Louisiana's coastal marshes
The BP report says: "A 2012 University of Florida study that measured the rate of marsh erosion in a limited geographic area in Louisiana showed that erosion rates returned to normal 18 months after the spill and that its impact was generally limited to the edge of the marshes."
What it leaves out: In May 2013, three years after the spill, more than 80 miles of marsh shoreline in Louisiana remained visibly oiled. The long-term effects of the oiling of Gulf marshes are still unclear and may take decades to unfold. (Source: International Oil Spill Conference)
Cross-posted from NWF's Wildlife Promise.
YOU MIGHT ALSO LIKE
Epic Drought Drives California Businesses to 'Connect the Drops'
Remarkable Images Show Gigantic Ice Chunks Washed Up on the Shores of Cape Cod
Can Climate Action Plans Combat Megadrought and Save the Colorado River?
My new film, The Great Invisible, documents the 2010 BP oil spill in the Gulf of Mexico and its aftermath. Why would I choose to take on the challenge of telling the story of the largest oil disaster in U.S. history, an event that killed 11 people, devastated wildlife, coated coastlines, sickened clean-up workers and brought local economies to a halt?
When I was fourteen, my mom drove my friend Tara and me to a Pixies/U2 concert in Baton Rouge. We'd waited months for this sold-out concert. I remember roaming the halls to gawk at all the other countercultural southerners … and finding a booth to sign up for Greenpeace and Amnesty International. At that age, I had no idea what "being political" meant, but helping political prisoners and the environment sounded exciting, so I signed up for both. So you could say art brought me to politics in both conscious and unconscious ways, and the two have been connected for me since.
Inevitably, after I screen The Great Invisible for an audience, someone fervently raises their hand and asks what they can do—what can anyone do—in the face of all this? To  see the connection between filling up your car and offshore drilling is overwhelming.
Perhaps it's because oil has such a tight grip on us that we simply try not to think about it. It's easier to grab a plastic water bottle when we're thirsty, to book a flight when we want to see someone and to buy a car based on comfort rather than fuel economy. Hell, I do it too. So what do I say to that person who's just watched my film and wants to know what they should do?
Here's what I tell them:
About 70 percent of the oil we use in this country is for transportation, so let's start there: Walk, bike or take public transit whenever possible. Carpool to work or telecommute if you can. Right now I'm typing this from a bed—this could be you!
If you drive and can afford it, consider an electric vehicle. Even when you factor in the emissions from the electricity used to charge them, plug-in cars are much cleaner than conventional cars. If you aren't ready for an electric, you can still choose your next vehicle with fuel economy in mind. I just bought a VW diesel wagon when my Volvo from college became less dependable for film shoots. In addition to being perfect for hauling my camera and equipment around, it gets great mileage.
What we can accomplish collectively is just as important. Get involved—organize, march, write to your legislators, donate time and money to community action groups, divest from fossil fuel companies, pressure Congress to work on behalf of the people. We need a rethink! The recent People's Climate March in New York City  was the most visible manifestation yet of a growing populist movement for climate action and clean energy—two things that inevitably will end Big Oil's monopoly on our transportation system.
Demand the same legal protections to offshore oil platform workers that onshore workers have. It's unacceptable that workers on the Deepwater Horizon rig knew it was unsafe but were afraid to speak up for fear of losing their jobs.  Congress needs to overhaul an industry whose "get er done" mindset gets in the way of safety.
Make connections and ask questions. Why were we drilling offshore in deep water and without proper safety measures in the first place? What does this say about our culture of immediacy and consumption? Why are we turning to more dangerous and destructive types of oil extraction such as tar sands in Canada, fracking with undisclosed chemicals, deepwater drilling in the Gulf of Mexico, the Arctic and elsewhere?
As an artist, I want people to respond to my film as a film, and not a political screed. But I also hope my film will inspire viewers the way I was once inspired and spur conversations about our oil consumption, extreme oil extraction methods and their impacts on our planet, public health and our democracy.
Find The Great Invisible at a theater near you here.
YOU MIGHT ALSO LIKE
Fracking Approved in Largest National Forest in Eastern U.S.
Activist/Author Generates $300,000+ in Fight Against TransCanada's Energy East Pipeline
The aftereffects of the April 20, 2010 explosion of the Deepwater Horizon in the Gulf of Mexico and the subsequent massive oil spill that gushed for three months go on and on and on—in the lives of  Gulf-area residents and businesses, the legal offices of BP and its contractors, and in the courts.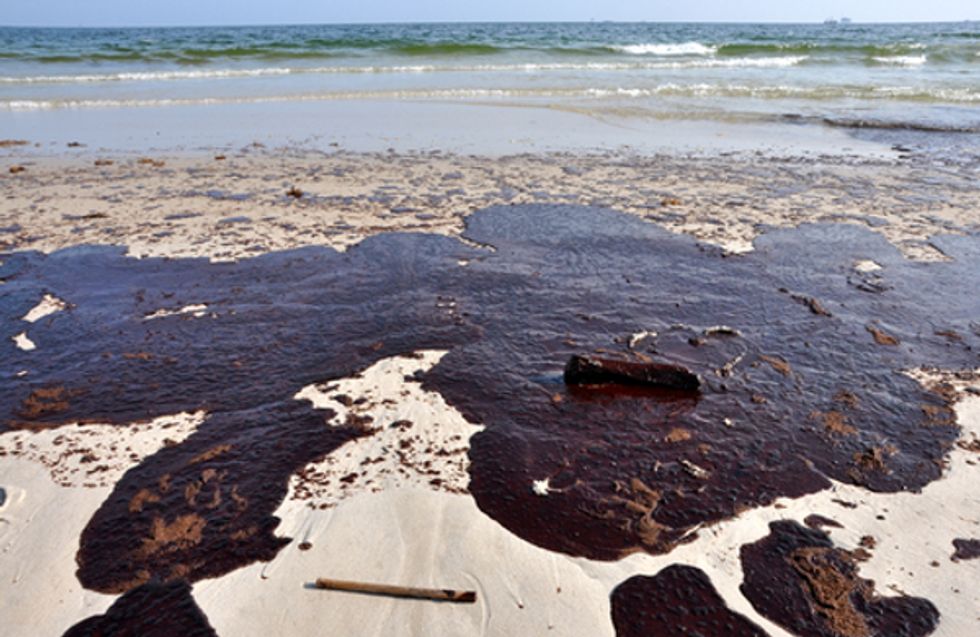 Photo credit: Shutterstock
A new study reveals that the disaster, which BP claims has been cleaned up and its impacts exaggerated, left a deposit of oil the size of Rhode Island on the ocean floor.
Researchers from the University of California, Santa Barbara, University of California, Irvine, and Woods Hole (Massachusetts) Oceanographic Institution, led by geochemistry professor Dave Valentine from UCI, have published a study Fallout Plume of Submerged Oil from Deepwater Horizon. Analyzing sea sediment, they discovered what they referred to as a "bathtub ring," saying it "formed from an oil-rich layer of water impinging laterally upon the continental slope (at a depth of 900 - 1,300 m) and a higher-flux 'fallout plume' where suspended oil particles sank to underlying sediment."
"Following the sinking of the Deepwater Horizon in the Gulf of Mexico, an unprecedented quantity of oil irrupted into the ocean at a depth of 1.5 km," the study said. "The novelty of this event makes the oil's subsequent fate in the deep ocean difficult to predict. This work identifies a fallout plume of hydrocarbons from the Macondo Well contaminating the ocean floor over an area of 3,200 km. Our analysis suggests the oil initially was suspended in deep waters and then settled to the underlying sea floor. The spatial distribution of contamination implicates accelerated settling as an important fate for suspended oil, supports a patchwork mosaic model of oil deposition and frames ongoing attempts to determine the event's impact on deep-ocean ecology."
The official government estimates said that about 5 million barrels of oil were released into the ocean in what the study refers to as an "uncontrolled emission."
"Among the pressing uncertainties surrounding this event is the fate of 2 million barrels of submerged oil thought to have been trapped in deep-ocean intrusion layers at depths of 1,000 - 1,300 m," says the study.
In September, a federal court in Louisiana found that BP's "willful misconduct" and "gross negligence" caused the spill. That finding could expose BP to fines of up to $18 billion, well beyond the 2012 $9.2 billion settlement it reached with mostly non-governmental plaintiffs.
BP issued a statement saying the study was overblown. "The authors failed to identify the source of the oil, leading them to grossly overstate the amount of residual Macondo oil on the sea floor and the geographic area in which it is found," a BP spokesman told AP.
But Valentine and his team suggested the impact could be even more far-reaching. "We also suggest that a significant quantity of oil was deposited on the ocean floor outside this area but so far has evaded detection because of its heterogeneous spatial distribution," the study said.
YOU MIGHT ALSO LIKE
BP Found Guilty of 'Gross Negligence' and 'Willful Misconduct' in 2010 Gulf Oil Disaster
Ocean Health Gets 'D' Grade in New Global Index
Crude oil from the 2010 Deepwater Horizon disaster causes severe defects in the developing hearts of bluefin and yellowfin tunas, according to a new study by a team of National Oceanic and Atmospheric Administration (NOAA) and academic scientists.
The findings, published in the Proceedings of the National Academy of Sciences on the 25th anniversary of the Exxon Valdez oil spill, show how the largest marine oil spill in U.S. history may have affected tunas and other species that spawned in oiled offshore habitats in the northern Gulf of Mexico.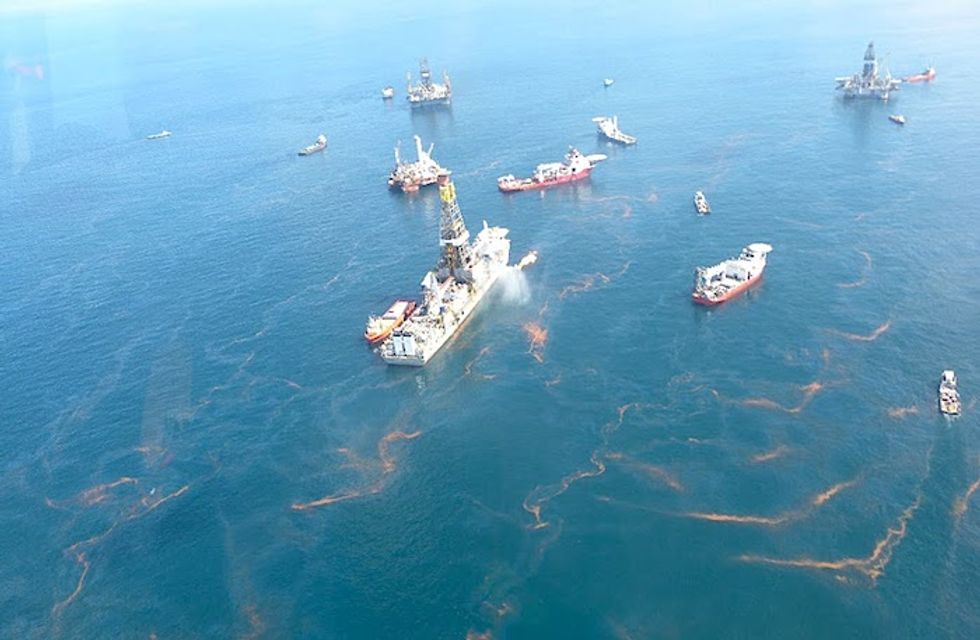 Atlantic bluefin tuna, yellowfin tuna and other large predatory fish spawn in the northern Gulf during the spring and summer months, a time that coincided with the Deepwater Horizon spill in 2010. These fish produce buoyant embryos that float near the ocean surface, potentially in harm's way as crude oil from the damaged wellhead rose from the seafloor to form large surface slicks.
The new study shows that crude oil exposures adversely affect heart development in the two species of tuna and an amberjack species by slowing the heartbeat or causing an uncoordinated rhythm, which can ultimately lead to heart failure.
"We know from the 1989 Exxon Valdez spill in Prince William Sound that recently spawned fish are especially vulnerable to crude oil toxicity," said Nat Scholz, Ph.D., leader of the ecotoxicology program at NOAA's Northwest Fisheries Science Center in Seattle. "That spill taught us to pay close attention to the formation and function of the heart."
"The timing and location of the spill raised immediate concerns for bluefin tuna," said Barbara Block, Ph.D., a study coauthor and professor of biology at Stanford University. "This spill occurred in prime bluefin spawning habitats, and the new evidence indicates a compromising effect of oil on the physiology and morphology of bluefin embryos and larvae."
Recent studies are increasingly painting a more detailed picture of how oil-derived polycyclic aromatic hydrocarbons (PAHs) act on the heart. Earlier this year, the Stanford-NOAA team showed in a related paper published in Science (Brette et al. 343: 772) that Deepwater Horizon crude oil samples block excitation-contraction coupling—vital processes for normal beat-to-beat contraction and pacing of the heart—in individual heart muscle cells isolated from juvenile bluefin and yellowfin tuna.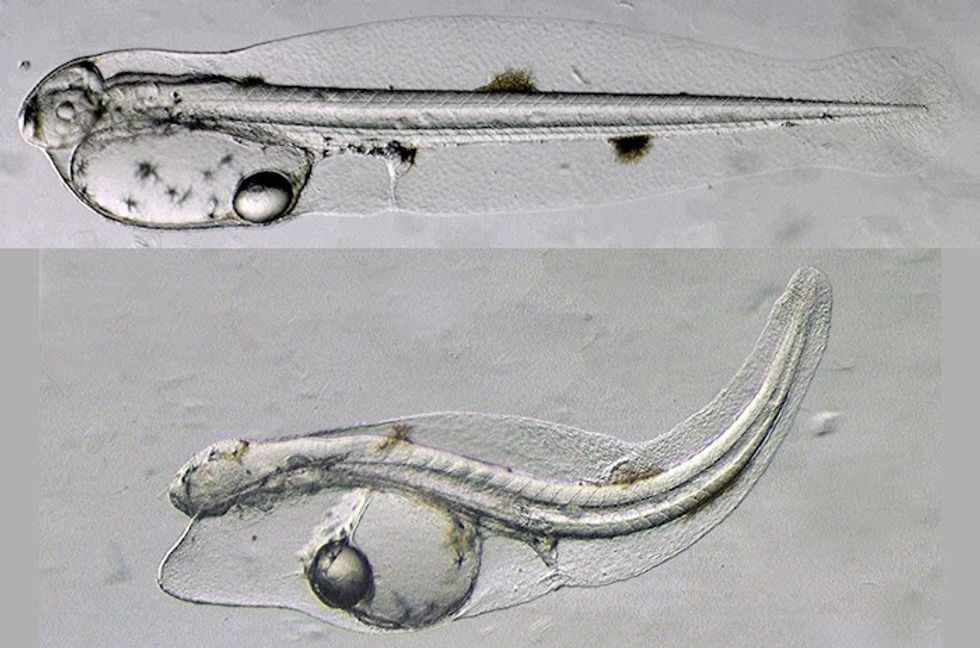 "We now have a better understanding why crude oil is toxic, and it doesn't bode well for bluefin or yellowfin embryos floating in oiled habitats." said Block. "At the level of a single heart muscle cell, we've found that petroleum acts like a pharmacological drug by blocking key processes that are critical for cardiac cell excitability."
This mechanism explains why the team observed a range of cardiac effects in the developing hearts of intact embryos in the present study. "We directly monitored the beating hearts of living fish embryos exposed to crude oil," said Dr. John Incardona, NOAA research toxicologist and the study's lead author. "The tiny offspring of tunas and other Gulf species are translucent, and we can use digital microscopy to watch the heart develop."
The major difficulty facing the researchers was access to live animals. Tunas are difficult to raise in captivity and few facilities exist worldwide with spawning fish. In the open ocean, fragile fish embryos and larvae are mixed with many other types of plankton, and they usually don't survive the rough conditions in a net towed near the surface. This made it close to impossible to assess developmental cardiotoxicity in samples collected near the Deepwater Horizon surface oil slicks.
To work around this challenge, the international team brought the oil to the fish. Samples of crude oil were collected from the damaged riser pipe and surface skimmers. The samples were then transported to the only land-based hatcheries in the world capable of spawning tunas in captivity.
This approach allowed the scientists to design environmentally relevant crude oil exposures for bluefin tuna and yellowfin tuna at marine research facilities in Australia and Panama, respectively. Luke Gardner, an Australian native post-doctoral associate from Stanford University and co-author on the PNAS paper, was vital in helping the team investigate the bluefin.
"It is challenging to maintain bluefin in culture and we were privileged to have successfully tested the crude oil in Australian facilities, the only on-land hatchery that has bluefin tuna in culture. This gave us access to tuna embryos and allowed us to study the developmental toxicity of oil," said Gardner. The pioneering effort to develop new testing methods was also led by Martin Grosell, Ph.D., at the University of Miami.
The new research adds to a growing list of fish that are affected by crude oil. "This fits the pattern," said Incardona. "The tunas and the amberjack exposed to Deepwater Horizon crude oil were impacted in much the same way that herring were deformed by the Alaska North Slope crude oil spilled in Prince William Sound during the Exxon Valdez accident."
Crude oil is a complex mixture of chemicals, some of which are known to be toxic to marine animals. Past research has focused in particular on PAHs, which can also be found in coal tar, creosote, air pollution and stormwater runoff from land. In the aftermath of an oil spill, PAHs can persist for many years in marine habitats and cause a variety of adverse environmental effects.
Developmental abnormalities were evident in bluefin and yellowfin tunas at very low concentrations, in the range of approximately one to 15 parts per billion total PAHs. These levels are below the measured PAH concentrations in many samples collected from the upper water column of the northern Gulf during the active Deepwater Horizon spill phase.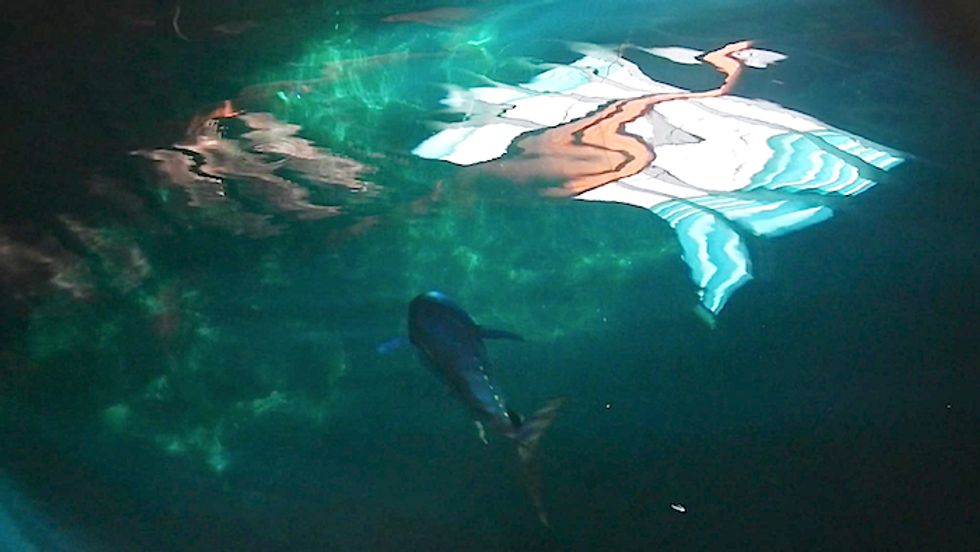 Severely affected fish with heart failure and deformed jaws are likely to have died soon after hatching. However, the NOAA team has shown in previous work that fish surviving transient crude oil exposures with only mild effects on the still-forming heart have permanent changes in heart shape that reduce swimming performance later in life.
"This creates a potential for delayed mortality," said Incardona. "Swimming is everything for these species."
The nature of the injury was very similar for all three pelagic predators, and similar also to the response of other marine fish previously exposed to crude oil from other geologic sources. Given this consistency, the authors suggest there may have been cardiac-related impacts on swordfish, marlin, mackerel and other Gulf species. "If they spawned in proximity to oil, we'd expect these types of effects," said Incardona.
The research was funded by NOAA as part of the on-going Natural Resource Damage Assessment for the Gulf ecosystem following the April 20, 2010 Deepwater Horizon oil spill. Contributing to the findings in addition to NOAA and Stanford University were researchers from the University of Miami's Rosenstiel School of Marine and Atmospheric Sciences and the University of the Sunshine Coast in Queensland, Australia.
RELATED CONTENT:
Dolphins Suffering From Lung Disease Due to BP Gulf Oil Spill
BP Disaster Recovery Through the Lens of the Exxon Valdez Oil Spill
4 Years After Deepwater Horizon Oil Spill, EPA Lifts BP's Gulf Drilling Ban
The first and second phases of the BP trial involving the Deepwater Horizon oil disaster are behind us. The judge is now deciding how to rule on the issues of gross negligence and amount of oil released into the ocean, while a third and final phase is set for Jan. 2015. Yet, while the end of the courtroom drama is in sight, the genie BP let out of the bottle almost four years ago has not gone away, and questions abound. For example, how is lingering oil affecting the food web? Which impacts will remain hidden? And how long will recovery of the environment take? Answers to these questions are frustratingly elusive, especially since the results of government studies assessing environmental damage are still mostly confidential.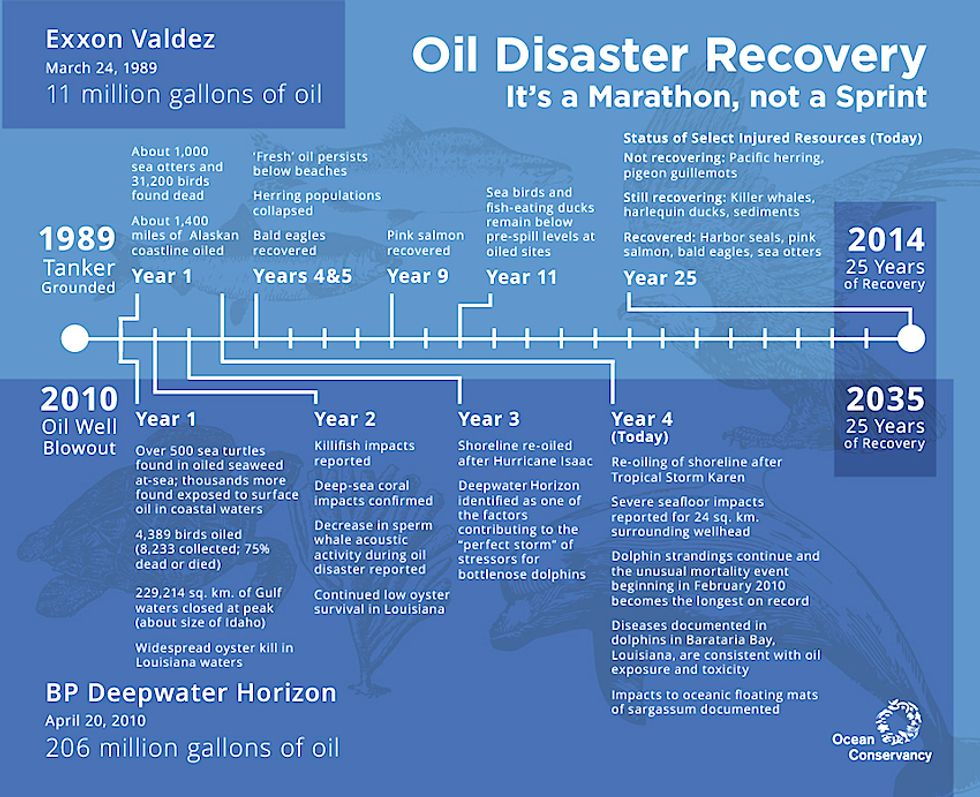 With the fourth anniversary of the BP disaster nearly upon us, we can look back to the March 1989 Exxon Valdez oil spill in Alaska for insight into the types of impacts seen four years after that oil spill and what they might mean for Gulf recovery. As Alaskans reach a significant milestone today—the 25th anniversary of the Exxon Valdez disaster—the successes and setbacks in coastal Alaska's recovery are instructive. These insights put the Gulf's recovery into perspective and tell us that science is the foundation of a decades-long restoration effort, and it must not be shortchanged.
Lingering Oil
Four years after the tanker Exxon Valdez belched 11 million gallons of oil into Prince William Sound, the water's surface was largely oil-free. However, patches of asphalt-like deposits remained on area beaches and pockets of relatively "fresh" oil could be found below the surface. Residual BP oil persists, embedded in marshes, beaches and offshore sediments. When disturbed, as was the case following Tropical Storm Karen, it re-oils sensitive habitats. Lingering oil poses risks to the species and can slow recovery, either through direct re-exposure or indirectly through ingestion of contaminated prey. To this day, lingering Exxon Valdez oil is monitored on sheltered beaches in the Gulf of Alaska. The Gulf of Mexico needs a similar long-term monitoring effort to track remaining reservoirs of submerged BP oil and its food web impacts.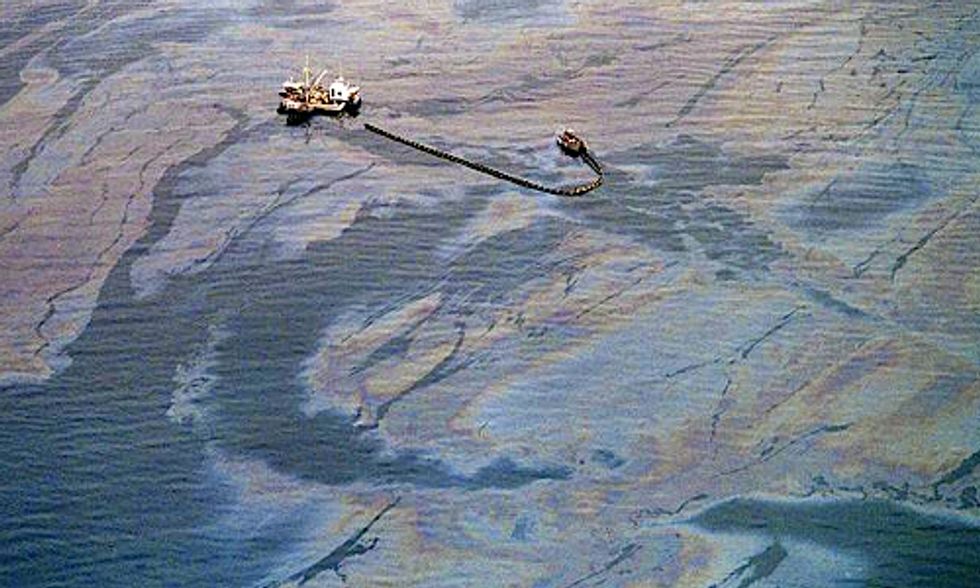 Finfish Exposure and Recovery
Salmon are the most important finfish, culturally and commercially, to Alaskans. Oil from the Exxon Valdez reached about one-third of pink salmon streams in Prince William Sound. Repeated exposure of fish eggs to relatively less toxic oil slowed the recovery of pink salmon, which was not declared recovered until 1998. Another species, Pacific herring, which once supported a multimillion-dollar fishery in Prince William Sound, was another casualty of Exxon Valdez oil. In 1993, the Prince William Sound herring population crashed, the result of a perfect storm of natural and man-made factors, including Exxon Valdez oil. More than 20 years later, Pacific herring still has not recovered and is the focus of ongoing studies.
In the Gulf of Mexico, fisheries are a $5.7 billion industry. Much is still unknown about the impacts of the BP disaster on finfish or what ripple effects these might have in the ecosystem or fisheries, but new research findings give us a glimpse. Scientists found that when young bluefin tuna were exposed to crude oil from BP's ruptured wellhead, their hearts were at greater risk of malfunctioning. The BP disaster occurred at the time bluefin were spawning, so it is possible the 2010 class took a hit. Menhaden is also a significant wild card because it is so critical to the Gulf food web. The distribution of this forage fish overlapped with the BP oil spill footprint, but scientists don't yet know—or aren't saying—to what degree the species was affected.
Now is the time to model best and worst case oil spill impact scenarios for finfish species of concern, like bluefin or menhaden, using the results to guide recovery strategies and help fishermen plan ahead. Long-term studies for exposed finfish similar to those for Pacific herring in Alaska are also needed.
Wildlife Exposure and Recovery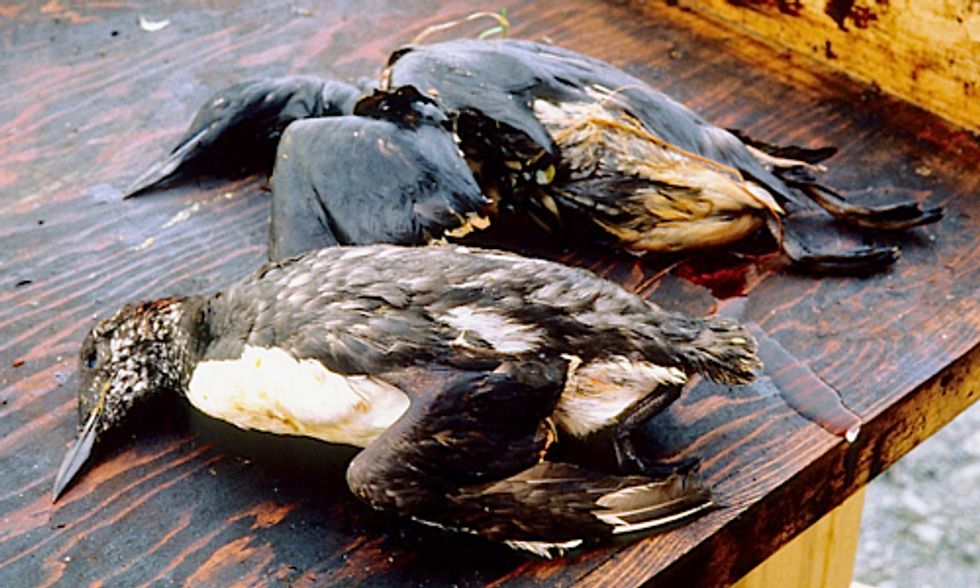 An estimated 250,000 birds were killed by the Exxon Valdez disaster. Several populations of birds, including bald eagles, had recovered by 1994, but many of those in oiled areas had not. Harbor seals may have declined by as much as 300 individuals following the disaster, continuing a declining trend first observed in 1984. Two pods of killer whales occurring in waters exposed to Exxon Valdez oil lost a combined 22 animals between 1989 and 1994, and neither pod had recovered by 1994. Many of these species have been the focus of oil spill impact studies dating back to 1989, with surveys continuing today because populations have not fully recovered.
In the Gulf of Mexico, thousands of birds representing about 100 species were recovered from the BP disaster impact area. In actuality, the total number is likely many times higher because carcasses are eaten, sink or drift away. Since the disaster, hundreds of sea turtles and bottlenose dolphins have stranded. The dolphin die-off is the longest and worst ever seen in the Gulf. We need to get to the bottom of dolphin deaths to not only arrest the trend if we can and aid their recovery, but also to determine whether conditions for dolphins in the Gulf are changing and why. Scientists need to collect data over many years in order to detect trends and understand ecological relationships. For this reason, long-term health assessments for wildlife species impacted by the BP disaster are high priorities for restoration and gauging recovery.
Recovery Is a Marathon, Not a Sprint
The Exxon Valdez experience taught us that recovery from oil spills can be two steps forward and one step back. Oil spill restoration is like a marathon; the process is long and pacing matters. The best way to prepare for the long haul and make periodic course corrections is to learn as much about oil spill impacts and ecosystem drivers as solid science will tell us, and respond accordingly. Tracking the health of an ever-changing Gulf is as important for restoration as regular checkups are for people, even more so for those recovering from an illness. Without a finger on the Gulf's pulse and understanding how changes in this body of water affect recovering species, the right diagnosis or decisions about this or that species cannot be made. We need dedicated Gulf-wide monitoring for a minimum of 25 years to track recovery from the BP disaster. If there is one lesson we have learned from the Exxon Valdez disaster, it is that good science is the glove that fits around the hand of restoration.
Visit EcoWatch's WATER page for more related news on this topic.
Nearly four years after the BP Deepwater Horizon oil and gas disaster in the Gulf of Mexico—an event that blew away the record books for the nation's worst accidental oil spill—BP is fully back in business, and drilling is booming in the Gulf of Mexico.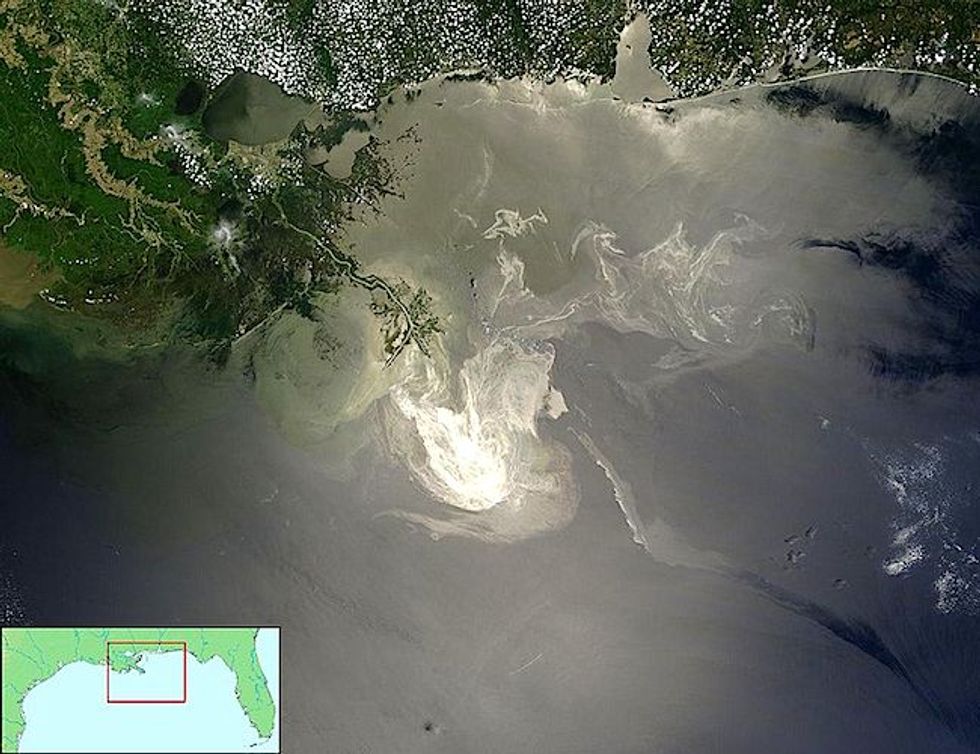 Last week the U.S. Environmental Protection Agency lifted the ban that prevented BP from engaging in any contracts with the federal government, paving the way for BP to resume bidding on leases for oil and gas development on public lands and waters, including the Gulf. 
BP already holds more than 600 lease blocks—more than any other operator in the Gulf—and they currently have ten rigs working to drill new deepwater wells, like the Macondo well that failed in 2010. 
But they're not the only game in town. There are dozens of other operators working in the Gulf, in deep water and shallow. One of our fans just tipped us off to a nifty dataset that shows just how busy things are offshore here and around the world: the locations of active Mobile Offshore Drilling Units (MODUs). Here's a look at the MODUs working right now in the Gulf of Mexico: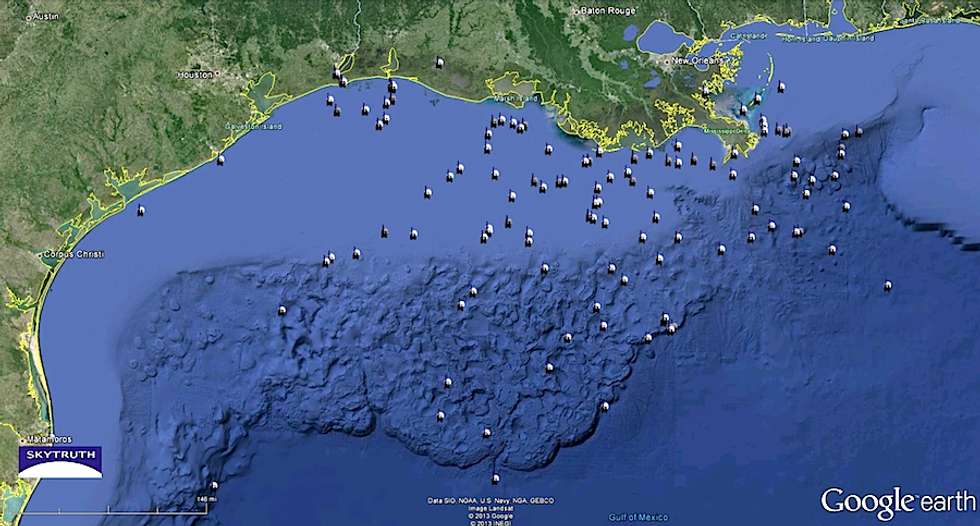 Not to be confused with the thousands of fixed offshore oil and gas production platforms, MODUs are the rigs that get towed from place to place to drill new wells, and do maintenance operations on existing wells. They range from the relatively small and simple jack-up rigs that work in shallow water, to the huge and complex semisubmersible rigs, like the Deepwater Horizon, that handle the technically challenging deepwater work. 
Visit EcoWatch's ENERGY and OFFSHORE OIL DRILLING page for more related news on this topic.

By Andy Rowell
The fallout from the BP's Deepwater Horizon oil spill continues. The oil giant is attempting to force the U.S. government to release evidence which BP says proves that the oil spill did much less damage than at first feared.
According to the Financial Times, in filings to the U.S. court in New Orleans, LA, BP believes there is "extensive evidence that the environmental harm was far less than the U.S. or others feared" and that the "environmental recovery is well under way."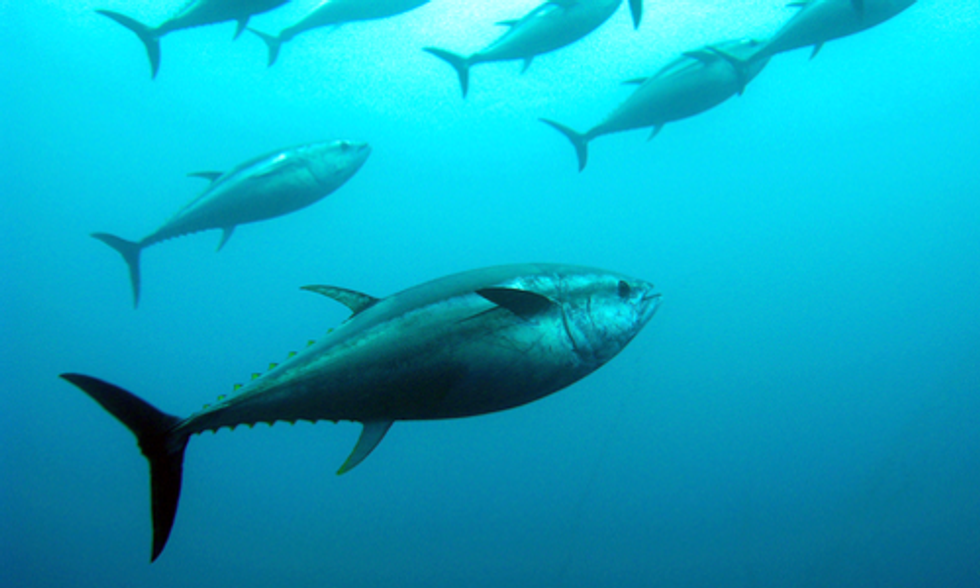 Photo courtesy of Shutterstock
The filing was made to support BP's case for a reduced fine under the Clean Water Act.
However, just as BP argues the impact of the spill is less than people thought, new science is still being published showing evidence of harm. The latest to be published examined the spill's effects on the hearts of tuna fish.
The Deepwater oil spill in the Gulf of Mexico occurred at the worst time for the tuna. It occurred at the peak spawning season of the western Atlantic population of bluefin tuna in the Gulf.
During the disaster, tuna embryos and larvae were exposed to the crude oil, causing a significant decline in the tuna population, with the latest estimate undertaken in 2012 that the population was just 36 percent of the baseline 1970 value.
Now scientists from Stanford University and the National Oceanic and Atmospheric Administration (NOAA), have discovered that the crude oil interferes with fish heart cells, preventing them from beating effectively and leading to a reduced heart rate. This can lead to heart attacks and death, they argue writing in the journal Science.
Although scientists have known that components of crude oil, such as polycyclic aromatic hydrocarbons" (PAHs) are toxic to fish, especially hearts of fish embryos and larvae, they did not understand the mechanisms of how the damage was caused.
"We've known from NOAA research over the past two decades that crude oil is toxic to the developing hearts of fish embryos and larvae, but haven't understood precisely why," said co-author of the study Nat Scholz, leader of the Ecotoxicology Program at NOAA's Northwest Fisheries Science Center in Seattle.
The researchers found that crude oil interferes with cardiac cell contraction and relaxation, which are vital processes for normal a heartbeat. The study concluded that "results lead us to believe that PAH cardiotoxicity was potentially a common form of injury among a broad range of species during and after the [Deepwater Horizon] oil spill."
Jacqueline Savitz, vice president for U.S. Oceans at Oceana, argues that the study is a "reminder that the Deepwater Horizon oil spill was the biggest environmental disaster" of our time. "Even though we can't see many of the effects, they're still happening," she contends.
Nor are they the only recent research showing evidence of harm. Back in December, research published in the journal Environmental Science & Technology, examined the effects of the spill on bottle-nosed dolphins.
Nearly half of dolphins were identified as being in "guarded or worse" condition, with seventeen in such poor or grave condition they were "not expected to survive."
Among other health problems were lung and liver damage, pneumonia and low levels of adrenal stress-response hormones. A quarter of the dolphins were also underweight. "I've never seen such a high prevalence of very sick animals—and with unusual conditions such as the adrenal hormone abnormalities," said the lead author Dr. Lori Schwacke.
So that is BP's problem. It is trying to argue that its oil had less impact than previously thought, and yet the science is telling us otherwise. And it still may be years before we know the true extent of the damage to the Gulf's ecosystem.
Visit EcoWatch's BIODIVERSITY page for more related news on this topic.