This website uses cookies to ensure you get the best experience while browsing it. By clicking 'Got It' you're accepting these terms.


The best of EcoWatch, right in your inbox. Sign up for our email newsletter!
4 Things You Need to Know As BP Gulf Oil Spill Trial Resumes
Sep. 30, 2013 10:31AM EST
The second phase of the trial to determine how much more money BP owes for its Gulf spill begins today. Here's what you need to know:
1. Phase two of the trial will cover how much oil BP actually discharged into the Gulf of Mexico as well as the effort to cap the well. (Remember the summer of "junk shots" and "top kills?")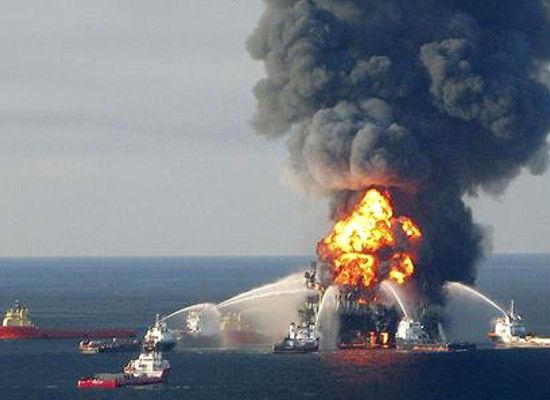 BP says the U.S. government's estimate of 4.9 million barrels of oil is based on "faulty assumptions." The company says they spilled only about 2.45 million barrels. BP's estimate of a lower volume is based on the work of London-based professor Martin Blunt, who *ahem* used to work for BP. Either way, that's a lot of oil, so why the fuss? Penalties for discharging oil—a violation of the Clean Water Act—are based on the amount of oil discharged. A lower volume means a lower penalty—potentially around $7 billion less.
2. BP agreed to a criminal settlement last fall that requires the company to pay approximately $4 billion in fines over a five-year period. One of the guilty pleas was for obstruction of Congress. In May 2010, BP officials told Congress that the company's best estimate of the spill flow was about 5,000 barrels per day, even though BP's own scientists said in company communications that it was likely much higher.
To put the penalty BP paid for all of their criminal counts in perspective, their profits for the fourth quarter of 2012 were $3.984 billion, down from $4.986 billion the year prior.
3. BP has launched a PR campaign designed to shore up the company's assertion that they have "made it right" and to point fingers at Gulf residents, saying that many of the claims made as a result of losses incurred during the disaster are fraudulent and that the company has gone above and beyond in response and restoration. They took out full-page ads in several national newspapers asserting that they are being victimized.
The campaign moved into full swing during the month before phase two of the trial. According to The Hill, "Given that much of the advertising is in Washington, it may also be aimed at garnering political support to lessen pending Clean Water Act fines that are the subject of the ongoing federal trial."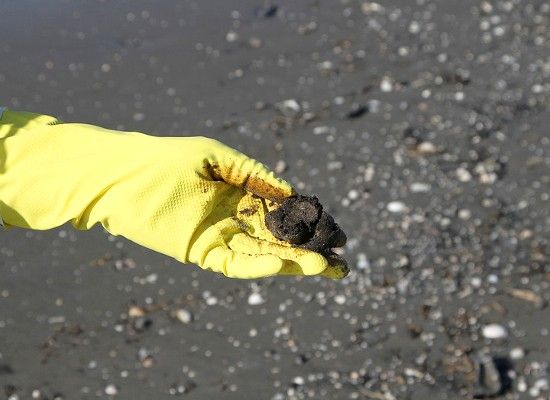 4. Despite ads to the contrary, there is still oil lurking in the Gulf of Mexico and on our coast. We are just now starting to see science on the impact of the spill in the marine environment, like this study of its effect on sediment in the Gulf. Organizations like the Gulf Restoration Network regularly find oiled shorelines on their patrols. 
Ultimately, the amount of money available for restoration of the Gulf of Mexico via the RESTORE Act comes down to two things: How much oil did BP discharge, and were they grossly negligent in the actions leading up to and during the disaster? Let the facts, not a slick PR campaign, determine the fate of the Gulf of Mexico.
Visit EcoWatch's GULF OIL SPILL and OFFSHORE OIL DRILLING pages for more related news on this topic.
——–

EcoWatch Daily Newsletter
arinahabich / Stock / Getty Images
By Sydney Swanson
With April hopping along and Easter just around the corner, it's time for dyeing eggs (and inadvertently, dyeing hands.) It's easy to grab an egg-dyeing kit at the local supermarket or drug store, but those dye ingredients are not pretty.
Aerial of farmland and mountains near Seaward Kaikoura Range in New Zealand. David Wall Photo / Lonely Planet Images / Getty Images Plus
By Jordan Davidson
New Zealand's pristine image as a haven of untouched forests and landscapes was tarnished this week by a brand new government report. The Environment Aotearoa 2019 painted a bleak image of the island nation's environment and its future prospects.
heshphoto / Image Source / Getty Images
Mike Taube / Getty Images
A new EPA rule on asbestos does not say anything about the asbestos currently in the environment. Bob Allen / Getty Images
A mountain woodland caribou bull in the Muskwa-Kechika Wilderness area in northern British Columbia, Canada. John E Marriott / All Canada Photos / Getty Images
It's heartening, in the midst of the human-caused sixth mass extinction, to find good wildlife recovery news. As plant and animal species disappear faster than they have for millions of years, Russia's Siberian, or Amur, tigers are making a comeback. After falling to a low of just a few dozen in the mid-20th century, the tigers now number around 500, with close to 100 cubs — thanks to conservation measures that include habitat restoration and an illegal hunting crackdown.