This website uses cookies to ensure you get the best experience while browsing it. By clicking 'Got It' you're accepting these terms.
Bluefin Tuna Suffering From Heart Attacks Due to BP Gulf Oil Spill
Feb. 19, 2014 11:48AM EST
By Andy Rowell
The fallout from the BP's Deepwater Horizon oil spill continues. The oil giant is attempting to force the U.S. government to release evidence which BP says proves that the oil spill did much less damage than at first feared.
According to the Financial Times, in filings to the U.S. court in New Orleans, LA, BP believes there is "extensive evidence that the environmental harm was far less than the U.S. or others feared" and that the "environmental recovery is well under way."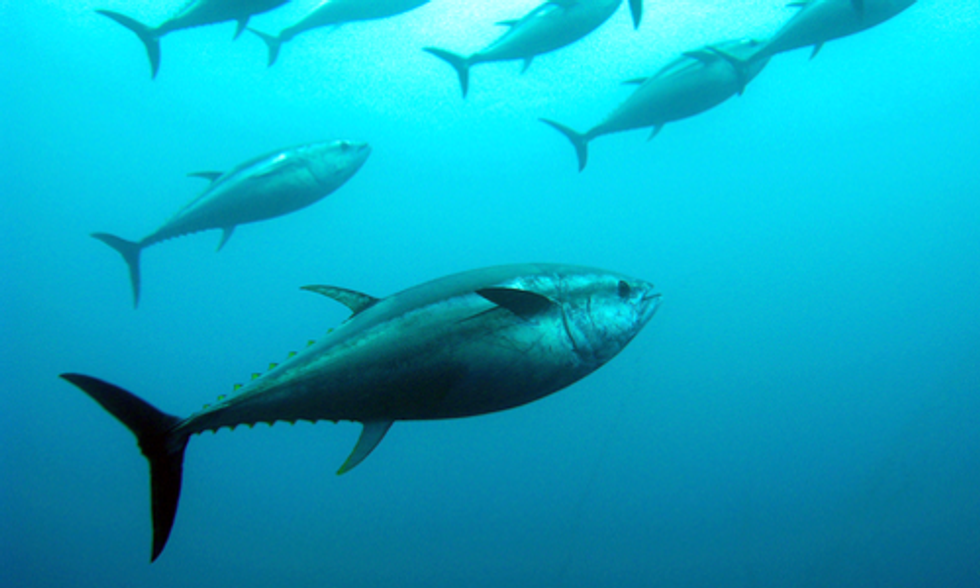 Photo courtesy of Shutterstock
The filing was made to support BP's case for a reduced fine under the Clean Water Act.
However, just as BP argues the impact of the spill is less than people thought, new science is still being published showing evidence of harm. The latest to be published examined the spill's effects on the hearts of tuna fish.
The Deepwater oil spill in the Gulf of Mexico occurred at the worst time for the tuna. It occurred at the peak spawning season of the western Atlantic population of bluefin tuna in the Gulf.
During the disaster, tuna embryos and larvae were exposed to the crude oil, causing a significant decline in the tuna population, with the latest estimate undertaken in 2012 that the population was just 36 percent of the baseline 1970 value.
Now scientists from Stanford University and the National Oceanic and Atmospheric Administration (NOAA), have discovered that the crude oil interferes with fish heart cells, preventing them from beating effectively and leading to a reduced heart rate. This can lead to heart attacks and death, they argue writing in the journal Science.
Although scientists have known that components of crude oil, such as polycyclic aromatic hydrocarbons" (PAHs) are toxic to fish, especially hearts of fish embryos and larvae, they did not understand the mechanisms of how the damage was caused.
"We've known from NOAA research over the past two decades that crude oil is toxic to the developing hearts of fish embryos and larvae, but haven't understood precisely why," said co-author of the study Nat Scholz, leader of the Ecotoxicology Program at NOAA's Northwest Fisheries Science Center in Seattle.
The researchers found that crude oil interferes with cardiac cell contraction and relaxation, which are vital processes for normal a heartbeat. The study concluded that "results lead us to believe that PAH cardiotoxicity was potentially a common form of injury among a broad range of species during and after the [Deepwater Horizon] oil spill."
Jacqueline Savitz, vice president for U.S. Oceans at Oceana, argues that the study is a "reminder that the Deepwater Horizon oil spill was the biggest environmental disaster" of our time. "Even though we can't see many of the effects, they're still happening," she contends.
Nor are they the only recent research showing evidence of harm. Back in December, research published in the journal Environmental Science & Technology, examined the effects of the spill on bottle-nosed dolphins.
Nearly half of dolphins were identified as being in "guarded or worse" condition, with seventeen in such poor or grave condition they were "not expected to survive."
Among other health problems were lung and liver damage, pneumonia and low levels of adrenal stress-response hormones. A quarter of the dolphins were also underweight. "I've never seen such a high prevalence of very sick animals—and with unusual conditions such as the adrenal hormone abnormalities," said the lead author Dr. Lori Schwacke.
So that is BP's problem. It is trying to argue that its oil had less impact than previously thought, and yet the science is telling us otherwise. And it still may be years before we know the true extent of the damage to the Gulf's ecosystem.
Visit EcoWatch's BIODIVERSITY page for more related news on this topic.

EcoWatch Daily Newsletter
A harbour seal on an ice floe in Glacier Bay, Alaska. A new study shows that the climate crisis has warmed waters, changing ecosystems and crippling sea ice growth. Janette Hill / robertharding / Getty Images Plus
Doctors report that only 1 in 4 children are getting the recommended 60 minutes of physical activity per day. Ronnie Kaufman / DigitalVision / Getty Images
By Dan Gray
Pediatricians are being urged to start writing "exercise prescriptions" for the children they see in their office.
A First Nations protester walks in front of a train blockade in Tyendinaga, near Belleville, Ontario, Canada on Feb. 21, 2020. LARS HAGBERG / AFP via Getty Images
An indigenous rail blockade that snarled train travel in Canada for more than two weeks came to an end Monday when police moved in to clear protesters acting in solidarity with another indigenous community in British Columbia (B.C.), which is fighting to keep a natural gas pipeline off its land.
A rainbow snake, a rare reptile spotted in a Florida county for the first time in more than 50 years, seen here on July 5, 2013.
Kevin Enge / FWC Fish and Wildlife Research Institute / Flickr
A Florida hiker recently stumbled across a slithering surprise — a rare snake that hadn't been spotted in the area for more than 50 years.
We need our government to do everything it can to stop PFAS contamination and exposure from wreaking havoc in communities across the country. LuAnn Hun /
Unsplash
By Genna Reed
The EPA announced last week that it is issuing a preliminary regulatory determination for public comment to set an enforceable drinking water standard to two of the most common and well-studied PFAS, PFOA and PFOS.
This decision is based on three criteria:
PFOA and PFOS have an adverse effect on public health
PFOA and PFOS occur in drinking water often enough and at levels of public health concern;
regulation of PFOA and PFOS is a meaningful opportunity for reducing the health risk to those served by public water systems.