This website uses cookies to ensure you get the best experience while browsing it. By clicking 'Got It' you're accepting these terms.
Dolphins Suffering From Lung Disease Due to BP Gulf Oil Spill
Dec. 18, 2013 12:41PM EST
Bottlenose dolphins in Louisiana's Barataria Bay have lung damage and adrenal hormone abnormalities not previously seen in other dolphin populations, according to a new peer-reviewed study published today in the journal Environmental Science & Technology.
The Deepwater Horizon spill heavily oiled Barataria Bay. The study was conducted in August 2011 as part of the Natural Resource Damage Assessment (NRDA) by a team of government, academic and non-governmental researchers. In the NRDA process, federal and state trustee agencies working cooperatively with BP identify potential injuries to natural resources and lost public uses resulting from the spill, along with restoration projects to ensure that the public is fully compensated for its loss.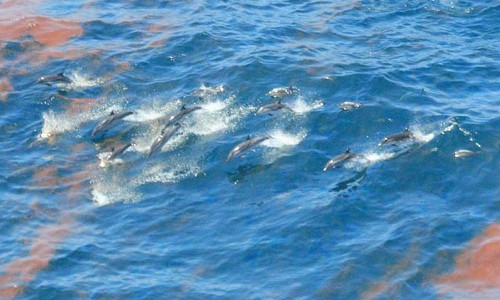 The publication details the first evidence that dolphins in heavily oiled areas are exhibiting injuries consistent with toxic effects observed in laboratory studies of mammals exposed to petroleum hydrocarbons. The dolphin health study concludes that the health effects seen in the Barataria Bay dolphins are significant and likely will lead to reduced survival and ability to reproduce.
Twenty-nine of the total 32 dolphins sampled in Barataria Bay received comprehensive physical examinations, including ultrasound examinations to assess lung condition. The researchers assigned almost half (48 percent) of the dolphins a guarded or worse prognosis. In fact, they classified 17 percent as being in  poor or grave condition, meaning the dolphins were not expected to survive.
These findings are in contrast to dolphins sampled in Sarasota Bay, FL, an area not oiled by the Deepwater Horizon spill. For Dr. Lori Schwacke, the study's lead author and veteran of a number of similar dolphin health studies across the southeast, the findings are troubling: "I've never seen such a high prevalence of very sick animals—and with unusual conditions such as the adrenal hormone abnormalities."
The NRDA researchers found that moderate to severe lung disease was five times more likely in the Barataria Bay dolphins, with symptoms including lung masses and consolidation. The researchers also found that 25 percent of the Barataria Bay dolphins were significantly underweight and the population overall had very low levels of adrenal hormones, which are critical for responding to stress.
The researchers examined alternative hypotheses for the dolphins' disease conditions, such as exposure to other man-made chemicals that have previously been measured in high concentrations in marine mammals and also associated with impacts on health. Blubber samples from the Barataria Bay dolphins, however, showed relatively low concentrations for the broad suite of chemicals measured, including PCBs and commonly detected persistent pesticides, as compared to other coastal dolphin populations.
Based on the findings from the 2011 dolphin health study, researchers performed three additional health assessments in 2013 as part of the Deepwater Horizon NRDA. The studies were repeated in Barataria Bay and Sarasota Bay, and also expanded to Mississippi Sound, including both Mississippi and Alabama waters. Results from these more recent health assessments are still pending.
Researchers conducting the NRDA studies are collaborating closely with the team conducting an Unusual Mortality Event (UME) investigation in the northern Gulf of Mexico under the Marine Mammal Protection Act. Investigations of this type follow stranding events that are unexpected, involve a significant die-off and demand an immediate response.  The observed increase in the number of dolphin strandings now includes more than 1,050 animals that have stranded along the Gulf Coast from the Texas/Louisiana border through Franklin County, FL. Ninety-four percent of these animals have stranded dead.
The UME investigation, spanning from February 2010 to present, is the longest UME response since 1992, and includes the greatest number of stranded dolphins in an UME in the Gulf of Mexico.
Dr. Teresa Rowles, lead for the Marine Mammal Health and Stranding Response Program and a co-author on the dolphin health publication, indicates that "these dolphin health studies will contribute significant information for both the NRDA and the UME investigation as we compare disease findings in the wild, living dolphins to the pathologies and analyses from the dead animals across the northern Gulf."
Visit EcoWatch's BIODIVERSITY page for more related news on this topic.

EcoWatch Daily Newsletter
Mizina / iStock / Getty Images
Oats are widely regarded as one of the healthiest grains you can eat, as they're packed with many important vitamins, minerals, and fiber.
JPMorgan Chase building in New York City. Ben Sutherland / CC BY 2.0
By Sharon Kelly
A report published Wednesday names the banks that have played the biggest recent role in funding fossil fuel projects, finding that since 2016, immediately following the Paris agreement's adoption, 33 global banks have poured $1.9 trillion into financing climate-changing projects worldwide.
Sriram Madhusoodanan of Corporate Accountability speaking on conflict of interest demand of the People's Demands at a defining action launching the Demands at COP24. Corporate Accountability
By Patti Lynn
2018 was a groundbreaking year in the public conversation about climate change. Last February, The New York Times reported that a record percentage of Americans now believe that climate change is caused by humans, and there was a 20 percentage point rise in "the number of Americans who say they worry 'a great deal' about climate change."
The head of England's Environment Agency has urged people to stop watering their lawns as a climate-induced water shortage looms. Pexels
England faces an "existential threat" if it does not change how it manages its water, the head of the country's Environment Agency warned Tuesday.
Pexels
By Jessica Corbett
A new analysis revealed Tuesday that over the past two decades heat records across the U.S. have been broken twice as often as cold ones—underscoring experts' warnings about the increasingly dangerous consequences of failing to dramatically curb planet-warming emissions.
A flock of parrots in Telegraph Hill, San Francisco.
~dgies / Flickr
By Madison Dapcevich
Ask any resident of San Francisco about the waterfront parrots, and they will surely tell you a story of red-faced conures squawking or dive-bombing between building peaks. Ask a team of researchers from the University of Georgia, however, and they will tell you of a mysterious string of neurological poisonings impacting the naturalized flock for decades.
Fire burns in the North Santiam State Recreational Area on March 19. Oregon Department of Forestry
An early-season wildfire near Lyons, Oregon burned 60 acres and forced dozens of homes to evacuate Tuesday evening, the Oregon Department of Forestry (ODF) said, as KTVZ reported.
The initial cause of the fire was not yet known, but it has been driven by the strong wind and jumped the North Santiam River, The Salem Statesman Journal reported. As of Tuesday night, it threatened around 35 homes and 30 buildings, and was 20 percent contained.
Edwin Hardeman is the plaintiff in the first U.S. federal trial claiming that Roundup causes cancer. NOAH BERGER / AFP / Getty Images
A second U.S. jury has ruled that Roundup causes cancer.
The unanimous verdict was announced Tuesday in San Francisco in the first federal case to be brought against Monsanto, now owned by Bayer, alleging that repeated use of the company's glyphosate-containing weedkiller caused the plaintiff's cancer. Seventy-year-old Edwin Hardeman of Santa Rosa, California said he used Roundup for almost 30 years on his properties before developing non-Hodgkin's lymphoma.
The decision comes less than a year after a jury awarded $289 million to Bay-area groundskeeper Dewayne Johnson over similar claims. The amount was later reduced to $78 million.
"Today's verdict reinforces what another jury found last year, and what scientists with the state of California and the World Health Organization have concluded: Glyphosate causes cancer in people," Environmental Working Group President Ken Cook said in a statement. "As similar lawsuits mount, the evidence will grow that Roundup is not safe, and that the company has tried to cover it up."
Judge Vince Chhabria has split Hardeman's trial into two phases. The first, decided Tuesday, focused exclusively on whether or not Roundup use caused the plaintiff's cancer. The second, to begin Wednesday, will assess if Bayer is liable for damages.

"We are disappointed with the jury's initial decision, but we continue to believe firmly that the science confirms glyphosate-based herbicides do not cause cancer," Bayer spokesman Dan Childs said in a statement reported by The Guardian. "We are confident the evidence in phase two will show that Monsanto's conduct has been appropriate and the company should not be liable for Mr. Hardeman's cancer."
Some legal experts said that Chhabria's decision to split the trial was beneficial to Bayer, Reuters reported. The company had complained that the jury in Johnson's case had been distracted by the lawyers' claims that Monsanto had sought to mislead scientists and the public about Roundup's safety.

However, a remark made by Chhabria during the trial and reported by The Guardian was blatantly critical of the company.
"Although the evidence that Roundup causes cancer is quite equivocal, there is strong evidence from which a jury could conclude that Monsanto does not particularly care whether its product is in fact giving people cancer, focusing instead on manipulating public opinion and undermining anyone who raises genuine and legitimate concerns about the issue," he said.
Many regulatory bodies, including the U.S. Environmental Protection Agency, have ruled that glyphosate is safe for humans, but the World Health Organization's International Agency for Research on Cancer found it was "probably carcinogenic to humans" in 2015. A university study earlier this year found that glyphosate use increased cancer risk by as much as 41 percent.
Hardeman's lawyers Jennifer Moore and Aimee Wagstaff said they would now reveal Monsanto's efforts to mislead the public about the safety of its product.
"Now we can focus on the evidence that Monsanto has not taken a responsible, objective approach to the safety of Roundup," they wrote in a statement reported by The Guardian.
Hardeman's case is considered a "bellwether" trial for the more than 760 glyphosate cases Chhabria is hearing. In total, there are around 11,200 such lawsuits pending in the U.S., according to Reuters.
University of Richmond law professor Carl Tobias told Reuters that Tuesday's decision showed that the verdict in Johnson's case was not "an aberration," and could possibly predict how future juries in the thousands of pending cases would respond.