Dec. 18, 2013 12:41PM EST
Dolphins Suffering From Lung Disease Due to BP Gulf Oil Spill
Bottlenose dolphins in Louisiana's Barataria Bay have lung damage and adrenal hormone abnormalities not previously seen in other dolphin populations, according to a new peer-reviewed study published today in the journal Environmental Science & Technology.
The Deepwater Horizon spill heavily oiled Barataria Bay. The study was conducted in August 2011 as part of the Natural Resource Damage Assessment (NRDA) by a team of government, academic and non-governmental researchers. In the NRDA process, federal and state trustee agencies working cooperatively with BP identify potential injuries to natural resources and lost public uses resulting from the spill, along with restoration projects to ensure that the public is fully compensated for its loss.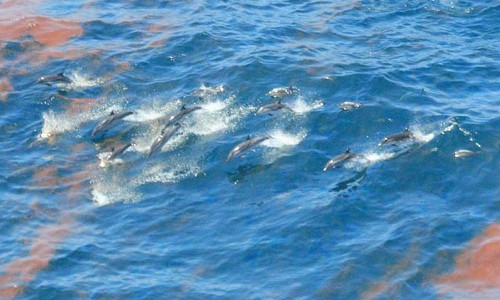 The publication details the first evidence that dolphins in heavily oiled areas are exhibiting injuries consistent with toxic effects observed in laboratory studies of mammals exposed to petroleum hydrocarbons. The dolphin health study concludes that the health effects seen in the Barataria Bay dolphins are significant and likely will lead to reduced survival and ability to reproduce.
Twenty-nine of the total 32 dolphins sampled in Barataria Bay received comprehensive physical examinations, including ultrasound examinations to assess lung condition. The researchers assigned almost half (48 percent) of the dolphins a guarded or worse prognosis. In fact, they classified 17 percent as being in  poor or grave condition, meaning the dolphins were not expected to survive.
These findings are in contrast to dolphins sampled in Sarasota Bay, FL, an area not oiled by the Deepwater Horizon spill. For Dr. Lori Schwacke, the study's lead author and veteran of a number of similar dolphin health studies across the southeast, the findings are troubling: "I've never seen such a high prevalence of very sick animals—and with unusual conditions such as the adrenal hormone abnormalities."
The NRDA researchers found that moderate to severe lung disease was five times more likely in the Barataria Bay dolphins, with symptoms including lung masses and consolidation. The researchers also found that 25 percent of the Barataria Bay dolphins were significantly underweight and the population overall had very low levels of adrenal hormones, which are critical for responding to stress.
The researchers examined alternative hypotheses for the dolphins' disease conditions, such as exposure to other man-made chemicals that have previously been measured in high concentrations in marine mammals and also associated with impacts on health. Blubber samples from the Barataria Bay dolphins, however, showed relatively low concentrations for the broad suite of chemicals measured, including PCBs and commonly detected persistent pesticides, as compared to other coastal dolphin populations.
Based on the findings from the 2011 dolphin health study, researchers performed three additional health assessments in 2013 as part of the Deepwater Horizon NRDA. The studies were repeated in Barataria Bay and Sarasota Bay, and also expanded to Mississippi Sound, including both Mississippi and Alabama waters. Results from these more recent health assessments are still pending.
Researchers conducting the NRDA studies are collaborating closely with the team conducting an Unusual Mortality Event (UME) investigation in the northern Gulf of Mexico under the Marine Mammal Protection Act. Investigations of this type follow stranding events that are unexpected, involve a significant die-off and demand an immediate response.  The observed increase in the number of dolphin strandings now includes more than 1,050 animals that have stranded along the Gulf Coast from the Texas/Louisiana border through Franklin County, FL. Ninety-four percent of these animals have stranded dead.
The UME investigation, spanning from February 2010 to present, is the longest UME response since 1992, and includes the greatest number of stranded dolphins in an UME in the Gulf of Mexico.
Dr. Teresa Rowles, lead for the Marine Mammal Health and Stranding Response Program and a co-author on the dolphin health publication, indicates that "these dolphin health studies will contribute significant information for both the NRDA and the UME investigation as we compare disease findings in the wild, living dolphins to the pathologies and analyses from the dead animals across the northern Gulf."
Visit EcoWatch's BIODIVERSITY page for more related news on this topic.

Stomach contents of an albatross chick photographed in the Pacific in 2009. Chris Jordan / U.S. Fish & Wildlife Service HQ
By Tim Radford
Scientists have calculated yet another item on the human shopping list that makes up the modern world: plastics. They have estimated the mass of all the plastic bottles, bags, cups, toys, instruments and fabrics ever produced and tracked its whereabouts, as yet another index of the phenomenal change to the face of the planet made by recent human advance.
Altogether, since about 1950, with the birth of a new industry, more than 8.3 billion tonnes (or 9.1 tons) of synthetic organic polymers have been generated, distributed and discarded. Of that total, 6.3 billion tonnes are classified as waste.
Keep reading...
Show less
By Jessica Corbett
As Senate Democrats stay silent on an energy bill that environmental groups call "a pro-fracking giveaway to oil and gas interests that would commit America to decades more of dangerous fossil fuel dependence," Sen. Bernie Sanders (I-Vt.) is receiving applause for speaking out against it.
"As a nation, our job is to move away from fossil fuels toward sustainable energy and energy efficiency. This bill does the opposite," Sanders said in a statement.
Keep reading...
Show less
ExxonMobil filed suit against the federal government last week, claiming that a $2 million fine levied against the company by the Treasury Department is "unlawful" and "capricious."
The Treasury Department fined Exxon Thursday morning, alleging that the oil giant displayed "reckless disregard" of U.S.-Russian sanctions in its dealings with Russian company Rosneft in 2014 under CEO Rex Tillerson.
Keep reading...
Show less
By Andy Rowell
For years, environmentalists have warned that due to climate change, there will be billions of barrels of oil that we will never be able to burn. These reserves will become what has increasingly been called "stranded assets."
To give you one example: In a new report, Friends of the Earth argued that "The coal, oil and gas in reserves already in production and development globally is more than we can afford to burn. There is no room for any new coal, oil or gas exploration and production.
Keep reading...
Show less
Craftsman tiny house by Zyl Vardos. Abel Zyl / Shuttertstock
Late last year, the tiny house community celebrated a watershed moment—an official appendix in the 2018 version of the International Residential Code, the model building code used by most jurisdictions in the U.S.
"There are many things that are monumental in the adoption of tiny house construction codes by the IRC," cheered Thom Stanton, the CEO of small space developer, Timber Trails. "Among them, that architects, designers, builders, community developers and (maybe most importantly) zoning officials have a means of recognizing tiny houses as an official form of permissible dwelling."
Keep reading...
Show less
www.youtube.com
The colossal mass of throwaway plastic—from straws to bags to bottles—has grown much faster than recycling and disposal efforts can contain it. You might even say this is obvious, no matter where you look.
As a result, places that were once considered pristine—such as Antarctica and the ocean floors of Australia—have become inundated with plastic waste.
Check out this video from National Geographic to watch underwater photographer Huai Su film a diver collecting an endless amount of plastic bottles that litter the seafloor off Xiaoliuqiu Island, Taiwan.
A reef off the coast of Cancún will become the first in the world with its own insurance policy, testing a new strategy meant to encourage local investment in the wellbeing of the reef.
Under the policy, created by insurance company Swiss Re and the Nature Conservancy, local hotels and other organizations dependent on tourism will pay into the policy, receiving reimbursements to repair the reef and local beaches after natural disasters.
Keep reading...
Show less
www.youtube.com
The Northeast Organic Farming Association of New York (NOFA-NY) denounced the USDA's permit for the world's first open-air trials of the Genetically Engineered (GE) Diamondback moth to be released in Geneva, New York.

This announcement came concurrently with the availability of a final environmental assessment and finding of no significant impact for the field release of the GE Diamondback moths. NOFA-NY considers the Environmental Assessment lacking comprehensive health and environmental details.
Keep reading...
Show less