This website uses cookies to ensure you get the best experience while browsing it. By clicking 'Got It' you're accepting these terms.
Dolphins Suffering From Lung Disease Due to BP Gulf Oil Spill
Dec. 18, 2013 12:41PM EST
Bottlenose dolphins in Louisiana's Barataria Bay have lung damage and adrenal hormone abnormalities not previously seen in other dolphin populations, according to a new peer-reviewed study published today in the journal Environmental Science & Technology.
The Deepwater Horizon spill heavily oiled Barataria Bay. The study was conducted in August 2011 as part of the Natural Resource Damage Assessment (NRDA) by a team of government, academic and non-governmental researchers. In the NRDA process, federal and state trustee agencies working cooperatively with BP identify potential injuries to natural resources and lost public uses resulting from the spill, along with restoration projects to ensure that the public is fully compensated for its loss.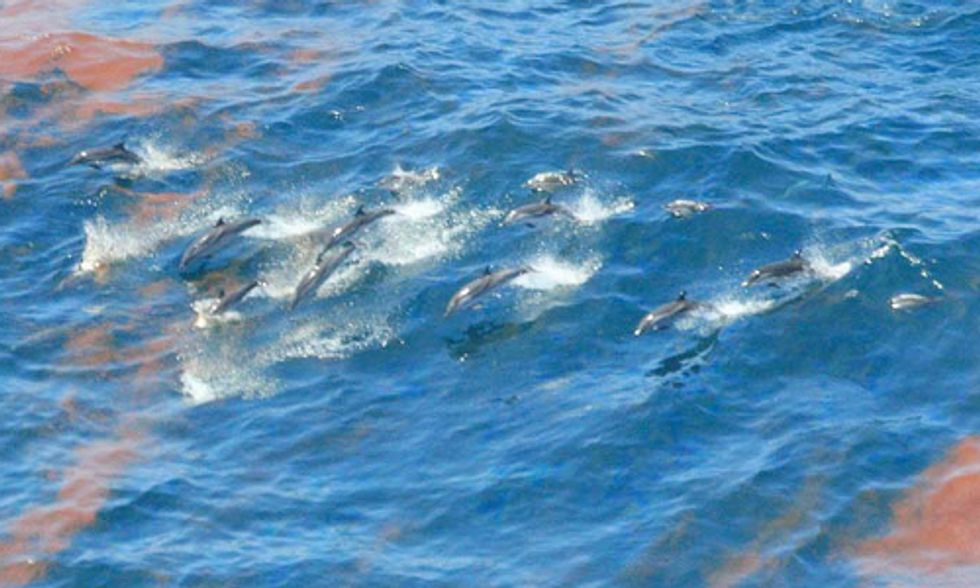 The publication details the first evidence that dolphins in heavily oiled areas are exhibiting injuries consistent with toxic effects observed in laboratory studies of mammals exposed to petroleum hydrocarbons. The dolphin health study concludes that the health effects seen in the Barataria Bay dolphins are significant and likely will lead to reduced survival and ability to reproduce.
Twenty-nine of the total 32 dolphins sampled in Barataria Bay received comprehensive physical examinations, including ultrasound examinations to assess lung condition. The researchers assigned almost half (48 percent) of the dolphins a guarded or worse prognosis. In fact, they classified 17 percent as being in  poor or grave condition, meaning the dolphins were not expected to survive.
These findings are in contrast to dolphins sampled in Sarasota Bay, FL, an area not oiled by the Deepwater Horizon spill. For Dr. Lori Schwacke, the study's lead author and veteran of a number of similar dolphin health studies across the southeast, the findings are troubling: "I've never seen such a high prevalence of very sick animals—and with unusual conditions such as the adrenal hormone abnormalities."
The NRDA researchers found that moderate to severe lung disease was five times more likely in the Barataria Bay dolphins, with symptoms including lung masses and consolidation. The researchers also found that 25 percent of the Barataria Bay dolphins were significantly underweight and the population overall had very low levels of adrenal hormones, which are critical for responding to stress.
The researchers examined alternative hypotheses for the dolphins' disease conditions, such as exposure to other man-made chemicals that have previously been measured in high concentrations in marine mammals and also associated with impacts on health. Blubber samples from the Barataria Bay dolphins, however, showed relatively low concentrations for the broad suite of chemicals measured, including PCBs and commonly detected persistent pesticides, as compared to other coastal dolphin populations.
Based on the findings from the 2011 dolphin health study, researchers performed three additional health assessments in 2013 as part of the Deepwater Horizon NRDA. The studies were repeated in Barataria Bay and Sarasota Bay, and also expanded to Mississippi Sound, including both Mississippi and Alabama waters. Results from these more recent health assessments are still pending.
Researchers conducting the NRDA studies are collaborating closely with the team conducting an Unusual Mortality Event (UME) investigation in the northern Gulf of Mexico under the Marine Mammal Protection Act. Investigations of this type follow stranding events that are unexpected, involve a significant die-off and demand an immediate response.  The observed increase in the number of dolphin strandings now includes more than 1,050 animals that have stranded along the Gulf Coast from the Texas/Louisiana border through Franklin County, FL. Ninety-four percent of these animals have stranded dead.
The UME investigation, spanning from February 2010 to present, is the longest UME response since 1992, and includes the greatest number of stranded dolphins in an UME in the Gulf of Mexico.
Dr. Teresa Rowles, lead for the Marine Mammal Health and Stranding Response Program and a co-author on the dolphin health publication, indicates that "these dolphin health studies will contribute significant information for both the NRDA and the UME investigation as we compare disease findings in the wild, living dolphins to the pathologies and analyses from the dead animals across the northern Gulf."
Visit EcoWatch's BIODIVERSITY page for more related news on this topic.

EcoWatch Daily Newsletter
We need our government to do everything it can to stop PFAS contamination and exposure from wreaking havoc in communities across the country. LuAnn Hun /
Unsplash
By Genna Reed
The EPA announced last week that it is issuing a preliminary regulatory determination for public comment to set an enforceable drinking water standard to two of the most common and well-studied PFAS, PFOA and PFOS.
This decision is based on three criteria:
PFOA and PFOS have an adverse effect on public health
PFOA and PFOS occur in drinking water often enough and at levels of public health concern;
regulation of PFOA and PFOS is a meaningful opportunity for reducing the health risk to those served by public water systems.
Charging EVs in Stockholm: But where does a dead battery go? Ranjithsiji / Wikimedia Commons
By Kieran Cooke
Driving an electric-powered vehicle (EV) rather than one reliant on fossil fuels is a key way to tackle climate change and improve air quality — but it does leave the old batteries behind as a nasty residue.
U.S. Secretary of the Treasure Steven Mnuchin arrives for a welcome dinner at the Murabba Palace in Riyadh, Saudi Arabia on Feb. 22, 2020 during the G20 finance ministers and central bank governors meeting. FAYEZ NURELDINE / AFP via Getty Images
Finance ministers from the 20 largest economies agreed to add a scant mention of the climate crisis in its final communiqué in Riyadh, Saudi Arabia on Sunday, but they stopped short of calling it a major economic risk, as Reuters reported. It was the first time the G20 has mentioned the climate crisis in its final communiqué since Donald Trump became president in 2017.
Aerial view of Parque da Cachoeira, which suffered the January 2019 dam collapse, in Brumadinho, state of Minas Gerais, Brazil — one of the country's worst industrial accidents that left 270 people dead. Millions of tons of toxic mining waste engulfed houses, farms and waterways, devastating the mineral-rich region. DOUGLAS MAGNO / AFP / Getty Images
Participants of the climate demonstration Fridays for Future walk through Hamburg, Germany on Feb. 21, 2020. Axel Heimken / picture alliance via Getty Images