This website uses cookies to ensure you get the best experience while browsing it. By clicking 'Got It' you're accepting these terms.
Could Artificial Reefs Help Restore the Gulf After Years of Damage From BP Oil Spill?
Nov. 20, 2013 11:55AM EST
By Ryan Fikes
Over the past few decades the five Gulf States (Alabama, Florida, Louisiana, Mississippi and Texas) have built artificial reefs both inshore and offshore with the aim of enhancing recreational fishing and diving opportunities. State and local governments on the Gulf Coast have expressed interest in creating additional artificial reefs with some of the money from the federal funds resulting from the BP oil disaster.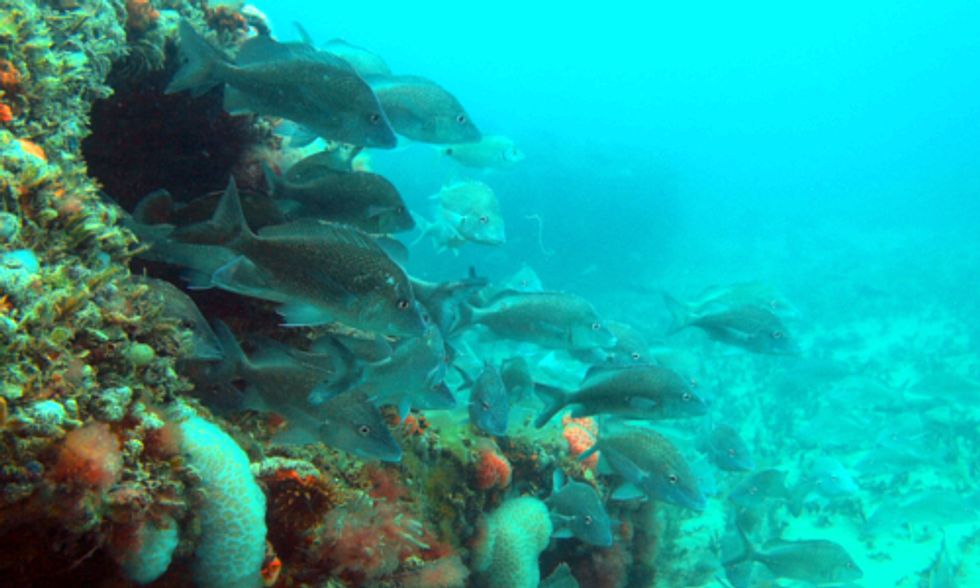 Artificial Reef Science: Are We There Yet?
A number of environmental and economic considerations should be considered when planning and designing new artificial reef projects. Water quality, wave interaction, bottom composition, reef profile and materials used for construction are just a few things that can influence the effectiveness of these habitats, or potentially cause harm to adjacent habitats.
For a more comprehensive look at Gulf State artificial reef programs and key considerations in implementation or management, consider National Wildlife Federation's new white paper: Artificial Reefs of the Gulf of Mexico: A Review of Gulf State Programs & Key Considerations.
The bottom line is that scientists are still working to unravel the functionality of artificial reefs. Some experts believe that artificial reefs can function comparably to natural reef communities. Others argue that artificial reefs merely attract existing fish from the adjacent open water habitat, forming more dense fish aggregations. Only time, and additional research, will tell.
Natural Reefs vs. Artificial Reefs
Artificial reef projects are designed to enhance recreational fishing opportunities. Reef restoration projects are designed to restore the ecological functions provided by reef systems. In cases where materials of similar type and size to historical or natural habitats—such as oyster reefs—are placed in nearshore waters in order to help the recovery of related ecological services, the term "artificial reef" is misleading.
Because reef restoration projects can restore or replace "natural resources, habitats or natural resource services" damaged by the Deepwater Horizon oil disaster, they may qualify as an appropriate use of Natural Resource Damage Assessment funding, or even other spill-related resources like the RESTORE Act and the National Fish & Wildlife Foundation Gulf Environmental Benefit Fund.
Loss of Human Use?
Artificial reefs develop communities of encrusting organisms and thus attract fish, but studies have shown that the communities that develop on artificial reefs remain quite different from those on natural reefs. Because artificial reef projects don't serve to replace or restore the harm to natural resources, they have a more limited source of appropriate spill-related funding.
These types of projects could help to restore or replace the loss of human use stemming from the Deepwater Horizon disaster:
The oil disaster resulted in significant closures of recreational fishing, boating and swimming ground. Scaled appropriately, artificial reefs could help compensate the public for lost access (or "human use") to the Gulf of Mexico by generating new opportunities for angling, snorkeling and engaging in other recreational activities.
Artificial reef projects intended to restore or replace existing artificial reefs that were harmed during the oil disaster would be a justifiable use under the Natural Resources Damage Assessment process.
The Gulf of Mexico is an economic powerhouse and a national treasure. Natural and restored reef habitats can help make it whole again in the wake of the disaster. Strategic and appropriate investment of spill-related funding to restore its use, wildlife habitats, water quality and diversity of ecosystems will pay environmental and economic dividends for generations to come.
This article was originally published on National Wildlife Federation's Wildlife Promise.
Visit EcoWatch's WATER and BIODIVERSITY pages for more related news on this topic.

EcoWatch Daily Newsletter
A new report spotlights a U.N. estimate that at least 275 million people rely on healthy coral reefs. A sea turtle near the Heron Island in the Great Barrier Reef is seen above. THE OCEAN AGENCY / XL CATLIN SEAVIEW SURVEY
In a new report about how the world's coral reefs face "the combined threats of climate change, pollution, and overfishing" — endangering the future of marine biodiversity — a London-based nonprofit calls for greater global efforts to end the climate crisis and ensure the survival of these vital underwater ecosystems.
Half of the extracted resources used were sand, clay, gravel and cement, seen above, for building, along with the other minerals that produce fertilizer. Cavan Images / Cavan / Getty Images
The world is using up more and more resources and global recycling is falling. That's the grim takeaway from a new report by the Circle Economy think tank, which found that the world used up more than 110 billion tons, or 100.6 billion metric tons, of natural resources, as Agence France-Presse (AFP) reported.
By Gero Rueter
Heating with coal, oil and natural gas accounts for around a quarter of global greenhouse gas emissions. But that's something we can change, says Wolfgang Feist, founder of the Passive House Institute in the western German city of Darmstadt.

By George Citroner
Recent research finds that official government figures may be underestimating drug deaths by half.
Researchers estimate that 142,000 people died due to drug use in 2016.
Drug use decreases life expectancy after age 15 by 1.4 years for men and by just under 1 year for women, on average.
Government records may be severely underreporting how many Americans die from drug use, according to a new study by researchers from the University of Pennsylvania and Georgetown University.
Water coolers in front of shut-off water fountains at Center School in Stow, MA on Sept. 4, 2019 after elevated levels of PFAS were found in the water. David L. Ryan / The Boston Globe via Getty Images
In a new nationwide assessment of drinking water systems, the Environmental Working Group found that toxic fluorinated chemicals known as PFAS are far more prevalent than previously thought.