This website uses cookies to ensure you get the best experience while browsing it. By clicking 'Got It' you're accepting these terms.
Could Artificial Reefs Help Restore the Gulf After Years of Damage From BP Oil Spill?
Nov. 20, 2013 11:55AM EST
By Ryan Fikes
Over the past few decades the five Gulf States (Alabama, Florida, Louisiana, Mississippi and Texas) have built artificial reefs both inshore and offshore with the aim of enhancing recreational fishing and diving opportunities. State and local governments on the Gulf Coast have expressed interest in creating additional artificial reefs with some of the money from the federal funds resulting from the BP oil disaster.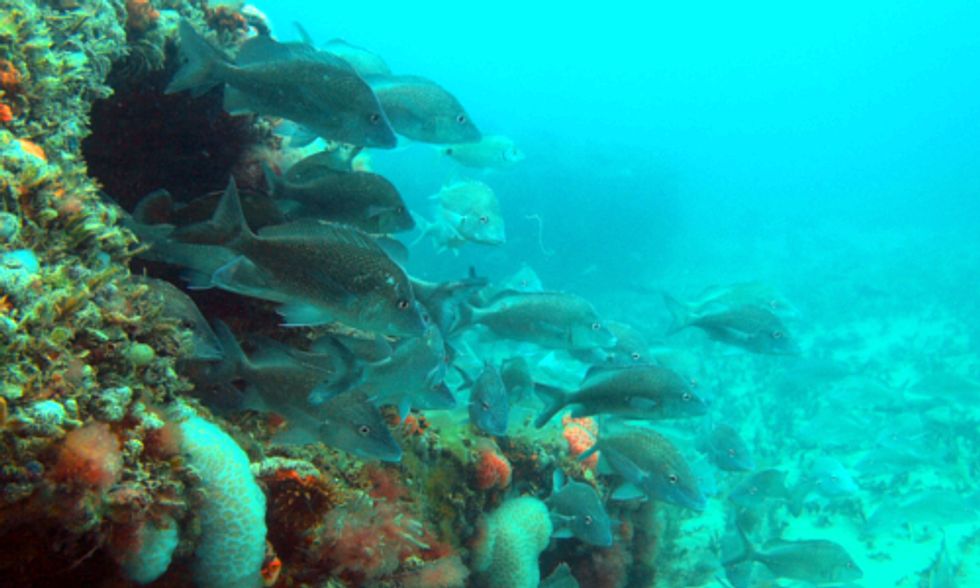 Artificial Reef Science: Are We There Yet?
A number of environmental and economic considerations should be considered when planning and designing new artificial reef projects. Water quality, wave interaction, bottom composition, reef profile and materials used for construction are just a few things that can influence the effectiveness of these habitats, or potentially cause harm to adjacent habitats.
For a more comprehensive look at Gulf State artificial reef programs and key considerations in implementation or management, consider National Wildlife Federation's new white paper: Artificial Reefs of the Gulf of Mexico: A Review of Gulf State Programs & Key Considerations.
The bottom line is that scientists are still working to unravel the functionality of artificial reefs. Some experts believe that artificial reefs can function comparably to natural reef communities. Others argue that artificial reefs merely attract existing fish from the adjacent open water habitat, forming more dense fish aggregations. Only time, and additional research, will tell.
Natural Reefs vs. Artificial Reefs
Artificial reef projects are designed to enhance recreational fishing opportunities. Reef restoration projects are designed to restore the ecological functions provided by reef systems. In cases where materials of similar type and size to historical or natural habitats—such as oyster reefs—are placed in nearshore waters in order to help the recovery of related ecological services, the term "artificial reef" is misleading.
Because reef restoration projects can restore or replace "natural resources, habitats or natural resource services" damaged by the Deepwater Horizon oil disaster, they may qualify as an appropriate use of Natural Resource Damage Assessment funding, or even other spill-related resources like the RESTORE Act and the National Fish & Wildlife Foundation Gulf Environmental Benefit Fund.
Loss of Human Use?
Artificial reefs develop communities of encrusting organisms and thus attract fish, but studies have shown that the communities that develop on artificial reefs remain quite different from those on natural reefs. Because artificial reef projects don't serve to replace or restore the harm to natural resources, they have a more limited source of appropriate spill-related funding.
These types of projects could help to restore or replace the loss of human use stemming from the Deepwater Horizon disaster:
The oil disaster resulted in significant closures of recreational fishing, boating and swimming ground. Scaled appropriately, artificial reefs could help compensate the public for lost access (or "human use") to the Gulf of Mexico by generating new opportunities for angling, snorkeling and engaging in other recreational activities.
Artificial reef projects intended to restore or replace existing artificial reefs that were harmed during the oil disaster would be a justifiable use under the Natural Resources Damage Assessment process.
The Gulf of Mexico is an economic powerhouse and a national treasure. Natural and restored reef habitats can help make it whole again in the wake of the disaster. Strategic and appropriate investment of spill-related funding to restore its use, wildlife habitats, water quality and diversity of ecosystems will pay environmental and economic dividends for generations to come.
This article was originally published on National Wildlife Federation's Wildlife Promise.
Visit EcoWatch's WATER and BIODIVERSITY pages for more related news on this topic.

EcoWatch Daily Newsletter
The CDC has emphasized that washing hands with soap and water is one of the most effective ways to prevent the spread of COVID-19. Guido Mieth / Moment / Getty Images
The Centers for Disease Control has emphasized that washing hands with soap and water is one of the most effective measures we can take in preventing the spread of COVID-19. However, millions of Americans in some of the most vulnerable communities face the prospect of having their water shut off during the lockdowns, according to The Guardian.
A California newt (Taricha torosa) from Napa County, California, USA. Connor Long /
CC BY-SA 3.0
Aerial photos of the Sierra Nevada — the long mountain range stretching down the spine of California — showed rust-colored swathes following the state's record-breaking five-year drought that ended in 2016. The 100 million dead trees were one of the most visible examples of the ecological toll the drought had wrought.
Now, a few years later, we're starting to learn about how smaller, less noticeable species were affected.
Disinfectants and cleaners claiming to sanitize against the novel coronavirus have started to flood the market.
Natthawat / Moment / Getty Images
Disinfectants and cleaners claiming to sanitize against the novel coronavirus have started to flood the market, raising concerns for the U.S. Environmental Protection Agency (EPA), which threatened legal recourse against retailers selling unregistered products, according to The New York Times.
A customer packs groceries in reusable bags at a NYC supermarket on March 1, 2020. Eduardo Munoz Alvarez/Getty Images
The global coronavirus pandemic has thrown our daily routine into disarray. Billions are housebound, social contact is off-limits and an invisible virus makes up look at the outside world with suspicion. No surprise, then, that sustainability and the climate movement aren't exactly a priority for many these days.
Ingredients are displayed for the Old School Pinto Beans from the Decolonize Your Diet cookbook by Luz Calvo and Catriona Rueda Esquibel. Melissa Renwick / Toronto Star via Getty Images
By Molly Matthews Multedo
Livestock farming contributes to global warming, so eating less meat can be better for the climate.