This website uses cookies to ensure you get the best experience while browsing it. By clicking 'Got It' you're accepting these terms.
Greening the barren mountain has helped recharge groundwater levels in the villages. Photo by Gurvinder Singh. Mongabay India
Jamini Mohan Mahanty is out for a morning walk every day. At 91, he is hale and hearty. A resident of Jharbagda village in Purulia district, West Bengal, Mahanty thanks the "green mountain" in his village for having added some extra years to his life.

Nearly 1,100 scientists, practitioners and experts in groundwater and related fields from 92 countries have called on the governments and non-governmental organizations to "act now" to ensure global groundwater sustainability.
EcoWatch Daily Newsletter
U.S. Sen. Cory Booker speaking with attendees at the 2019 California Democratic Party State Convention at the George R. Moscone Convention Center in San Francisco, California on June 1. Gage Skidmore / Flickr /
CC BY-SA 2.0
New Jersey senator and presidential hopeful Cory Booker put forth the Farm System Reform Act of 2019, in recognition of the environmental impact of industrial agriculture, which would put a stop to any new factory farms, as The Hill reported.
Well water is pumped from the ground on April 24, 2015 in Tulare, California. Justin Sullivan / Getty Images
Drill, baby, drill! It's what Americans are doing to find potable water.
New research has found that Americans are digging deeper and deeper wells to meet our water demands, which is not a sustainable practice for our water supply needs, according to a study that is the first national assessment of U.S. groundwater wells.
Irina Vodneva / iStock / Getty Images Plus
By the Numbers

5: Priority recommendations that the U.S. Environmental Protection Agency (EPA) has implemented since March 2018. Those actions relate to chemical standards, nonpoint water pollution and water pollution assessment. There are, however, 14 priority recommendations that the agency has not acted on. (Government Accountability Office)
The San Miguel Power Plant, the groundwater beneath a family ranch is contaminated with at least 12 pollutants leaking from coal ash dumps at concentrations more than 100 times above safe levels. Ari Phillips, Environmental Integrity Project
An examination of monitoring data available for the first time concludes that 91 percent of U.S. coal-fired power plants with monitoring data are contaminating groundwater with unsafe levels of toxic pollutants.
The study by the Environmental Integrity Project, with assistance from Earthjustice, used industry data that became available to the public for the first time in 2018 because of requirements in federal coal ash regulations issued in 2015.
The W. A. Parish Power Plant, owned by NRG Energy, is one of the largest coal-fired power plants in the U.S.
Roy Luck /
CC BY 2.0
Power plants across Texas are leaching toxins into groundwater, according to new research. A report released this week from the Environmental Integrity Project found that all of the state's 16 coal-fired power plants are leaching contaminants from coal ash into the ground, and almost none of the plants are properly lining their pits to prevent leakage.
Produced water from gas drilling in the Marcellus shale. Tara Lohan
By Tara Lohan
We're living beyond our means when it comes to groundwater. That's probably not news to everyone, but new research suggests that, deep underground in a number of key aquifers in some parts of the U.S., we may have much less water than previously thought.
"We found that the average depth of water resources across the country was about half of what people had previously estimated," said Jennifer McIntosh, a distinguished scholar and professor of hydrology and atmospheric sciences at the University of Arizona.
Toxic coal ash waste, the red material in the river bank, from Dynegy's Vermilion Power Plant in Oakwood, Illinois, can be seen leaking into the Middle Fork of the Vermilion River. Prairie Rivers Network
A new report written by Environmental Integrity Project, Earthjustice, Prairie Rivers Network and Sierra Club, revealed widespread pollution of the groundwater surrounding 90 percent of reporting Illinois coal ash dumpsites.
Cheryl Walsh Bellville
By Eleanor Bravo
Imagine: a deep, pristine aquifer persists without incident for more than 11,700 years in the Valley of San Augustin. It is revered and left unmarred by the community members who know of its existence, utilizing it respectfully and sustainably, leaving it intact—from the Ice Age until 2008. That is when a New York-based company, Augustin Plains Ranch LLC, owned by an Italian billionaire, decided to set up its operation and apply for a permit to invade the aquifer by extracting 54,000 acre feet of water per year.
In the U.S., our infrastructure isn't designed to handle the increased floods and droughts that come with global warming. Consider Florida, where coastal cities are spending billions of dollars on pumps and desalination plants to deal with flooding, or Denver, CO, which had to restrict residential lawn watering to two days a week throughout the spring due to drought.
Clearly, we need to be smarter about our precious water supply in the coming years. Many cities are already getting a jump start on smart water solutions and their work provides models for other places dealing with water challenges.
Bioswales
Bioswales—also known as rain gardens—absorb and filter runoff from nearby pavement. Not only do they keep polluted rainwater from reaching our rivers and lakes, they beautify our cities and prevent flooding.
A bioswale is installed along a new bike trail in Indianapolis, IN.
Porous/Permeable Pavement
Another way to ensure rainwater is filtered before it reaches our waterways is by letting it hit the ground rather than run along the top of pavement. Porous pavement like that pictured above has tiny gaps that allow the water to flow through.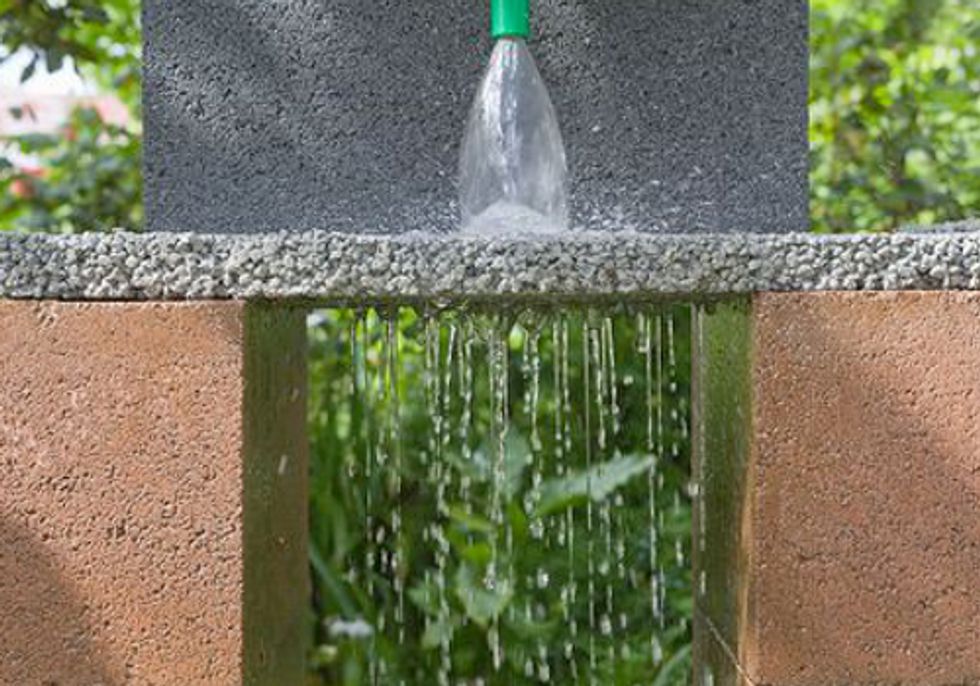 Cisterns/Rain Barrels
About one-third of the clean drinking water in the U.S. is used to water lawns. One way to halt this waste is to encourage the use of cisterns and rain barrels which collect rainwater for things like gardening and flushing toilets. The town of Northfield, MN, rebates its residents 50 percent of the cost of installing such systems. Many other towns in the U.S. have similar programs, and rain barrels are readily available at most home improvement stores.
Solar Water Heaters
Rather than using solar panels to create electricity, solar water heaters use them to heat water. About 30 million homes in China use solar water heaters and many municipalities in the U.S., like Palo Alto, CA, Austin, TX, and Tallahassee, FL, offer rebates to their residents if they install them.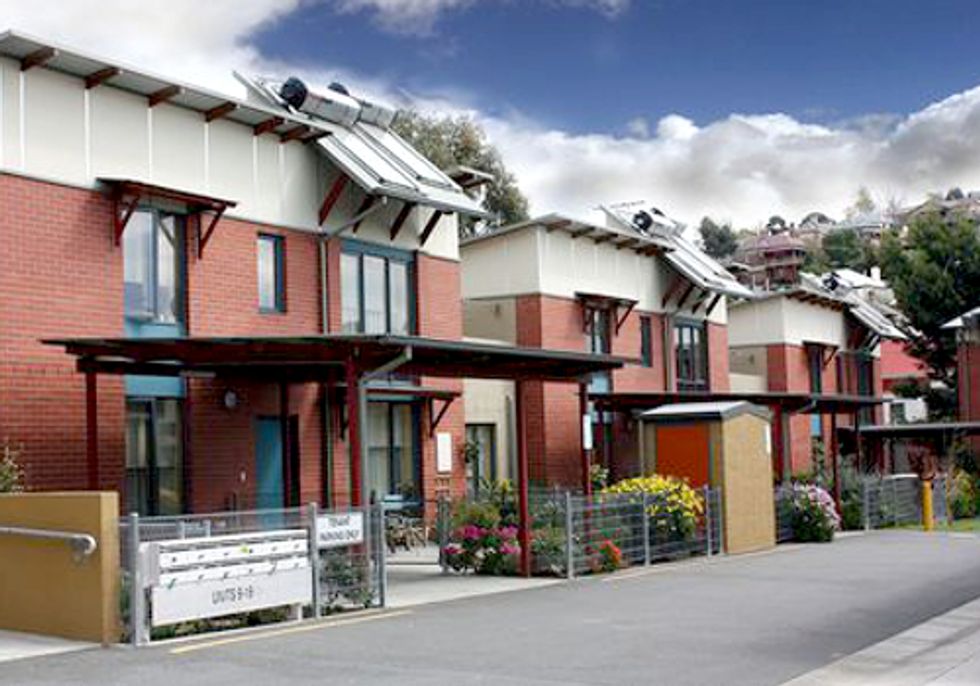 Riparian Buffers
Nothing manages water better than nature. Ensuring that our waterways are buffered from development by conserving the vegetation around it keeps them clean, provides vital habitat for plants and animals and guards against flooding. In just one project of its kind, EarthShare member Trust for Public Land helped protect nearly 600 acres of land near the LaPlatte River, which feeds into Lake Champlain. Because of this, the safety of the drinking water supply for 68,000 people is ensured.
Green Roofs
Green roofs have multiple benefits: they reduce the heat island effect in cities, filter air pollution, improve building efficiency and much more. They also reduce the volume of storm water flowing into sewer systems. Chicago, IL, leads the country in green roofs installed.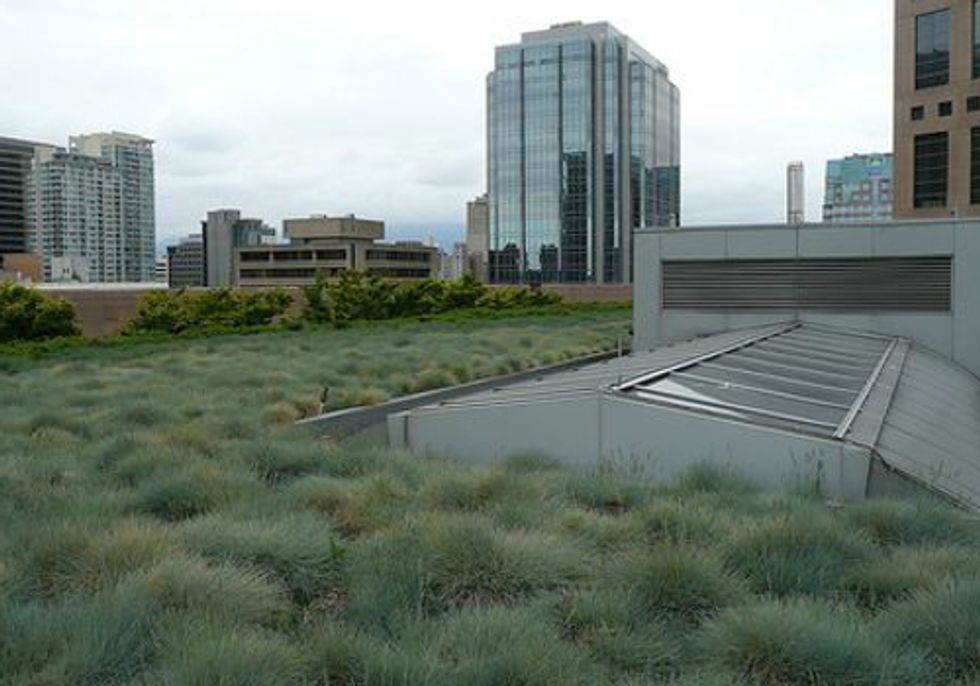 Visit EcoWatch's WATER page for more related news on this topic.
——–