This website uses cookies to ensure you get the best experience while browsing it. By clicking 'Got It' you're accepting these terms.


The best of EcoWatch, right in your inbox. Sign up for our email newsletter!
Poland produces about 560,000 metric tons of beef a year, with 85 percent of it exported.
Thomas Bjørkan / CC BY-SA 3.0
A tainted meat scandal is rocking Europe after an undercover reporter revealed workers at a Polish slaughterhouse mistreating and killing sick cows and selling the beef for human consumption.
Nearly three metric tons of suspect meat has reached least a dozen European Union countries, according to EuroNews, including Estonia, Finland, France, Hungary, Lithuania, Portugal, Romania, Spain and Sweden.
garett_mosher / iStock / Getty Images
In a significant win in the fight to save antibiotics, McDonald's—the largest and most iconic burger chain on the planet—announced Tuesday that it will address the use of antibiotics in its international supply chain for beef by 2021.
EcoWatch Daily Newsletter
Ground beef meat products at a grocery store in Fairfax, Virginia. USDA Photo by Lance Cheung
Two massive meat recalls were issued this week following outbreaks of food-borne illnesses.
Arizona-based meat producer JBS Tolleson Inc. recalled more than 6.5 million pounds of "various raw, non-intact beef products"—i.e. ground beef—that may be contaminated with salmonella, the U.S. Department of Agriculture (USDA) announced Thursday.
pxhere
Missouri state lawmakers passed an omnibus agriculture bill on Thursday that includes a provision prohibiting plant-based products from being labeled as "meat."
This measure would ban companies from using the term "plant-based meat" to describe their products. It would also prevent any future lab-grown products that hit the market from using the labeling.
Mark Hibbett
By Mary Ann Lieser
A group of teens gather quietly in the predawn darkness. Dressed in warm clothing, they meet before breakfast to help capture and pack broiler chickens to be taken to a slaughterhouse. They fed, watered and watched the birds grow; now they prepare them for their final trip. Eventually, the birds will return as meat and be cooked for the teens to eat.
Shutterstock
By Jessica Corbett
"Driven by a global consensus around meat's negative contributions to climate change and global health epidemics such as obesity, cancer and antibiotic resistance," a new report by a British investor network concludes that a meat tax should be considered "inevitable" for any government serious about addressing the climate crisis and other health concerns that stem from factory farms and livestock production.
Kyle Spradley / MU College of Agriculture, Food & Natural Resources / Flickr
www.youtube.com
U.S. Environmental Protection Agency (EPA) administrator Scott Pruitt appears in a video sponsored by the beef industry calling on farmers and ranchers to file official comments on a proposal to withdraw and rewrite the Obama-era "Waters of the United States" rule (or WOTUS) before the Aug. 28 deadline.
The National Cattlemen's Beef Association (NCBA) video was produced by the beef lobbying organization's policy division, Beltway Beef and was released last week. Notably, NCBA spent $117,375 in lobbying last year.
By Susan Levin
As the world's second largest greenhouse gas emitter, the United States' withdrawal from the Paris climate agreement drastically curbs international efforts to fight global warming. But concerned Americans don't have to feel powerless. It turns out that simple choices we make every day—or three times a day—have the power to help protect our planet.

World consumption of animal protein is everywhere on the rise. Meat consumption increased from 44 million tons in 1950 to 284 million tons in 2009, more than doubling annual consumption per person to more than 90 pounds. The rise in consumption of milk and eggs is equally dramatic. Wherever incomes rise, so does meat consumption.
As the oceanic fish catch and rangeland beef production have both leveled off, the world has shifted to grain-based production of animal protein to expand output. With some 35 percent of the world grain harvest (760 million tons) used to produce animal protein, meat consumption has a large impact on grain consumption and therefore global food security.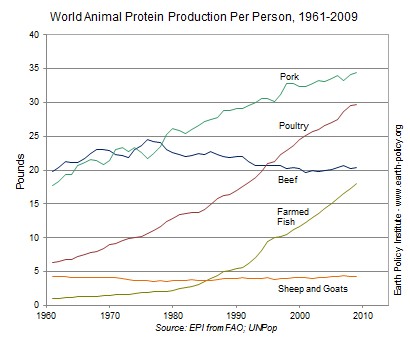 The efficiency with which various animals convert grain into protein varies widely. Grain-fed beef is one of the least efficient forms of animal protein, taking roughly 7 pounds of grain to produce a 1-pound gain in live weight. Global beef production, most of which comes from rangelands, has grown by about 1 percent a year since 1990.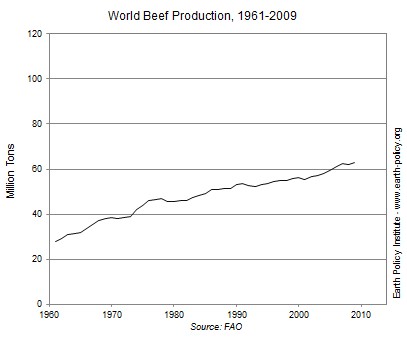 Pork production has grown by 2 percent annually since 1990. World pork production, half of it now in China, overtook beef production in 1979 and has widened the lead since then. It requires more than 3 pounds of grain to produce each 1-pound gain in live weight.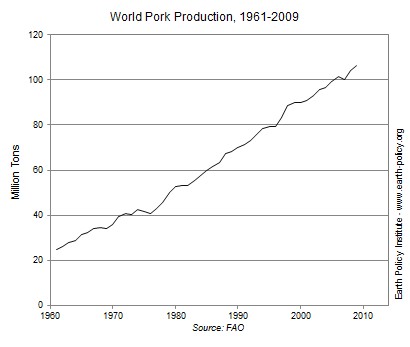 Poultry production has grown even more quickly: 4 percent annually in recent decades. It eclipsed beef in 1995, moving into second place behind pork. Poultry is even more efficient, requiring just more than 2 pounds of grain to produce a 1-pound gain in live weight.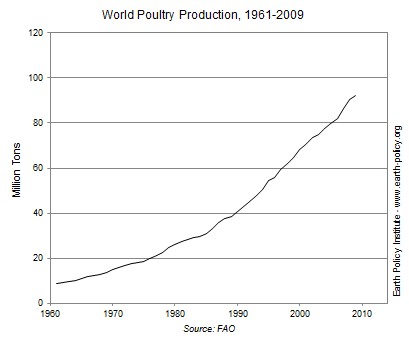 Fish farm output may also soon overtake beef production. In fact, aquaculture has been the fastest-growing source of animal protein since 1990, expanding from 13 million tons to 56 million tons in 2009, or 8 percent a year. For herbivorous species of farmed fish (such as carp, tilapia and catfish), less than 2 pounds of grain is required to produce a 1-pound gain of live weight. Although farming carnivorous fish such as salmon can be environmentally disruptive, worldwide aquaculture is dominated by herbivorous species. This represents great growth potential for efficient animal protein production.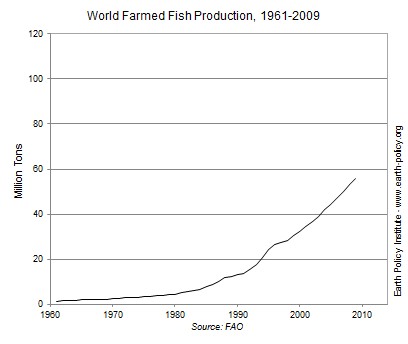 There are a number of ways to make animal protein production more efficient. Combining protein-rich soybean meal with grain dramatically boosts the efficiency with which grain is converted into animal protein, sometimes nearly doubling it. Virtually the entire world, including the three largest meat producers—China, the U.S. and Brazil—now relies heavily on soybean meal as a protein supplement in feed rations. Promising new livestock and dairy systems based on roughage rather than grain, such as India's cooperative dairy model, boost both land and water productivity.
Achieving food security depends on changes on the demand side of the equation as well as the supply side. Along with moving to smaller families to curb population growth, this means cutting individual consumption by eating less grain-intensive livestock products and eliminating waste in the food system. An American living high on the food chain with a diet heavy in grain-intensive livestock products, including red meat, consumes twice as much grain as the average Italian and nearly four times as much as the average Indian. By adopting a Mediterranean diet, Americans can cut their grain footprint roughly in half, improving health while increasing global food security.
--------
This data highlight is adapted from World on the Edge by Lester R. Brown. For more data and discussion, see the full book at www.earth-policy.org.