Subway Sandwiches Fuel Major Public Health Crisis
Aug. 20, 2015 09:51AM EST
Food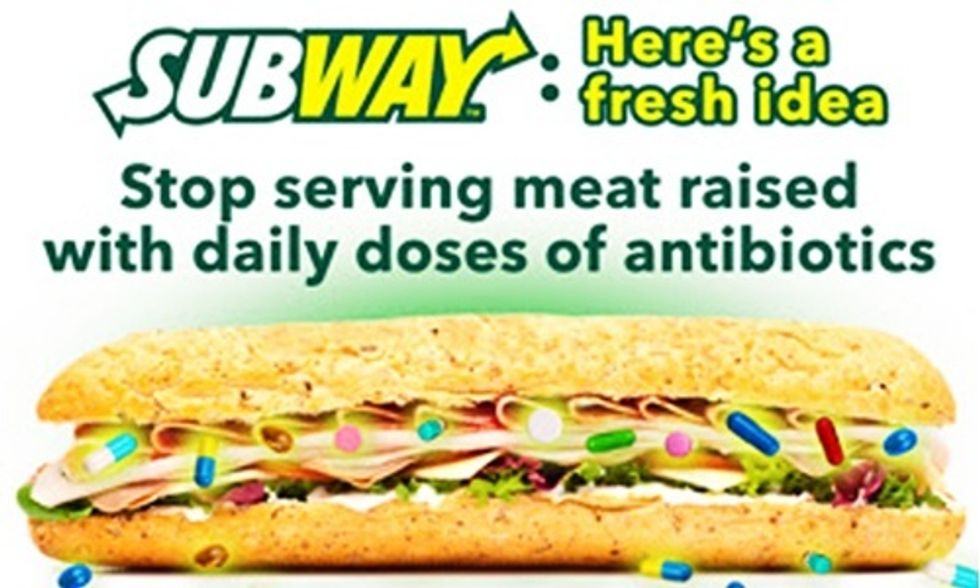 Subway's slogan is, "Eat fresh." But while the company may have established itself as the "healthy" fast-food alternative, many people don't realize it is also contributing to a serious public health crisis, animal cruelty and environmental damage due to the company's use of meat from factory farmed animals. These filthy and inhumane operations cause an incomprehensible amount of animal suffering, poison our air, land and water and give rise to antibiotic-resistant bacteria that impacts human health.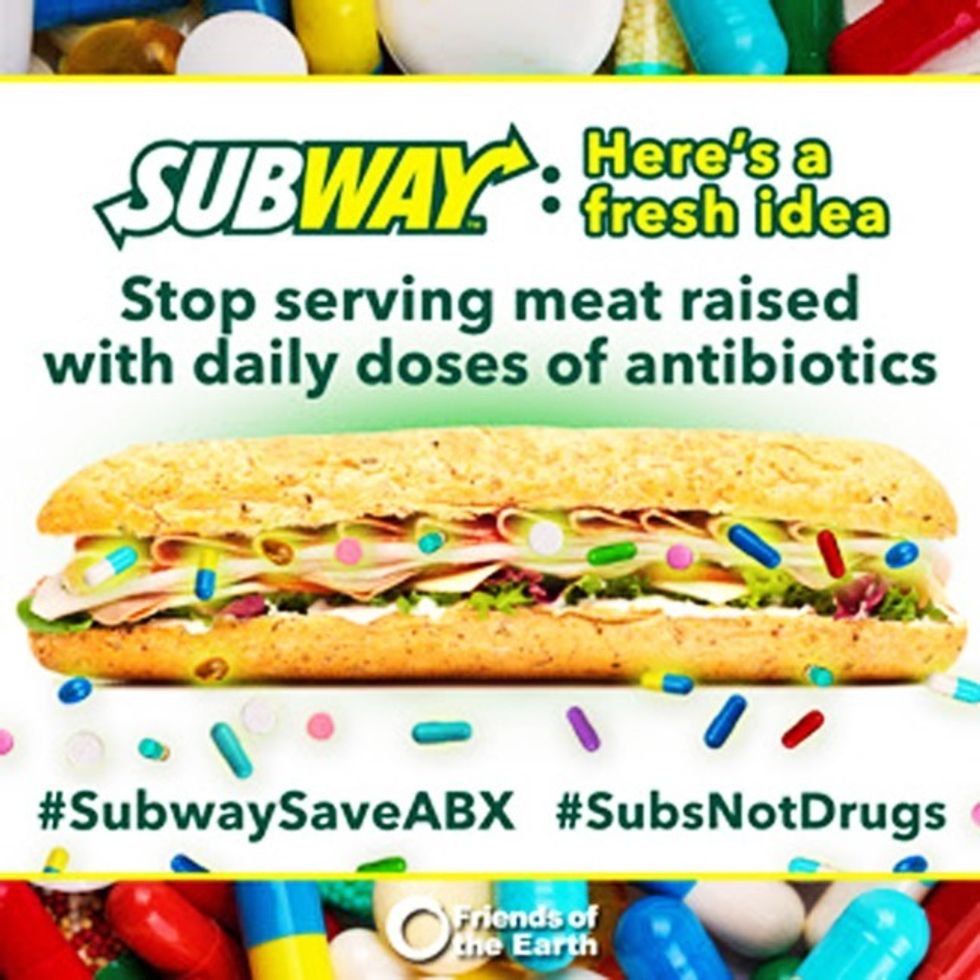 "It all starts with factory farms, where animals are raised in cruel, unsanitary conditions," said Kari Hamerschlag, senior program manager of the food and technology program at Friends of the Earth, in a recent email. "The environmental impacts of these facilities are devastating. They pollute our water. They damage our climate. And their animals are fed massive amounts of pesticide-doused corn and soy."
Another major problem is that the kinds of antibiotics given to humans and to factory farm animals are mostly the same, which increases the risk of both the emergence and spread of antibiotic-resistant bacteria, which can cause infections in both humans and animals.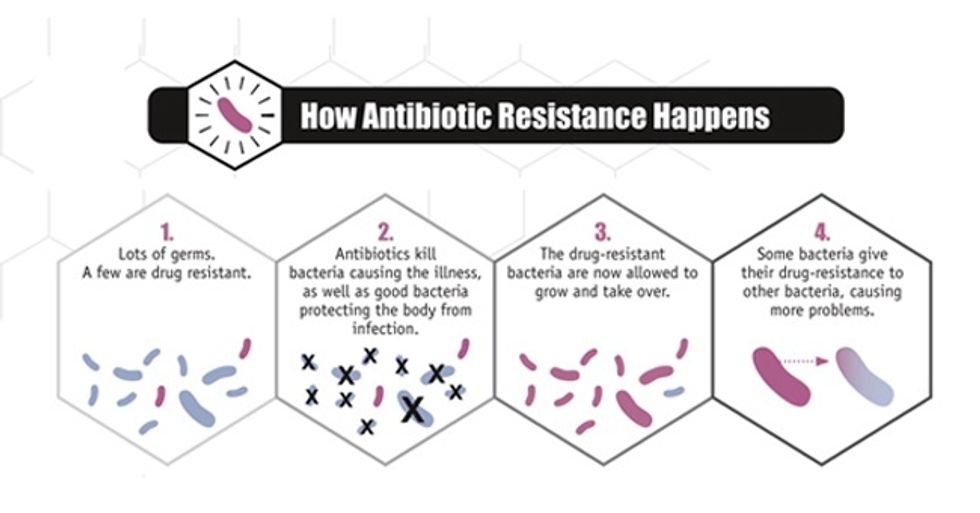 Photo credit: Centers for Disease Control and Prevention (CDC)
Friends of the Earth has launched a public petition urging Subway to switch to meat that is humanely sourced and less impacted by antibiotics. Because of the company's size—it has more than 33,000 restaurants worldwide, more than its rival McDonald's—the group argues, it has the ability to "remove a key tool that perpetuates terrible factory farming conditions and prevents a transition to more sustainable, humane meat production."
A policy change by Subway could have a ripple effect across the entire food industry. "If Subway switches to meat that isn't raised with routine antibiotics," notes Hamerschlag, other restaurants will feel pressure to follow."
Concentrated Animal Feeding Operations, or CAFOs, routinely give antibiotics to all their animals as a preventative measure, to prevent disease caused by the extreme confinement in which the animals live. This widespread non-therapeutic use of antibiotics creates what Food & Water Watch calls "a perfect breeding ground for antibiotic-resistant bacteria," which ultimately reduces the efficacy of antibiotics that are used for humans.
The U.S. Public Interest Research Group (U.S. PIRG) notes that industrial animal factories "also discovered that giving animals a regular dose of antibiotics made them gain weight faster. And now, up to 70 percent of all antibiotics used in the U.S. are used on livestock." In an effort to change this standard, the group has collected more than 100,000 petitions from citizens, organized a coalition of more than 10,000 doctors and medical professionals and has garnered the support of farmers who raise their livestock without antibiotics.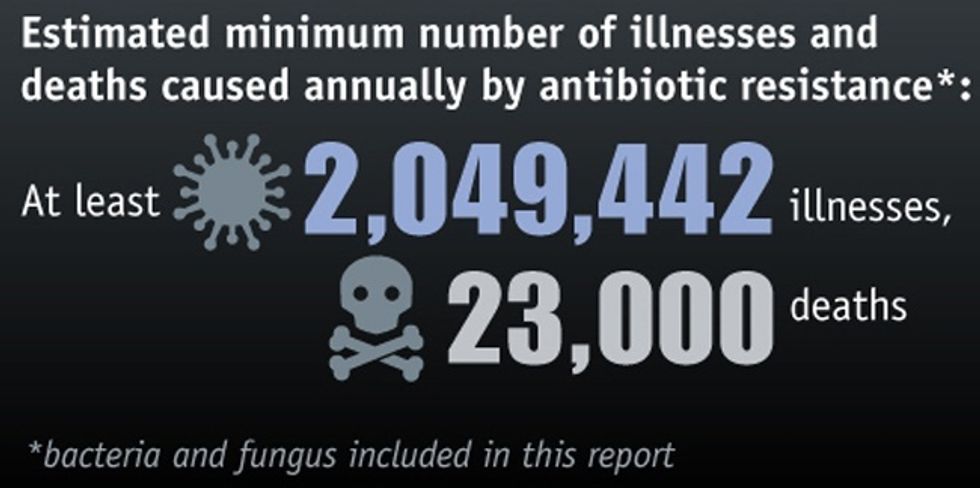 Photo credit: Centers for Disease Control and Prevention (CDC)
"Every year, more than two million people in the U.S. get infections that are resistant to antibiotics and at least 23,000 people die as a result," according to a 2013 report issued by the Centers for Disease Control and Prevention (CDC). "In addition to the illness and deaths caused by resistant bacteria, the report found that C. difficile, a serious diarrheal infection usually associated with antibiotic use, causes at least 250,000 hospitalizations and 14,000 deaths every year."
The CDC concludes, "Much of the antibiotic use in animals is unnecessary and inappropriate and makes everyone less safe."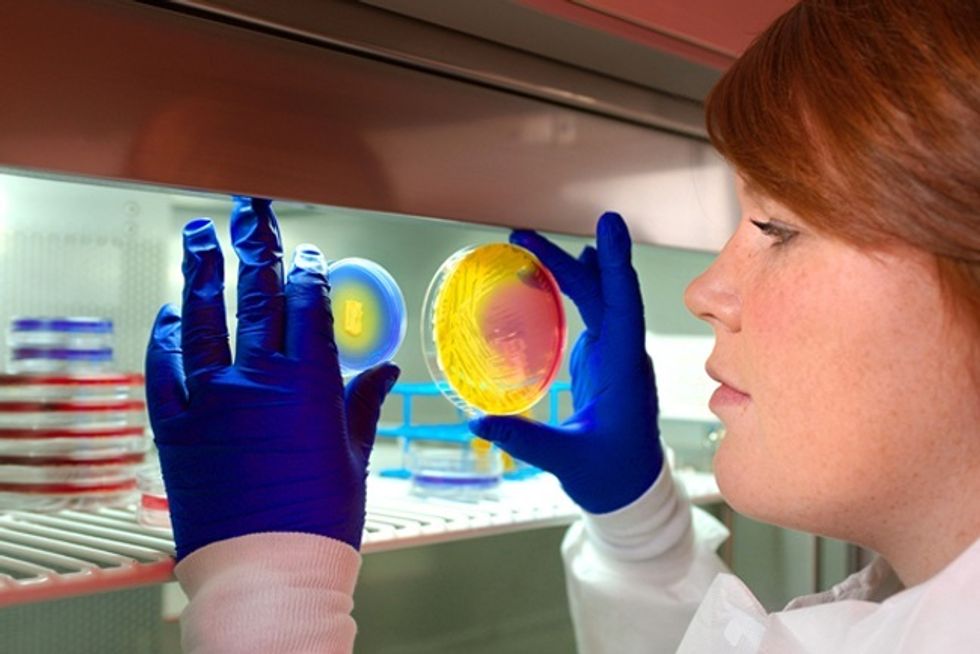 CDC microbiologist Valerie Albrecht holds up two plates of methicillin-resistant Staphylococcus aureus (MRSA). Photo credit: CDC
"The use of antibiotics in animal husbandry—including in livestock, poultry and fish farming—are leading to increasing recognition that urgent action is needed to avoid inappropriate use and to reduce antibiotic usage in animal husbandry and aquaculture," says the World Health Organization (WHO) in a report released in April 2014.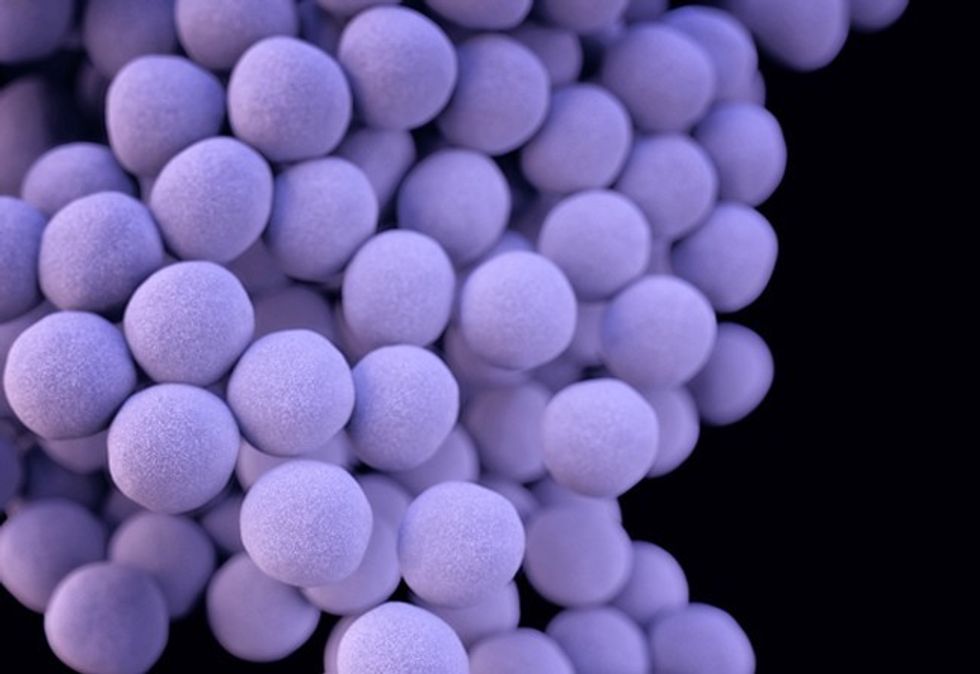 Medical illustration of vancomycin-resistant Staphylococcus aureus (VRSA). Photo credit: Centers for Disease Control and Prevention (CDC)
The report concludes that antimicrobial resistance (AMR) "threatens the effective prevention and treatment of an ever-increasing range of infections caused by bacteria, parasites, viruses and fungi," and warns that the spread of resistance genes from animal bacteria to human pathogens is a "potential danger."
"Without urgent, coordinated action by many stakeholders, the world is headed for a post-antibiotic era, in which common infections and minor injuries which have been treatable for decades can once again kill," said Dr. Keiji Fukuda of WHO. "Effective antibiotics have been one of the pillars allowing us to live longer, live healthier and benefit from modern medicine. Unless we take significant actions to improve efforts to prevent infections and also change how we produce, prescribe and use antibiotics, the world will lose more and more of these global public health goods and the implications will be devastating."

Photo credit: Centers for Disease Control and Prevention (CDC)
Friends of the Earth (FOE) is asking Subway founder and president Fred DeLuca to "adopt a policy prohibiting the routine use of antibiotics for growth promotion and disease prevention in the production of meat and poultry" served in its restaurants. In its petition to DeLuca, who opened the first Subway in 1965 in Bridgeport, Connecticut, FOE notes that "Subway can make a big difference by using its considerable purchasing power to work with meat and poultry suppliers to eliminate the routine use of antibiotics in their operations, or shift to suppliers that do not misuse antibiotics that are important in human medicine."
The group is also asking DeLuca to "ask your suppliers to improve management practices and conditions for animals in their facilities, reducing the need for routine use of these drugs."
"Antibiotic resistance is rising for many different pathogens that are threats to health," said CDC director Tom Frieden. "If we don't act now, our medicine cabinet will be empty and we won't have the antibiotics we need to save lives."
As the world's largest fast-food chain, Subway can be a major player in preventing unnecessary animal suffering, serious environmental damage and the dawn of the post-antibiotic era. If Fred DeLuca truly believes his company is the healthy fast food alternative, he will act now.
YOU MIGHT ALSO LIKE
Are Microplastics in Your Salmon Filet?
Starbucks, Destroyer of the Seas
EcoWatch Daily Newsletter
Recent Stories from EcoWatch