This website uses cookies to ensure you get the best experience while browsing it. By clicking 'Got It' you're accepting these terms.
State Department Sued for not Disclosing Keystone XL Lobbyists' Communications
Feb. 23, 2012 04:00PM EST
Energy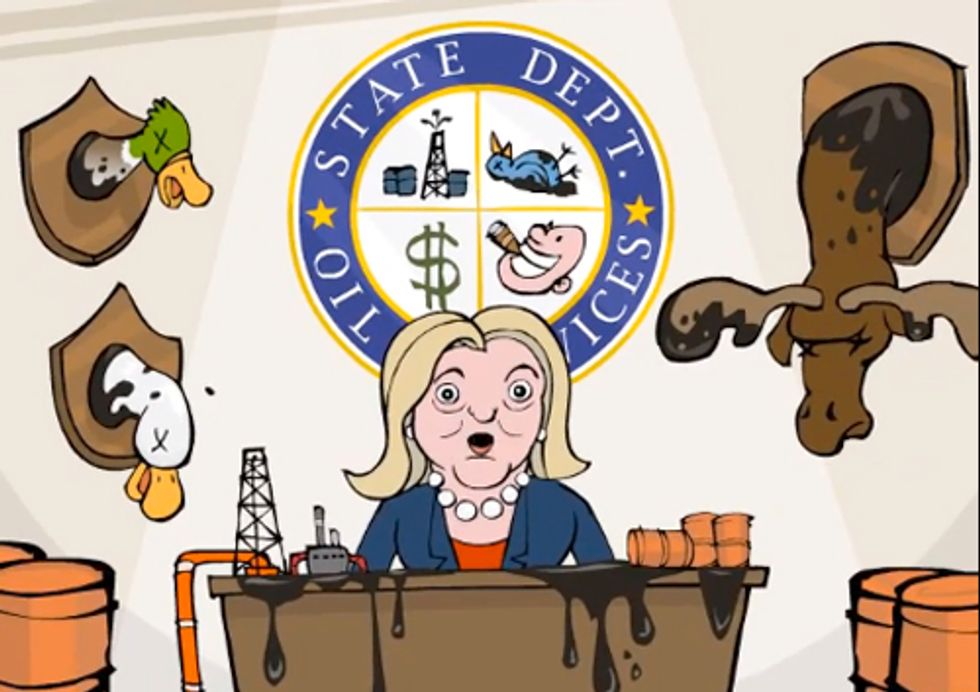 Environmental group Friends of the Earth sued the State Department on Feb. 23 to gain access to communications between the department and a broad web of lobbyists promoting the Keystone XL tar sands pipeline.
Friends of the Earth, represented by Earthjustice, filed a Freedom of Information Act (FOIA) request in October 2011, asking the State Department to release communications between the department and employees of TransCanada, the Canadian oil company seeking to build the Keystone XL pipeline, or between the department and employees of pro-pipeline lobbying firms McKenna Long & Aldridge, Bryan Cave LLP and DLA Piper.
Two of the lobbyists named on this FOIA request, Gordon Giffin with McKenna, Long & Aldridge and James Blanchard with DLA Piper, were fundraising bundlers for Secretary of State Hillary Clinton's 2008 presidential bid. DLA Piper was also the largest single corporate source of employee and PAC contributions to Hillary Clinton's campaign. The campaign connections also extend to President Obama. Jeff Berman, a lobbyist listed on Bryan Cave's Keystone XL lobbying account, was director of delegate selection in Obama's primary campaign and was called the "unsung hero" of his victory.
"Despite the administration's recent rejection of the Keystone XL permit, TransCanada is forging full-speed ahead on a new permit application, and pro-pipeline lobbyists are keeping the pressure on the State Department to approve this controversial and misguided pipeline," said Damon Moglen, climate and energy project director at Friends of the Earth. "The communications we seek are key to ensuring that the State Department isn't letting lobbyists' personal connections to Secretary Clinton or President Obama bias its decision-making."
Friends of the Earth filed a previous lawsuit against the State Department for failure to respond to a December 2010 FOIA request, leading to the release of correspondence between State Department officials and Paul Elliott, TransCanada's lead Washington, D.C. lobbyist, who was formerly one of Hillary Clinton's presidential campaign managers. Revelations about other lobbyists with close ties to Secretary of State Hillary Clinton and their potential influence on the review process for the Keystone XL permit led the environmental groups to file this FOIA request for those additional lobbyists' communications. The State Department has ignored that request.
"Emails released in response to our first Keystone XL FOIA request revealed an inappropriately cozy and accommodating relationship between TransCanada and State Department officials," said Moglen. "From conflicts of interest, to insider advice, to outright cheerleading from within the department, those FOIA documents revealed a corrupted and broken process. With TransCanada continuing to push for a permit for this controversial project, the public deserves to know the full details of oil lobbyist relationships fueling this project. The State Department must not hide documents from the public that could shed further light on serious problems in the initial review of the Keystone XL pipeline—problems that contributed to the biased and incomplete environmental review of the pipeline the first time around."
"The billions of oil dollars backing this pipeline should not interfere with government transparency. The public has a right to know how our government is making decisions that have potentially grave consequences for our environment," said Earthjustice attorney Abby Rubinson.
The complaint filed on Feb. 23 against the State Department is available by clicking here.
For more information, click here.
EcoWatch Daily Newsletter
We need our government to do everything it can to stop PFAS contamination and exposure from wreaking havoc in communities across the country. LuAnn Hun /
Unsplash
By Genna Reed
The EPA announced last week that it is issuing a preliminary regulatory determination for public comment to set an enforceable drinking water standard to two of the most common and well-studied PFAS, PFOA and PFOS.
This decision is based on three criteria:
PFOA and PFOS have an adverse effect on public health
PFOA and PFOS occur in drinking water often enough and at levels of public health concern;
regulation of PFOA and PFOS is a meaningful opportunity for reducing the health risk to those served by public water systems.
Charging EVs in Stockholm: But where does a dead battery go? Ranjithsiji / Wikimedia Commons
By Kieran Cooke
Driving an electric-powered vehicle (EV) rather than one reliant on fossil fuels is a key way to tackle climate change and improve air quality — but it does leave the old batteries behind as a nasty residue.
U.S. Secretary of the Treasure Steven Mnuchin arrives for a welcome dinner at the Murabba Palace in Riyadh, Saudi Arabia on Feb. 22, 2020 during the G20 finance ministers and central bank governors meeting. FAYEZ NURELDINE / AFP via Getty Images
Finance ministers from the 20 largest economies agreed to add a scant mention of the climate crisis in its final communiqué in Riyadh, Saudi Arabia on Sunday, but they stopped short of calling it a major economic risk, as Reuters reported. It was the first time the G20 has mentioned the climate crisis in its final communiqué since Donald Trump became president in 2017.
Aerial view of Parque da Cachoeira, which suffered the January 2019 dam collapse, in Brumadinho, state of Minas Gerais, Brazil — one of the country's worst industrial accidents that left 270 people dead. Millions of tons of toxic mining waste engulfed houses, farms and waterways, devastating the mineral-rich region. DOUGLAS MAGNO / AFP / Getty Images
Participants of the climate demonstration Fridays for Future walk through Hamburg, Germany on Feb. 21, 2020. Axel Heimken / picture alliance via Getty Images