This website uses cookies to ensure you get the best experience while browsing it. By clicking 'Got It' you're accepting these terms.
'Shrimp' Made From Algae: The Latest in Fake Meat
Dec. 15, 2015 11:07AM EST
Food
With global shrimp populations quickly declining from overfishing and warmer ocean temperatures, a shrimp cocktail could come with a side of guilt. But America's most popular seafood could be getting an environmentally friendly makeover.
New Wave Foods, a San Francisco-based sustainable seafood startup, is developing a lab-grown "shrimp" made from algae that could be as nutritious as the real deal.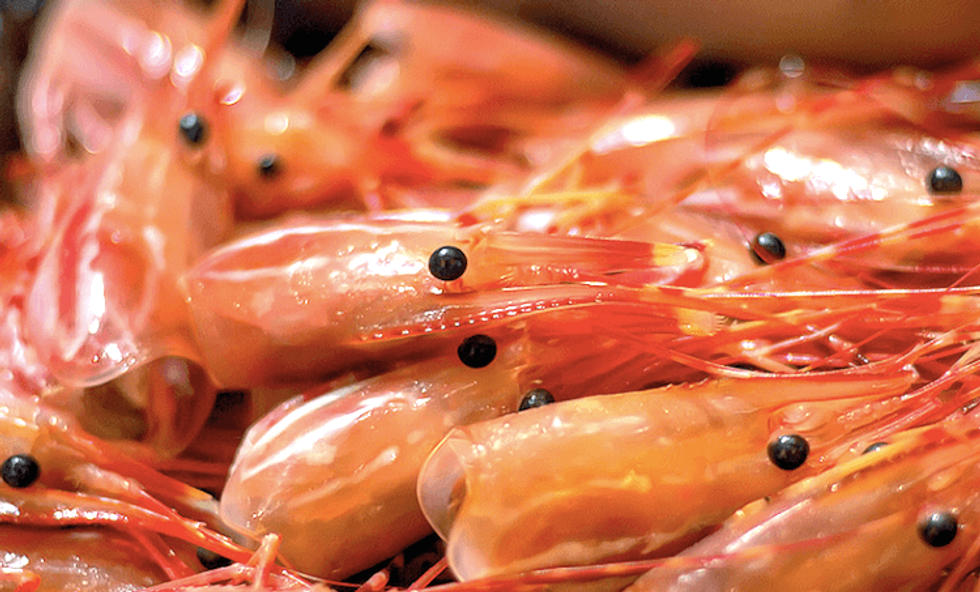 Photo credit: Flickr
The New Wave team consists of three women with a combined professional background in environmentalism to take on this ambitious task: Dominique Barnes is an oceanography graduate and former shark caretaker at Las Vegas's Golden Nugget Hotel, Michelle Wolf is a materials scientist and engineer, and Jennifer Kaehms has a bioengineering degree from the University of California San Diego.
The trio set out to create "a smarter and better way to feed the planet with creating culinary experiences that pay tribute to the rich history and tradition of seafood."
The company's original goal was to find a replacement for the controversial shark fin, a delicacy in China. But the team switched to synthetic shrimp due to its massive popularity in the U.S. The average American peels through roughly 4 pounds of shrimp a year, according to the National Marine Fisheries Service (NOAA Fisheries). About 6 million tons of shrimp are consumed worldwide per year.
The world's fondness for this crustacean comes at a cost. For instance, Maine's Northern shrimp haul plummeted from 12 million pounds in 2010 to just 563,313 pounds in 2013.
Additionally, the shrimp sold at the market is likely tainted with illegal antibiotic residues, and it might not even be shrimp at all. A report from Oceana, which did DNA testing on 143 shrimp products, found that as much as 30 percent of shrimp sold in grocery stores and markets is being misrepresented with rampant species substitution.
"If you look at seafood, you have to look at the food miles, how it's being caught, and there's a lot of mislabeling," Kaehms told Vice Motherboard. "We're really focusing on sustainable seafood, that's our core motivation."
New Wave is experimenting with different ways of extracting and mixing protein from algae to get their product to have the same taste, texture and nutritional value as real shrimp, Kaehms told Motherboard.
The type of algae being used is also the same strain that shrimp eat, meaning it will likely have a similar nutritional value to the real thing, Motherboard reported.
The team said that they have managed to replicate the flavor of shrimp, but would not reveal any specifics on how they did it.
"That's our secret sauce," Kaehms said.
As Fast Company notes, while there are vegetarian shrimp options on the market today, they don't have the same low fat and high protein as the real thing. Barnes told the publication that the company is currently working on nailing down the texture.
"Our goal is to make something that tastes great—that you could put in any of your favorite shrimp dishes," Barnes said.
Florian Radke, a marketing specialist with New Wave Foods, told IFLScience that the company is trying to make the product "as close as possible to what people are used to eating, including the change of color of the food when it's cooked."
According to IFLScience, "that means the finished synthetic shrimp will taste and feel like the real thing, while also undergoing a grey-pink transition during cooking."
The company has received a $250,000 investment from IndieBio, a science-focused startup incubator. New Wave will debut their product at an IndieBio demo in early February 2016.
YOU MIGHT ALSO LIKE 
How World Leaders Can Solve Global Warming With Regenerative Farming
10 Foods That Make You Feel Bloated (And 10 That Don't)
Russia Wants to Be World's Top Exporter of Non-GMO Food
EcoWatch Daily Newsletter
A Starbucks barista prepares a drink at a Starbucks Coffee Shop location in New York. Ramin Talaie / Corbis via Getty Images
By Cathy Cassata
Are you getting your fill of Starbucks' new Almondmilk Honey Flat White, Oatmilk Honey Latte, and Coconutmilk Latte, but wondering just how healthy they are?
By Sharon Kelly
Back in April last year, the Trump administration's Environmental Protection Agency decided it was "not necessary" to update the rules for toxic waste from oil and gas wells. Torrents of wastewater flow daily from the nation's 1.5 million active oil and gas wells and the agency's own research has warned it may pose risks to the country's drinking water supplies.
Swedish climate activist Greta Thunberg takes part in a "Friday for Future" youth demonstration in a street of Davos on Jan. 24, 2020 on the sideline of the World Economic Forum annual meeting. FABRICE COFFRINI / AFP via Getty Images
Treasury Secretary Steven Mnuchin pretended not to know who Greta Thunberg is, and then he told her to get a degree in economics before giving world leaders advice, as The Guardian reported.
The Visible Infrared Imaging Radiometer Suite on the Suomi NPP satellite acquired this image of forest fire smoke hovering over North America on Aug. 15, 2018. NASA Earth Observatory
New York City isn't known for having the cleanest air, but researchers traced recent air pollution spikes there to two surprising sources — fires hundreds of miles away in Canada and the southeastern U.S.
If temperatures continue to rise, the world is at risk from global
sea-level rise
, which will flood many coastal cities as seen above in Bangladesh. NurPhoto / Contributor / Getty Images
The mounting climate emergency may spur the next global financial crisis and the world's central banks are woefully ill equipped to handle the consequences, according to a new book-length report by the Bank for International Settlements (BIS), as S&P Global reported. Located in Basel, Switzerland, the BIS is an umbrella organization for the world's central banks.