This website uses cookies to ensure you get the best experience while browsing it. By clicking 'Got It' you're accepting these terms.
Show Your Solidarity for Frontline Activists Protesting the Keystone XL Pipeline
Oct. 05, 2012 09:55PM EST
Energy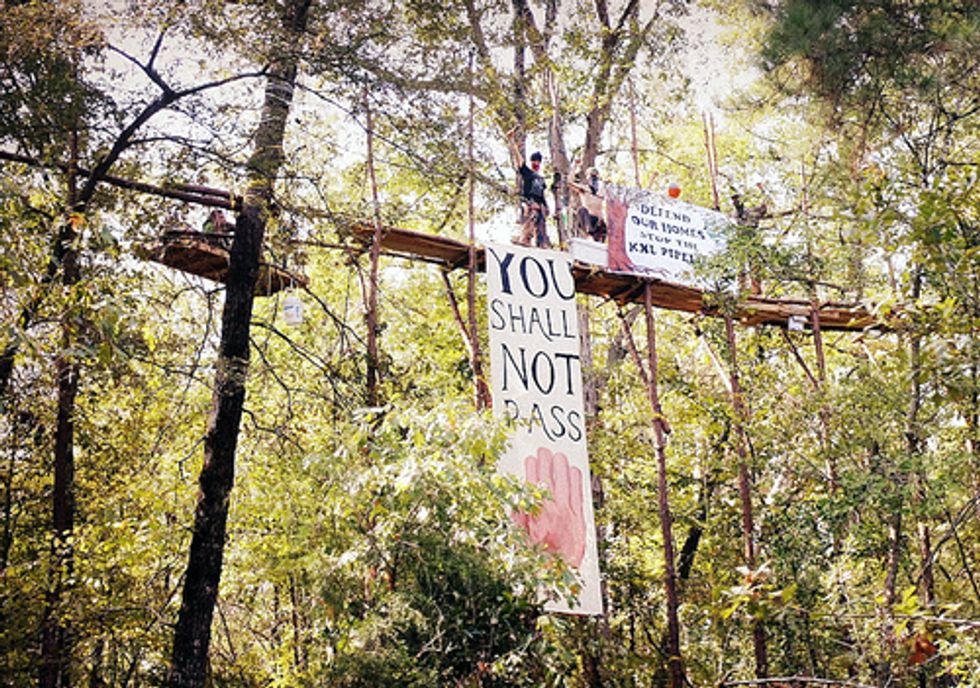 As we write, our friends with the Tar Sands Blockade are blocking construction of TransCanada's Keystone XL pipeline in the woods of Texas. For the past six months they have built a movement of climate activists, rural landowners, Texans, Oklahomans and people from all over the country to fiercely resist it. For two weeks, they have captured the imagination of the world with a daring tree-sit and bold ground actions near Winnsboro, TX that have delayed TransCanada's operations.
 
TransCanada has responded by allowing its employees to operate their heavy machines with reckless disregard for the safety of protestors and tree-sitters. Police have responded with brutal means such as pepper-spray and Tasers against peaceful protestors. Prosecutors have responded with elevated charges.
 
It is clear what is at stake. NASA's leading climate scientist Dr. James Hansen has called the Keystone XL pipeline, "a fuse to the largest carbon bomb on the planet." If all the carbon stored in the Canadian tar sands is released into the earth's atmosphere it will mean "game over" for the planet.
 
In 2011, we saw the Tar Sands Action galvanize environmental and social justice communities in an unprecedented show of unity during the sit-ins in front of the White House. Every day members of Indigenous communities, faith communities, labor communities, anti-mountaintop removal movements, anti-fracking movements and many more stepped forward and put their bodies on the line in solidarity. In the year since, we have witnessed people from the Lakota nation in South Dakota and from Moscow, Idaho putting their bodies in roads and highways blocking large transport trucks carrying oil refining equipment to develop further tar sands extraction. Now, the Tar Sands Blockade has taken the next logical step confronting climate change.
 
If we are determined to prevent the pursuit of extreme energy from destroying our communities, natural systems and climate, then peaceful, yet confrontational, protests like the Tar Sands Blockade are necessary actions for change.
 
Let us be clear: there is not an inch of daylight in between us and those blocking construction of the Keystone XL pipeline in Texas. We stand with them as we've stood with those fighting mountaintop removal coal mining in Appalachia, those defending old growth forests in Cascadia and those challenging nuclear power across this country.
 
We stand in solidarity with those who stand up for us all.
Alliance for Appalachia
Alliance of Community Trainers (ACT)
Center for Biological Diversity
Communities for a Better Environment
Community to Community
Council of Canadians
Earthworks
EcoWatch
Energy Action Coalition
Friends of the Earth U.S.
Forest Ethics
Global Alliance for Incinerator Alternatives
Global Exchange
Global Justice Ecology Project
Grassroots Global Justice Alliance
Greenpeace Canada
Indigenous Environmental Network
Missourians Organizing for Reform and Empowerment (MORE)
Movement Generation
Occupy the Pipeline
Oil Change International
Peaceful Uprising
Platform
Radical Action for Mountain Peoples' Survival (RAMPS)
Rainforest Action Network
Rising Tide North America
Ruckus Society
Sierra Club
smartMeme Strategy & Training Project
Southern Appalachian Mountain Stewards
UK Tar Sands Network
350.org
EcoWatch Daily Newsletter
A coral reef in Egypt's Red Sea. Tropical ocean ecosystems could see sudden biodiversity losses this decade if emissions are not reduced. Georgette Douwma / Stone / Getty Images
An approximately one-year-old puma in the streets of Santiago, Chile on March 24, 2020, in search for food as fewer people are outside due to the pandemic. ANDRES PINA / ATON CHILE / AFP via Getty Images
A third cougar has been sighted wandering through a residential neighborhood in the Chilean capital of Santiago as millions of the city's residents are under lockdown measures in response to the coronavirus outbreak.

Bernie Sanders announces he is suspending his campaign via a livestream Wednesday.
berniesanders.com
via Getty Images
The Ernest N. Morial Convention Center in New Orleans, Louisiana has been converted to a 1,000-bed field hospital for coronavirus patients to alleviate stress on local hospitals. Chris Graythen / Getty Images
An area in Louisiana whose predominantly black and brown residents are hard-hit by health problems from industry overdevelopment is experiencing one of the highest death rates from coronavirus of any county in the United States.
A woman lies in bed with the flu. marka/Universal Images Group via Getty Images
A central player in the fight against the novel coronavirus is our immune system. It protects us against the invader and can even be helpful for its therapy. But sometimes it can turn against us.