This website uses cookies to ensure you get the best experience while browsing it. By clicking 'Got It' you're accepting these terms.
Should You Be Concerned About the Overuse of Antibiotics in Farm Animals?
May. 03, 2016 12:36PM EST
Food
The demand for food products "raised without antibiotics" is growing fast. In 2012, sales of these products had increased by 25 percent over the previous three years (1).
The overuse of antibiotics in food-producing animals is being blamed for the increase in resistant bacteria, also known as "superbugs." When these are passed to humans they can cause serious illness.
However, other experts suggest that antibiotic use in food-producing animals poses very little risk to human health.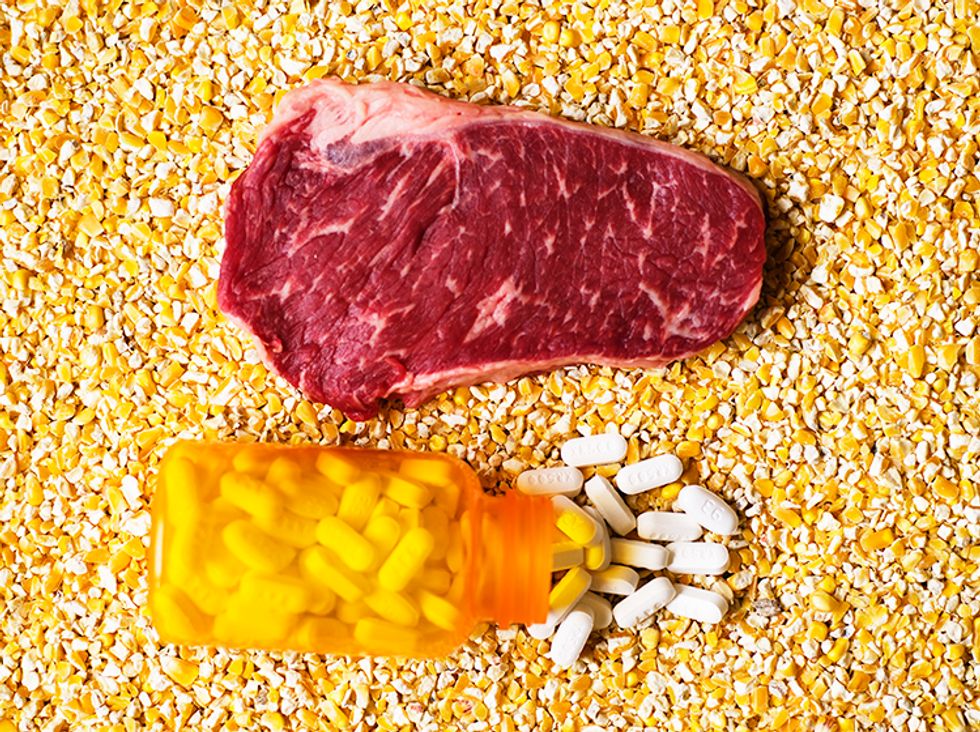 This article explores how antibiotics are used in foods and their potential consequences for your health.
Antibiotic Use in Food-Producing Animals
Antibiotics are drugs used to treat bacterial infections. They work by killing or stopping the growth of harmful bacteria.
Since the 1940s, antibiotics have been given to farm animals like cows, pigs and poultry in order to treat infections or prevent an illness from spreading.
Low doses of antibiotics are also added to animal feed to promote growth. This means a greater production of meat or milk in shorter periods of time (2).
These low doses may also reduce animal death rates and improve reproduction.
For these reasons, antibiotic use has become widespread in agriculture. In 2011, 80 percent of all antibiotics sold in the U.S. were for use in food-producing animals (3).
Bottom Line: Antibiotics are drugs used to treat bacterial infections. They are widely used in animal agriculture to treat disease and promote growth.
The Amount of Antibiotics in Foods is Very Low
Contrary to what you may think, the chances of you actually consuming antibiotics through animal foods is extremely low.
Strict legislation is currently in place in the U.S. to ensure that no contaminated food products are able to enter the food supply.
Similar laws are in place in Canada, Australia and the European Union.
Additionally, vets and animal owners are required to ensure that any animal products they produce are drug-free before they can be used as food.
Drug withdrawal periods are enforced before treated animals, eggs or milk are used as food. This allows time for the drugs to completely leave the animal's system.
The U.S. Department of Agriculture (USDA) has a strict process of testing all meat, poultry, eggs and milk for unwanted compounds, including antibiotic residues (4).
Bottom Line: Due to strict government legislation, it is extremely rare that antibiotics given to an animal would enter your food supply.
There is No Evidence That Antibiotics in Foods Are Harming People Directly
No evidence suggests antibiotics in food products are directly harming people.
In fact, figures from the USDA showed that the amount of animal products found to have antibiotic residues were extremely low and those that did were disposed of.
In 2010, less than 0.8 percent of animal food products tested positive for some form of contamination, including antibiotic residue (5).
Products confirmed as positive do not enter the food chain. Producers with repeat violations are publicly exposed—a system that discourages any misconduct.
Bottom Line: There is no evidence to suggest that antibiotics are being consumed from animal food products, let alone causing harm to humans.
The Overuse of Antibiotics in Animals Can Increase Resistant Bacteria
Antibiotics are generally fine when used properly for treating or preventing infections.
However, excessive or inappropriate use is a problem. When antibiotics are overused, they end up becoming less effective for both humans and animals.
This is because bacteria that are frequently exposed to antibiotics develop a resistance to them. As a result, the antibiotics are no longer as effective at killing harmful bacteria. This is a great concern for public health (6).
The U.S. Food and Drug Administration (FDA) has recognized this concern, updating its regulations to reduce the unnecessary use of antibiotics in livestock.
Bottom Line: Excessive antibiotic use can increase resistant bacteria, making the antibiotics less effective for both animals and humans.
Resistant Bacteria Can Spread to Humans, with Serious Health Risks
Resistant bacteria can be passed from food-producing animals to humans in a number of ways.
If an animal is carrying resistant bacteria, it can be passed on through meat that is not handled or cooked properly.
You can also encounter these bacteria by consuming food crops that have been sprayed with fertilizers containing animal manure with resistant bacteria.
One study found that people living close to crop fields sprayed with pig manure fertilizer are at a higher risk of infection from the resistant bacteria MRSA (7).
Once spread to humans, resistant bacteria can stay in the human gut and spread between individuals. The consequences of consuming resistant bacteria include (8):
Infections that would not have happened otherwise.
Increased severity of infections, often including vomiting and diarrhea.
Difficulty in treating infections and higher chances that treatments will fail.
In the U.S., every year around two million people get infected with bacteria resistant to one or more of the antibiotics normally used to treat the infections (9).
Of those people, at least 23,000 die each year. Many more die from other conditions made worse by the infection (9).
Bottom Line: Resistant bacteria can be transferred from animals to humans through contaminated food products, causing infections and even death.
Resistant Bacteria in Food Products
Resistant bacteria in supermarket foods is a lot more common than you might think.
Commonly reported harmful bacteria from foods include Salmonella, Campylobacterand E.coli.
Of 200 U.S. supermarket meat samples of chicken, beef, turkey and pork, 20 percent contained Salmonella. Of these, 84 percent were resistant to at least one antibiotic (10).
One report found resistant bacteria in 81 percent of ground turkey meat, 69 percent of pork chops, 55 percent of ground beef and 39 percent of chicken breasts, wings and thighs found in U.S. supermarkets (11).
Another study tested 136 beef, poultry and pork samples from 36 U.S. supermarkets. Almost 25 percent tested positive for the resistant bacteria MRSA (12).
Many products claim to be "raised without antibiotics," including some that are labeled organic. This does not mean these products are free from resistant bacteria.
Evidence suggests that these products still contain resistant bacteria, although they are slightly less resistant than regular products grown using antibiotics.
A study found that organic chickens were more frequently contaminated with bacteria like Salmonella and Campylobacter than non-organic chickens. However, the bacteria in organic chickens were slightly less resistant to antibiotics (13).
Again, the prevalence of Enterococcus bacteria was 25 percent higher in organic chicken than non-organic chicken. However, the amount of resistant bacteria was almost 13 percent less in organic chicken (14).
Another study found that out of 213 samples, the frequency of antibiotic-resistant E. coli tended to be only slightly lower for chicken raised without antibiotics, compared to regular chicken (15).
Bottom Line: Resistant bacteria are frequently found in animal-based food products. Food labeled "organic" or "raised without antibiotics" may have slightly lower amounts of resistant bacteria.
Why You Probably Don't Need to Be Concerned
There is no clear-cut evidence directly linking antibiotic use in food-producing animals to increased illness due to resistant bacteria in humans.
One review concluded that the danger to health is very small because proper cooking destroys the harmful bacteria (16).
It may actually be the human use of antibiotics that causes the majority of bacterial resistance (16).
Interestingly, the spread of bacteria such as MRSA from infected pigs to farmers is common (17).
However, transmission to the general public is rare. A study from Denmark reported that the likelihood of transmission for the population was only 0.003 percent (18).
If the food products are cooked properly and good hygiene practices are followed, then the risk is extremely low.
Bottom Line: There is no clear-cut link between antibiotic use in animals and resistant bacteria infections in humans. The risk to human health is likely to be small, since adequate cooking destroys bacteria in food.
How To Minimize Your Risk of Illness
It may be impossible to completely avoid resistant bacteria in animal foods.
However, there are things you can do to significantly reduce your risk:
Practice good food hygiene: Wash your hands, use separate cutting boards for different foods and wash utensils thoroughly.
Ensure food is cooked properly: Cooking meat to the proper temperature should kill any harmful bacteria.
Buy antibiotic-free foods: You can minimize your risk even further by looking for labels that read organic, raised without antibiotics or antibiotic-free.
Take Home Message
The debate on antibiotic use in animals still continues.
Although there is no evidence that antibiotics in foods harm people directly, most agree that the over-use of antibiotics in food-producing animals is a problem.
It can contribute to the development and spread of drug-resistant bacteria, which is a potential risk to public health.
This article was reposted from our media associate Authority Nutrition.
YOU MIGHT ALSO LIKE
Quaker Oats Accused of Being 'Deceptive and Misleading' After Glyphosate Detected in Oatmeal
Should You Worry About Arsenic in Baby Cereal and Drinking Water?
Why Is This Hormone-Disrupting Pesticide Banned in Europe But Widely Used in the U.S.?
EcoWatch Daily Newsletter
Pexels
By Dan Nosowitz
It's no secret that the past few years have been disastrous for the American farming industry.
Pexels
Medium-chain triglyceride (MCT) oil and coconut oil are fats that have risen in popularity alongside the ketogenic, or keto, diet.
Pexels
By Bijal Trivedi
The Centers for Disease Control and Prevention (CDC) released a report on Nov. 13 that describes a list of microorganisms that have become resistant to antibiotics and pose a serious threat to public health. Each year these so-called superbugs cause more than 2.8 million infections in the U.S. and kill more than 35,000 people.
Rool Paap / Flickr / CC BY 2.0
By Joe Vukovich
Under the guise of responding to consumer complaints that today's energy- and water-efficient dishwashers take too long, the Department of Energy has proposed creating a new class of dishwashers that wouldn't be subject to any water or energy efficiency standards at all. The move would not only undermine three decades of progress for consumers and the environment, it is based on serious distortions of fact regarding today's dishwashers.
By Emily Moran
If you have oak trees in your neighborhood, perhaps you've noticed that some years the ground is carpeted with their acorns, and some years there are hardly any. Biologists call this pattern, in which all the oak trees for miles around make either lots of acorns or almost none, "masting."
By Catherine Davidson
Tashi Yudon peeks out from behind a net curtain at the rooftops below and lets out a sigh, her breath frosting on the windowpane in front of her.

Some 700 kilometers away in the capital city Delhi, temperatures have yet to dip below 25 degrees Celsius, but in Spiti there is already an atmosphere of impatient expectation as winter settles over the valley.
The Dog Aging Project at the University of Washington is looking to recruit 10,000 dogs to study for the next 10 years to see if they can improve the life expectancy of man's best friend and their quality of life, as CNN reported.