Sea Level Rising Faster Than Expected, NASA Warns
New research underway indicates that at least three feet of global sea level rise is near certain, National Aeronautics and Space Administration (NASA) scientists warned Wednesday.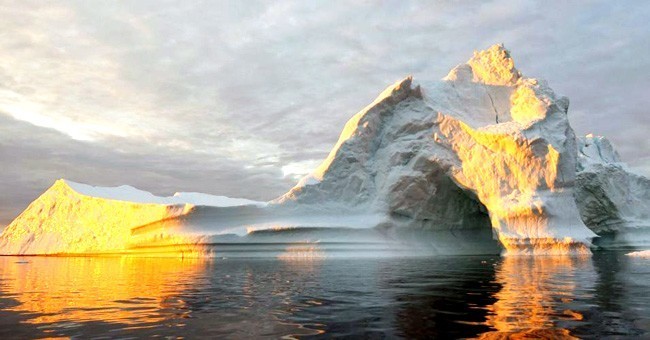 Sea levels have already risen 3 inches on average since 1992, with some areas experiencing as much as a 9-inch rise. Photo credit: NASA / Saskia Madlener
That's the higher range of the one to three feet level of rise the UN Intergovernmental Panel on Climate Change (IPCC) gave in its 2013 assessment.
Sea levels have already risen three inches on average since 1992, with some areas experiencing as much as a 9-inch rise.
"Given what we know now about how the ocean expands as it warms and how ice sheets and glaciers are adding water to the seas, it's pretty certain we are locked into at least three feet of sea level rise and probably more," said Steve Nerem of the University of Colorado, Boulder and lead of NASA's interdisciplinary Sea Level Change Team. "But we don't know whether it will happen within a century or somewhat longer."
The Greenland ice sheet has contributed more greatly to sea level rise, losing an average of 303 gigatons of ice a year over the past decade, while the Antarctic ice sheet has lost an average of 118 gigatons a year. But scientists at NASA and the University of California, Irvine warned last year that glaciers in the West Antarctic "have passed the point of no return."
Glaciologist Eric Rignot of the UC-Irvine and NASA's JPL and lead author of the West Antarctic study, stated Wednesday that East Antarctica's ice sheet remains a wildcard.
"The prevailing view among specialists has been that East Antarctica is stable, but we don't really know," Rignot stated. "Some of the signs we see in the satellite data right now are red flags that these glaciers might not be as stable as we once thought."
Exactly how much rise will happen and when is uncertain, they say. "We've seen from the paleoclimate record that sea level rise of as much as 10 feet in a century or two is possible, if the ice sheets fall apart rapidly," said Tom Wagner, the cryosphere program scientist at NASA Headquarters in Washington. "We're seeing evidence that the ice sheets are waking up, but we need to understand them better before we can say we're in a new era of rapid ice loss."
YOU MIGHT ALSO LIKE
One of World's Fastest Melting Glaciers May Have Lost Largest Chunk of Ice in Recorded History
The World's Oceans Are in Peril
The Brooks Range in the Arctic National Wildlife Refuge. Hillebrand / U.S. Fish and Wildlife Service
By Andy Rowell
"Disruption" is one of the buzzwords of the energy market right now as plummeting costs of renewables is changing the way we heat our homes and drive our automobiles.
Some of the biggest names in the energy business spoke Wednesday on that very topic in London at the Financial Times' Energy Transition Strategies Summit, at the panel Rethinking Energy in a Time of Disruption.
Keep reading...
Show less
Chris Kick / Twitter
Keep reading...
Show less
Shaahina Ali
Keep reading...
Show less
The federal government is providing extensive support for fossil fuel production on public lands and waters offshore, through a combination of direct subsidies, enforcement loopholes, lax royalty collection, stagnant lease rates and other advantages to the industry, a report released Wednesday found.
Keep reading...
Show less
Keep reading...
Show less
By Elgie Holstein
The federal budget that the president proposes annually and Congress votes on is more than a collection of numbers. It tells us who the president is, what he stands for and what he cares about.
Keep reading...
Show less
The U.S. Environmental Protection Agency (EPA) budget will still be slashed by nearly a third, from $8.2 billion to $5.65 billion, under President Trump's fiscal 2018 budget proposal released Tuesday.
The EPA, which has long been targeted by the Trump administration, is the hardest hit federal agency under the new plan. Opponents say it "endangers Americans" and cripples an institution charged with protecting their health and safety.
Keep reading...
Show less
Frustrated by non-experts taking to the internet to dispute the science behind human-made climate change, North Carolina meteorologist Greg Fishel issued a challenge to climate deniers, urging them to "put up or shut up" and "submit your work the way real scientists do, and see where it takes you."
Keep reading...
Show less


Get EcoWatch in your inbox