This website uses cookies to ensure you get the best experience while browsing it. By clicking 'Got It' you're accepting these terms.
Satellite Map Shows Fracking Flares in Texas and North Dakota Equal to Greenhouse Emissions From 1.5 Million Cars
Aug. 22, 2014 11:32AM EST
Energy
Earthworks, a nonprofit which works to protect communities from the impacts of mineral and fossil fuel extraction and promote sustainable energy development, has released a new report showing that the flaring of natural gas waste in just two shale plays, or exploration areas, is the equivalent of an additional 1.5 million cars on the road. The flares occur when natural gas is burned rather than captured.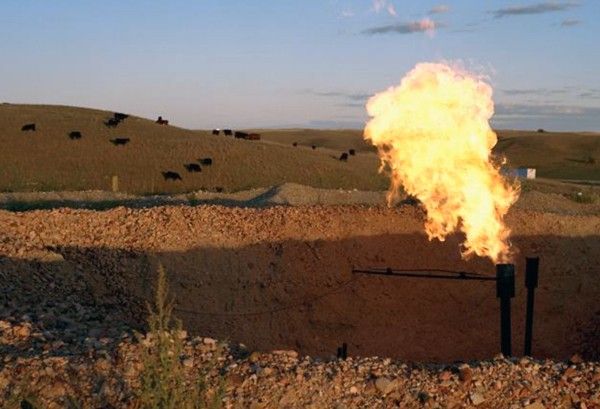 The report, "Up in Flames: U.S. Shale Oil Boom Comes at Expense of Wasted Natural Gas, Increased Carbon Dioxide," accompanied by an interactive map by SkyTruth, a group that provides aerial evidence of environmental impacts. This map allows people to track flaring activity in the U.S. and around the world based on nightly infrared data collected by a National Oceanic and Atmospheric Administration (NOAA) satellite.
SkyTruth's chief technology officer Paul Woods pointed to the potential impact of this map:
This new tool makes the scale and frequency of flaring more comprehensible and less abstract. Hopefully, enabling everyone to see where, when, and how often operators are flaring will create public pressure on government and industry to reduce the waste of this hard-won natural resource.
The report specifically looks at waste created in the North Dakota Bakken and Texas Eagle Ford development areas and how lax regulations and oversight enable this waste, a byproduct of fracking.
Among the study's findings:
130 billion cubic feet of natural gas burned in the Bakken and Eagle Ford Shale has produced the equivalent of 1.5 million cars' emissions of carbon dioxide.
$854 million in natural gas has been burned as waste in the Bakken shale play since 2010.
$854 million would pay for 5 kilowatt photovoltaic solar panel installations for almost every household in Fargo, North Dakota's largest city.
North Dakota neither tracks how much companies pay in taxes on flared gas, nor independently tracks the volume of flared gas.
Texas does not require producers to pay taxes on flared gas.
The study's author Dusty Horwitt said:
Burning natural gas as waste is costing taxpayers and the climate. States should enact tough new standards to prevent flaring, including requiring drillers to pay taxpayers the full value of any gas they flare.
Environmental watchdogs in North Dakota and Texas commented on the study's findings.
"This report shows that North Dakota regulators simply aren't doing their job," said Don Morrison, executive director of nonprofit grassroots group Dakota Resource Council. "Instead they're putting private profits ahead of the public interest. This isn't our first oil boom, we know how to do it better."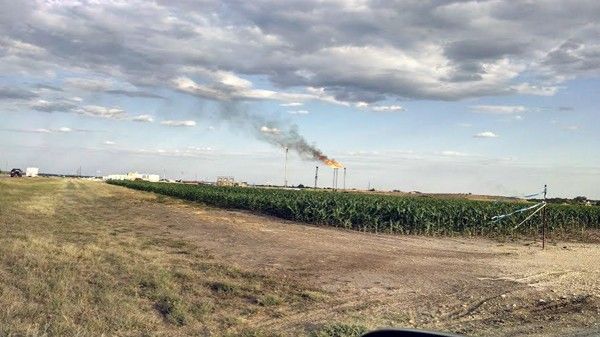 "The Railroad Commission is statutorily required 'to prevent waste of Texas's natural resources'," said Earthworks Texas organizer Sharon Wilson. "I don't see how the Railroad Commission isn't breaking the law by allowing drillers to waste natural gas by flaring it off rather than capturing it."
But Earthworks sees the wasteful burning of drilling byproducts as one part of the larger problem of fossil fuel exploration and extraction.
Earthworks energy program director Bruce Baizel said:
Flaring is just one of many problems associated with unconventional oil and gas development. Unfortunately, North Dakota and Texas's inadequate oversight of flaring is representative of state oversight of fracking across the country. The ultimate solution to these problems is to transition away from fossil fuels entirely and towards renewables like wind and solar.
YOU ALSO MIGHT LIKE
3 Fracking Facts That Gov. Perry Forgot to Mention
How Fracking Fuels Prostitution and Organized Crime in Bakken Shale Region
EcoWatch Daily Newsletter
By Anita Desikan
The Trump administration is routinely undermining your ability — and mine, and everyone else's in this country — to exercise our democratic rights to provide input on the administration's proposed actions through the public comment process. Public comments are just what they sound like: an opportunity for anyone in the public, both individuals and organizations, to submit a comment on a proposed rule that federal agencies are required by law to read and take into account. Public comments can raise the profile of an issue, can help amplify the voices of affected communities, and can show policymakers whether a proposal has broad support or is wildly unpopular.
Alena Gamm / EyeEm / Getty Images
Picture this: a world where chocolate is as rare as gold. No more five-dollar bags of candy on Halloween. No more boxes of truffles on Valentine's day. No more roasting s'mores by the campfire. No more hot chocolate on a cold winter's day.
Who wants to live in a world like that?
Fabian Krause / EyeEm / Getty Images
Water protectors of all persuasions gathered in talking circles at Borderland Ranch in Pe'Sla, the heart of the sacred Black Hills, during the first Sovereign Sisters Gathering. At the center are Cheryl Angel in red and white and on her left, Lyla June. Tracy Barnett
By Tracy L. Barnett
Sources reviewed this article for accuracy.
For Sicangu Lakota water protector Cheryl Angel, Standing Rock helped her define what she stands against: an economy rooted in extraction of resources and exploitation of people and planet. It wasn't until she'd had some distance that the vision of what she stands for came into focus.
Hedges, 2019 © Hugh Hayden. All photos courtesy of Lisson Gallery
By Patrick Rogers
"I'm really into trees," said the sculptor Hugh Hayden. "I'm drawn to plants."
BruceBlock / iStock / Getty Images
Thanks to their high concentration of powerful plant compounds, foods with a natural purple hue offer a wide array of health benefits.