This website uses cookies to ensure you get the best experience while browsing it. By clicking 'Got It' you're accepting these terms.
Satellite Map Shows Fracking Flares in Texas and North Dakota Equal to Greenhouse Emissions From 1.5 Million Cars
Aug. 22, 2014 11:32AM EST
Energy
Earthworks, a nonprofit which works to protect communities from the impacts of mineral and fossil fuel extraction and promote sustainable energy development, has released a new report showing that the flaring of natural gas waste in just two shale plays, or exploration areas, is the equivalent of an additional 1.5 million cars on the road. The flares occur when natural gas is burned rather than captured.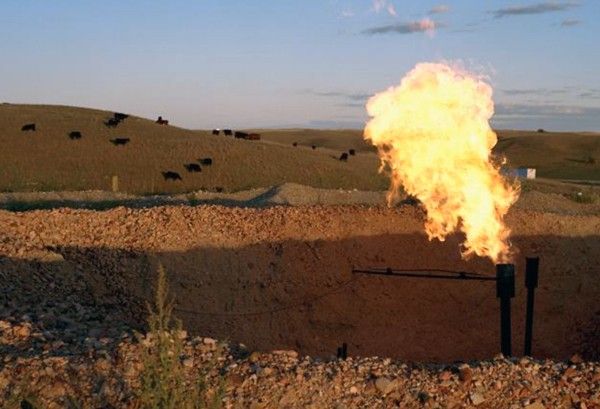 The report, "Up in Flames: U.S. Shale Oil Boom Comes at Expense of Wasted Natural Gas, Increased Carbon Dioxide," accompanied by an interactive map by SkyTruth, a group that provides aerial evidence of environmental impacts. This map allows people to track flaring activity in the U.S. and around the world based on nightly infrared data collected by a National Oceanic and Atmospheric Administration (NOAA) satellite.
SkyTruth's chief technology officer Paul Woods pointed to the potential impact of this map:
This new tool makes the scale and frequency of flaring more comprehensible and less abstract. Hopefully, enabling everyone to see where, when, and how often operators are flaring will create public pressure on government and industry to reduce the waste of this hard-won natural resource.
The report specifically looks at waste created in the North Dakota Bakken and Texas Eagle Ford development areas and how lax regulations and oversight enable this waste, a byproduct of fracking.
Among the study's findings:
130 billion cubic feet of natural gas burned in the Bakken and Eagle Ford Shale has produced the equivalent of 1.5 million cars' emissions of carbon dioxide.
$854 million in natural gas has been burned as waste in the Bakken shale play since 2010.
$854 million would pay for 5 kilowatt photovoltaic solar panel installations for almost every household in Fargo, North Dakota's largest city.
North Dakota neither tracks how much companies pay in taxes on flared gas, nor independently tracks the volume of flared gas.
Texas does not require producers to pay taxes on flared gas.
The study's author Dusty Horwitt said:
Burning natural gas as waste is costing taxpayers and the climate. States should enact tough new standards to prevent flaring, including requiring drillers to pay taxpayers the full value of any gas they flare.
Environmental watchdogs in North Dakota and Texas commented on the study's findings.
"This report shows that North Dakota regulators simply aren't doing their job," said Don Morrison, executive director of nonprofit grassroots group Dakota Resource Council. "Instead they're putting private profits ahead of the public interest. This isn't our first oil boom, we know how to do it better."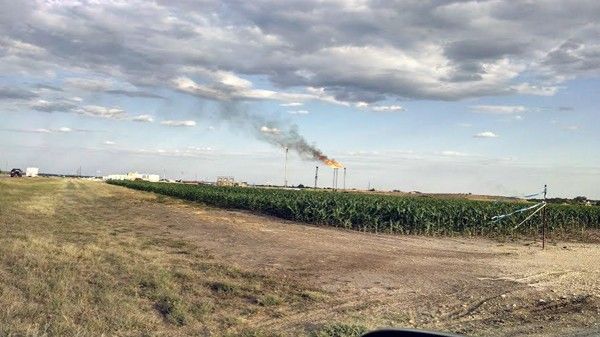 "The Railroad Commission is statutorily required 'to prevent waste of Texas's natural resources'," said Earthworks Texas organizer Sharon Wilson. "I don't see how the Railroad Commission isn't breaking the law by allowing drillers to waste natural gas by flaring it off rather than capturing it."
But Earthworks sees the wasteful burning of drilling byproducts as one part of the larger problem of fossil fuel exploration and extraction.
Earthworks energy program director Bruce Baizel said:
Flaring is just one of many problems associated with unconventional oil and gas development. Unfortunately, North Dakota and Texas's inadequate oversight of flaring is representative of state oversight of fracking across the country. The ultimate solution to these problems is to transition away from fossil fuels entirely and towards renewables like wind and solar.
YOU ALSO MIGHT LIKE
3 Fracking Facts That Gov. Perry Forgot to Mention
How Fracking Fuels Prostitution and Organized Crime in Bakken Shale Region
EcoWatch Daily Newsletter
Artist's conception of solar islands in the open ocean. PNAS
Millions of solar panels clustered together to form an island could convert carbon dioxide in seawater into methanol, which can fuel airplanes and trucks, according to new research from Norway and Switzerland and published in the Proceedings of the National Academy of Sciences journal, PNAS, as NBC News reported. The floating islands could drastically reduce greenhouse gas emissions and dependence on fossil fuels.
Marcos Alves / Moment Open / Getty Images
More than 40 percent of insects could go extinct globally in the next few decades. So why did the U.S. Environmental Protection Agency (EPA) last week ok the 'emergency' use of the bee-killing pesticide sulfoxaflor on 13.9 million acres?
EcoWatch teamed up with Center for Biological Diversity via EcoWatch Live on Facebook to find out why. Environmental Health Director and Senior Attorney Lori Ann Burd explained how there is a loophole in the The Federal Insecticide, Fungicide, and Rodenticide Act under section 18, "that allows for entities and states to request emergency exemptions to spraying pesticides where they otherwise wouldn't be allowed to spray."
Simple swaps that cut down on kitchen trash.
Sponsored
By Kayla Robbins
Along with the bathroom, the kitchen is one of the most daunting areas to try and make zero waste.
View of downtown Miami, Florida from Hobie Island on Feb. 2, 2019.
Michael Muraz / Flickr
The Democratic candidates for president descended upon Miami for a two-night debate on Wednesday and Thursday. Any candidate hoping to carry the state will have to make the climate crisis central to their campaign, as The New York Times reported.
By Sharon Kelly
On Monday, the Wall Street Journal featured a profile of Scott Sheffield, CEO of Pioneer Natural Resources, whose company is known among investors for its emphasis on drawing oil and gas from the Permian basin in Texas using horizontal drilling and hydraulic fracturing, or fracking.
Pexels
By Craig K. Chandler
The federal government has available to it, should it choose to use them, a wide range of potential climate change management tools, going well beyond the traditional pollution control regulatory options. And, in some cases (not all), without new legislative authorization.
Denis Poroy / Getty Images
By Dan Gray
Processed foods, in their many delicious forms, are an American favorite.
But new research shows that despite increasing evidence on just how unhealthy processed foods are, Americans have continued to eat the products at the same rate.
By Sarah Steffen
With a profound understanding of their environmental surroundings, indigenous communities around the world are often cited as being pivotal to tackling climate change.