This website uses cookies to ensure you get the best experience while browsing it. By clicking 'Got It' you're accepting these terms.


The best of EcoWatch, right in your inbox. Sign up for our email newsletter!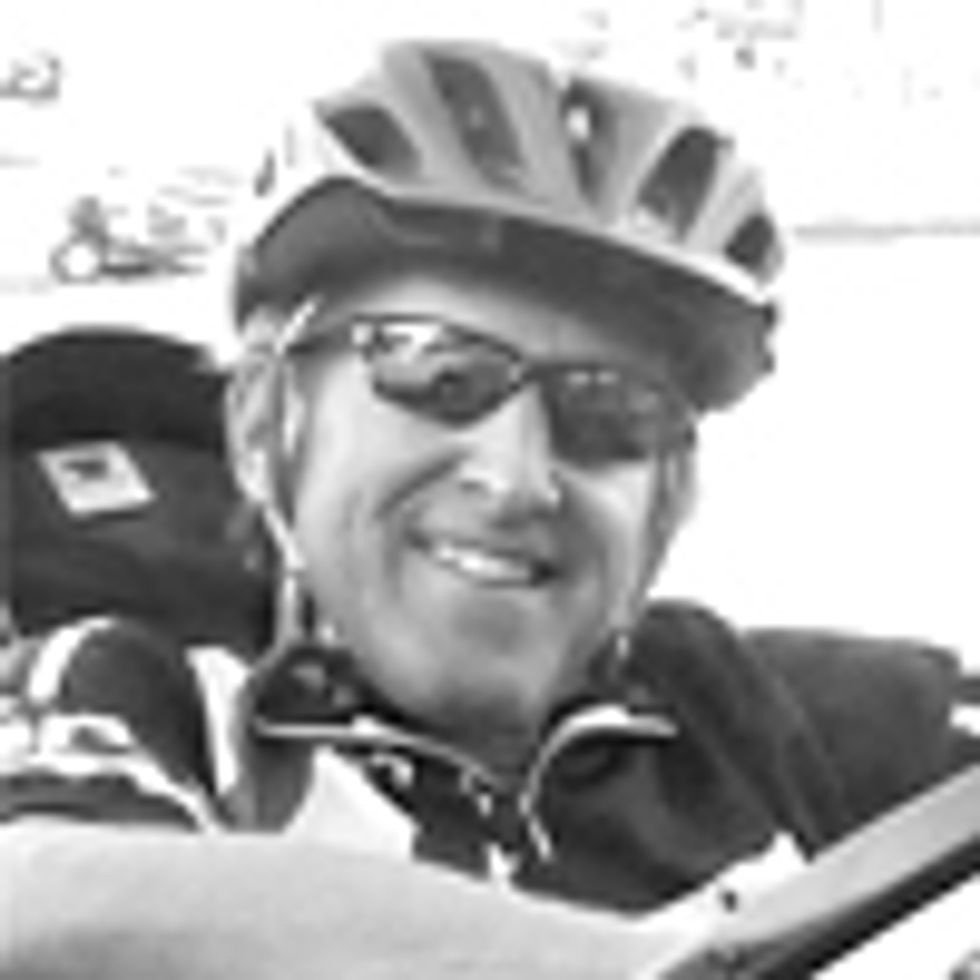 Welcome to Rocket Trike Diaries—a 10 week video tour of the 2011 "Ride for Renewables: No Tar Sands Oil On American Soil!" Join Renewable Rider Tom Weis as he pedals his rocket trike 2,150 miles through America's heartland in support of landowners fighting TransCanada's toxic Keystone XL tar sands pipeline scheme. Here are the video entries from Week Four:
Video Entry #23: Hannah & Friends Unite Against Keystone XL
Renewable Rider Tom Weis, Alex White Plume, Daryl Hannah & Paul Siemens discuss why they are united in their opposition to Keystone XL. Weis talks about how Dr. James Hansen, the nation's top climate scientist, was recently arrested outside the White House, when he should have been invited inside to brief the president: "What's wrong with this picture?"
Video Entry #24: Hannah, Weis & White Plume Talk Keystone XL Corruption
Renewable Rider Tom Weis, Daryl Hannah & Oglala Lakota elder Alex White Plume discuss corrupt dealings between the U.S. government and TransCanada. Daryl takes the oil lobby to task for their unethical and misleading "ethical oil" advertising campaign.
Video Entry #25: Oglala Lakota Matriarch to Obama: "Stop This Pipeline."
Ron Seifert hears Oglala Lakota matriarch Debra White Plume talk about her responsibility as a mother and grandmother to defend our water for future generations. She urges all human beings to tell President Obama he must defend the land, water and people of this country against TransCanada and their tar sands pipeline.
Video Entry #26: Oglala Elder to TransCanada: "I Fear Nothing."
Renewable Rider Tom Weis hears Oglala Lakota Buffalo Chief Floyd Hand talk about uniting with ranchers and farmers peacefully to fight Keystone XL. As an Oglala Sioux warrior, Floyd says he fears nothing: "I will lay down my life for my children."
Video Entry #27: Wyoming Rancher: "Mother Earth Needs You"
Renewable Rider Tom Weis hears Wyoming rancher Eric Ringsby talk about why he joined the Keystone XL "Tour of Resistance" on horseback with Lakota tribal leaders & Daryl Hannah. Eric urges Americans to heed the call: "Mother Earth needs you to wake up, start thinking for yourself and make a difference."
Video Entry #28: Lakota Matriarch on Keystone XL: "This is a Fight for Survival."
Renewable Rider Tom Weis hears Oglala Lakota matriarch Regina Brave describe her people's treaty stand (Ft. Laramie Treaty of 1868) against Keystone XL. Regina warns that contaminating the Ogallala Aquifer will destroy the future of our children and grandchildren. Calling this "a time to show unity as Americans against this pipeline," she says, "Money can pass through your hands like water, but the land is forever."
Video Entry #29: Lakota Elder Shares Native Wisdom with Daryl Hannah
Ron Seifert listens to Oglala Lakota elder Alex White Plume share with Daryl Hannah how TransCanada's Keystone XL tar sands pipeline would threaten the spiritual healing of the Lakota people by violating a sacred death trail the Lakota travel to deal with historical grief and trauma. Alex translates the meaning of Lakota for Daryl: La ("love and compassion") Ko ("to include everybody") Ta ("toward the ancient ways").
EcoWatch Daily Newsletter
A school in Queensland, Australia sent a note home to parents asking them to send their children with extra water bottles since its water supply has run dry, according to the Australian Broadcasting Corporation (ABC).
European Commission President Ursula von der Leyen delivers a press statement on the European Green Deal at the EU headquarters in Brussels, Belgium on Dec. 11, 2019. Xinhua / Zheng Huansong via Getty Images
The European Commission introduced a plan to overhaul the bloc's economy to more sustainable, climate-conscious policies and infrastructure, with the goal of being carbon-neutral by 2050, according to CNBC.
Young activists shout slogans on stage after Greta Thunberg (not in the picture) took part in the plenary session during the COP25 Climate Conference on Dec. 11 in Madrid, Spain. Pablo Blazquez Dominguez / Getty Images
By Andrea Germanos
Young activists took over and occupied the main stage at the COP25 climate conference in Madrid, Spain Wednesday and demanded world leaders commit to far more ambitious action to address the ecological emergency.
A NASA image showing the ozone hole at its maximum extent for 2015. NASA Goddard Space Flight Center
The Montreal Protocol, a 1987 international treaty prohibiting the production of chlorofluorocarbons (CFCs) to save the ozone layer, was the first successful multilateral agreement to successfully slow the rate of global warming, according to new research. Now, experts argue that similar measures may lend hope to the climate crisis.
Police in Wales are in the midst of an unusual investigation: the sudden death of more than 200 starlings.