RFK Jr. and Pennsylvania Residents Call On Governor Hopeful Katie McGinty to Oppose Fracking
Apr. 18, 2014 09:05AM EST
Energy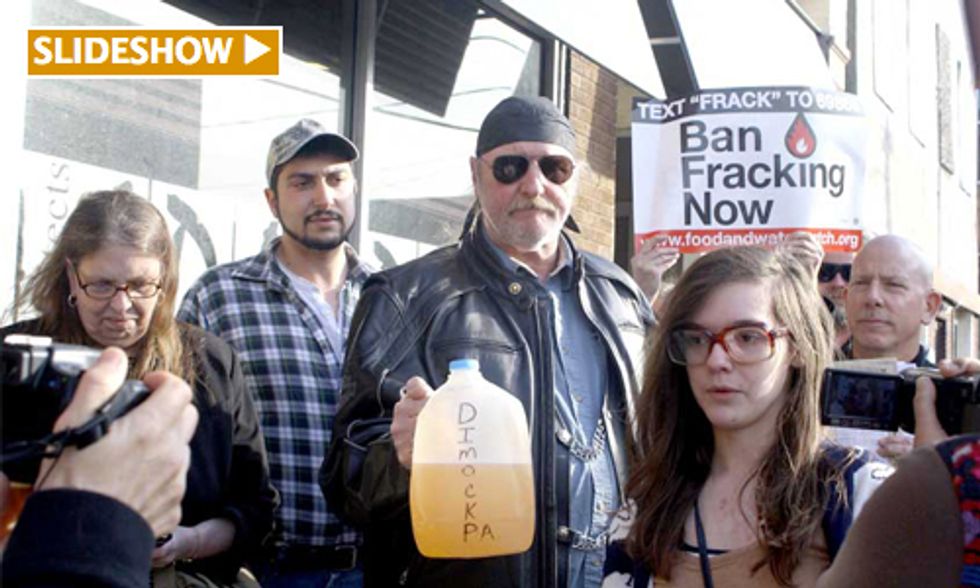 Susquehanna County residents and supporters gathered outside of a fundraiser for Democratic Gubernatorial candidate Katie McGinty to call on her to visit fracking-impacted community members in Dimock, PA and demand she support a halt to fracking and related infrastructure. The press conference was held before the fundraising event where Robert F. Kennedy, Jr. headlined, a staunch environmental advocate who has been opposed to the fracking process and has visited Dimock, PA.
Kennedy said yesterday, "Given fracking's demonstrated risks, I remain opposed to it and I urge Katie to be as well."
McGinty was Pennsylvania's Department of Environmental Protection Commissioner under the Rendell Administration where she issued 586 permits for Marcellus Shale wells across the state. She permitted 21 wells in Dimock, PA that became a focal point for the anti-fracking movement and the Academy Award nominated documentary Gasland. Residents from Susquehanna County, PA spoke out at the press conference.
"Katie McGinty went along with the gas industry in allowing fracking across our state," said Ray Kemble, a Dimock resident and former gas industry worker. "She needs to acknowledge the violations that this industry has and the harm they have caused. If she's serious about being our Governor and not the industry's lapdog, then she needs to support a stop to this."
Vera Scroggins, well-known for her high-profile tours of the regions' fracking sites said, "We invite Katie McGinty to come and tour the region and talk to the people impacted by fracking. If she wants to represent us then she has to come and meet us face to face and hear our stories about the gas industries lies and manipulation."
"We are calling on Kathleen McGinty to sign the Pennsylvania Voters Against Fracking's Pledge to Halt Fracking, something that is exactly in line with what Bobby Kennedy, Jr. is urging her to do," said Karen Feridun, founder of Berks Gas Truth. "We need a governor who will protect the environment, health and safety of all Pennsylvanians."
——–
YOU MIGHT ALSO LIKE
RFK Jr. Endorsing Katie McGinty in PA Governor Race
Anti-Fracking Group Pressures Pennsylvania Governor Candidates For Moratorium Commitments
Pennsylvania's Top Papers Ignore Controversial 'Forced Pooling' Fracking Law
——–
EcoWatch Daily Newsletter