PART III: Calling for Reinforcements from Behind Enemy Lines in the Fight Against Keystone XL
Mar. 08, 2013 10:22AM EST
Energy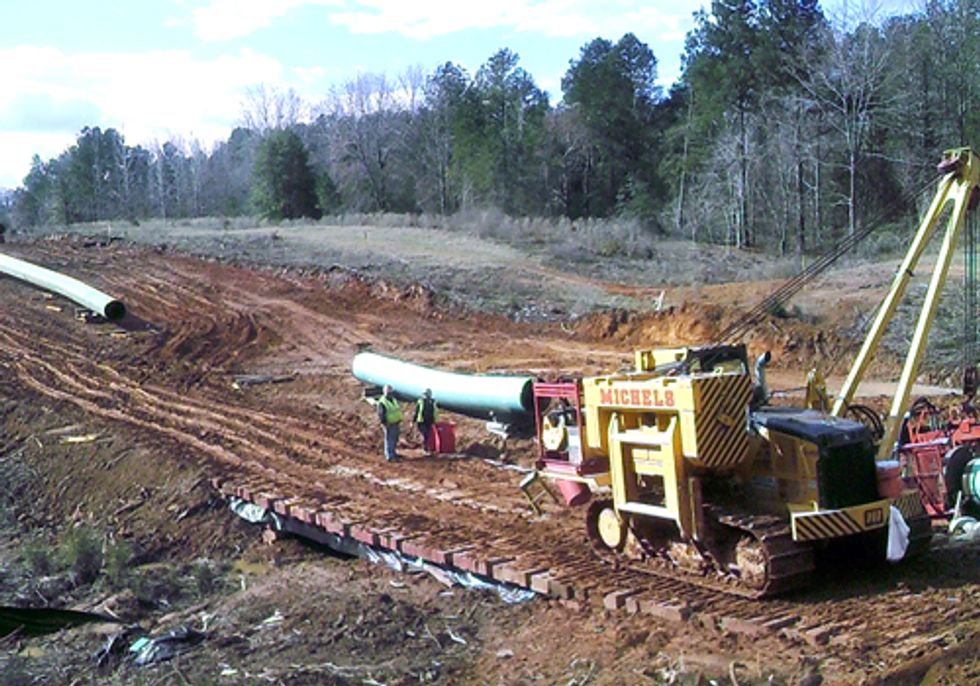 Michael Bishop
[Editor's note: Thanks to Michael Bishop for providing EcoWatch this firsthand account of what happens when a company like TransCanada claims eminent domain on one's property and begins building a tar sands pipeline—the southern leg of the Keystone XL. Unfortunately, this is one of many examples of corporations putting profits before human health and the environment in pursuit of extreme fossil fuel extraction. The good news is that people like Michael Bishop are fighting back. This is the third of a four-part series. Read Part I, Part II and Part IV.]
To recap where we left off … After losing the condemnation hearing, my attorney filed an appeal and we moved forward. Under Texas law, TransCanada has the right to proceed with construction; a law that I question and challenge. After the condemnation suit, they filed a writ of possession and had all rights to the property they had condemned. In the interim, the Texas Veterans Land Board (TVLB), represented by Megan Neal of the Texas Attorney General's office began speaking with my attorney regarding a "settlement." I received an email from my attorney in March 2012 telling me that she and Megan Neal were negotiating a settlement with TransCanada and that if I did not accept it, the TVLB would "foreclose" on my property. I became irate. 
I had not been in default, was not in arrears and had not violated any terms or conditions of the mortgage to warrant "foreclosure." In spite of the threat, the "pending agreement for settlement" never came and I watched the survey crews from TransCanada begin their preliminary work on my property.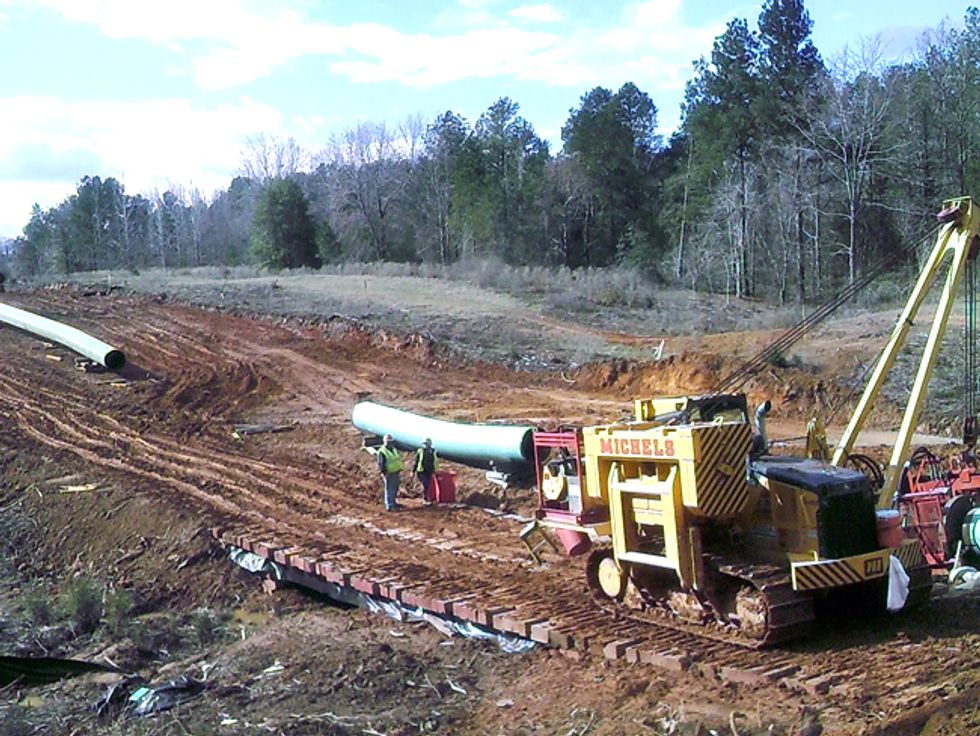 This included a bulldozer that began moving dirt to lay out the pathway for the pipeline. I felt betrayed by the very state legislature that I thought was there to protect me, betrayed by the elected officials that I actually helped elect into office, and betrayed by the regulatory agencies that had a mandate to protect human health and safety as well as the ground and surface water in my state. The work continued daily and my thought was that I was being invaded by a foreign entity and no one would help me.
I questioned the business acumen of TransCanada's decision to begin construction without having settled all of the legal issues they were facing. If I were a stockholder, it would be of great concern to me that the CEO of this firm was moving forward with a project that had multiple, pending lawsuits in several states and an overall negative impression of this company by the public. The company has a definitive history of lying to landowners and in many cases, "bullying" them into submission through questionable tactics.
I finally received an email and phone call from my attorney on Nov. 7, 2012 advising me that a mediation hearing had been requested by TransCanada and that I must be in Austin, Texas on Nov. 9. I attended that meeting with Johnnie Johnson, my former business partner who was leasing land from me for her biorefinery to manufacture two renewable fuels, biodiesel and ethanol.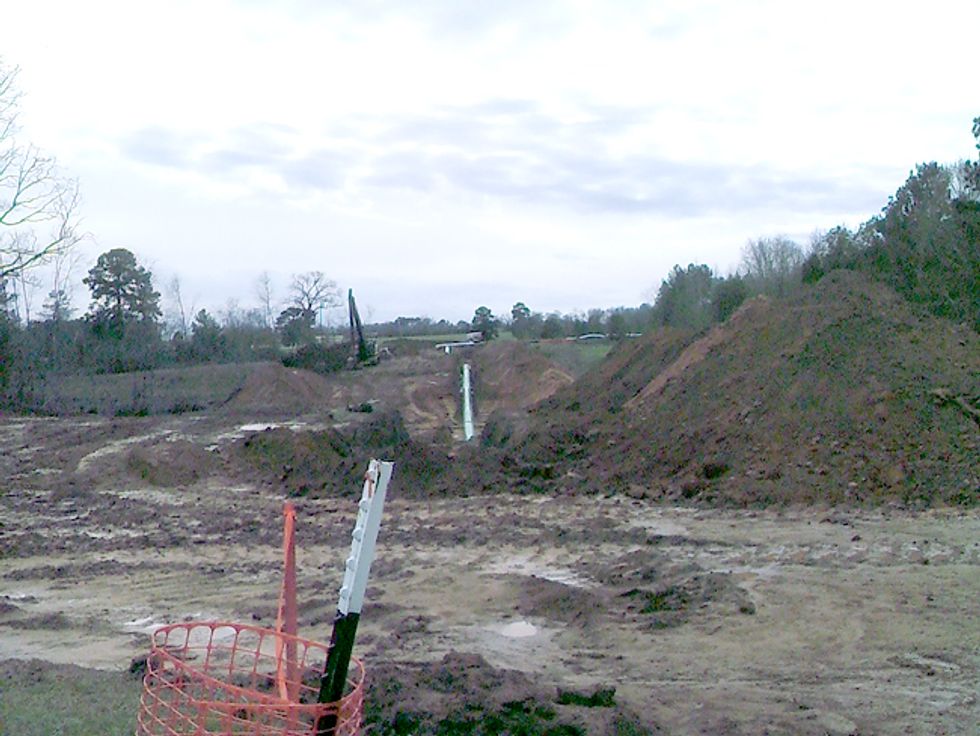 We began the negotiation at 9 a.m. and ended around 3 p.m. that day. I had refused to take offers that were made but in the end, the mediation attorney and my attorney came into the room to explain that Megan Neal with the Attorney General's office and James Freeman, the attorney for TransCanada were present and if I did not "accept their final offer," the TVLB would foreclose on my property. I am 64 years of age and was scheduled to begin medical school in January 2013, I have a wife with severe medical problems who was recently diagnosed with dementia and a 16-year-old daughter in high school. Again, I became irate and questioned the legality of this threat of foreclosure. I immediately felt helpless and thought that all three of them were in collusion. I took the offer under coercion and extreme duress but told my former partner that when this was settled, I would sue them and sue the state of Texas. 
The minute this business was settled, title to the property was transferred and foreclosure was not in my future, I took legal action. This has been a long and frustrating effort but I did manage, for three days, to shut down their work on my property through a temporary restraining order (TRO). All of the facts, supported by sworn affidavit, were presented to Judge Sinz of the Nacogdoches County Court at Law—the same judge we have been in front of from the beginning of this battle. He agreed with me as to the need and reasons for a TRO and signed the order, shutting down their work until a hearing on the facts was held.
TransCanada requested an emergency hearing three days later and the judge acted as though he had never met me and dissolved the TRO and I knew then that the fight was far from over. I also knew at that point, the system was in harmony with TransCanada, for whatever reason. This may sound conspiratorial and paranoid but the evidence is overwhelming and I am not one that believes in "coincidence," especially when it repeats itself multiple times.
I had also filed a suit against the Railroad Commission of Texas, the permitting agency for TransCanada Keystone Pipeline XL, L.P. It was also my intention, after researching the rules and circumstances around the Army Corps of Engineers permitting for the southern leg of the pipeline, to file a suit against that agency as well.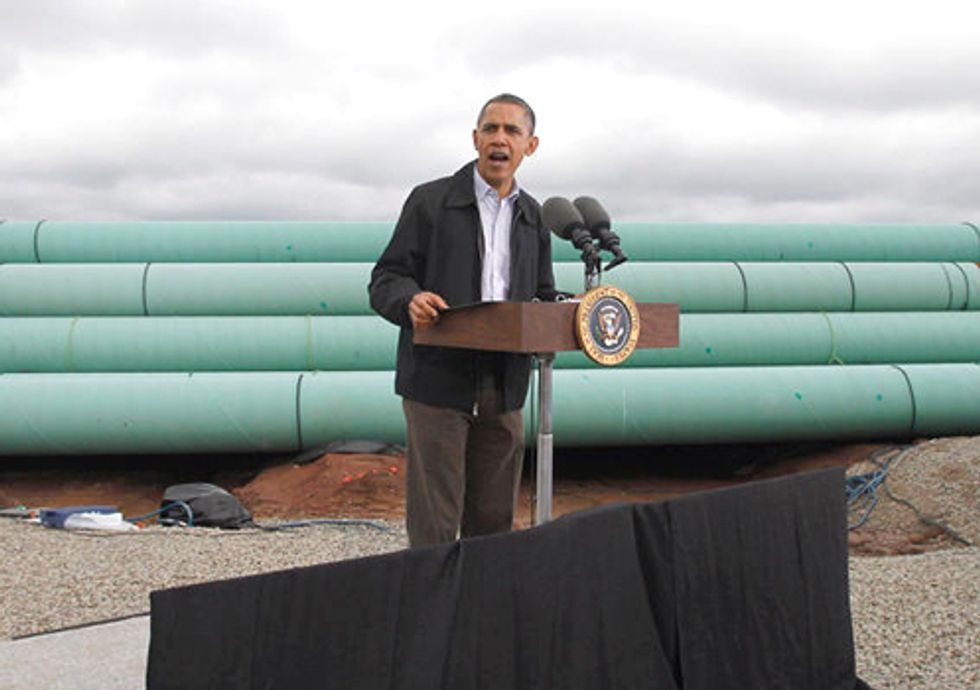 President Obama denied this firm a permit to cross the border and build in Nebraska because of the threat or potential threat to the Ogallala Aquifer. What many people don't know, however, is that he issued an executive order to the U.S. Army Corps of Engineers to expedite the southern leg of this very same pipeline.
This was done in spite of the classification of the Carrizo-Wilcox aquifer that supplies all of East Texas. It is classified by the Department of Transportation as a Class 1C aquifer, ultra-sensitive area (USA). It has the same classification as the Ogallala but the President is ignoring our concerns and even went to Cushing, Oklahoma for a photo op, where he stood in front of the TransCanada pipe that is now being laid in Texas. This is an abomination and is political hypocrisy.
Regardless of whom you supported for President, you must be concerned about the future of our water supply. TransCanada has had 14 leaks in the past year and one of them was 10,000 gallons of bitumen or tar sands "oil." If you will recall, the Enbridge spill in the Kalamazoo River in Michigan shut down 35 miles of river, contaminated the drinking water of a small town, spilled more than 1 million gallons of this toxic mess into that river and has cost hundreds of millions in clean up. To add insult to injury, it has not been completely remediated, given that bitumen is heavier than water and sinks to the bottom of the water. And yet, our government blindly supports this project. Why? Follow the money.
This pipeline is crossing more than 1,000 waterways, including six rivers right here in Texas and it is not a matter of if but when this pipeline will leak. As I have stated before, God help us all when this happens. And yet, there is only silence on the part of our elected officials and regulators. Lawyers circle the wagons and throw legal technicalities to keep my suit, and others, from being heard by a jury. TransCanada fears us and fears that our efforts will prevail. When they lose in court, it will be their own fault. The truth cannot be hidden and in the end, we will win a victory for the environment, for the Constitutional patriots in this country and against the massive corruption surrounding this project.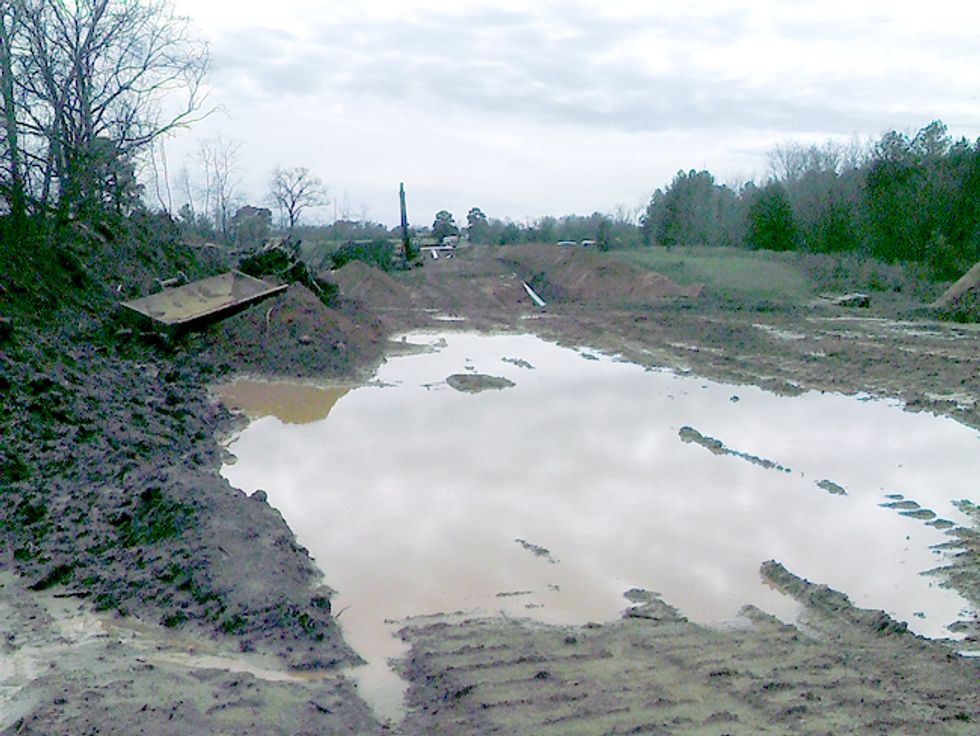 I am amazed by the lack of understanding about this project by the general public and even more amazed that people in other parts of the country are so focused on the "northern segment" while the pipeline is actually being laid right here in Texas and will begin transporting diluted bitumen, tar sands crude oil, to Gulf Coast refineries by the end of the year. So many seem oblivious to this fact.
My former business partner and my sons just formed a non-profit corporation called Landowners Against TransCanada Pipeline to assist landowners in the U.S. The website and purpose of the corporation will be published and advertised in the next week but the primary purpose is to raise money to fight TransCanada legally. TransCanada has an immense budget and financial resources. Landowners like myself do not have the financial resources and are relying on the help and kindness of people who are opposed to this project for reasons of sovereignty, arguing against eminent domain, arguing that this project will be a major contributor to greenhouse gas emissions, and that the material to be transported is highly corrosive and toxic. 
This is a real war. Those of us behind enemy lines are anxious for reinforcements to arrive.
Tom Weis served as contributing editor in this series.
Visit EcoWatch's KEYSTONE XL page for more related news on this topic.
——–
EcoWatch Daily Newsletter