This website uses cookies to ensure you get the best experience while browsing it. By clicking 'Got It' you're accepting these terms.
Opposition Escalates Over Faulty Southern Leg of Keystone XL Pipeline
Jun. 17, 2013 09:15AM EST
Energy

"Enough is enough," said Michael Bishop during our phone conversation Saturday morning after he found out TransCanada and its vendor, Michels, are planning to dig up buried pipe, part of the 485-mile southern segment of the Keystone XL pipeline, on his property in the east Texas rural community of Douglass.
The representative for Michels, who showed up on Bishop's property last week, said he was there to mark the utility lines prior to the crews "coming out next week to replace the anomalies." Bishop asked if they were going to dig up portions of the line they just laid and the representative responded, "Yes, those sections where anomalies are."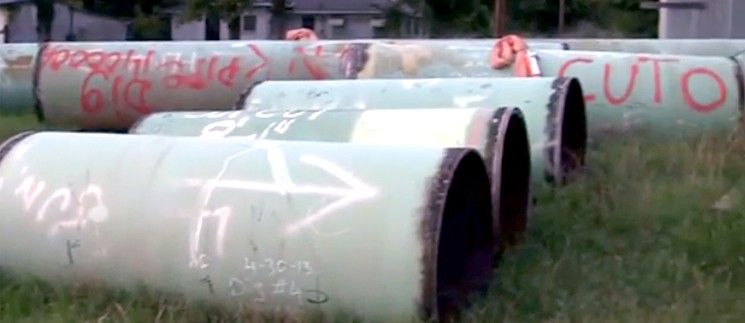 Last month, it was reported that TransCanada was in damage control mode concerning flaws in the newly laid southern leg of the Keystone XL pipeline after dozens of anomalies, including dents and welds, were identified along a 60-mile stretch north of the Sabine River in Texas.
As if Bishop and his neighbors haven't been through enough with the invasion of this Canadian company taking their property via eminent domain and then bulldozing their land. Now they watch as Michels digs up and rebuilds dozens of sections of the southern segment of the Keystone XL pipeline.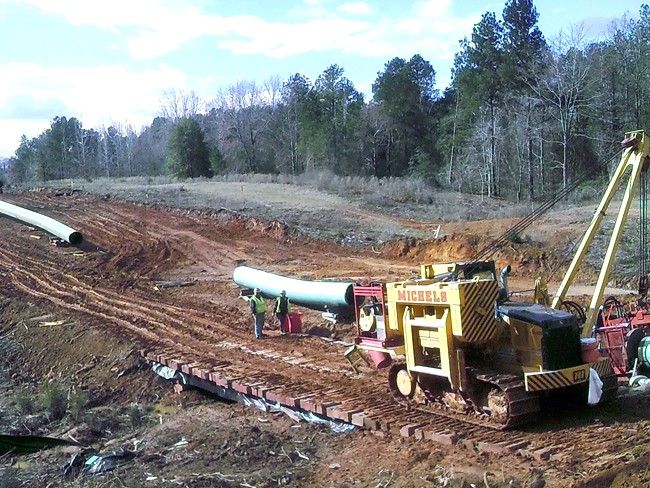 Property owners along the pipeline route have been concerned about potential leaks even before the pipeline construction began. TransCanada's Keystone 1 pipeline, which runs from Canada to the U.S. Midwest, experienced 12 spills in the first year after it began operation in June 2010—the highest spill rate of any oil pipeline in U.S. History.
Now Texas and Oklahoma residents are even more outraged with the news of the pipeline anomalies and the ExxonMobil Pegasus pipeline rupture on March 29 that spewed Canadian tar sands oil in a suburban community in Mayflower, AR, where residents are still complaining of health problems and the impact on wildlife and the environment.
"I have said from the beginning of this fight that stopping the pipeline is going to be a legal, not political solution and that it is not a matter of if, but a matter of when this line will leak," said Bishop.
"When it does, it will be devastating to not only the area it crosses, but to the groundwater. The fact that this controversy has become a political football is sad and it is even sadder that in spite of laws on the books protecting the public, that politicians from both parties have allowed this to continue under the false pretenses of national security, independence from foreign oil and the creation of jobs."
Watch this exclusive video taken last week showing excavated pipe just outside of Wells, TX, and footage taken just south of Jacksonville, TX, at a PUP—pulled up pipe—yard where pipe has been deemed inadequate:
Bishop had a lot to say after watching this video for the first time yesterday:
The video clearly shows that this is a bigger problem than what the TransCanada propaganda machine is saying publicly. This is the smoking gun.
My sources tell me that the so called 'anomalies' total over a mile in a short, 60-mile section of north Texas including Wood County. Additionally, it is apparent that inspector oversight during the welding process, as well as deficiencies in the trenching and laying of the pipe, occurred.
I have been told that the minimum segment allowable by law is eight feet, but the video clearly shows segments being replaced that are much less, including one segment that is three feet or so in length.
When the new segments are welded up, how can the public be assured that the work will not be a repeat of the shoddy, prior performance that has brought them back to our properties? If we were concerned about leaking before construction began, how can we have confidence in TransCanada at this point?
Additionally, if this is allowed to be put into service, the federal government is going to be complicit in a criminal act when this leaks and destroys our land and groundwater, forcing the permanent evacuation of hard working landowners who might be compensated but will never fulfill their dreams or leave a legacy for their children and grandchildren. PHMSA [Pipeline Hazardous Materials Safety Administration] must act and permanently shut this project down now.
Landowners Against TransCanada, an organization formed to provide assistance to landowners in the U.S. to legally fight the TransCanada Keystone XL pipeline, launched a petition today telling PHMSA to perform its legal duties to protect human health and the environment, and immediately investigate the anomalies and stop further construction of the southern segment of the Keystone XL pipeline.
"The truth is, this is the taking of land from sovereign citizens and taxpayers for the benefit of a private, foreign corporation. It is against every tenet of our beliefs and understanding of the Constitution of the United States of America," said Bishop.
"This pipeline will be stopped, eventually. We the people will prevail in this battle. We have had enough of leaks, spills and deceptions to last us a lifetime. If you are not part of the solution, you are part of the problem."  
Visit EcoWatch's KEYSTONE XL page for more related news on this topic.
A complete overview of Bishop's fight against the pipeline is outlined in a four-part series he wrote for EcoWatch in February.
——-

EcoWatch Daily Newsletter
A. Battenburg / Technical University of Munich
By Sarah Kennedy
Algae in a pond may look flimsy. But scientists are using algae to develop industrial-strength material that's as hard as steel but only a fraction of the weight.
Variety of fermented food korean traditional kimchi cabbage and radish salad. white and red sauerkraut in ceramic plates over grey spotted background. Natasha Breen / REDA&CO / Universal Images Group / Getty Image
Even if you've never taken probiotics, you've probably heard of them.
These supplements provide numerous benefits because they contain live microorganisms, such as bacteria or yeast, which support the healthy bacteria in your gut (1, 2, 3, 4).
Pexels
Singapore will become the first country in the world to place a ban on advertisements for carbonated drinks and juices with high sugar contents, its health ministry announced last week. The law is intended to curb sugar consumption since the country has some of the world's highest diabetes rates per capita, as Reuters reported.
A typical adult takes around 20,000 breaths per day. If you live in a megacity like Beijing, with many of those lungfuls you're likely to inhale a noxious mixture of chemicals and pollutants.
Fred Stone holds his brown swiss cow Lida Rose at his Arundel dairy farm on March 18 after a press conference where he spoke about PFAS chemical contamination in his fields. Gregory Rec / Portland Portland Press Herald via Getty Images
By Susan Cosier
First there was Fred Stone, the third-generation dairy farmer in Maine who discovered that the milk from his cows contained harmful chemicals. Then came Art Schaap, a second-generation dairy farmer in New Mexico, who had to dump 15,000 gallons of contaminated milk a day.
Protesters attend the 32nd annual Fur-Free Friday demonstration on Nov. 23, 2018 in Beverly Hills, California. Ella DeGea / Getty Images
California Governor Gavin Newsom signed into law a bill that that bans the sale and manufacture of fur products in the state. The fur ban, which he signed into law on Saturday, prohibits Californians from selling or making clothing, shoes or handbags with fur starting in 2023, according to the AP.
By Simon Evans
During the three months of July, August and September, renewables generated an estimated total of 29.5 terawatt hours (TWh), compared with just 29.1TWh from fossil fuels, the analysis shows.
A demonstrator waves an Ecuadorian flag during protests against the end of subsidies to gasoline and diesel on Oct. 9 in Quito, Ecuador. Jorge Ivan Castaneira Jaramillo / Getty Images