This website uses cookies to ensure you get the best experience while browsing it. By clicking 'Got It' you're accepting these terms.
Opposition Escalates Over Faulty Southern Leg of Keystone XL Pipeline
Jun. 17, 2013 09:15AM EST
Energy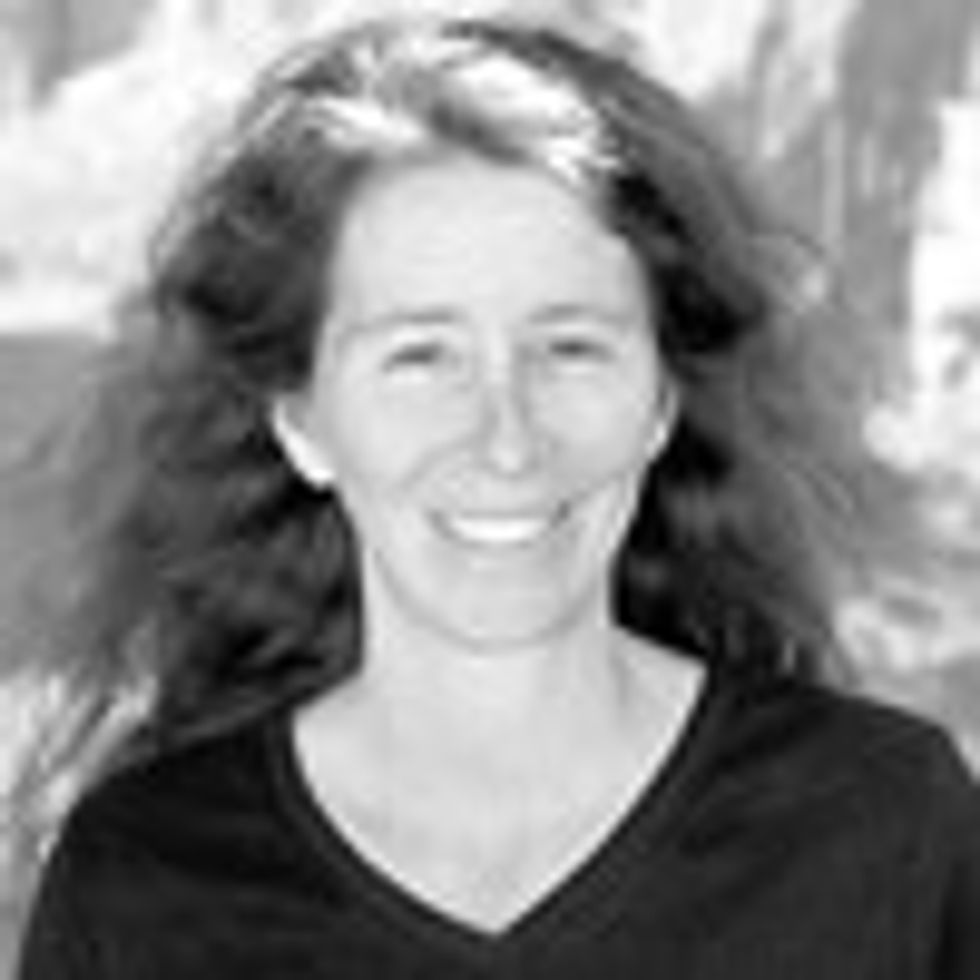 "Enough is enough," said Michael Bishop during our phone conversation Saturday morning after he found out TransCanada and its vendor, Michels, are planning to dig up buried pipe, part of the 485-mile southern segment of the Keystone XL pipeline, on his property in the east Texas rural community of Douglass.
The representative for Michels, who showed up on Bishop's property last week, said he was there to mark the utility lines prior to the crews "coming out next week to replace the anomalies." Bishop asked if they were going to dig up portions of the line they just laid and the representative responded, "Yes, those sections where anomalies are."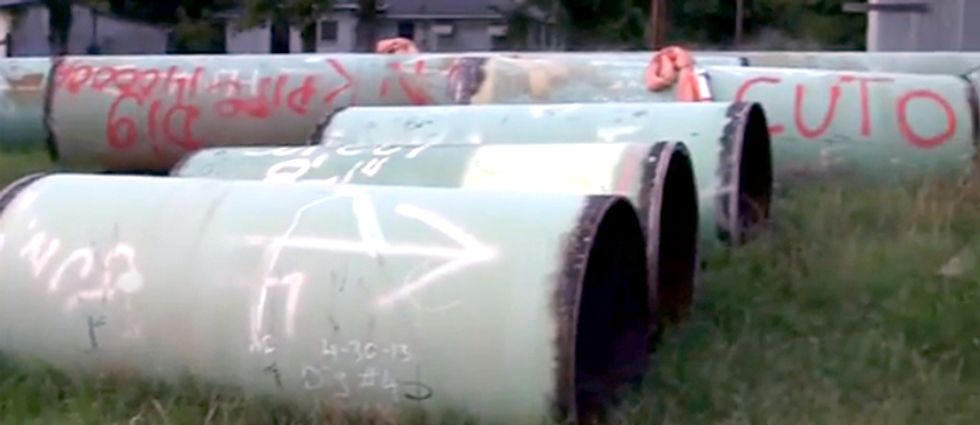 Last month, it was reported that TransCanada was in damage control mode concerning flaws in the newly laid southern leg of the Keystone XL pipeline after dozens of anomalies, including dents and welds, were identified along a 60-mile stretch north of the Sabine River in Texas.
As if Bishop and his neighbors haven't been through enough with the invasion of this Canadian company taking their property via eminent domain and then bulldozing their land. Now they watch as Michels digs up and rebuilds dozens of sections of the southern segment of the Keystone XL pipeline.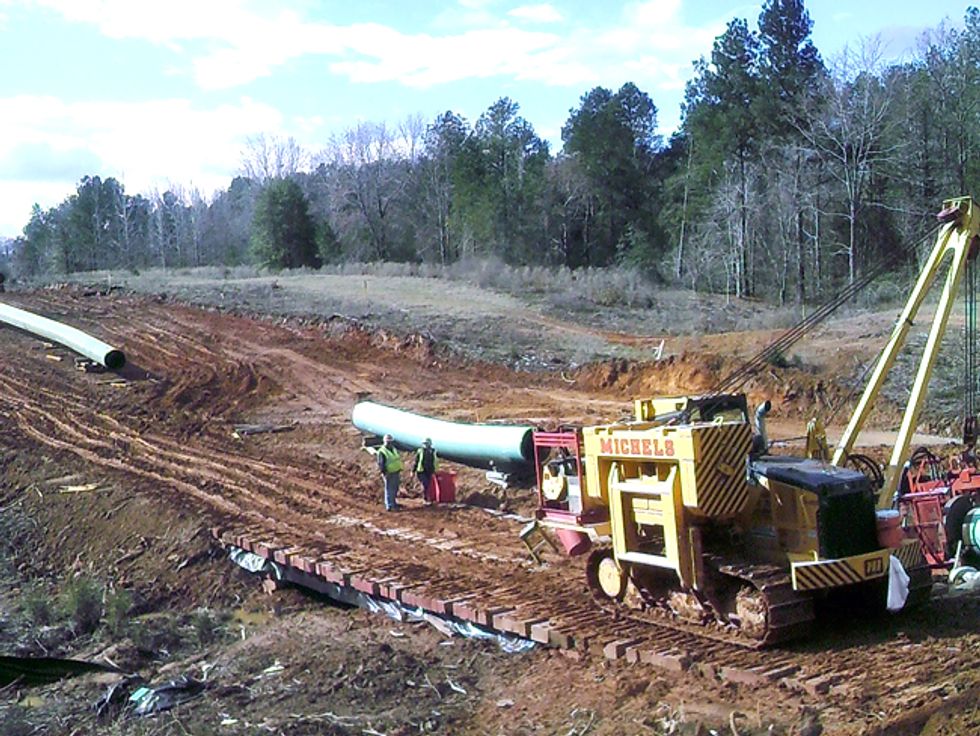 Property owners along the pipeline route have been concerned about potential leaks even before the pipeline construction began. TransCanada's Keystone 1 pipeline, which runs from Canada to the U.S. Midwest, experienced 12 spills in the first year after it began operation in June 2010—the highest spill rate of any oil pipeline in U.S. History.
Now Texas and Oklahoma residents are even more outraged with the news of the pipeline anomalies and the ExxonMobil Pegasus pipeline rupture on March 29 that spewed Canadian tar sands oil in a suburban community in Mayflower, AR, where residents are still complaining of health problems and the impact on wildlife and the environment.
"I have said from the beginning of this fight that stopping the pipeline is going to be a legal, not political solution and that it is not a matter of if, but a matter of when this line will leak," said Bishop.
"When it does, it will be devastating to not only the area it crosses, but to the groundwater. The fact that this controversy has become a political football is sad and it is even sadder that in spite of laws on the books protecting the public, that politicians from both parties have allowed this to continue under the false pretenses of national security, independence from foreign oil and the creation of jobs."
Watch this exclusive video taken last week showing excavated pipe just outside of Wells, TX, and footage taken just south of Jacksonville, TX, at a PUP—pulled up pipe—yard where pipe has been deemed inadequate:
Bishop had a lot to say after watching this video for the first time yesterday:
The video clearly shows that this is a bigger problem than what the TransCanada propaganda machine is saying publicly. This is the smoking gun.
My sources tell me that the so called 'anomalies' total over a mile in a short, 60-mile section of north Texas including Wood County. Additionally, it is apparent that inspector oversight during the welding process, as well as deficiencies in the trenching and laying of the pipe, occurred.
I have been told that the minimum segment allowable by law is eight feet, but the video clearly shows segments being replaced that are much less, including one segment that is three feet or so in length.
When the new segments are welded up, how can the public be assured that the work will not be a repeat of the shoddy, prior performance that has brought them back to our properties? If we were concerned about leaking before construction began, how can we have confidence in TransCanada at this point?
Additionally, if this is allowed to be put into service, the federal government is going to be complicit in a criminal act when this leaks and destroys our land and groundwater, forcing the permanent evacuation of hard working landowners who might be compensated but will never fulfill their dreams or leave a legacy for their children and grandchildren. PHMSA [Pipeline Hazardous Materials Safety Administration] must act and permanently shut this project down now.
Landowners Against TransCanada, an organization formed to provide assistance to landowners in the U.S. to legally fight the TransCanada Keystone XL pipeline, launched a petition today telling PHMSA to perform its legal duties to protect human health and the environment, and immediately investigate the anomalies and stop further construction of the southern segment of the Keystone XL pipeline.
"The truth is, this is the taking of land from sovereign citizens and taxpayers for the benefit of a private, foreign corporation. It is against every tenet of our beliefs and understanding of the Constitution of the United States of America," said Bishop.
"This pipeline will be stopped, eventually. We the people will prevail in this battle. We have had enough of leaks, spills and deceptions to last us a lifetime. If you are not part of the solution, you are part of the problem."  
Visit EcoWatch's KEYSTONE XL page for more related news on this topic.
A complete overview of Bishop's fight against the pipeline is outlined in a four-part series he wrote for EcoWatch in February.
——-

EcoWatch Daily Newsletter
Investing in grid infrastructure would enable utilities to incorporate modern technology, making the grid more resilient and flexible. STRATMAN2 / FLICKR
By Elliott Negin
The Royal Swedish Academy of Sciences' recent decision to award the 2019 Nobel Prize in Chemistry to scientists who developed rechargeable lithium-ion batteries reminded the world just how transformative they have been. Without them, we wouldn't have smartphones or electric cars. But it's their potential to store electricity generated by the sun and the wind at their peak that promises to be even more revolutionary, reducing our dependence on fossil fuels and protecting the planet from the worst consequences of climate change.
Two Javan rhinos deep in the forests of Ujung Kulon National Park, the species' last habitat on Earth. Sugeng Hendratno / WWF
The global population of the critically endangered Javan rhinoceros has increased to 72 after four new calves were spotted in the past several months.
A tiger looks out from its cage at a new resort and zoo in the eastern Lao town of Tha Bak on Dec. 5, 2018. Karl Ammann believes the "zoo" is really a front for selling tigers. Terrence McCoy / The Washington Post / Getty Images
Are tigers extinct in Laos?
That's the conclusion of a detailed new study that found no evidence wild tigers still exist in the country.
A group of scientists is warning that livestock production must not expand after 2030 for the world to stave off ecological disaster.
The largest wetland in Africa is in the South Sudan. George Steinmetz / Corbis Documentary / Getty Images Plus
Methane emissions are a far more powerful greenhouse gas than carbon dioxide – about 28 times more powerful. And they have been rising steadily since 2007. Now, a new study has pinpointed the African tropics as a hot spot responsible for one-third of the global methane surge, as Newsweek reported.