Ohioans Slam Boehner Over Backroom Keystone XL Tar Sands Deal
Dec. 14, 2011 05:17PM EST
Energy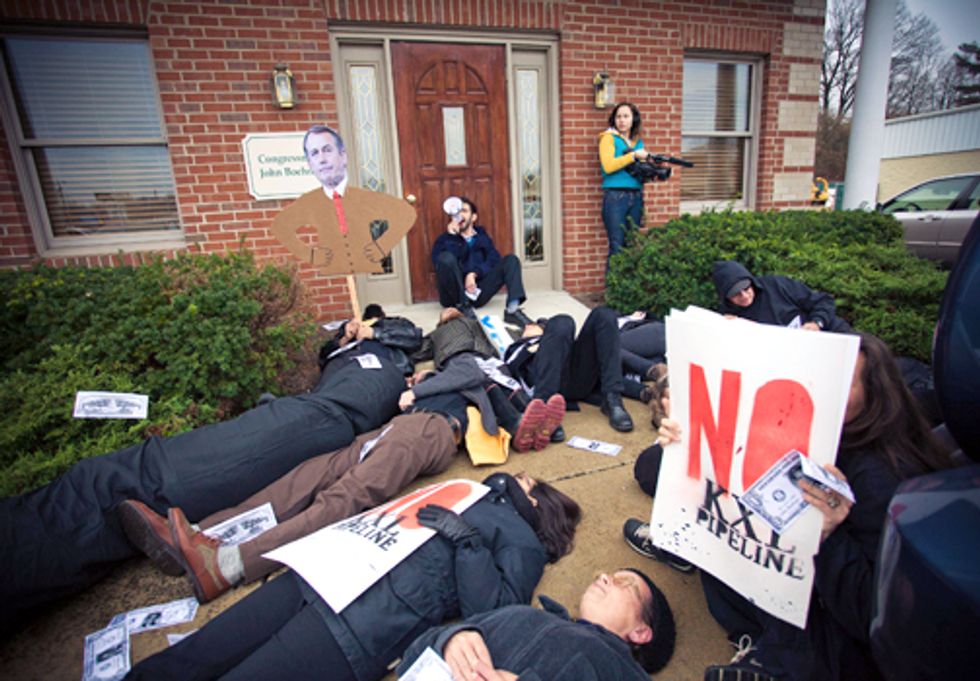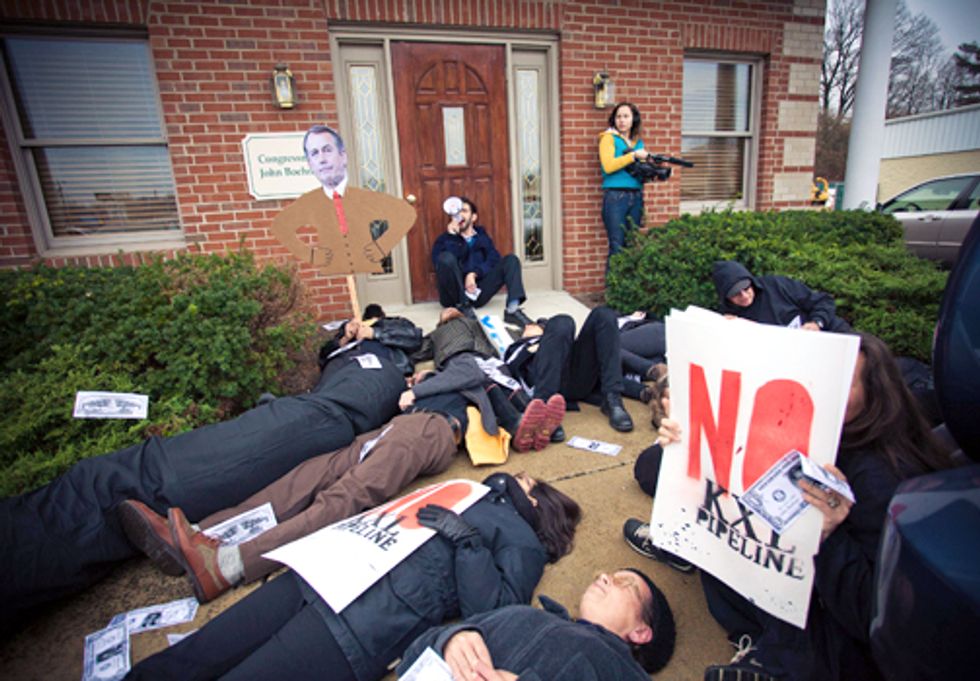 Fed up with House Speaker John Boehner's (R-OH) corporate campaign donor's influence on his policy decisions, activists staged a human oil spill at his office just outside Cincinnati on Dec. 14. Activists believe Boehner's decision to force through the proposed Keystone XL tar sands pipeline is linked to campaign cash from the fossil fuel industry. Speaker Boehner has accepted more than $1.1 million from corporate polluters since 1999.
"John Boehner is using his position to rake in corporate cash at our expense—why else would he try to push through the hugely unpopular and dangerous proposed Keystone XL pipeline?" Asked Sean P. Nolan, CEO and Co-Founder at Reaver Publishing.
Approximately 50 people created the "human oil spill" into Boehner's office as part of an escalating national campaign against the pipeline. Dressed in black, participants used their bodies to represent the potential environmental devastation from the pipeline. If built, it will likely leak toxic tar sands oil over precious farmland and critical aquifers in the heart of our nation. The proposed pipeline has been described as "game over" for the climate by NASA scientist James Hansen.
"Hundreds of Ohioans travelled to Washington, DC, to stop the dangerous Keystone XL tar sands pipeline. Now Boehner is trying to push it through despite mass opposition from his constituents—I'm fed up with politicians doing the bidding of their corporate benefactors," stated Sonnet Gabbard, a teacher and student at University of Cincinnati and an Occupy Cincinnati protester who joined the action.
Boehner announced on Dec. 6, that he was willing to go "to war" over an amendment that would force through the proposed pipeline despite widespread safety concerns and popular outrage.
"The House brings shame on itself when it's members take tens of millions in Big Oil money and then do the industry's bidding. Keystone XL creates no net jobs and pours carbon into the atmosphere—that's why millions across the country opposed it," said Bill McKibben, founder of 350.org, "It's only beneficiaries are the fossil fuel industry and the politicians they support."
This rally is the latest in a months long national grassroots uprising in response to the proposed Keystone XL tar sands Pipeline. The campaign kicked off in August with a two week protest that resulted in more than 1,200 arrests, and in November an event where 10,000 people circled the White House that resulted in President Barack Obama delaying his decision on the pipeline, a move analysts say killed the project.
For more information, visit the Tar Sands Action website by clicking here.
EcoWatch Daily Newsletter