This website uses cookies to ensure you get the best experience while browsing it. By clicking 'Got It' you're accepting these terms.
Ohioans Slam Boehner Over Backroom Keystone XL Tar Sands Deal
Dec. 14, 2011 04:17PM EST
Energy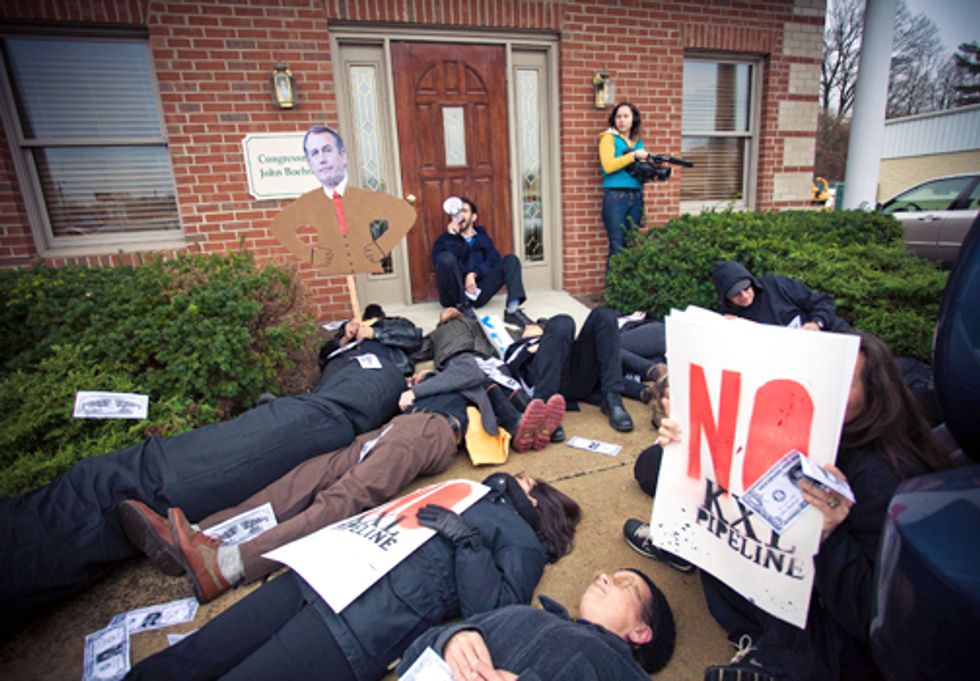 Fed up with House Speaker John Boehner's (R-OH) corporate campaign donor's influence on his policy decisions, activists staged a human oil spill at his office just outside Cincinnati on Dec. 14. Activists believe Boehner's decision to force through the proposed Keystone XL tar sands pipeline is linked to campaign cash from the fossil fuel industry. Speaker Boehner has accepted more than $1.1 million from corporate polluters since 1999.
"John Boehner is using his position to rake in corporate cash at our expense—why else would he try to push through the hugely unpopular and dangerous proposed Keystone XL pipeline?" Asked Sean P. Nolan, CEO and Co-Founder at Reaver Publishing.
Approximately 50 people created the "human oil spill" into Boehner's office as part of an escalating national campaign against the pipeline. Dressed in black, participants used their bodies to represent the potential environmental devastation from the pipeline. If built, it will likely leak toxic tar sands oil over precious farmland and critical aquifers in the heart of our nation. The proposed pipeline has been described as "game over" for the climate by NASA scientist James Hansen.
"Hundreds of Ohioans travelled to Washington, DC, to stop the dangerous Keystone XL tar sands pipeline. Now Boehner is trying to push it through despite mass opposition from his constituents—I'm fed up with politicians doing the bidding of their corporate benefactors," stated Sonnet Gabbard, a teacher and student at University of Cincinnati and an Occupy Cincinnati protester who joined the action.
Boehner announced on Dec. 6, that he was willing to go "to war" over an amendment that would force through the proposed pipeline despite widespread safety concerns and popular outrage.
"The House brings shame on itself when it's members take tens of millions in Big Oil money and then do the industry's bidding. Keystone XL creates no net jobs and pours carbon into the atmosphere—that's why millions across the country opposed it," said Bill McKibben, founder of 350.org, "It's only beneficiaries are the fossil fuel industry and the politicians they support."
This rally is the latest in a months long national grassroots uprising in response to the proposed Keystone XL tar sands Pipeline. The campaign kicked off in August with a two week protest that resulted in more than 1,200 arrests, and in November an event where 10,000 people circled the White House that resulted in President Barack Obama delaying his decision on the pipeline, a move analysts say killed the project.
For more information, visit the Tar Sands Action website by clicking here.
EcoWatch Daily Newsletter
A new study shows that half of all Arctic warming and corresponding sea-loss during the late 20th century was caused by ozone-depleting substances. Here, icebergs discharged from Greenland's Jakobshavn Glacier. Kevin Krajick / Earth Institute /
EurekAlert!
The world awakened to the hole in the ozone layer in 1985, which scientists attributed it to ozone depleting substances. Two years later, in Montreal, the world agreed to ban the halogen compounds causing the massive hole over Antarctica. Research now shows that those chemicals didn't just cut a hole in the ozone layer, they also warmed up the Arctic.
Diane Wilson holds up a bag full of nurdles she collected from one of Formosa's outfall areas on Jan. 15. Julie Dermansky / DeSmogBlog
On the afternoon of Jan. 15, activist Diane Wilson kicked off a San Antonio Estuary Waterkeeper meeting on the side of the road across from a Formosa plastics manufacturing plant in Point Comfort, Texas.
After Wilson and the waterkeeper successfully sued Formosa in 2017, the company agreed to no longer release even one of the tiny plastic pellets known as nurdles into the region's waterways. The group of volunteers had assembled that day to check whether the plant was still discharging these raw materials of plastics manufacturing.
Malaysian Environment Minister Yeo Bee Yin (front 2nd L) and officials inspect a container containing plastic waste shipment on Jan. 20, 2020 before sending back to the countries of origin. AFP via Getty Images
The Southeast Asian country Malaysia has sent 150 shipping containers packed with plastic waste back to 13 wealthy countries, putting the world on notice that it will not be the world's garbage dump, as CNN reported. The countries receiving their trash back include the United States, the United Kingdom, France and Canada.
Trump leaves after delivering a speech at the Congress Centre during the World Economic Forum annual meeting in Davos on Jan. 21, 2020. JIM WATSON / AFP via Getty Images