This website uses cookies to ensure you get the best experience while browsing it. By clicking 'Got It' you're accepting these terms.
Ohioans Demand Fracking Moratorium at Ohio Statehouse Rally
Jan. 10, 2012 02:17PM EST
Energy
On Jan. 10, more than 250 Ohioans assembled on the west lawn of the Ohio Statehouse to voice their opposition to hydraulic fracturing—better known as fracking—and deep injection wastewater disposal wells.
Leading the charge was State Rep. Robert Hagan (D-Youngstown), who last week called on Gov. John Kasich (R-OH) in a letter to implement an indefinite moratorium on D&L Energy's deep injection wells in Youngstown, Ohio, which has been rocked 11 times in the past nine months by earthquakes. Seismic surveys have corroborated that the two most recent earthquakes—on Christmas Eve and a 4.0 magnitude quake on New Year's Eve—had epicenters near D&L's deep injection wells.
Rep. Hagan called on Gov. Kasich to institute a moratorium on all deep injection wells within a five mile radius of the Youngstown site until Ohioans can be guaranteed that no correlation exists between the disposal wells and danger to the natural environment or human health.
"The people of Ohio and the people of the Mahoning Valley need answers from our government officials," said Rep. Hagan. "We need to know why over half of the toxic frack water we are blasting into Ohio lands is coming from Pennsylvania. We need to know why there is such a rush to dump this waste in Ohio. And we need to know why it took ten earthquakes in ten months for anyone in the Kasich administration to wake up and respond to calls for a moratorium on these wells. We never had an earthquake in Youngstown until John Kasich was elected governor."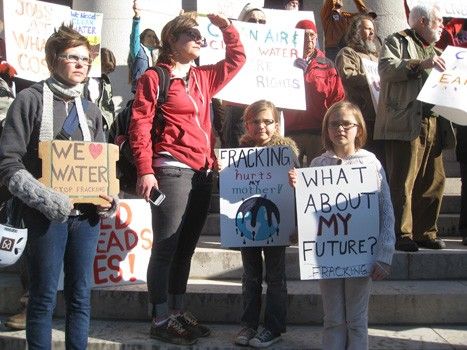 "What has occurred in the Mahoning Valley is deeply troubling," said State Rep. Tracy Heard (D-26). "It's evidently clear we must take a step back and examine fracking, not only the process but its potential impacts to our environment both long-term and short-term. I stand ready to work with my colleagues to find a solution that will protect the citizens of Ohio and our environment."
"Creating jobs at the expense of human health and the environment is not sustainable," said Stefanie Penn Spear, executive director of EcoWatch. "Ohio needs to bring back the incentives for renewable energy projects that support Ohio's energy bill SB 221. Investment in renewable energy will create green jobs, revitalize our strong manufacturing base and provide long-term solutions to our energy needs without contaminating our drinking water, polluting our air, displacing communities and making people sick."
Other speakers at today's event included:
State Rep. Nickie J. Antonio (D-Lakewood)
State Rep. Denise Driehaus (D-Cincinnati)
State Rep. Mike Foley (D-Cleveland)
State Rep. Teresa Fedor (D-47)
Ohio State Senator Mike Skindell (D-Lakewood)
Ohio State Senator Charleta Tavares (D-Columbus)
Today's speakers called on Gov. Kasich to protect the environment and public health by passing SB 213/HB 345, which would impose a moratorium on fracking permits and wastewater disposal injection wells. Currently, Ohio is home to 177 deep injection well sites.
The protest was organized by NO FRACK OHIO, a collaboration of more than 50 grassroots and conservation groups calling for further safeguards on horizontal hydraulic fracturing.
To view more photos of today's rally on Facebook, click here.
Visit our fracking page to keep up-to-date on fracking issues worldwide.
EcoWatch Daily Newsletter
Artist's conception of solar islands in the open ocean. PNAS
Millions of solar panels clustered together to form an island could convert carbon dioxide in seawater into methanol, which can fuel airplanes and trucks, according to new research from Norway and Switzerland and published in the Proceedings of the National Academy of Sciences journal, PNAS, as NBC News reported. The floating islands could drastically reduce greenhouse gas emissions and dependence on fossil fuels.
Marcos Alves / Moment Open / Getty Images
More than 40 percent of insects could go extinct globally in the next few decades. So why did the U.S. Environmental Protection Agency (EPA) last week OK the 'emergency' use of the bee-killing pesticide sulfoxaflor on 13.9 million acres?
EcoWatch teamed up with Center for Biological Diversity via EcoWatch Live on Facebook to find out why. Environmental Health Director and Senior Attorney Lori Ann Burd explained how there is a loophole in the The Federal Insecticide, Fungicide, and Rodenticide Act under section 18, "that allows for entities and states to request emergency exemptions to spraying pesticides where they otherwise wouldn't be allowed to spray."
Simple swaps that cut down on kitchen trash.
Sponsored
By Kayla Robbins
Along with the bathroom, the kitchen is one of the most daunting areas to try and make zero waste.
View of downtown Miami, Florida from Hobie Island on Feb. 2, 2019.
Michael Muraz / Flickr
The Democratic candidates for president descended upon Miami for a two-night debate on Wednesday and Thursday. Any candidate hoping to carry the state will have to make the climate crisis central to their campaign, as The New York Times reported.
By Sharon Kelly
On Monday, the Wall Street Journal featured a profile of Scott Sheffield, CEO of Pioneer Natural Resources, whose company is known among investors for its emphasis on drawing oil and gas from the Permian basin in Texas using horizontal drilling and hydraulic fracturing, or fracking.
Pexels
By Craig K. Chandler
The federal government has available to it, should it choose to use them, a wide range of potential climate change management tools, going well beyond the traditional pollution control regulatory options. And, in some cases (not all), without new legislative authorization.
Denis Poroy / Getty Images
By Dan Gray
Processed foods, in their many delicious forms, are an American favorite.
But new research shows that despite increasing evidence on just how unhealthy processed foods are, Americans have continued to eat the products at the same rate.
By Sarah Steffen
With a profound understanding of their environmental surroundings, indigenous communities around the world are often cited as being pivotal to tackling climate change.