This website uses cookies to ensure you get the best experience while browsing it. By clicking 'Got It' you're accepting these terms.
Ohio Town Votes Against Fracking Ban For Third Time in a Year
May. 07, 2014 11:02AM EST
Fracking
Some things are always worth fighting for, especially clean air and water.
Those fights can be tough, too, particularly when your own city and its residents refuse to let go of a profitable but dangerous practice like fracking. For the third time in the past year, voters in Youngstown, OH voted against a fracking ban.
Voters there struck down the ban by 8.5 percentage points, according to results from the Mahoning County Board of Elections.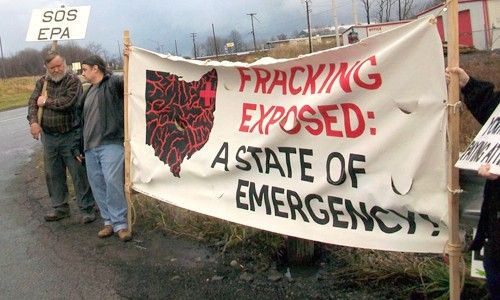 The members of the Community Bill of Rights Committee that led the fight were disappointed, but not beaten down. They're not sure if the fourth time will be a charm, but the members will make a future return to the ballot.
"We'll put it on again," committee member Susie Beiersdorfer told the Youngstown Vindicator. "It doesn't matter how many times we have to fight for our inalienable rights to clean water and clean air."
The committee could be enthused by gradual improvements each time its measure hits the ballot. The ban lost by 13.7 percent in May 2013 and by 9.7 percentage points in November.
"This is not going to stop," Lynn Anderson, another committee member, said. "It will keep going until it's passed. It will keep going. This is not over."
Predictably, the Ohio Oil and Gas Association has no interest in dragging this out any further.
"It is time to move past this debate and get back to the business at hand, which is making sure the hardworking folks in Youngstown continue to have economic opportunities being brought forward by shale development," Ohio Oil and Gas Association spokesman Mike Chadsey said. "They sure are wasting a lot of people's time and money."
John A. McNally, the city's mayor, viewed the ban purely as a "job killer," as opposed to a way to clean up his town's environment. He added that he didn't think the ban would have been enforceable any way because the Ohio Department of Natural Resources controls fracking in the state.
Campaign also played a role in the loss. The Vindicator found that the local Plumbers and Pipefitters union spent nearly $35,000 more than the committee pushing for a fracking ban, as of April 16.
Fracking bans have been much more successful on the West Coast. Beverly Hills became the first city in its state to pass an official ban, while Los Angeles approved a fracking moratorium a couple months earlier.
A ban was also passed this year in Fort Collins, CO.
Just a month ago, a coalition of local, statewide and national groups against fracking gathered at the Ohio Statehouse for "Don't Waste Ohio" Legislator Accountability Day.
[blackoutgallery id="329210"]
——–
YOU ALSO MIGHT LIKE
Did Fracking Cause Earthquakes in Ohio?
Los Angeles Passes Fracking Moratorium
Ohio Legislation Introduced to Ban Fracking Waste Injection Wells
——–
EcoWatch Daily Newsletter
Colombia rainforest. Marcel Oosterwijk / CC BY-SA 2.0
Many of us think of the Amazon as an untouched wilderness, but people have been thriving in these diverse environments for millennia. Due to this long history, the knowledge that Indigenous and forest communities pass between generations about plants, animals and forest ecology is incredibly rich and detailed and easily dwarfs that of any expert.
picture-alliance / Newscom / R. Ben Ari
By Wesley Rahn
Plastic byproducts were found in 97 percent of blood and urine samples from 2,500 children tested between 2014 and 2017, according to a study by the German Environment Ministry and the Robert Koch Institute.

Pexels
Medically reviewed by Daniel Bubnis, MS, NASM-CPT, NASE Level II-CSS
Hot yoga has become a popular exercise in recent years. It offers many of the same benefits as traditional yoga, such as stress reduction, improved strength, and flexibility.
Lara Hata / iStock / Getty Images
By SaVanna Shoemaker, MS, RDN, LD
Rice is a staple in many people's diets. It's filling, inexpensive, and a great mild-tasting addition to flavorful dishes.
An image of the trans-alaskan oil pipeline that carries oil from the northern part of Alaska all the way to valdez. This shot is right near the arctic national wildlife refuge. kyletperry / iStock / Getty Images Plus
The Trump administration has initialized the final steps to open up nearly 1.6 million acres of the protected Alaskan National Wildlife Refuge to allow oil and gas drilling.
Kaboompics / Pexels
Tensions between lawmakers and several large manufacturing companies came to a head on Capitol Hill this week during a hearing on toxic fluorochemicals in U.S. drinking water.