Ohio Town Votes Against Fracking Ban For Third Time in a Year
Some things are always worth fighting for, especially clean air and water.
Those fights can be tough, too, particularly when your own city and its residents refuse to let go of a profitable but dangerous practice like fracking. For the third time in the past year, voters in Youngstown, OH voted against a fracking ban.
Voters there struck down the ban by 8.5 percentage points, according to results from the Mahoning County Board of Elections.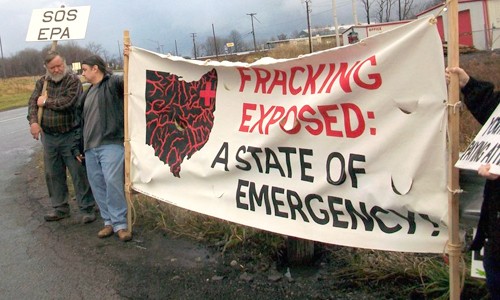 The members of the Community Bill of Rights Committee that led the fight were disappointed, but not beaten down. They're not sure if the fourth time will be a charm, but the members will make a future return to the ballot.
"We'll put it on again," committee member Susie Beiersdorfer told the Youngstown Vindicator. "It doesn't matter how many times we have to fight for our inalienable rights to clean water and clean air."
The committee could be enthused by gradual improvements each time its measure hits the ballot. The ban lost by 13.7 percent in May 2013 and by 9.7 percentage points in November.
"This is not going to stop," Lynn Anderson, another committee member, said. "It will keep going until it's passed. It will keep going. This is not over."
Predictably, the Ohio Oil and Gas Association has no interest in dragging this out any further.
"It is time to move past this debate and get back to the business at hand, which is making sure the hardworking folks in Youngstown continue to have economic opportunities being brought forward by shale development," Ohio Oil and Gas Association spokesman Mike Chadsey said. "They sure are wasting a lot of people's time and money."
John A. McNally, the city's mayor, viewed the ban purely as a "job killer," as opposed to a way to clean up his town's environment. He added that he didn't think the ban would have been enforceable any way because the Ohio Department of Natural Resources controls fracking in the state.
Campaign also played a role in the loss. The Vindicator found that the local Plumbers and Pipefitters union spent nearly $35,000 more than the committee pushing for a fracking ban, as of April 16.
Fracking bans have been much more successful on the West Coast. Beverly Hills became the first city in its state to pass an official ban, while Los Angeles approved a fracking moratorium a couple months earlier.
A ban was also passed this year in Fort Collins, CO.
Just a month ago, a coalition of local, statewide and national groups against fracking gathered at the Ohio Statehouse for "Don't Waste Ohio" Legislator Accountability Day.
[blackoutgallery id="329210"]
——–
YOU ALSO MIGHT LIKE
Did Fracking Cause Earthquakes in Ohio?
Los Angeles Passes Fracking Moratorium
Ohio Legislation Introduced to Ban Fracking Waste Injection Wells
——–
Glyphosate, the main ingredient in Monsanto's widely used herbicide Roundup, will be added July 7 to California's list of chemicals known to the state to cause cancer, according to a Reuters report Tuesday. This news comes after the company's unsuccessful attempt to block the listing in trial court and requests for stay were denied by a state appellate court and California's Supreme Court.
California's Office of Environmental Health Hazard Assessment (OEHHA) announced the designation on Monday under the Safe Drinking Water and Toxic Enforcement Act of 1986, or Proposition 65.
Keep reading...
Show less
www.facebook.com
Keep reading...
Show less
Researchers from the Marine Animal Response Society examine one of the dead right whales. Marine Animal Response Society
Canadian government officials and marine biologists are investigating the mysterious deaths of six North American right whales. The endangered animals all turned up dead between June 6 and June 23 in the Gulf of St. Lawrence, off Canada's southeastern coast.
North Atlantic right whales are the rarest of all large whale species and among the rarest of all marine mammal species, with only about 450 right whales in the North Atlantic.
Keep reading...
Show less
Scott Pruitt testifies during his Senate confirmation hearing for EPA administrator, January 2017.
The U.S. Environmental Protection Agency's (EPA) chief of staff pressured the leader of its Board of Scientific Counselors to change her congressional testimony to downplay the impact of the agency's mass dismissal of scientists from the board, the New York Times reports.
Keep reading...
Show less
By Jason Mark
Sequoiadendron giganteum. That's the scientific name for the giant sequoia: the mammoth trees found in California's Sierra Nevada that are the largest organisms on Earth, and among the longest-lived. Biologists estimate that about half of all sequoias live in Giant Sequoia National Monument, a 328,000-acre preserve in the Southern Sierra Nevada established by President Clinton in 2000.
Now that national monument is in jeopardy.
Keep reading...
Show less
By Andy Rowell
Donald Trump this week is launching an "energy week," pushing the argument that the U.S. will become a net exporter of oil and gas.
The president and his cronies are talking about a new era of "U.S. energy dominance," which could stretch for decades to come. However, no one believes the president anymore.
Keep reading...
Show less
UN
By Colleen Curry
The United Nations has designated 23 new sites around the world to its World Network of Biosphere reserves—stunning natural landscapes that balance environmental and human concerns and strive for sustainability.
The forests, beaches and waterways were added to the list this year at the International Coordinating Council of the Man and the Biosphere Programme meeting in Paris earlier this month.
Keep reading...
Show less
Jun. 26, 2017 01:48PM EST
www.elysee.fr
By Andy Rowell
There is a growing feeling within European capitals that a quiet, but deeply positive, revolution is happening under Emmanuel Macron in France.
Macron's opinion poll rating is high, especially boosted in how the young French president has reacted to Donald Trump on the international stage.
Keep reading...
Show less
Jun. 26, 2017 12:32PM EST
www.facebook.com
Keep reading...
Show less