This website uses cookies to ensure you get the best experience while browsing it. By clicking 'Got It' you're accepting these terms.
Ohio Department of Natural Resources Waters Down Fracking Regulations for Oil and Gas Drillers
May. 21, 2012 11:25AM EST
Energy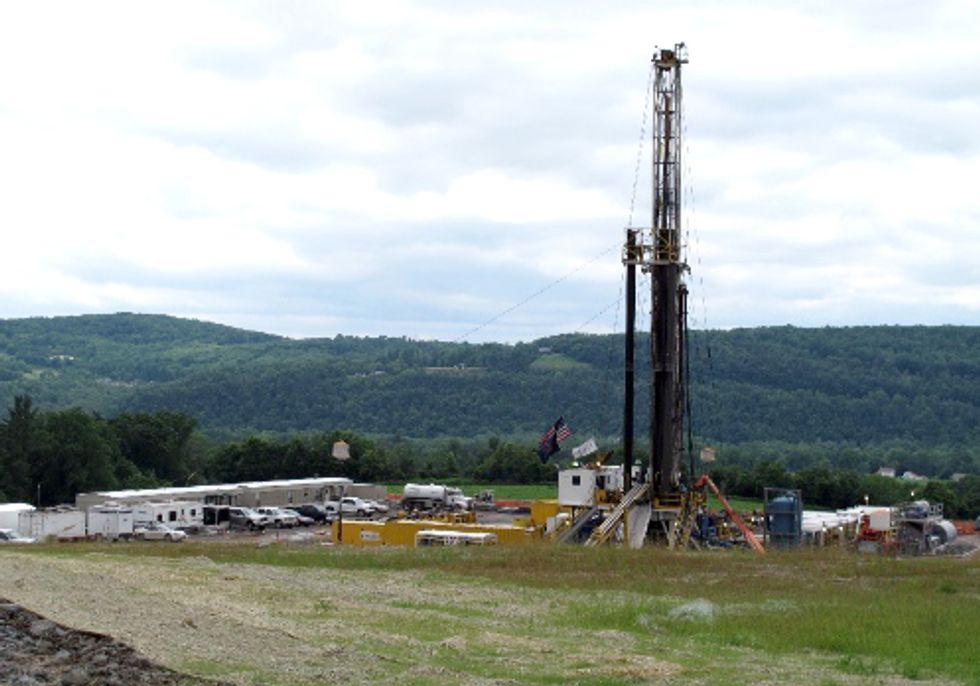 Ohio Gov. John Kasich's once promising energy plan has emerged from the Ohio Senate worse for wear. And part of the wear was requested by his own Ohio Department of Natural Resources (ODNR), according to news reports.
As the plan nears a final vote in the next few days, Ohio environmental leaders are troubled by several changes made—and some provisions left unchanged—by the Ohio Senate and even more rumored to be in the offing in the Ohio House.
"Credit Gov. Kasich for the many good improvements to Ohio's oil and gas law that remain in his energy plan. But those good provisions will struggle to buffer the toxic loopholes, lapses and left-outs that the oil and gas industry has succeeded in elbowing into the bill," said Trent Dougherty, staff attorney and director of Legal Affairs for the Ohio Environmental Council.
Item: While the Senate retained most of the governor's proposals to tighten regulations on oil and gas drilling—and actually added a positive provision to make every day a driller is in violation of the law a new offense—it amended the bill to strip the right of affected persons to appeal an oil and gas drilling permit issued by the Ohio DNR. According to a report in Saturday's Columbus Dispatch, the bill's Senate sponsor said the ODNR asked the Senate to amend the bill to deny appeals for anyone other than the drilling company that applied for a permit. The Senate blocked the effort of minority Senate Democrats to maintain appeal rights. If the Senate change is approved, drilling permits would possibly be the only permit issued by ODNR or Ohio Environmental Protection Agency (EPA) that cannot be appealed by the public or a property owner.
Item: The governor's proposal to force drillers to report more of the chemicals used in fracking unwittingly may be interpreted to gag physicians from sharing such information with public health officials and medical researchers. Such information could be vital to help identify, control or prevent future exposures and related injury or illness. At best, the bill's language is innocently ambiguous; at worst, it is intended to block almost everyone's access to vital information, other than those medical professionals directly involved in a victim's care.
Item: The Senate also dealt a setback to the development of wind and other green energy resources. Senators added a provision that allows certain university-sponsored projects that use coal or other fossil fuels to qualify as a renewable energy source and earn tradeable credits. The Senate amendment may be a gift to universities, but it erodes a compromise struck by the Senate to not qualify similar projects by a private developer for renewable energy credits. The university amendment could slow or stop altogether some wind energy projects that could not could not compete with cheaper, college-backed combined heat and power projects.
Item: The Senate approved the governor's request to exclude from Ohio Power Siting Board oversight the construction of gas gathering lines (of up to 9 inches in diameter and up to 125 psi pressure), processing facilities, natural gas liquid finished products lines, natural gas liquids fractionation plants and stub lines (of up to 5 miles in length). The bill also allows for an accelerated review of requests to build  gas pipelines of up to 5 miles in length. The change will leave communities with little comprehensive oversight and little opportunity for public review or comment, especially when a utility company proposes to use eminent domain to acquire right-of-way for a project that now will no longer need a Power Siting Board construction certificate.
Item: Informed sources believe that Halliburton may ask the House to further amend the disclosure provision to block the right of the public to challenge a driller's claim that a certain chemical is a trade secret. Under Ohio's trade secrets law, companies have the right to shield from public view chemical formulas that are deemed proprietary—unless a court rules otherwise. Stripping the right of the public to appeal secrecy claims in court could invite drillers to make broad claims of trade secrecy, depriving the public of important information.
Prospects for a turnaround in these concerns appear bleak. The Ohio House is rushing the 197-page bill to a floor vote after only two weeks of hearings (the Senate dedicated eight weeks) as lawmakers scramble to wind up business before Memorial Day and their summer recess.
"This bill waters down the state's renewable energy standard, and fails to go far enough to regulate fracking," said Jed Thorp with the Ohio Sierra Club. "Once again, special interests get their way at the expense of the public."
At a press conference staged a block from the Statehouse this morning, environmental leaders vowed to fight on with a range of proposals. The Ohio Environmental Council and Sierra Club pushing for common-sense amendments to salvage the bill to Environment Ohio and Buckeye Forest Council urging that the bill be altogether scrapped.
"Anyone that has notions that this bill is about protecting public health and the environment should forget it," said Environment Ohio Policy Advocate Julian Boggs. "As it stands, the bill does more harm than good by giving over more power and control to the polluting industries themselves—including placing a gag order on doctors to alert the public about toxic threats in their communities—and by undermining the state's successful renewable energy and energy efficiency policies. The legislature ought to scrap this bill and start over, and legislators who value the environment and public health ought to oppose it."
Other groups present still held out hope for improvements to the bill. The Ohio Environmental Council and the Sierra Club unveiled a dozen amendments they are asking the House to approve. According to the two groups, their package of amendment proposals would:
Protect the right to know about and access information
1. Ensure the public's right to know, comment on, and appeal all oil and gas permits.
Give aggrieved persons the right to appeal an oil and gas permit
Require the Chief of ODNR Division of Oil and Gas Resources Management to post permit applications on the Division's website
Give the public the right to public notice and the right to submit comments
Require the Chief to consider and respond to all substantive comments
2. Ensure public health officials and medical researchers can access information about victim exposures to harmful chemicals related to oil and gas activities. Close potential loopholes that could let drillers, suppliers and contractors off the hook from disclosing all chemicals used in drilling.
Require the well owner to provide the Chief with a list of all chemicals the well owner claims is exempt for disclosure under Ohio's Trade Secrets Act
Consistent with Ohio's Trade Secrets Act, authorize any person to challenge any claim for trade secrecy
Consistent with Ohio's Trade Secrets Act, specify that no trade secrecy protection shall exist against the disclosure of chemicals, should the Ohio Attorney General or a court of proper jurisdiction determine that the chemical is not a trade secret
Specify that should the Attorney General or a court of proper jurisdiction determine that a chemical is not entitled to trade secrecy, then the well owner must immediately disclose the identity of the chemical to the ODNR
Require the oil and gas well owner as well as suppliers and contractors to disclose all required chemical information
3. Ensure easy public access to all state records on oil and gas incidents, reports, inspections and violations. Require ODNR to post this information on its website.
Protect the air, land, and water
4. Protect drinking water, headwater streams, floodplains, rivers and reservoirs
Prohibit drill pads within public water well fields and floodplains
Require the driller to identify, to the best of their knowledge, the location of any public water wellhead protection areas, sole source aquifers, and headwater stream where they may propose to drill
Require the Chief to certify that water withdrawals for oil and gas will not harm water use for agriculture, public consumption or in-stream wildlife
Require drillers to develop a plan to recycle or otherwise reduce the production of wastewater
Prohibit the use of waste pits, allowing only the use of steel tanks or other closed- loop system
5. Protect private water wells
For proposed vertical oil and gas wells, extend the minimum water sampling distance to 500 feet and apply it to both urban and rural areas
For proposed horizontal oil and gas wells, extend the minimum water sampling distance to 3,000 feet. (The ODNR has proposed to test wells up to 3,000 feet in its state lands oil and gas lease—this should be standard for public as well as private land.)
Strengthen the Chief's authority to revise the sampling distance
Require oil and gas owners to pay for post-oil and gas water well sampling.
6. Protect air quality
Require the Ohio EPA to finish the job and establish air emission controls on all phases of oil and gas production operation. The OEPA's new rule only controls
 Raise the bar at ODNR
7. Require state oil and gas rules be at least as stringent as industry standards
8. Ensure proper ODNR regulatory oversight of production well casings and injection well disposal sites
Require the Chief to certify that well casings are properly installed
Require the Chief to certify that waste disposal sites are safe
9. Require ODNR to shut down a well that poses an imminent threat to public health or safety
Respect the rights of private property owners and the public
10. Establish a Private Property Owners Bill of Rights
Require "land professionals" or "landmen" to register, meet minimum qualifications, disclose income sources and be licensed by the state
Establish property owners' rights to:
—A 10-day "cooling off period," enabling them to cancel a lease
—Audit a company's performance record
—Immediate notice if the lessee assigns or transfers a lease or mineral rights
11. Protect property owners from pipeline proliferation and utility company use of eminent domain
Maintain Ohio Power Siting Board oversight over granting construction certificates over these facilities
12. Ensure public accountability and representation on the Ohio Oil and Gas Commission
Amend the law to assure that the public representative to the Ohio Oil and Gas Commission has no allegiance to anyone other than the public
Expressly prohibit the public member of the Ohio Oil and Gas Commission from having any financial interest in the oil and gas industry
 Senate Bill 315 was introduced in the Senate on March 22. Following eight weeks of hearings, the Senate passed the bill, 27-6 on May 15.
The Ohio House Public Utilities Committee has scheduled the following hearings on Ohio Senate Bill 315—the governor's Energy Plan (Ohio Senate Bill 315):
Monday, May 21, beginning at 10 a.m. to listen to additional testimony
Tuesday, May 22, beginning at 11:15  a.m. and continuing in the afternoon following House session to listen to additional testimony and consider amendments and a possible vote on the bill
If Needed: Wednesday, May 23, beginning at 10 a.m. to consider amendments and a possible vote on the bill. No testimony.
"State regulators expect more than 2,000 shale wells to be fracked in the next three years in Ohio. But lawmakers may be leaving only 72 more hours to get the protections right," said the OEC's Dougherty. "Our lawmakers should take their time, because Ohio still doesn't have adequate safeguards in place. Not by a long shot."
For more information, click here.
EcoWatch Daily Newsletter
The Ernest N. Morial Convention Center in New Orleans, Louisiana has been converted to a 1,000-bed field hospital for coronavirus patients to alleviate stress on local hospitals. Chris Graythen / Getty Images
An area in Louisiana whose predominantly black and brown residents are hard-hit by health problems from industry overdevelopment is experiencing one of the highest death rates from coronavirus of any county in the United States.
A woman lies in bed with the flu. marka/Universal Images Group via Getty Images
A central player in the fight against the novel coronavirus is our immune system. It protects us against the invader and can even be helpful for its therapy. But sometimes it can turn against us.
Several flower species, including the orchid, can recover quickly from severe injury, scientists have found. cunfek / iStock / Getty Images Plus
Calling someone a delicate flower may not sting like it used to, according to new research. Scientists have found that many delicate flowers are actually remarkably hearty and able to bounce back from severe injury.
A Boeing 727 flies over approach lights with a trail of black-smoke from the engines on April 9, 2018. aviation-images.com / Universal Images Group via Getty Images
With global air travel at a near standstill, the airline industry is looking to rewrite the rules it agreed to tackle global emissions. The Guardian reports that the airline is billing it as a matter of survival, while environmental activists are accusing the industry of trying to dodge their obligations.
A National Guard member works on election day at a polling location on April 7, 2020 in Madison, Wisconsin. Andy Manis / Getty Images.
ByJulia Baumel
The outbreak of COVID-19 across the U.S. has touched every facet of our society, and our democracy has been no exception.