This website uses cookies to ensure you get the best experience while browsing it. By clicking 'Got It' you're accepting these terms.
Ohio Becomes First State to Roll Back Renewable Energy Mandate
May. 28, 2014 05:02PM EST
Business
Ohio Gov. John Kasich said two years ago that he had "no doubt" that the renewable energy bill he signed would last 100 years. After a state House of Representatives vote Wednesday afternoon, that appears unlikely.
The state House approved Senate Bill 310, 53 to 38, making Ohio the first in the U.S. to freeze renewable energy standards. The bill previously passed the Senate, but now the Senate needs to approve minor changes made by the House, and then the measure heads to Gov. John Kasich's desk.
The Columbus Dispatch reported Thursday that Kasich plans to sign the bill.
"As the rest of the country is moving forward on energy efficiency and independence, Ohio is moving backwards," State Rep. Robert F. Hagan (D-Youngstown) said in a statement. "Reversing our Renewable Portfolio Standards is completely irrational, and unfortunately Ohio consumers and businesses are the victims of the absurdity."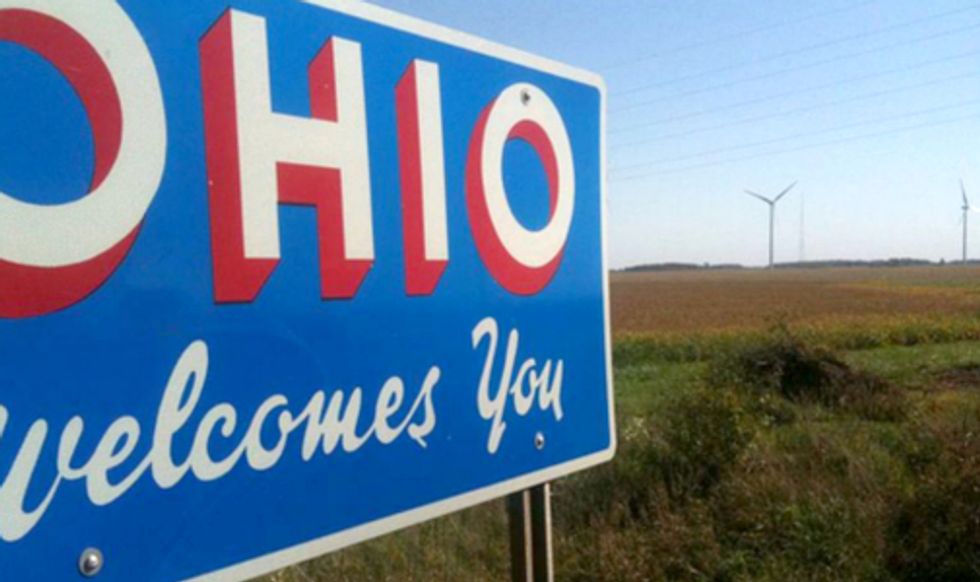 In addition to the freeze, it ceases to require utilities to buy half of their renewable energy from Ohio companies. That's why many groups believe the legislation to be a job killer for the industry. According to the Columbus Dispatch, State Rep. Mike Foley (D-Cleveland) believes SB 310 was the worst proposal he has seen in eight years as a legislator.
Some environmental groups are still holding out hope that Kasich will veto the bill. However, they should recall Media Matters for America unearthing an unsettling fact earlier this month—Kasich is recognized in the American Legislative Exchange Council's (ALEC) internal talking points as someone who "helped mold ALEC in its formative years." ALEC has attacked renewable standards in states across the country.
"Clean energy critics claim Ohio can no longer afford the clean energy standards. But that's not what they said just two years ago when lawmakers overwhelmingly approved the Kasich energy plan," Trish Demeter, managing director of Energy and Clean Air Programs for the Ohio Environmental Council, said in a statement. "What's changed in two short years? More importantly, has Governor Kasich's commitment to clean energy changed?
"Now is the time for him to demonstrate the forceful leadership that he not been afraid to exert on other issues."
Some think the answer to Demeter's question lies in several Ohio legislators' affiliation to ALEC. Aside from Kasich's ties, Ohio Sen. Bill Seitz (R-Cincinnati) is known as the legislation's loudest advocate and is also an ALEC board member, for example.
"Passage of SB 310 threatens Ohio jobs and potential future investment in green technology," Hagan said. "We are on the precipice of destroying our environment and climate.
"Instead of clinging to outdated modes of energy generation, the legislature needs to focus on securing our state's energy future."
The American Wind Energy Association made a late push Wednesday for people to call their representatives in hopes that they would vote against SB 310. Now, the group hopes those constituents can influence Kasich.
"Much of the impressive growth of wind power in Ohio was sparked by our state renewable energy law—the Alternative Energy Portfolio Standard. This policy calls on Ohio utilities to provide 12.5 percent of their electricity from renewable resources by 2025," the organization wrote.
Earlier this year, Iberdrola Renewables presented $2.7 million worth of checks to two Ohio communities to commemorate the first of the annual payments in lieu of taxes for the Blue Creek Wind Farm—the state's largest wind farm with 304 megawatts of output. Groups believe such investments will come to a halt as a result of Wednesday's vote.
"Governor Kasich has a critical choice to make: Back or bail on his own energy policy that embraces many different resources," Demeter said. "Cleaner air, consumer savings and new jobs and investment are hanging on his decision."
——–
YOU ALSO MIGHT LIKE
Ohio's Green Energy Success Stories Prove Renewable Energy Policies Work to Stimulate Economy, Reduce Pollution
Wind Energy Provides $2.7 Million Tax Windfall for Two Communities
Ohio Newspapers Remain Silent on ALEC as Group Influences State Senate's Anti-Renewable Legislation
——–
EcoWatch Daily Newsletter
Hospital workers applaud during a tribute to the essential health care workers at Hospital Universitario de Mostoles in Mostoles, Spain on March 27, 2020. Legan P. Mace / SOPA Images / LightRocket via Getty Images
Essential farm workers continue to work as Florida agriculture industry struggles during coronavirus pandemic. Joe Raedle / Getty Images.
By Liz Carlisle
This opinion piece was originally published by Yes! Magazine on March 30, 2020.
As the coronavirus crisis has laid bare, the U.S. urgently needs a strategic plan for farmland. The very lands we need to ensure community food security and resilience in the face of crises like this pandemic and climate change are currently being paved over, planted to chemically raised feed grains for factory farm animals, and acquired by institutional investors and speculators. For far too long, the fate of farmlands has flown under the radar of public dialogue—but a powerful new proposal from think tank Data for Progress lays out how a national strategic plan for farmland could help boost economic recovery while putting the U.S. on a path to carbon neutrality.
A worker with nonprofit organization Martha's Table loads bags of fresh produce to distribute to people in need during the novel coronavirus outbreak on April 1, 2020 in Washington, DC. Chip Somodevilla / Getty Images
By Shawn Radcliffe
The CDC recommends that all people wear cloth face masks in public places where it's difficult to maintain a 6-foot distance from others. This will help slow the spread of the virus from people without symptoms or people who do not know they have contracted the virus. Cloth face masks should be worn while continuing to practice social distancing. Instructions for making masks at home can be found here. Note: It's critical to reserve surgical masks and N95 respirators for healthcare workers.
The CDC has emphasized that washing hands with soap and water is one of the most effective ways to prevent the spread of COVID-19. Guido Mieth / Moment / Getty Images
The Centers for Disease Control has emphasized that washing hands with soap and water is one of the most effective measures we can take in preventing the spread of COVID-19. However, millions of Americans in some of the most vulnerable communities face the prospect of having their water shut off during the lockdowns, according to The Guardian.