This website uses cookies to ensure you get the best experience while browsing it. By clicking 'Got It' you're accepting these terms.
Obama's Trade Deals Could Overturn New York's Fracking Ban and Accelerate Climate Change
Mar. 26, 2015 09:17AM EST
Climate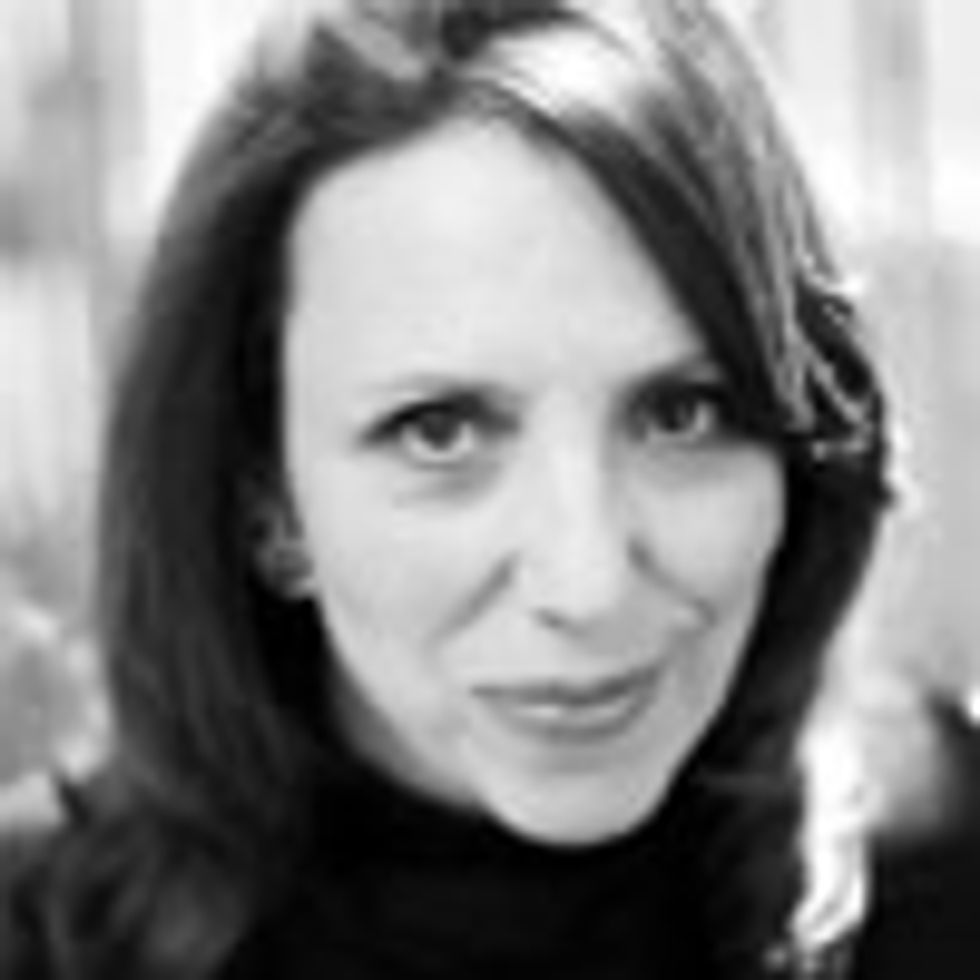 Thanks to a recent Wikileaks' leak, certain truly onerous provisions of President Obama's secret trade deals are no longer secret. As reported this week in the New York Times, the Transpacific Partnership (TPP) would "grant broad powers to multinational companies operating in North America, South America and Asia. Under the accord, still under negotiation but nearing completion, companies and investors would be empowered to challenge regulations, rules, government actions and court rulings—federal, state or local—before tribunals organized under the World Bank or the United Nations."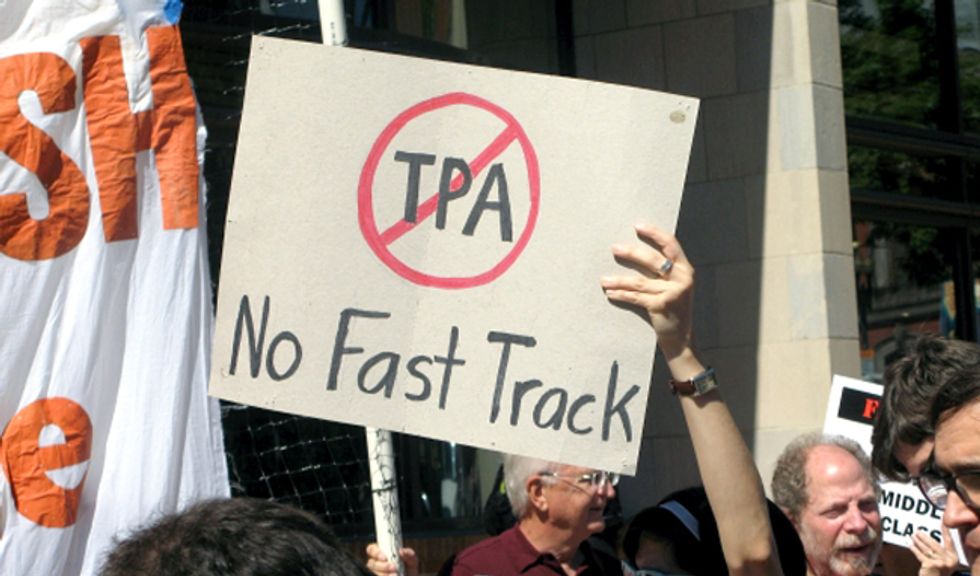 As terrible as this sounds for the rule of law, and democracy, it's even worse. Long-time consumer advocate, Ralph Nader describes how the Investor State Tribunals would work:
Suppose that Brazil sues the U.S. and says "your food labeling laws are too restrictive and they are keeping out our exports to your country." Then we send our Attorney General to Geneva before the Tribunal. There can be no press, no public disclosure of what happens behind closed doors. If we lose, as we almost certainly will, there is no independent appeal. It circumvents our courts, legislative and regulations. Foreign corporations can take our food, health and safety protections and bring us before these tribunals and if they lose, we pay millions of dollars in compensation.
https://www.mixcloud.com/Popular_Resistance/national-fast-track-resistance-call-1-with-ralph-nader/
The cases are argued, tried and judged by a small, revolving group of elite corporate attorneys, taking turns playing the role of judge and prosecutor. The potential for conflicts of interest and secret handshakes exceeds even the current regulatory revolving door, in which industry lawyers, officials and consultants move into key positions in public agencies, alter governmental regulations in industry's favor and then return to their bespoke industry.
Under the terms of the agreement, corporations would have the right to sue U.S. federal, state and local governments if regulations, laws or bans, for example, those protecting health or the environment, cause a reduction in the company's future profits. Nobel Prize winning economist, Joseph Stiglitz, told a group gathered in Queens, New York last month, that New York's fracking ban would be a likely candidate for a Tribunal suit, should these agreements be signed by the President.
If on the other hand, if fracking chemicals contaminated water aquifers, or if any corporation's products, actions or activities engendered economic loss to say, U.S. citizens or businesses—or damaged health, lives, property, communities or public goods, such as our air, water, food or Earth—there would be no avenue for redress or compensation. Ordinary citizens or businesses would have no standing to sue, says Nader. "It would be thrown out."
In other words, these are one-sided agreements with benefits flowing one way—to corporations, and unstoppable harm flowing the other way—towards the people and the Earth.
How Would the Trade Agreements Affect Climate Change and the Environment?
When Congress returns from its recess on April 11, it's projected that the Senate Finance Committee will bring to the floor Fast Track legislation to advance the trade deals.
Fast Track gives President Obama Trade Promotion Authority (TPA) to sign the TPP and the Transatlantic Trade and Investment Partnership (TTIP) without any further scrutiny, disclosure, debate or changes.
"Once passed, the TPP will unleash a gigantic explosion of trade in fossil fuels. Some of the biggest promoters of these deals are Chevron, Exxon, and BP," predicts William Waren, senior trade analyst for Friends of the Earth. Waren delineates the plans which companies and their elected officials are expectantly putting into place, awaiting the imminent Fast Tracking of the TPP:
Strip Mining Coal
"There are plans to use TPP to strip mine more climate destroying coal in the Wyoming Powder River basin, ship it by rail to ports in Oregon and Washington State, and put in huge vessels that threaten the wildlife and habitat of the Puget Sound," Waren says. "From there, the companies will ship it across the Pacific to China where they have an insatiable appetite for coal. In that way, the treaties would vastly increase the pace of climate change, but the CO2 emissions would be coming from China, rather than the U.S.."
Natural Gas and Oil Exports
"It's the same with natural gas and oil exports. The Keystone XL pipeline, if stopped, would likely become the basis for an Investor State Tribunal suit brought by Trans Canada," Waren notes. "Under the treaties, they could demand that they be compensated for money they expected to make in future."
"Congress stands ready to roll back the current limited regulation of liquefied natural gas, or LNG. It is even worse than coal because of the chemicals, and methane release," says Waren. "In the expectation of the Fast Tracking of the trade agreements, they are already rolling back those regulations. They will also roll back the ban on crude oil exploration to speed up the export of fossil fuels and cook the planet as a result."
Tar Sands
"Before the Atlantic deal has been signed, Michael Frohman pushed the European Union to roll back its fuel quality directive, because it put tar sands oil and other more dangerous fuel sources at a disadvantage in the export market," says Waren. "Although the EU directive is by no means a comprehensive approach to climate change, it's the best we have and instead of being rolled back, should be modeled around the world. Instead the U.S. demanded that they get rid of it right away to facilitate their trade talks.
"On the other hand," Waren points out that, "Europe has demanded that the U.S. step up fossil fuel production to compensate for the loss of Russian gas sources due to tensions in the Ukraine. This is a suicidal course, a stealthy but effective way for corporations to pursue climate denial."
YOU MIGHT ALSO LIKE
The Secret to a Carbon-Friendly Diet May Surprise You
Global Warming Is Slowing Ocean Currents Causing Dire Consequences, Warns Climate Expert Michael Mann
EcoWatch Daily Newsletter
By Jennifer Molidor, PhD
Climate change, habitat loss and pollution are overwhelming our planet. Thankfully, these enormous threats are being met by a bold new wave of environmental activism.
President Donald Trump mocked water-efficiency standards in new constructions last week. Trump said, "People are flushing toilets 10 times, 15 times, as opposed to once. They end up using more water. So, EPA is looking at that very strongly, at my suggestion." Trump asked the Environmental Protection Agency (EPA) for a federal review of those standards since, he claimed with no evidence, that they are making bathrooms unusable and wasting water, as NBC News reported.
(L) Rushing waters of Victoria Falls at Mosi-oa-Tunya National Park, Zimbabwe pictured in January 2018. Edwin Remsberg / VW PICS / UIG / Getty Images (R) Stark contrast of Victory Falls is seen on Nov. 13, 2019 after drought has caused a decline. ZINYANGE AUNTONY / AFP / Getty Images
Monsanto's former chairman and CEO Hugh Grant speaks about "The Coming Agricultural Revolution" on May 17, 2016.
Fortune Brainstorm E / Flickr
By Carey Gillam
Former Monsanto Chairman and CEO Hugh Grant will have to testify in person at a St. Louis-area trial set for January in litigation brought by a cancer-stricken woman who claims her disease was caused by exposure to the company's Roundup herbicide and that Monsanto covered up the risks instead of warning consumers.
A volcano erupts on New Zealand's Whakaari/White Island on Dec. 9, 2019.
Michael Schade / Twitter
A powerful volcano on Monday rocked an uninhabited island frequented by tourists about 30 miles off New Zealand's coast. Authorities have confirmed that five people died. They expect that number to rise as some are missing and police officials issued a statement that flights around the islands revealed "no signs of life had been seen at any point,", as The Guardian reported.