Obama Tells Colbert: Keystone XL Could Be 'Disastrous'
Dec. 09, 2014 05:14PM EST
Climate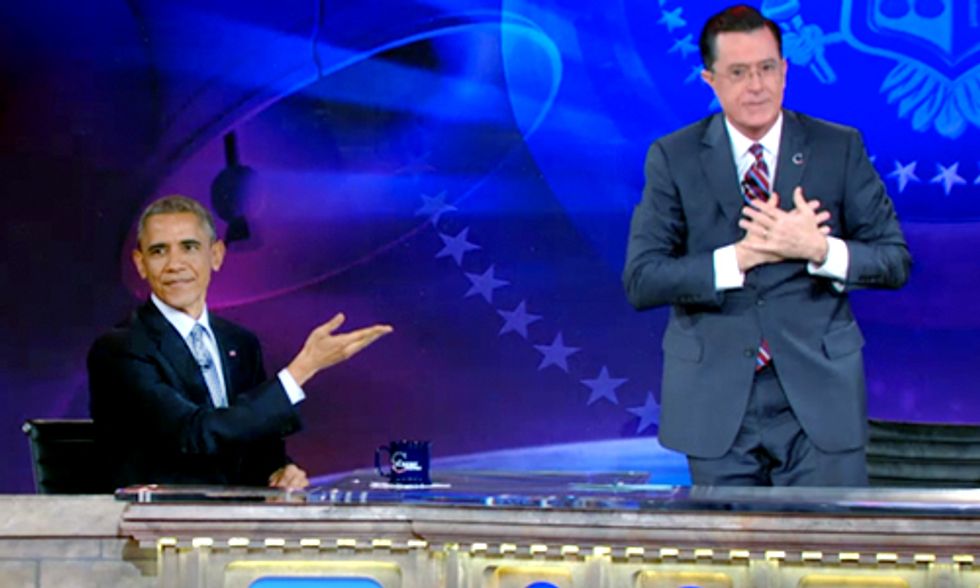 Last night, President Obama made his much-ballyhooed appearance on Stephen Colbert's The Colbert Report as the show concludes its run before Colbert moves to CBS' Late Night early next year.
In a spectacular "get" for Colbert, Obama cheerfully endured Colbert's parody of how the Republicans view him, while getting to tout his stances on immigration, the lack of action in Congress, the benefits of the Affordable Care Act ("Obamacare") and the likely non-benefits of the Keystone XL pipeline. He made some of his strongest and clearest remarks about the pipeline yet, raising hopes that he will veto it when it comes to his desk.
"The American people want it. It's going to create jobs. The State Department says it's not going to raise the pollution in the atmosphere. You're going to sign that, right?" said Colbert, parroting pipeline supporters and eliciting boos from the  studio audience.
"Obviously, these young people weren't polled," the president quipped before returning the easy pitch Colbert lobbed his way.
"Keystone is going through an evaluation process," he said. "Right now it's being held up by a court in Nebraska that's making a decision about whether the route is legal or not. In the first instance, I don't make the initial decision. The State Department evaluates it ..."
"But you're going to sign it if it comes to you?" Colbert pressed.
"I'm going to make sure that we look at this objectively," the President responded. "We've got to make sure that it's not adding to the problem of carbon and climate change. We have to examine that, and we have to weigh that against the amount of jobs that it's actually going to create, which aren't a lot. Essentially, this is Canadian oil passing through the United States to be sold on the world market. It's not going to push down gas prices here in the United States. It's good for Canada. It could create a couple of thousand jobs in the initial construction of the pipeline but we've got to measure it against whether or not it's going to contribute to an overall warming of the planet—which could be disastrous."
"These young people are going to have to live in a world where we already know temperatures are going up," he said, giving a nod to the youthful, clearly anti-pipeline audience. "And Keystone is a potential contributor to that."
His remarks should be encouraging to pipeline opponents at a time when Republicans have taken over the Senate, and new Senate majority leader Mitch McConnell had made approving Keystone XL his first priority. McConnell's remarks on the pipeline virtually dovetail with Colbert's parody: "Keystone XL is just common sense. It's a shovel-ready jobs project that would help thousands of Americans find work. It would increase our supply of North American energy. And it would do all that with minimal net climate impact."
YOU MIGHT ALSO LIKE
Obama Stands Firm on Keystone XL, Veto Likely if Passed by Congress
100+ Scientists and Economists Urge President Obama and Secretary Kerry to Reject Keystone XL
EcoWatch Daily Newsletter
Recent Stories from EcoWatch