Obama Stands Firm on Keystone XL, Veto Likely if Passed by Congress
As Republicans have made clear their desire to rush approval of the Keystone XL pipeline and the Senate prepares to vote next week under pressure from pipeline-favoring Louisiana Democrat Mary Landrieu, President Obama is strongly suggested this morning the legislation won't get past his desk.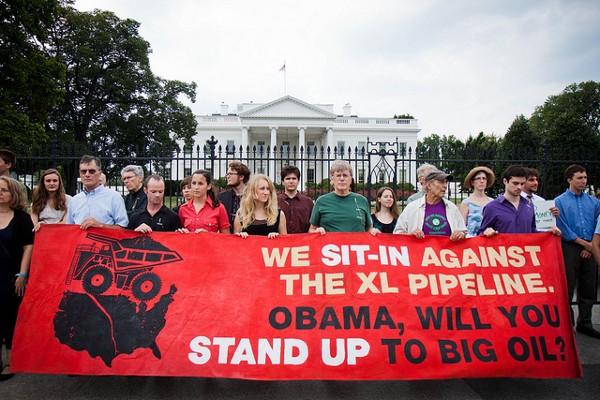 Traveling to Myanmar following an economic conference in Beijing where he joined with Chinese President Xi Jinping to announce a historic agreement on climate change earlier this week, Obama made one of his strongest statements yet about Keystone XL.
"Understand what this project is: it is providing the ability of Canada to pump their oil, send it through our land, down to the Gulf, where it will be sold everywhere else," he said. "It doesn't have an impact on U.S. gas prices. If my Republican friends really want to focus on what's good for the American people in terms of job creation and lower energy costs, we should be engaging in a conversation about what are we doing to produce even more homegrown energy? I'm happy to have that conversation."
The President's press secretary Josh Earnest backed up the President's statement at his own press availability in Myanmar, outright suggesting the President was likely to veto any attempt to push through Keystone XL at this time.
Asked by a reporter if the President would sign the Keystone XL approval should it pass Congress, Earnest said, "The President, as you'll recall in a speech that he delivered last summer, indicated that one of the factors in that review should be the degree to which a project like this would substantially contribute to the causes of climate change. So this is a project that is still under review by the State Department to determine whether or not it's in the national interest. One of the things that is impeding the progress of that review is some ongoing litigation in Nebraska about the route of the pipeline. So it's important in the view of this administration that this review be conducted consistent with past practice and in a way that reflects the national interests that are at stake. It is the view of the administration that that process should continue and that that's the proper venue for determining whether the project should move forward. There has been other legislative proposals that have been floated to try to influence the outcome of this decision about the construction of the pipeline.The administration, as you know, has taken a dim view of these kinds of legislative proposals in the past. I think it's fair to say that our dim view of these kinds of proposals has not changed."
When pressed for a definite answer on a potential veto, Earnest said, "It's not a yes or a no because I haven't reviewed the specific proposal. But there have been previous proposals that I expect would be consistent with proposals that have been discussed overnight. And in evaluating those earlier proposals, we have indicated that the President's senior advisors at the White House would recommend that he veto legislation like that. And that does continue to be our position. If that changes, I'll obviously let all of you know. I know there's a lot of interest in this."
Praising the President's words, climate advocacy group 350.org posted a statement encouraging him to stay the course.
"The strategy by some oil-soaked Senators to try and approve the Keystone XL pipeline is already backfiring," it said. "The last time Congress tried to force the President's hand on KXL, he sent the project back the drawing board because of concerns over the route in Nebraska. The Keystone XL pipeline is all risk and a no reward. We've been pushing President Obama for years to make the right call on Keystone XL and it looks like he might be gearing up to do it. We'll continue to make the case that the real homegrown energy that America needs is 100% clean power, not dirty pipeline projects and other dangerous fossil fuels."
YOU MIGHT ALSO LIKE
Senate to Vote on Keystone XL Pipeline
Will GOP Try To Fast-Track Keystone XL Pipeline?
A coalition of conservation groups and others announced Thursday that a historic number of comments and petitions of support have been submitted to the U.S. Department of the Interior in support of Bears Ears National Monument. Despite the entirely inadequate 15-day comment period ending on May 26, more than 685,000 comments in support of Bears Ears National Monument have been collected.
Keep reading...
Show less
Rink Glacier in western Greenland, with a meltwater lake visible center. NASA/OIB
Scientists have had their eyes on Greenland as its iconic glaciers have begun disappearing due to a warming climate. But, what they didn't expect to see was a whole new type of melting.
Keep reading...
Show less
Mountain View Fire
By Lena Moffitt
An oil tanker in Mead, Colorado exploded, killing one and injuring three on Thursday. Authorities are continuing to investigate the cause of the explosion.
Keep reading...
Show less
Banner created by Alliance for Climate Education
Keep reading...
Show less
Twenty-two GOP senators sent a letter Thursday urging Donald Trump to pull out of the Paris agreement. They argued remaining in the deal could "upend" the administration's ability "to fulfill its goal of rescinding the Clean Power Plan."
Keep reading...
Show less
By Cheryl Johncox
The Federal Energy Regulatory Commission (FERC) rejected on Thursday Energy Transfer Partners' request to resume horizontal directional drilling at two sites for its Rover fracked gas pipeline. This rejection comes after numerous leaks into Ohio's wetlands, and Clean Air and Clean Water act violations. FERC has halted the process at only eight locations of the 32 where drilling is taking place under Ohio's wetlands and streams.
Keep reading...
Show less
By Nadia Prupis
A majority of people in eight countries say they are ready to change their lifestyles if it would prevent climate catastrophe, a survey on global threats released Wednesday found.
Keep reading...
Show less
May. 25, 2017 01:55PM EST
Bill Maher is sick of billionaires' obsession with Mars, more like "Mars-a-Lago," he said.
In a new animation produced by ATTN:, the popular talk show host of Real Time, discusses the perils of our planet, including how "climate change is killing us."
Keep reading...
Show less