Obama: Keystone XL Pipeline 'Would Not Make a Meaningful Long-Term Contribution to Our Economy'
Nov. 06, 2015 02:18PM EST
Energy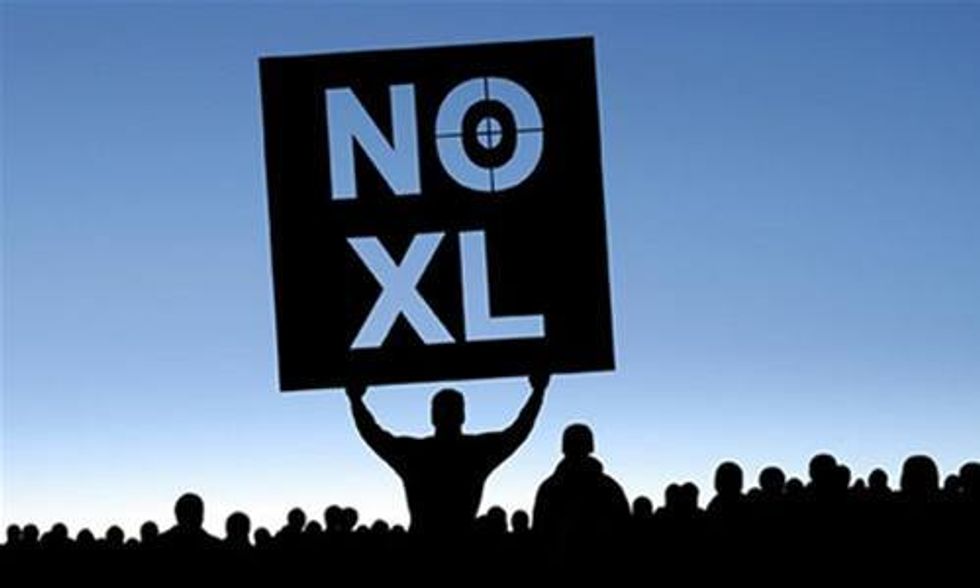 President Obama on Friday officially rejected TransCanada's permit to build the Keystone XL, a massive pipeline connecting Alberta, Canada with Gulf Coast refineries that would carry 800,000 barrels per day across the breadbasket of America to be refined, exported and burned.
In a letter to Sec. John Kerry Tuesday, Canadian oil giant TransCanada asked the State Department to "pause" its review of the Presidential Permit application for the Keystone XL pipeline. In response to TransCanada's inquiry to the State Department, environmental organizations and activist have been encouraging President Obama to reject the permit once and for all. And, today, President Obama did just that from the Roosevelt Room in the White House.
"This morning, Senator Kerry informed me that after extensive public outreach and consultation with other cabinet agencies, the State Department has decided that a Keystone XL Pipeline would not serve the national interest of the United States. I agree with that decision," President Obama said in his remarks from the White House today.
President Obama gave three reasons for rejecting the pipeline:
"First, the pipeline would not make a meaningful long-term contribution to our economy."
"Second, the pipeline would not lower gas prices for American consumers. In fact, gas prices have already been falling steadily."
"Third, shipping dirtier crude oil into our country would not increase America's energy security."
And, in anticipation of the Paris climate talks, Nov. 30 - Dec. 12, President Obama had this to say:
"America is now a global leader when it comes to taking serious action to fight climate change. Frankly, approving this project would have undercut that global leadership and that is the biggest risk that we face. Not acting.
"Today, we're continuing to lead by example, because ultimately, if we're gonna prevent large parts of this Earth from becoming not only inhospitable but uninhabitable in our lifetimes, we're gonna have to keep some fossil fuels in the ground rather than burn them and release more dangerous pollution into the sky.
"As long as I'm president of the United States, America's gonna hold ourselves to the same high standards to which we hold the rest of the world.
"And three weeks from now, I look forward to joining my fellow world leaders in Paris, where we've got to come together around an ambitious framework to protect the one planet that we've got while we still can."
According to an unprecedented coalition of groups—including tribal leaders, scientists, policy experts, students, labor unions, Democratic donors, progressive grassroots organizations, and conservative farmers and ranchers in America's heartland—that have been fighting the pipeline for years "to protect our communities and our climate from this dangerous project," today's announcement shows that President Obama is "putting the interests of American families and the environment ahead of those of a foreign oil company."
[email protected]

has officially rejected the #KeystoneXL pipeline! #NoKXL #ActOnClimate https://t.co/j29l4HtxJh

— Ben & Jerry's (@Ben & Jerry's)1446829161.0
Needless to say, environmental leaders are celebrating today's announcement. Here is what a few of them had to say:
"President Obama is the first world leader because of it's effect on the climate," said 350.org co-founder Bill McKibben. "That gives him new stature as an environmental leader, and it eloquently confirms the five years and millions of hours of work that people of every kind put into this fight. We're still awfully sad about Keystone south and are well aware that the next president could undo all this, but this is a day of celebration."
"We stood our ground and today President Obama stood with us, the pipeline fighters," said Bold Nebraska Executive Director Jane Kleeb. "Tonight landowners can finally go to sleep knowing their family is safe and sound. Our unlikely alliance showed America that hard work and scientific facts can beat Big Oil's threat to our land and water."
"Today President Obama said yes to clean energy and public health, and no to dirty oil and dangerous pollution," said Sierra Club Executive Director Michael Brune. "By saying no to the Keystone XL pipeline, the president is demonstrating our nation's leadership on climate action in advance of the international climate negotiations in Paris this December, providing an important boost of momentum."
"Today President Obama rejected the Keystone XL pipeline—and the power of the American people decisively beat out the fossil fuel special interests," said NextGen Climate President Tom Steyer. "Millions of Americans called for the rejection of Keystone XL, setting their sights on a future powered by clean energy instead of Canadian tar sands. Today, the leader of the free world stood side-by-side with a brave and diverse clean energy coalition, and pointed our country towards a brighter, more prosperous future."
Greenpeace's Executive Director Annie Leonard couldn't agree more. "Today's news demonstrates the power of organizing against the entrenched interests of the fossil fuel industry," she said. "By rejecting Keystone XL and canceling Arctic drilling leases, President Obama is starting to build a climate legacy that addresses the critical need to keep fossil fuels in the ground. We're on the cusp of a paradigm shift."
YOU MIGHT ALSO LIKE
TransCanada Asks State Department to 'Pause' Review on Keystone XL Pipeline
Exxon's Climate 'Scandal' Escalates As NY Attorney General Issues Subpoena
Landmark Climate Bill Would End New Fossil Fuel Leases on Federal Lands
EcoWatch Daily Newsletter