This website uses cookies to ensure you get the best experience while browsing it. By clicking 'Got It' you're accepting these terms.
New York Health Officials Outline Health Risks of Fracking
Nov. 27, 2012 09:22AM EST
Energy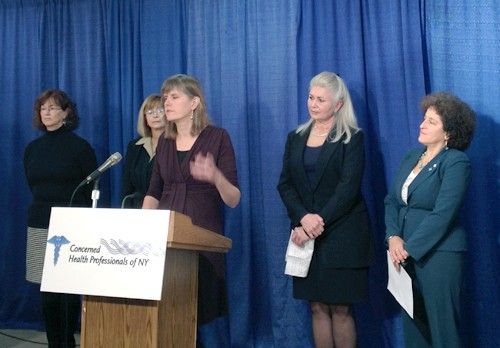 Led by Dr. David O. Carpenter, Director of the Institute for Health and the Environment at the University at Albany's School of Public Health, a number of health experts launched a new initiative, Concerned Health Professionals of New York, to outline the health risks of fracking and to renew their call for an independent, comprehensive Health Impact Assessment. The health experts in Albany spoke on behalf of the broad medical and scientific community in New York State, where hundreds of medical professionals and scientists have been outspoken about concerns that fracking poses a threat to public health.
The new initiative, Concerned Health Professionals of New York, seeks to provide the public, press, elected officials and other health professionals with information about the health risks posed by fracking as well as a history of how hundreds of health professionals have been calling on Governor Cuomo to conduct a comprehensive Health Impacts Assessment to adequately study the impact of fracking on public health before making a decision whether or not to lift the state's current moratorium and allow fracking in New York State.
Larysa Dyrszka, M.D., retired pediatrician and advocate for children's right to health, said, "As a tool for understanding the health risks of a polluting industry, there is no substitute for a comprehensive, transparent health impact assessment with public input. We know that, and we know the advisory panel knows that. But because we don't  know what documents the advisors will be allowed to 'review,' we've compiled this website of information for their further consideration."
The health professionals detailed a series of health concerns that they believe cannot be avoided, including radioactivity, dangerous air pollution, and water contamination.
Sandra Steingraber, Ph.D., biologist and Distinguished Scholar in Residence, Ithaca College, said, "A pall of ignorance hangs over fracking. Emissions data, monitoring data, exposure data—these are the things you need in order to judge health effects, and where are they?  Held hostage by non-disclosure agreements, gag orders, and right-to-know exemptions. We feel certain that these three panelists will see, as we do, the huge data gaps—as well as the emerging signals of harm in other states where fracking operations are ongoing."
In September, the Department of Environmental Conservation (DEC) announced that they had conducted their own internal health review and that it would be reviewed by the Department of Health. The Department of Health recently announced that three independent health experts had been contracted to review the Department of Health's internal review. One of the experts, Lynn Goldman, made statements to the press that she has a Dec. 3 deadline to complete her work even though she had signed a contract only 10 days prior and had not yet seen the DOH's review.
"How can the state of New York ask three outstanding public health experts to evaluate the many risks of fracking—radiation, diesel exhaust, silica dust, traffic noise, toxic spills—and give them a few weeks to do the job?, said Dr. David O. Carpenter. "It's ridiculous."
Health experts also commented on the Nov. 29 State Administrative Procedure Act (SAPA) deadline and called on Governor Cuomo to not commit to the arbitrary deadline of a 90 day extension but instead allow science and public participation to guide the process.
"With the health and well-being of millions of New Yorkers at stake, we are asking Governor Cuomo to allow for science and a public process to guide his decision on whether or not to lift the state's current moratorium on fracking and not hold to the arbitrary deadline of a 90 day extension," said Sandra Steingraber, Ph.D. "Our efforts today are to renew the call for a comprehensive Health Impact Assessment, which will allow for New York's State's medical community to participate in a transparent public process."
To date, no one in the public or medical community has seen the DEC's review of health impacts, nor has the Cuomo Administration shared details regarding who or what has been involved in its development and execution. As the three researchers examine the DEC's findings about the impacts of fracking on public health, the public and the medical and scientific community are still in the dark and no one knows what the process or opportunity for input will be. The health experts emphasized at their press conference that only a comprehensive Health Impact Assessment is sufficient, which would include public participation, transparency and follow procedures recognized by leading medical organizations such as the World Health Organization.
Visit EcoWatch's FRACKING page for more related news on this topic.
EcoWatch Daily Newsletter
Large food companies are following in the footsteps of fast-food restaurants such as Burger King and KFC by offering meat alternatives. Getty Images
By Elizabeth Pratt
Hormel, Kellogg's, and Kroger are among the large companies now planning to offer "fake meat" products at grocery stores.
Experts say the trend toward plant-based meats coincides with consumers' desires to eat less meat.
However, experts urge consumers to closely check package labels as a product isn't necessarily healthy just because it's described as plant-based.
In grocery stores and fast-food outlets around the U.S., a revolution is taking place.
Colombia rainforest. Marcel Oosterwijk / CC BY-SA 2.0
Many of us think of the Amazon as an untouched wilderness, but people have been thriving in these diverse environments for millennia. Due to this long history, the knowledge that Indigenous and forest communities pass between generations about plants, animals and forest ecology is incredibly rich and detailed and easily dwarfs that of any expert.
picture-alliance / Newscom / R. Ben Ari
By Wesley Rahn
Plastic byproducts were found in 97 percent of blood and urine samples from 2,500 children tested between 2014 and 2017, according to a study by the German Environment Ministry and the Robert Koch Institute.

Pexels
Medically reviewed by Daniel Bubnis, MS, NASM-CPT, NASE Level II-CSS
Hot yoga has become a popular exercise in recent years. It offers many of the same benefits as traditional yoga, such as stress reduction, improved strength, and flexibility.
Lara Hata / iStock / Getty Images
By SaVanna Shoemaker, MS, RDN, LD
Rice is a staple in many people's diets. It's filling, inexpensive, and a great mild-tasting addition to flavorful dishes.
An image of the trans-alaskan oil pipeline that carries oil from the northern part of Alaska all the way to valdez. This shot is right near the arctic national wildlife refuge. kyletperry / iStock / Getty Images Plus
The Trump administration has initialized the final steps to open up nearly 1.6 million acres of the protected Alaskan National Wildlife Refuge to allow oil and gas drilling.