New Study Reveals Whales as Marine Ecosystem Engineers
Baleen and sperm whales, known collectively as the great whales, include the largest animals in the history of life on Earth. Though large in size, whales have long been considered too rare to make much of a difference in the ocean, and the focus of much marine ecological research has been on smaller organisms, such as algae and planktonic animals. While these small organisms are essential to life in the sea, they are not the whole story. As great whales recover from centuries of overhunting, scientists are beginning to appreciate their roles as ecosystem engineers of the ocean.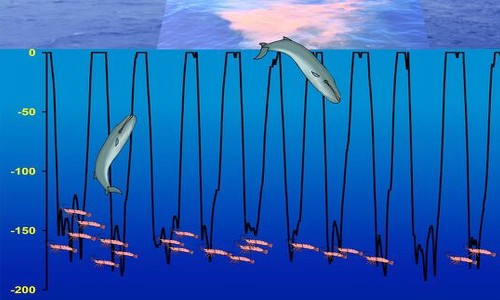 A recent synthesis, published in Frontiers in Ecology and the Environment, evaluates decades of research on the ecological role of great whales. The authors, led by Joe Roman at the University of Vermont, suggest that the influence of these animals has been substantially undervalued because, until now, scientists have underestimated the degree to which the decline in whale population has altered marine ecosystems.
Commercial whaling dramatically reduced the abundance of great whales—by at least 66 percent and perhaps as high as 90 percent, according to some estimates—but recovery is possible, and potentially critical for ocean resiliency.
Among their many ecological functions, whales recycle nutrients and enhance primary productivity, locally and on a regional scale. Whales mix the water column, and after feeding at depth, release surface plumes of fecal material. This "whale pump" supplies iron and nitrogen—essentially fertilizers—to primary producers in the surface ocean. Further, the migrations of baleen whales between highly productive, high-latitude feeding and low-latitude calving grounds are among the longest annual movements of mammals. By fasting in these winter calving grounds near the equator, humpback whales, for example, release nitrogen in the form of urea into comparatively nutrient-poor areas—transporting nutrients nearly 10,000 kilometers on the "great whale conveyor belt."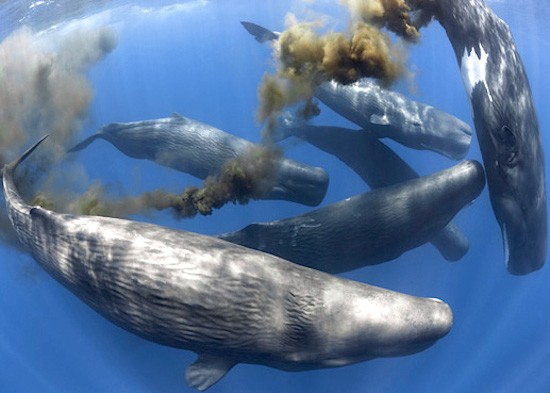 Sometimes, commercial fishermen have seen whales as competition. But this new paper summarizes a strong body of evidence that indicates the opposite can be true: whale recovery "could lead to higher rates of productivity in locations where whales aggregate to feed and give birth," supporting more robust fisheries.
Whales, as one of the longer-lived species in marine systems, can ease the impact of perturbations in climate, predation and productivity. The continued recovery of great whales may help buffer marine ecosystems from destabilizing stresses and could lead to higher rates of productivity in locations where whales aggregate to feed and give birth.
And when they die, many whale carcasses sink to dark depths of the ocean—delivering massive pulses of organic material to a realm that is typically nutrient and energy impoverished. A 40-ton gray whale, for example, provides more than 2,000 times the background carbon flux that would typically rain down on the area underlying the carcass in an entire year.
"Whales appear to harbor a specialized suite of animals in the deep sea, with many species requiring whale falls to complete their life cycles and persist in the ocean," said Craig Smith, co-author and Oceanography Professor at the University of Hawai'i at Mānoa. "When whales were removed from the ocean by whalers, these whale-fall specialists lost their essential habitat."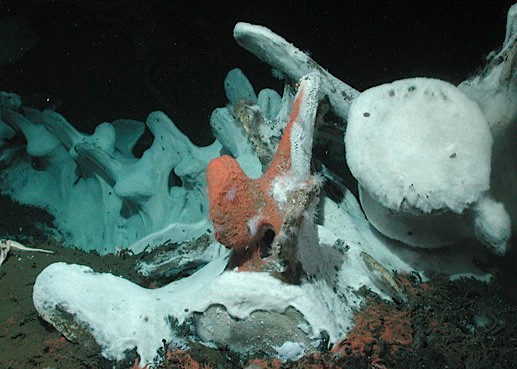 "Our models show that the earliest human-caused extinctions in the sea may have been whale fall invertebrates, species that evolved adaptations to live on whale falls," according to Smith. "As a result of 1,000 years of whaling by humans, many of these whale-fall species may have disappeared before we had a chance to discover them."
Reflecting on the recent synthesis of data, Roman stated, "This warrants a shift in view from whales being positively valued as exploitable goods—or negatively valued because they compete with people for marine fish—to one what recognizes that these animals play key roles in healthy marine ecosystems, providing services to human societies."
Laurie Woolever
By James O'Hare
There are 20 million people in the world facing famine in South Sudan, Somalia, Nigeria and Yemen. In developed nations, too, people go hungry. Venezuela, for instance, is enduring food insecurity on a national level as a result of economic crisis and political corruption. In the U.S., the land of supposed excess, 12.7 percent of households were food insecure in 2015, meaning they didn't know where their next meal would come from.
Keep reading...
Show less
Melwater, Greenland ice sheet. Diane Tuft
Artists are taking the climate crisis into frame and the results are emotional, beautiful and stirring.
So you've seen the best climate change cartoons and shared them with your friends. You've showed your family the infographics on climate change and health, infographics on how the grid works and infographics about clean, renewable energy. You've even forwarded these official National Oceanic and Atmospheric Administration graphs that explain the 10 clear indicators of climate change to your colleagues at the office.
Keep reading...
Show less
May. 27, 2017 01:11PM EST
As the Trump administration moves full speed ahead on boosting the oil and fossil fuel industry, opposition to increased pipeline construction is cropping up in different communities around the country.
Keep reading...
Show less
May. 27, 2017 01:02PM EST
Minke whale stranding near Havergate Island in Suffolk. MCGA.
By Simon Evans
Last Saturday, two dead whales washed up on the coast of Suffolk, in eastern England, and a third was spotted floating at sea.
What happened next illustrates how news can spread and evolve into misinformation, when reported by journalists rushing to publish before confirming basic facts or sourcing their own quotes.
Keep reading...
Show less
May. 27, 2017 01:22PM EST
By Monica Amarelo and Paul Pestano
Sun safety is a crucial part of any outdoor activity for kids, and sunscreen can help protect children's skin from harmful ultraviolet rays. Kids often get sunburned when they're outside unprotected for longer than expected. Parents need to plan ahead and keep sun protection handy in their cars or bags.
Keep reading...
Show less
May. 27, 2017 01:02PM EST
By Joe McCarthy
A lot of people take part in community clean-up efforts—spending a Saturday morning picking up litter in a park, mowing an overgrown field or painting a fence.
Keep reading...
Show less
May. 26, 2017 03:22PM EST
Rink Glacier in western Greenland, with a meltwater lake visible center. NASA/OIB
Scientists have had their eyes on Greenland as its iconic glaciers have begun disappearing due to a warming climate. But, what they didn't expect to see was a whole new type of melting.
Keep reading...
Show less
May. 26, 2017 03:40PM EST
A coalition of conservation groups and others announced Thursday that a historic number of comments and petitions of support have been submitted to the U.S. Department of the Interior in support of Bears Ears National Monument. Despite the entirely inadequate 15-day comment period ending on May 26, more than 685,000 comments in support of Bears Ears National Monument have been collected.
Keep reading...
Show less


Get EcoWatch in your inbox