Nation's First Solar Roadway Coming to Historic Route 66
Missouri's Department of Transportation (MoDOT) has announced plans to install solar panels at a rest stop alongside the iconic Route 66 as part of the department's "Road to Tomorrow Initiative."
The Historic Route 66 welcome center in Conway, Missouri will receive the nation's first solar roadway panels on a public right of way.
"... part of why we picked this location is because of the the historic Route 66 concept," Laurel McKean, MoDot assistant district engineer, told KY3. "You know, here's one of the main roadways that's iconic for the United States, and being able to use the history to create potentially the future."
The panels were developed by Solar Roadways, an Idaho-based startup founded by Scott and Julie Brusaw.
Their project received tons of attention in 2014 after the world caught wind of the couple's ambitious plan to harness the energy being soaked up by the country's roads and parking lots all day. Their viral video "Solar FREAKIN' roadways" has been viewed more than 21 million times to date.
KY3 reported that MoDot will first test out a 12-by-20 foot patch of panels on a sidewalk leading to the rest stop's main entrance.
"This is kind of the first phase, and we hope in the future that we then can move it out into maybe the parking lot, and then maybe into a travel area," McKean said.
Not only will the panels help generate power for the rest stop, the panels' heating elements will prevent snow and ice accumulation.
"What's so appealing from the revenue side is yeah, if we don't have to treat roads or sidewalks or pavement anymore, that's less material, less chloride, less things that go into the environment and also the aspect of getting energy," McKean said.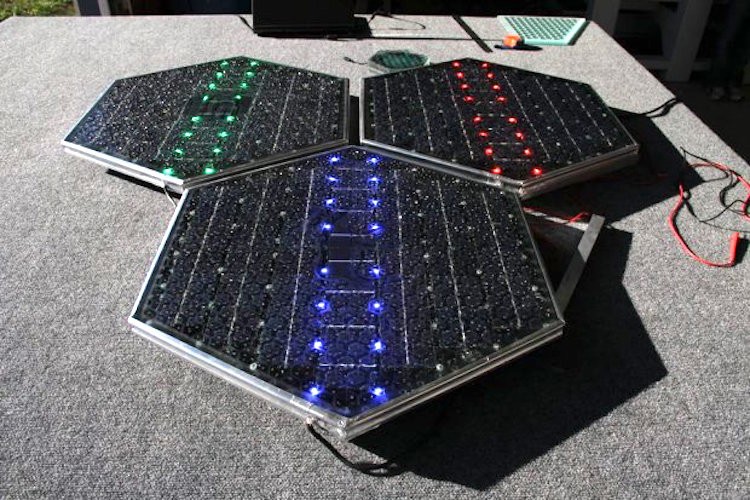 Solar Roadways's hexagonal solar panels feature LED lighting and smart technology that allows them to "communicate" with each other. Photo credit: Solar Roadways
"We expect them to be in place, I'm hoping, by the end of this year, maybe before snow flies," Tom Blair, leader of the department's Road to Tomorrow Initiative, told The Kansas City Star, adding that the project could bring "the history and the future together."
Solar Roadways' own 2014 crowdfunding campaign generated $2.2 million, doubling their $1 million target. The project has also received three funding contracts from the U.S. Department of Transportation, with their latest contract awarded in November 2015. In April, the Idaho Department of Commerce approved a $48,734 grant to set up a Solar Roadways demonstration project within the city limits of the Brusaw's hometown of Sandpoint.
Blair said that the department will prepare its first-ever crowdfunding effort to "ask for money to make our solar roadway pilot project even bigger and better."
Scott Brusaw describes the technology behind the solar panels in the video below. Besides creating renewable electricity, the panels feature LED lights to create lines and signage without paint and to improve nighttime driving. Since the hexagonal panels are modular, it allows for easy repairs since a broken panel can just be swapped with a new one.
The Solar Roadways program is one of MoDOT's several pilot schemes to promote transportation technology in the state. Other schemes include smart pavement, smart traffic control and truck platooning, which connects commercial trucks via wireless technology and thus allow trucks to follow at a close distance for better fuel economy and enhanced safety.
"It gets Missouri and MoDOT prepared for 21st century innovations," Blair said. "We need to get in the game as a state and as an agency."
Missouri is not the only one wanting to ride on the sun. SolaRoad has been in operation in the Netherlands since November 2014, and has been generating more power than expected. The French government also plans to pave 1,000 kilometers (621 miles) of its roads with solar panels in the next five years, which will supply power to millions of people.
"The maximum effect of the program, if successful, could be to furnish 5 million people with electricity, or about 8 percent of the French population," Ségolène Royal, France's minister of ecology and energy, said according to Global Construction Review.
YOU MIGHT ALSO LIKE
Sweden Opens World's First Electric Highway
Tesla Makes $2.8 Billion Offer to Acquire SolarCity
Solar Impulse 2 Takes Off for Historic Odyssey Across the Atlantic
First Self-Driving, 3D-Printed Smart Bus Hits the Streets of Washington, DC
www.youtube.com
By Katie O'Reilly
Two years ago—long before coal became one of the most dominant and controversial symbols of the 2016 presidential election—Bloomberg Philanthropies approached production company RadicalMedia with the idea of creating a documentary exploring the U.S. coal mining industry. Last spring, they brought on Emmy-nominated director Michael Bonfiglio, tasked with forging a compelling story out of the multitudes of facts, statistics and narratives underlying the declining industry.
Keep reading...
Show less
Mayors for 100% Clean Energy
Keep reading...
Show less
www.youtube.com
President Trump visited Cedar Rapids, Iowa on June 21 to speak to a large crowd in the U.S. Cellular Center at a political rally organized by his campaign.
As Trevor Noah noted during The Daily Show episode last night (starts at 2:25), the real reason Trump has these rallies is to "get back in front of his loyal crowds and feed of their energy." Noah believes that "Trump supporters are so on board with their dude he can say anything and they'll come along for the ride."
Keep reading...
Show less
www.youtube.com
By Andy Rowell
Any day now we will truly witness climate change in action. Within days at worst, maybe weeks at best, scientists predict that a huge section of the Larsen C ice shelf in Antarctica will break off into the ocean, in what is called a major "carving" event.
Keep reading...
Show less
www.youtube.com
Thanks to Newsy for their coverage on Thursday's news that the U.S. Fish and Wildlife Service removed grizzly bears in the Greater Yellowstone region from the Endangered Species List.
Watch above as Newsy explains that the decision comes despite serious concerns from the environmental and scientific community, and Tribal Nations about a declining, isolated grizzly bear population with diminishing food resources and record-high mortalities.
Keep reading...
Show less
www.facebook.com
By Francine Kershaw
Seismic airguns exploding in the ocean in search for oil and gas have devastating impacts on zooplankton, which are critical food sources for marine mammals, according to a new study in Nature. The blasting decimates one of the ocean's most vital groups of organisms over huge areas and may disrupt entire ecosystems.
And this devastating news comes on the heels of the National Marine Fisheries Service's proposal to authorize more than 90,000 miles of active seismic blasting. Based on the results of this study, the affected area would be approximately 135,000 square miles.
Keep reading...
Show less
By Jill Richardson
Is coconut oil:
good for you
bad for you
neither good nor bad
scientists don't know
The subject of this question is the source of a disagreement. Initially, the question was thought to be settled decades ago, when scientist Ancel Keys declared all saturated fats unhealthy. Coconut oil, which is solid at room temperature, is a saturated fat.
Keep reading...
Show less
The U.S. Fish and Wildlife Service removed grizzly bears in the Greater Yellowstone region on Thursday from the Endangered Species List. The decision comes despite serious concerns in the scientific community about a declining, isolated population with diminishing food resources and record-high mortalities, as well as strong opposition from an unprecedented number of Tribal Nations.
Keep reading...
Show less
ArborGen pine tree field test site in South Carolina. BJ McManama
By BJ McManama
ArborGen Corporation, a multinational conglomerate and leading supplier of seedlings for commercial forestry applications, has submitted an approval request to the U.S. Department of Agriculture, Animal and Plant Health Inspection Service to deregulate and widely distribute a eucalyptus tree genetically engineered (GE) to be freeze tolerant. This modification will allow this GE variety to be grown in the U.S. Southeast. The reason this non-native and highly invasive tree has been artificially created to grow outside of its tropical environment is to greatly expand production capacity for the highly controversial woody biomass industry.
Keep reading...
Show less


Get EcoWatch in your inbox