Mounting Evidence Links Earthquakes to Fracking Wastewater Injection Wells
Dec. 12, 2012 12:28PM EST
Energy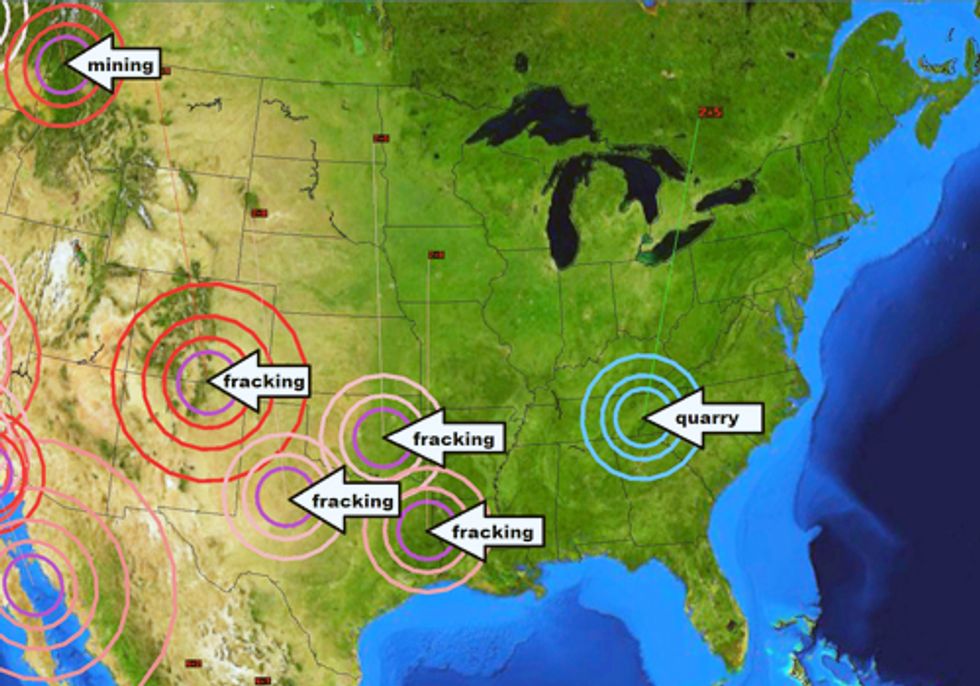 By Salvatore Colleluori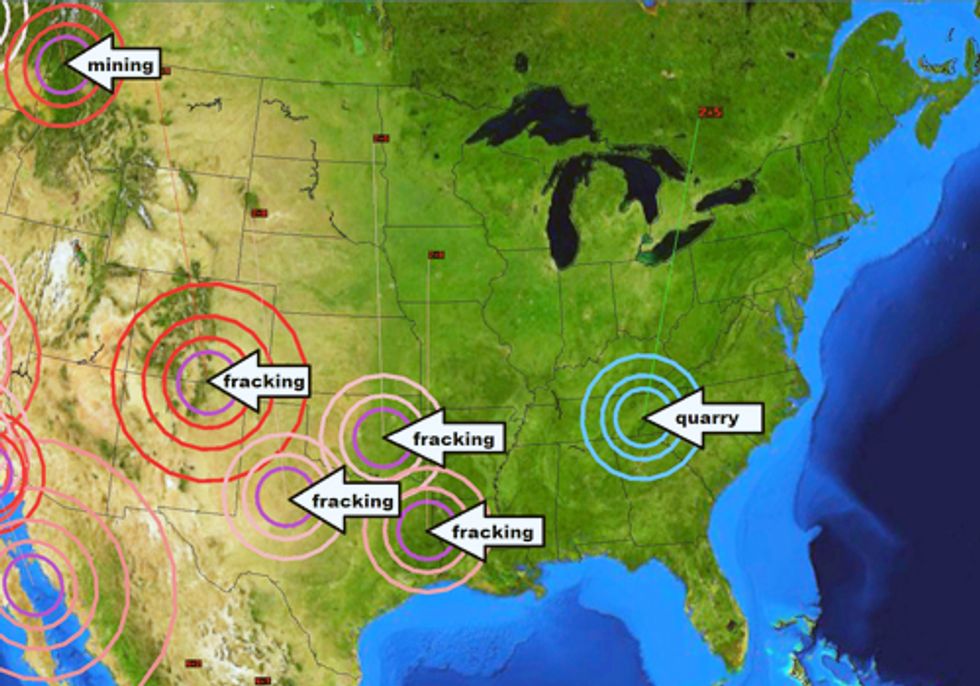 The Oklahoman relied on the "absence of compelling evidence" and the comments of a single geologist to conclude that the largest recorded earthquake in Oklahoma's history was not tied to fracking, despite mounting evidence that indicates otherwise. In doing so, the paper dismissed mounting evidence linking underground injection of wastewater to earthquakes at large, continuing its attempt to cast doubt on science and shut down policy debates that could affect the paper's owner, billionaire oil and gas tycoon Philip Anschutz.
In a Dec. 11 editorial, The Oklahoman dismissed the links between oil and gas exploration and earthquakes by saying "unless proven otherwise," any assumption of what caused the earthquake "should go to nature" instead of being attributed to mankind. From The Oklahoman editorial (emphasis added):
Ties go to the runner in baseball. Assumptions about nature, when apparently tied, should go to nature. Unless proven otherwise.

This is the heart of the discussion on whether the largest recorded earthquake in Oklahoma history was manmade rather than an act of nature. Some believe that oil and gas exploration activity in the area of the epicenter caused the quake. That's an assumption, as is the belief that earthquakes are natural phenomena always caused by nature and never by mankind.

We subscribe to the view that in the absence of compelling evidence that a natural phenomenon was caused by human activity, we should assume it was caused by nature. But we live in a time when science-based policymaking is highly politicized and a portion of mankind dislikes humanity to the point of suspecting that many "natural" events (such as hurricanes) are the unnatural result of people.
The editorial points to one seismologist, Oklahoma Geological Survey's Austin Holland, who said, "until you can prove that it's not a natural earthquake, you should assume it's a natural earthquake." However, experts believe that the November 2011 earthquake and other events in Oklahoma—such as the drastic increase from six earthquakes between 2000 and 2008 to 850 earthquakes between January 2010 and March 2011 in Oklahoma County—point to a link between fracking-related activites, specifically wastewater injection and seismic activity. Similar links have also been made in Dallas, Texas, Ohio and Arkansas. Scientists from the U.S. Geological Survey also presented a report in April that found that "seismicity rate changes" in Arkansas and Oklahoma "are almost certainly manmade," although it remains unclear if the changes were related specifically to fracking or to the rate of oil and gas production.
Even shale development corporations have voiced their concerns that their activities may have contributed to seismic activity. Cuadrilla Resources, the only company in Britain using hydraulic fracturing to extract oil and gas, admitted in a report that earthquakes near Blackpool, England were likely caused by their work in the area. From the Huffington Post:
The only company in Britain using hydraulic fracturing to release natural gas from shale rock said Wednesday that the controversial technique probably did trigger earth tremors in April and May.

But a report commissioned by Cuadrilla Resources, which is drilling for gas in the area outside the northwestern English coastal resort town of Blackpool, cautioned that the tremors, measuring 1.9 and 2.8 on the Richter scale—were due to an unusual combination of geology and operations and were unlikely to happen again.
The Oklahoman editorial is the second editorial in two weeks to criticize the use of science in policy making. On Nov. 28, the paper told policymakers to ignore science because it could hurt jobs and increase economic hardship "in the name of global warming theories" its editors don't believe are valid. In fact, since the paper was purchased by oil and gas tycoon Philip Anschutz, whose company sued a town that banned fracking, the paper has dismissed the links between fracking and groundwater contamination and written two previous editorials attacking the connection between fracking-related activities and seismic activity.
Despite the mounting evidence that oil and gas extraction could be harmful to our planet, The Oklahoman continues to disregard science and shut down any debate that might hurt its owner's financial interests.
Visit EcoWatch's FRACKING page for more related news on this topic.
EcoWatch Daily Newsletter