Monterey Shale Report Exposes Myth of Economic Prosperity From Fracking California
Dec. 04, 2013 04:55PM EST
Fracking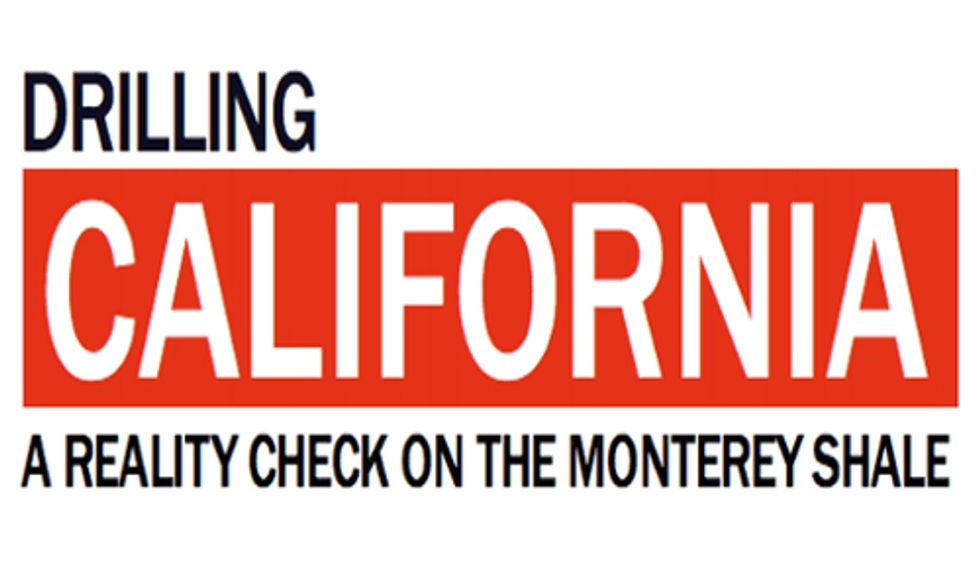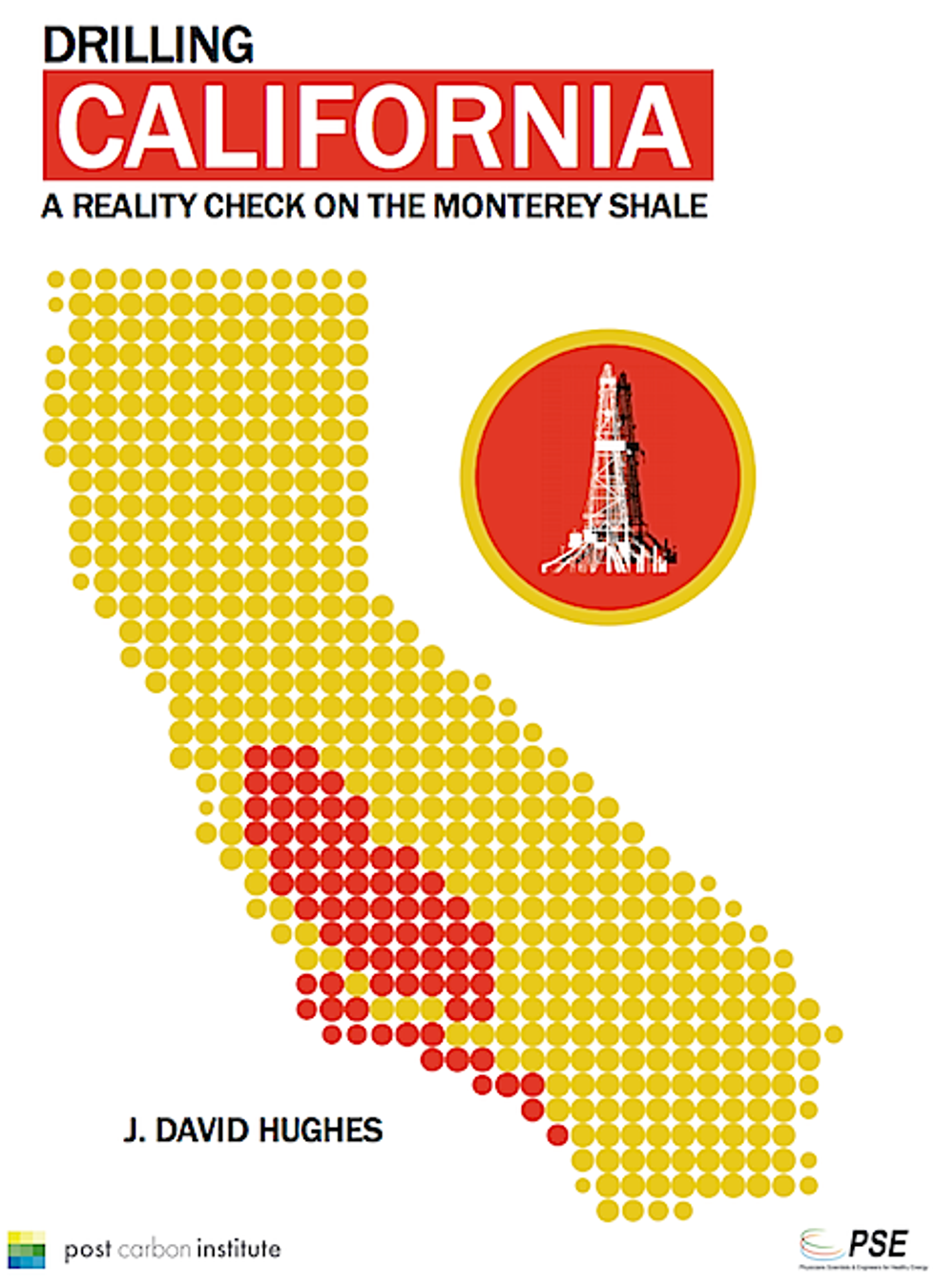 Post Carbon Institute and Physicians, Scientists & Engineers for Healthy Energy released a groundbreaking report on yesterday using industry data that presents compelling evidence that the promise of a Monterey Shale boom is a myth.
Authored by geoscientist J. David Hughes, the report, Drilling California: A Reality Check on the Monterey Shale, is the first analysis of oil production data taken directly from the Monterey Shale Formation and questions whether previous studies modeled on assumptions from other regions are accurate when paralleled with real data.
"There was great need for a level-headed look at the Monterey Formation after the USC report made it sound like oil gushers were coming back along with hyper-inflated job projections," stated Bill Allayaud, California director of governmental affairs, the Environmental Working Group. "This report should make Gov. Brown re-think his 'all-in' position on unconventional oil extraction and re-double his efforts to lead us to meet our AB 32 climate change goals."
Drilling California specifically challenges the estimates of technically recoverable resources for the Monterey Shale released by the U.S. Energy Information Agency and INTEK in their 2011 report as well as the economic projections based on them put forth by the University of Southern California in their 2013 economic study—upon which all of the optimism of the Monterey shale has been based.
"Energy decisions have implications that last for decades," said Craig Lewis, executive director, Clean Coalition. "As this report clearly lays out, fracking California's Monterey shale poses significant economic and environmental risks that persist for multiple lifetimes. Local renewables offer an unparalleled opportunity for California to achieve a clean, safe and resilient energy future that establishes a robust economic foundation at the same time."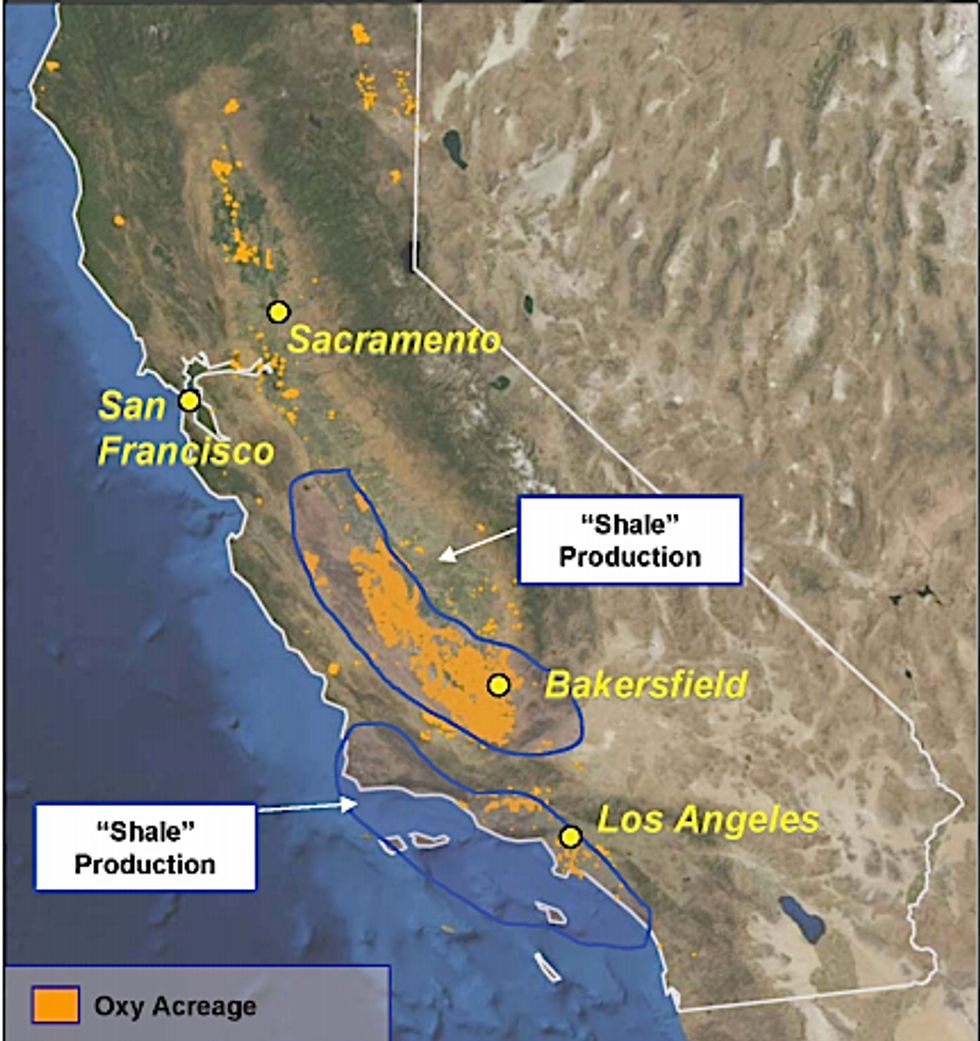 By examining the play's fundamental characteristics compared to other tight oil plays, including geological properties, production rates and cumulative production, Drilling California exposes significant flaws in the assumptions made and ultimately the forecasts of these two reports. In fact, the report reveals that only a small fraction of the 13.7 to 15.42 billion barrels of technically recoverable oil estimated by the EIA/INTEK report will likely ever be produced—making it increasingly evident that any promise of a Monterey Shale boom has been overstated and highly exaggerated.
"It is clear from our data analysis that oil production from The Monterey is not likely to be the major economic opportunity that previous studies have indicated," said PSE's Executive Director Dr. Seth B. Shonkoff.
"Instead," Shonkoff continued, "the actual oil production data suggest that even with the most advanced well stimulation technologies, such as high volume hydraulic fracturing and acidization that have been successful in other shale plays, oil production in the Monterey Formation, which has been in decline for many years, is unlikely to increase to the levels assumed for these rosy economic projections."
"California would be well advised to avoid thinking of the Monterey Shale as a means to significantly increase the State's oil production and as a solution to its economic dilemmas," said Hughes. "Long term energy sustainability is a pressing challenge for California and the Nation and demands a credible assessment of future energy and economic opportunities as well as a consideration of the environmental costs."
Drilling California will be particularly valuable for informing public policy decisions surrounding the development of the Monterey Shale. Policymakers and analysts throughout California welcomed the report as the first publically available empirical analysis of oil production data and weighed in on the significance of this report for California's energy and economic future.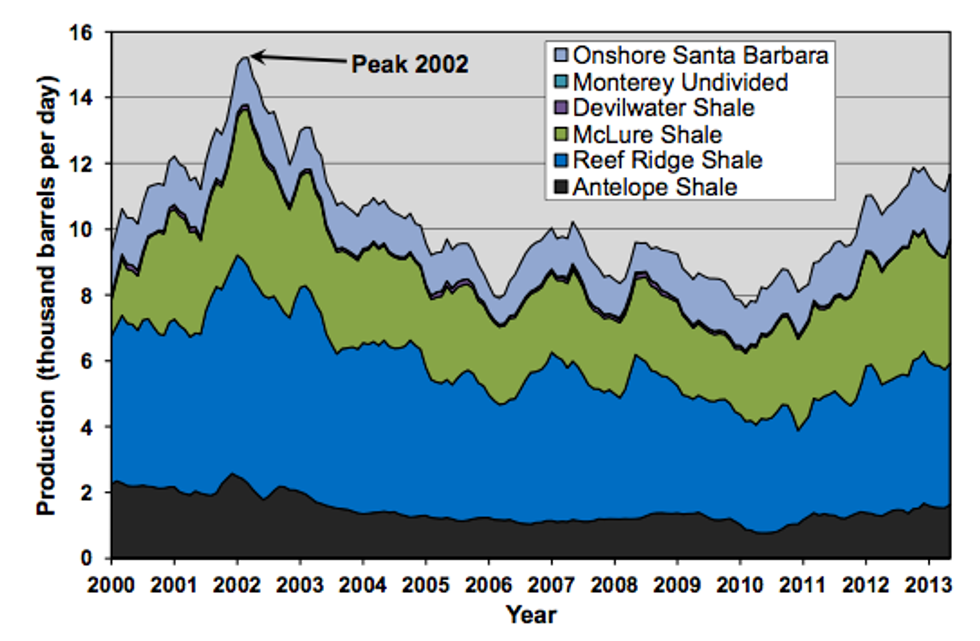 "The Hughes report cuts through the hype of oil industry-funded research to reveal that a California fracking expansion will deliver only minor economic benefits at best," said Staff Attorney Hollin Kretzmann for the Center for Biological Diversity. "This expert analysis also suggests that Big Oil could do permanent damage to our environment and public health by chasing the fantasy of a new oil boom."
"If oil companies drilled the tens of thousands of new wells this report suggests would actually be needed to significantly increase production, California would suffer a massive increase in contaminated drilling muds, toxic wastewater and dangerous air pollution," Kretzmann concluded.
Tell Gov. Brown and the California Department of Conservation to Ban Fracking in California.
Visit EcoWatch's FRACKING page for more related news on this topic.

EcoWatch Daily Newsletter