Mark Ruffalo Urges Pennsylvania Governor to Enact Immediate Fracking Moratorium
Oct. 08, 2015 10:44AM EST
Fracking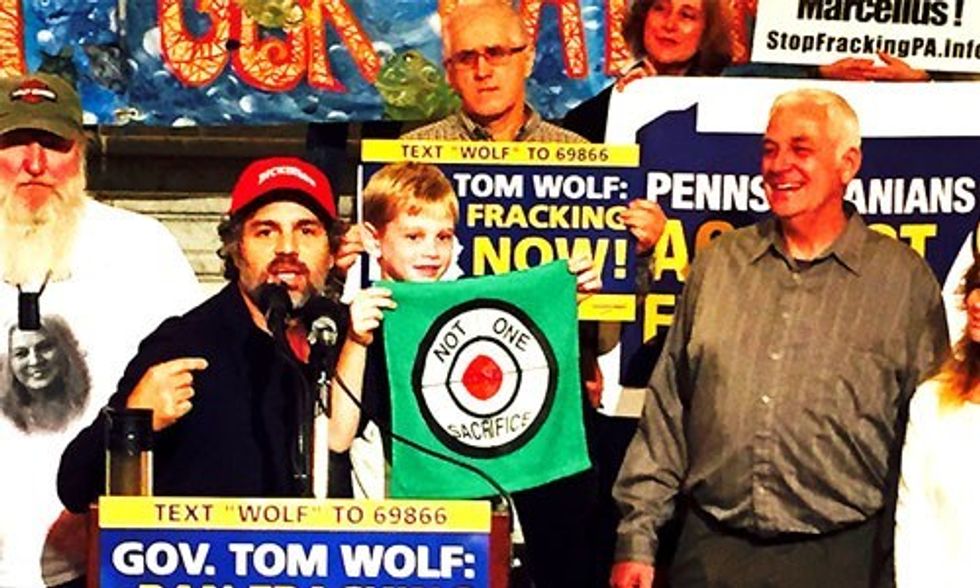 On behalf of more than 30,000 concerned citizens nationwide and more than 100 organizations, actor and advocate Mark Ruffalo joined with Pennsylvanians to deliver petitions and a letter to Gov. Wolf calling on the governor to enact a moratorium on fracking and provide help to the many residents harmed by drilling and fracking. Mark Ruffalo and impacted Pennsylvanians also asked the governor to travel to Northeast and Southwest Pennsylvania to meet residents harmed by drilling and fracking operations first-hand.
Mark Ruffalo holding 7-year-old Adam Headley from southwestern Pennsylvania. Photo credit: Food & Water Watch
Following years of scientific research on fracking, more than 500 peer-reviewed studies and reports now overwhelmingly show harm, paired with countless trips and tours to Northeast and Southwest Pennsylvania, national advocates, including Mark Ruffalo, were moved to action after the release of evidence demonstrating the Pennsylvania Department of Health's (DOH) failure to respond to residents' fracking-related health complaints. The letter's signatories include a host of leading national advocacy groups, Pennsylvania groups and others. 
Ruffalo said, "I've seen the impacts of fracking first-hand. Fracking is destroying lives, breaking up communities and causing irreversible damage to our drinking water, the air we breathe and the land that produces our food. We cannot continue on this course while people are suffering. It is time for the Gov. Wolf to do what is best for the people of Pennsylvania—put an end to the dangerous practice of fracking and help residents who have already been harmed."
Here in Harrisburg, PA w/ @MarkRuffalo & @foodandwater calling for a #fracking moratorium! #dontfrackpa @EmilyWurth1 http://t.co/jFLfm1DLMI

— Ryanne Riley Waters (@Ryanne Riley Waters)1444238607.0
Ruffalo serves on the advisory board of Americans Against Fracking and is a founder of Water Defense and was the recipient of the Sam Rose '58 and Julie Walters Prize at Dickinson College for Global Environmental Activism for 2015.
Organizations on the letter include 350.org, Breast Cancer Action, Friends of the Earth, Progressive Democrats of America, Center for Biological Diversity and Food & Water Watch (FWW), in addition to organizations from over a dozen states.
The letter states:
"Given the state of Pennsylvania's disastrous track record in protecting the health and safety of residents from oil and gas industry, we call on you to enact an immediate moratorium on all new fracking in the state. We also call on you to urgently address and help the people who have been and are currently being harmed by drilling and fracking in Pennsylvania."
"Disturbing allegations from two retired DOH whistleblowers last year regarding the agency's handling of fracking-related health complaints set in motion an investigation that revealed willful neglect of health impacts by the Corbett administration," said Karen Feridun, founder of Berks Gas Truth. "Despite being promised a 'fresh start' by Gov. Tom Wolf, Pennsylvanians are still awaiting the help they never received. Gov. Wolf's proposed health registry doesn't go nearly far enough for all of his constituents in need, some for many years, who have been counted, but have yet to be helped."
As the letter says:
"Last summer, whistleblowing former DOH employees came forward with evidence of an agency policy that prohibited community health workers from interacting with residents who called with fracking-related health complaints. DOH staff were explicitly instructed to refrain from engaging with callers when health complaints contained specific 'buzzwords,' which included the words and phrases 'fracking,' 'Marcellus,' 'hair falling out,' 'skin rash' and 'cancer cluster.' DOH community health workers who heard those words in the context of a complaint were instructed to end the conversation, take the person's phone number and give it to higher level staff. Many residents who called DOH report either not being called back or their issues not being adequately addressed."
The whistleblowers prompted FWW to file a "Right-to-Know Request" to examine DOH records. After a year of legal appeal, the DOH released information and FWW found that the agency failed to respond adequately to residents' fracking-related health concerns.
"In July, Food & Water Watch released documents showing that the Pennsylvania Department of Health was inadequately responding to fracking-related health complaints," said Sam Bernhardt, Pennsylvania organizer at FWW. "Now, months later, we have seen no substantive action by the Wolf administration to get help to those who need it. Instead of waiting to see how bad it can get, Gov. Wolf needs to enact a moratorium on fracking and help the families and communities already adversely impacted by fracking."
In addition to the state DOH's negligence, last year the Pennsylvania Auditor General found that the state Department of Environmental Protection failed to adequately track and respond to public complaints about water quality impacts related to drilling and fracking.
Linda Headley, a Fayette County resident whose fracking related health complaint was recorded in documents released by FWW several months ago, said, "We just want help from Gov. Wolf and the Department of Health. Every day, my family and I are dealing with the health consequences of a fracking site 500 feet from our home. The Wolf administration must have knowledge of our situation, but we have received no more help from them than what we saw from the Corbett administration."
[email protected]

: These are the people who have to live w/ the destruction of #fracking @GovernorTomWolf they need you! http://t.co/q32tQOj0dU

— Food & Water Watch (@Food & Water Watch)1444232903.0
"We are demanding immediate action from Gov. Wolf. Southwest Pennsylvania was the first place that the oil and gas industry drilled and fracked and we are suffering the consequences," said Ron Gulla, a Washington County resident. "We need Gov.Wolf to acknowledge us by coming to our communities to talk to people firsthand and give us the help we need and deserve."
"I am calling on Gov. Wolf to bring his entire cabinet to experience my contaminated well water in person," said Ray Kemble, a Dimock, Pennsylvania resident. "The struggles we face in my community on a daily basis need to be experienced in person to believe it."
"My father was an emergency first responder for most of his life and would be treating the intense drilling and fracking as the disaster it is to the state of Pennsylvania," said Craig Stevens, a sixth generation landowner from Silver Lake Township, Pennsylvania. "Good leaders should not dismiss those that have been harmed by a disaster. Leaders stand with their citizens."
The letter cites the overwhelming body of scientific evidence linking fracking to numerous health, safety and environmental risks. For instance, drilling and fracking have been linked to increased hospitalization rates in heavy fracking areas and conditions including skin diseases, upper respiratory illness, a 27 percent increase in risk for cardiac disease, neurological disorders, urologic ailments and cancer. Additionally fracking has been linked to water pollution and contamination, increased rates of earthquakes and seismic activity, climate change and other environmental damage and a range of public health problems for nearby residents and workers. 
Signatories to the letter call on Gov. Wolf and Pennsylvania to follow the lead set by New York and Maryland, which passed a ban and moratorium on fracking within the last year.
"All over the country and the world people are watching what Gov. Wolf's next move will be on the fracking issue," said Julia Walsh of Frack Action. "Will he change course from blatant negligence and corruption of the Corbett Administration by acknowledging the people who are suffering and help them or will he continue to ignore of the pleas of Pennsylvanians in need who live with the nightmare of health problems, water contamination, air pollution, heavy truck traffic and the disintegration of their communities from drilling and fracking? The world is watching."
YOU MIGHT ALSO LIKE
Public Health Emergency Declared in Flint, Michigan Due to Lead Contamination in Water
This Pennsylvania Community Is Determined to Ban GMOs and Pesticides
Dear World Leaders, Take Climate Action Now
EcoWatch Daily Newsletter