This website uses cookies to ensure you get the best experience while browsing it. By clicking 'Got It' you're accepting these terms.
Levi's Makes 100,000 Pairs of Jeans With 100% Recycled Water
Feb. 26, 2014 12:36PM EST
Business
Denim might be the most well-known component of jeans, but it takes a good amount of water to give a pair the type of color and shape that make consumers want to reach into their pockets.
Since drinking and bathing will always be infinitely more important uses for water, Levi Strauss & Co. is attempting to save as much water as it can while creating its popular line of jeans.
According to a statement, the company recently made 100,000 pairs of women's jeans with 100-percent recycled water at a factory in China. As a result, it saved about 12 million liters of water—enough to fill nearly five Olympic-sized swimming pools. The company also created a new water recycling and manufacturing standard for its factories around the world.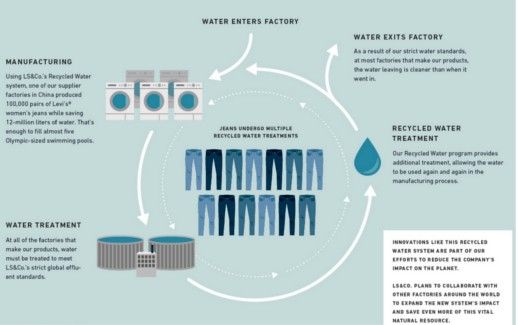 Back in 1994, the company established water quality requirements for treatment after the company uses water to finish its jeans with different shades. Levi Strauss says water leaves its factories cleaner than when it entered. Now, the company says it is committed to recycling water as many times as possible to create its jeans.
"We anticipate that is definitely going to grow in the future," Michael Kobori, vice president of sustainability at Levi Strauss & Co., told TreeHugger. "We're working with two other factories, one of them in Latin America, and the other in South Asia, to install the same kind of recycle water process.
"We really want to continue to scale it up to as many of our suppliers as we can."
Levi Strauss created its new standard with recommendations from the World Health Organization and the U.S. Environmental Protection Agency. Though the company isn't using the process for all of its garments just yet, Levi Strauss believes its process can drive change throughout the clothing industry.
"We're really thrilled to be able to establish this water recycling standard," Kobori said.
"Water is a very precious resource, and by recycling it, more will be available for the environment and for communities."
Water conservation is one of many sustainability initiatives at Levi's. Last fall the company announced its sustainable sourcing process for its Dockers brand.
Visit EcoWatch's SUSTAINABLE BUSINESS page for more related news on this topic.

EcoWatch Daily Newsletter
BruceBlock / iStock / Getty Images
Thanks to their high concentration of powerful plant compounds, foods with a natural purple hue offer a wide array of health benefits.
Environmental Investigation Agency
Last week, the Peruvian Palm Oil Producers' Association (JUNPALMA) promised to enter into an agreement for sustainable and deforestation-free palm oil production. The promise was secured by the U.S. based National Wildlife Federation (NWF) in collaboration with the local government, growers and the independent conservation organization Sociedad Peruana de Ecodesarrollo.
Pixabay
Leaked documents show that Jair Bolsonaro's government intends to use the Brazilian president's hate speech to isolate minorities living in the Amazon region. The PowerPoint slides, which democraciaAbierta has seen, also reveal plans to implement predatory projects that could have a devastating environmental impact.
XL CATLIN SEAVIEW SURVEY / THE OCEAN AGENCY
Hope may be on the horizon for the world's depleted coral reefs thanks to scientists who successfully reproduced endangered corals in a laboratory setting for the first time, according to Reuters.
Last week we received positive news on the border wall's imminent construction in an Arizona wildlife refuge. The Trump administration delayed construction of the wall through about 60 miles of federal wildlife preserves.
PhotoAlto / Frederic Cirou / Getty Images
Drinking water treated with fluoride during pregnancy may lead to lower IQs in children, a controversial new study has found.
National Institude of Allergy and Infectious Disease