Lawsuit Filed Over Oklahoma's 'Fracking' Earthquakes as Its Third Largest Quake Is Felt in 7 Other States
The Sierra Club and the public interest law firm Public Justice have filed a federal lawsuit Tuesday against three energy companies engaged in hydraulic fracturing, aka fracking, in Oklahoma.
The suit against New Dominion, Chesapeake Operating and Devon Energy Production Company alleges that wastewater from fracking and oil production have contributed to the state's alarming spike in earthquake activity.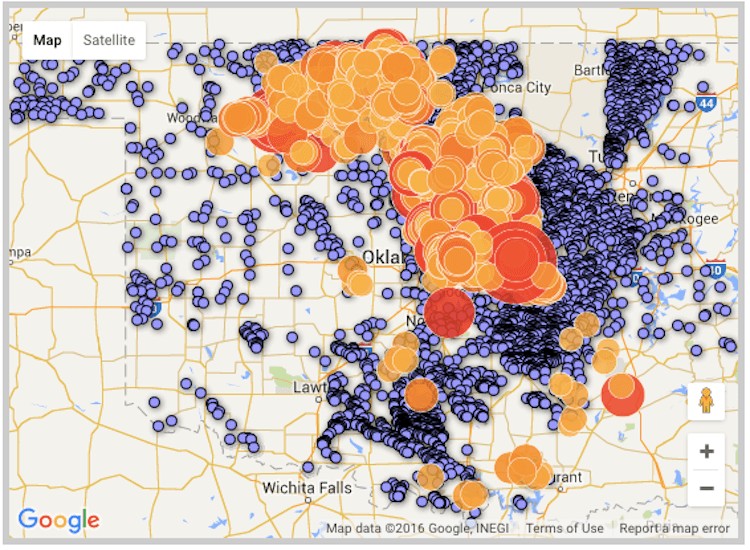 Map of Oklahoma. The orange dots represent the number of earthquakes with a magnitude of 3.0 and higher from 2010 to date. The blue dots represent the state's wastewater disposal wells. Photo credit: Earthquakes in Oklahoma
The lawsuit demands the companies, as a first step, to "reduce, immediately and substantially, the amounts of production waste they are injecting into the ground."
The lawsuit was filed the same day that the Oklahoma Corporation Commission made their largest push yet to curb the state's seismic activity. According to the Associated Press, the state's oil and gas regulator ordered operators of nearly 250 injection wells to reduce the amount of wastewater they inject underground.
The commission released a plan that covers more than 5,200 square miles in northwest Oklahoma and called for a reduction of more than 500,000 barrels of wastewater daily, or about 40 percent less than previous levels, the AP reported.
The commission's measure comes three days after a 5.1 magnitude earthquake shook northwest Oklahoma. Not only was the quake felt in seven other states, it's the third-strongest temblor ever recorded in the state, the U.S. Geological Survey (USGS) said.
"Without knowing more specifics about the wastewater injection and oil and gas production in this area, the USGS cannot conclude whether or not this particular earthquake was caused by industrial-related, human activities," the agency said. "However, we do know that many earthquakes in the area have been triggered by wastewater fluid injection."
Fairview, Oklahoma's 5.1 magnitude earthquake on Feb. 13 that was felt in Arkansas, Iowa, Kansas, Missouri, Nebraska, New Mexico and Texas was the largest earthquake in the state since a 5.6 earthquake struck in 2011. Photo credit: USGS
The Sooner State has gone from two earthquakes a year before 2009 to two a day, making it the earthquake capital of the world.
In 2014, seismologists reported more than 5,000 earthquakes in Oklahoma. In 2015, the state experienced 907 quakes of magnitude 3.0 or greater. "The earthquakes are continuing in 2016," the suit states, noting that "Oklahoma City residents were awakened on January 1 with a 4.1 magnitude earthquake. Six days later, 4.3 and 4.8 magnitude earthquakes occurred back-to-back. [The state] has had 131 earthquakes from January 1 through 16, 2016, ranging from 2.01 to 4.8."
Scientists concluded in April 2015 that the injection of wastewater byproducts into deep underground disposal wells from fracking operations have triggered the near-daily quakes.
The Tulsa World examined a recent Oklahoma Geological Survey study, which found an 81 percent jump from 2009 to 2014 in wastewater volumes pumped back underground from oil and gas activities, in which wastewater volumes skyrocketed to 1.538 billion barrels in 2014 from 849 million in 2009. The rise coincides with the state's leap in seismicity, Tulsa World observed.
"The science laid out in our case is clear," Paul Bland, executive director of Public Justice, said. "Oklahoma may be on the verge of experiencing a strong and potentially catastrophic earthquake. All evidence points to alarming seismic activity in and around fracking operations, and that activity is becoming more frequent and more severe. This lawsuit, which we filed after the three companies named in our suit refused to take steps of their own, is an action brought by residents of Oklahoma in an attempt to protect their property, their communities and their lives."
The groups said in their complaint that continued injection "may present an imminent and substantial endangerment to health and the environment."
"The dangers associated with fracking and its related processes has never been more clear than it is here in Oklahoma," Johnson Bridgwater, director of Sierra Club's Oklahoma chapter, said. "Oklahomans, just as all Americans do, deserve the right to live in peace and comfort—not to live in fear of man-made earthquakes. It is our hope that these three companies will recognize the immediate danger they are putting communities in, and put our health and our environment ahead of its profits."
Not only are the groups requesting a substantial reduction in production waste, they are also seeking an order that requires the companies to reinforce vulnerable structures, which could be impacted by large magnitude earthquakes. The suit also asks the court to require the establishment of an independent earthquake monitoring and prediction center.
"If the fracking industry doesn't change its ways, the next earthquake could be catastrophic," Robin L. Greenwald, head of Weitz & Luxenberg's Environmental, Toxic Tort and Consumer Protection litigation unit, said. "This lawsuit seeks to beat back immediately the amount of production waste that fracking creates, to reduce the deep well injection of that waste and, most important, to limit the amount of damage this process is causing across the Sooner State."
Public Justice attorney Richard Webster told Radio Oklahoma News that "the polluters know very well that their activities will trigger earthquakes and yet they continue to inject large volumes of waste with impunity despite that knowledge.
"What we're asking them for is to come down to a level where the injection does not induce earthquakes."
Devon spokesman John Porretto told the AP it would be inappropriate to discuss the suit from the Sierra Club and Public Justice. The other companies didn't immediately reply to requests for comment.
Many have criticized the state's slow response to the regulation of wastewater injection. Al Jazeera America's bombshell documentary, Earthquake State, exposed the maddening hurdles and bureaucracy that state scientists and regulators face in their efforts to halt the potential crisis and national security threat.
As the quakes continue to strike the state with increasing frequency, Oklahoma Gov. Mary Fallin ordered $1.4 million in emergency funds for earthquake research during her annual State of the State last month.
"I'm committed to funding seismic research, bringing on line advanced technology and more staff to fully support our regulators at they take meaningful action on earthquakes," she said in a statement.
The Sierra Club and Public Justice have joined the mounting lawsuits against energy companies. Last month, 14 residents of Edmond, Oklahoma filed suit against 12 "reckless" energy companies, claiming their fracking operations caused the state's string of earthquakes.
YOU MIGHT ALSO LIKE 
Second Review of EPA's Fracking Study Urges Revisions to Major Statements in Executive Summary
Warning to Fossil Fuel Investors: Coal and LNG Markets Shrinking Due to Competition From Renewables
Mark Ruffalo: There's No Fracking That Can Be Done Safely
70 More Earthquakes Hit Oklahoma, Averaging Nearly Three a Day in 2015
Laurie Woolever
By James O'Hare
There are 20 million people in the world facing famine in South Sudan, Somalia, Nigeria and Yemen. In developed nations, too, people go hungry. Venezuela, for instance, is enduring food insecurity on a national level as a result of economic crisis and political corruption. In the U.S., the land of supposed excess, 12.7 percent of households were food insecure in 2015, meaning they didn't know where their next meal would come from.
Keep reading...
Show less
Melwater, Greenland ice sheet. Diane Tuft
Artists are taking the climate crisis into frame and the results are emotional, beautiful and stirring.
So you've seen the best climate change cartoons and shared them with your friends. You've showed your family the infographics on climate change and health, infographics on how the grid works and infographics about clean, renewable energy. You've even forwarded these official National Oceanic and Atmospheric Administration graphs that explain the 10 clear indicators of climate change to your colleagues at the office.
Keep reading...
Show less
May. 27, 2017 01:11PM EST
As the Trump administration moves full speed ahead on boosting the oil and fossil fuel industry, opposition to increased pipeline construction is cropping up in different communities around the country.
Keep reading...
Show less
May. 27, 2017 01:02PM EST
Minke whale stranding near Havergate Island in Suffolk. MCGA.
By Simon Evans
Last Saturday, two dead whales washed up on the coast of Suffolk, in eastern England, and a third was spotted floating at sea.
What happened next illustrates how news can spread and evolve into misinformation, when reported by journalists rushing to publish before confirming basic facts or sourcing their own quotes.
Keep reading...
Show less
May. 27, 2017 01:22PM EST
By Monica Amarelo and Paul Pestano
Sun safety is a crucial part of any outdoor activity for kids, and sunscreen can help protect children's skin from harmful ultraviolet rays. Kids often get sunburned when they're outside unprotected for longer than expected. Parents need to plan ahead and keep sun protection handy in their cars or bags.
Keep reading...
Show less
May. 27, 2017 01:02PM EST
By Joe McCarthy
A lot of people take part in community clean-up efforts—spending a Saturday morning picking up litter in a park, mowing an overgrown field or painting a fence.
Keep reading...
Show less
May. 26, 2017 03:22PM EST
Rink Glacier in western Greenland, with a meltwater lake visible center. NASA/OIB
Scientists have had their eyes on Greenland as its iconic glaciers have begun disappearing due to a warming climate. But, what they didn't expect to see was a whole new type of melting.
Keep reading...
Show less
May. 26, 2017 03:40PM EST
A coalition of conservation groups and others announced Thursday that a historic number of comments and petitions of support have been submitted to the U.S. Department of the Interior in support of Bears Ears National Monument. Despite the entirely inadequate 15-day comment period ending on May 26, more than 685,000 comments in support of Bears Ears National Monument have been collected.
Keep reading...
Show less


Get EcoWatch in your inbox