This website uses cookies to ensure you get the best experience while browsing it. By clicking 'Got It' you're accepting these terms.
Lake Mead About to Hit a Critical New Low as 15-Year Drought Continues in Southwest
Jun. 09, 2015 02:37PM EST
Climate
Lake Mead, America's largest U.S. reservoir when at capacity, is about to hit a critical new low. The reservoir near Las Vegas on the Colorado River has been in decline for decades because the reservoir and the larger Colorado River system has been over-allocated for many years. As of yesterday, the elevation of Lake Mead was 1,075.96. The reservoir is only days away from hitting 1,075 feet, according to the U.S. Bureau of Reclamation's projections. That number is the threshold set in a 2007 agreement as part of the U.S. Department of Interior's Colorado River Interim Guidelines, which calls for delivery cuts if water levels in Lake Mead drops below that level.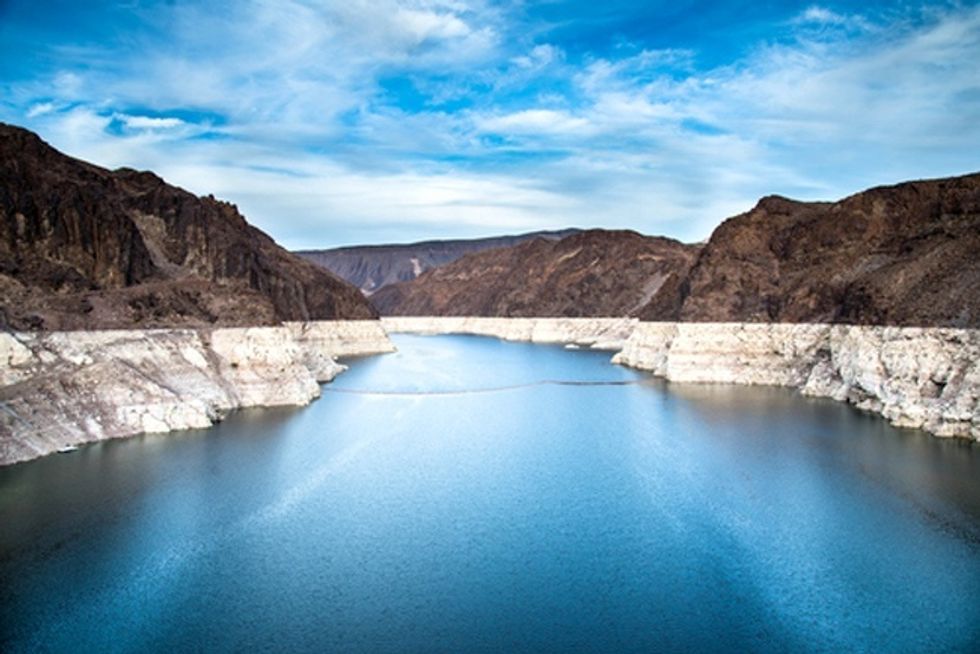 Photo credit: Shutterstock
These cuts will be the first set of mandatory water delivery curtailments to Lake Mead. Should the water levels continue to drop, as they are expected to—due to the prolonged drought, climate change and poor water management—more cuts will be required. The Western Water Policy Program and the Bren School of Environmental Management at the University of California, Santa Barbara recently released their spring report, The Bathtub Ring, which examines the impacts as Lake Mead levels decline to 1075 feet, 1050 feet, 1025 feet and 1000 feet.
The Bureau of Reclamation predicts the first round of cuts could take place in January 2017 with Arizona and Southern Nevada seeing the biggest cuts. Arizona plans to curtail "groundwater recharge efforts" and cut "deliveries to farmers with low-priority rights," according to the Las Vegas Sun. Arizona's cities "would be unaffected, at least initially." Southern Nevada, for its part, "has prepared with conservation, saving enough water that residents and businesses won't be affected if a portion no longer is available."
Further reductions would kick in when the reservoir dips below 1,050 feet and again at 1,025 feet. When the water level hits 1,025 feet, "a new round of water rationing would have to be negotiated," reports the Las Vegas Sun. The epic drought has left water officials scrambling to plan for rapidly diminishing water levels.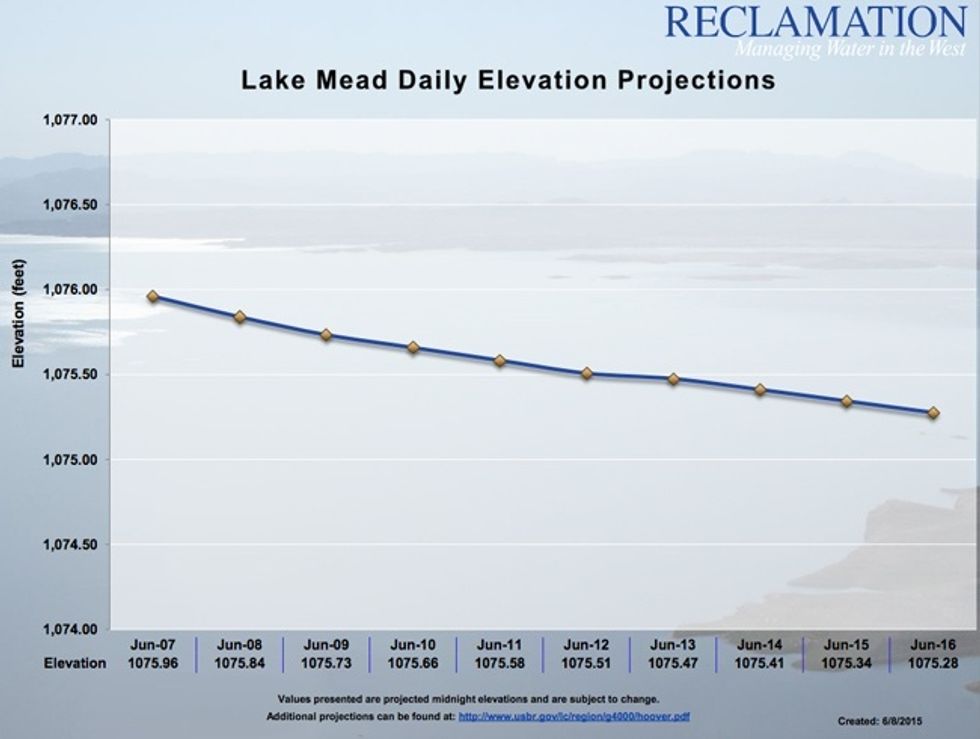 "We're headed to a new normal," Gary Wockner, executive director of the nonprofit Save the Colorado River, told the Las Vegas Sun. "It remains to be seen what will happen, but political tensions are very likely."
Upper-basin states are considering building more dams because states are feeling pressure to "use it or lose it" when it comes to water resources. But that will only make the problem worse as states across the West compete for fewer and fewer resources.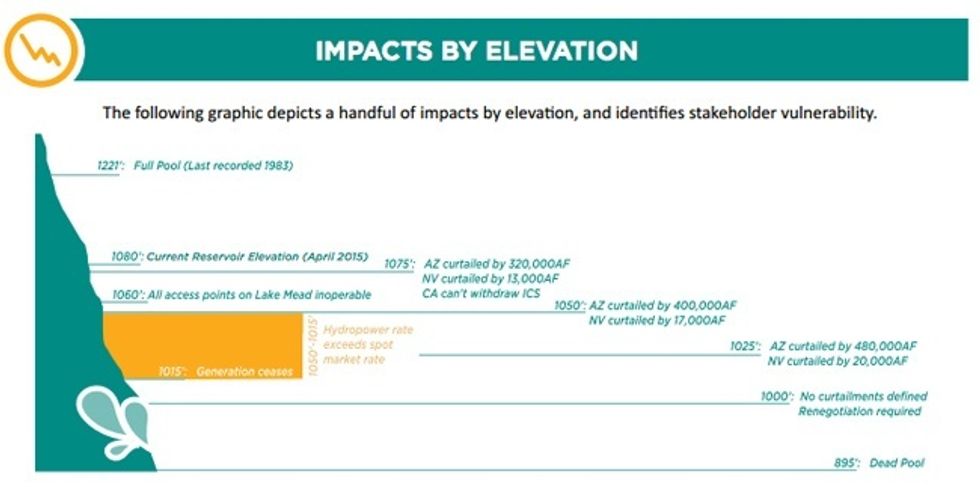 "It increases the likelihood that lower-basin states would have to do a 'call on the river,' where the lower basin will have to legally demand that the water is sent down river," Wockner told EcoWatch. "It's likely going to create a political crisis."
Up until now, the seven states that share the Colorado River's water have "put aside their differences in order to survive," said the Las Vegas Sun. But that could change as water resources become more and more scarce in the drought-stricken West.
"As the Lake drops and the cuts begin, we need to rethink and re-manage the river," said Wockner. "The farmers and cities may soon feel what the Colorado River already feels everyday—it is drained, dried up and depleted. We need a new Colorado River Compact that allocates water to the river's health in addition to the health of the Southwest's economy."
YOU MIGHT ALSO LIKE
Is the Fracking Boom Coming to an End?
Is Game of Thrones Actually About Climate Change?
Josh Fox Gets Kicked Off of Fox News While Exposing Misleading Coverage of EPA Fracking Report
EcoWatch Daily Newsletter
Pro-environment demonstrators on the streets of Washington, DC during the Jan. 20, 2017 Trump inauguration.
Mobilus In Mobili
/ Flickr /
CC BY-SA 2.0
By Dr. Brian R. Shmaefsky
One year after the Flint Water Crisis I was invited to participate in a water rights session at a conference hosted by the US Human Rights Network in Austin, Texas in 2015. The reason I was at the conference was to promote efforts by the American Association for the Advancement of Science (AAAS) to encourage scientists to shine a light on how science intersects with human rights, in the U.S. as well as in the context of international development. My plan was to sit at an information booth and share my stories about water quality projects I spearheaded in communities in Bangladesh, Colombia, and the Philippines. I did not expect to be thrown into conversations that made me reexamine how scientists use their knowledge as a public good.
Mt. Rainier and Reflection Lake on Sept. 10, 2015. Crystal Geyser planned to open a bottling plant near Mt. Rainier, emails show.
louelke - on and off / Flickr
Bottled water manufacturers looking to capture cool, mountain water from Washington's Cascade Mountains may have to look elsewhere after the state senate passed a bill banning new water permits, as The Guardian reported.
Large storage tank of Ammonia at a fertilizer plant in Cubatão, Sao Paulo State, Brazil. Luis Veiga / The Image Bank / Getty Images
The shipping industry is coming to grips with its egregious carbon footprint, as it has an outsized contribution to greenhouse gas emissions and to the dumping of chemicals into open seas. Already, the global shipping industry contributes about 2 percent of global carbon emissions, about the same as Germany, as the BBC reported.
At high tide, people are forced off parts of the pathway surrounding DC's Tidal Basin. Andrew Bossi /
Wikimedia
The Jefferson Memorial in Washington, DC overlooks the Tidal Basin, a man-made body of water surrounded by cherry trees. Visitors can stroll along the water's edge, gazing up at the stately monument.
But at high tide, people are forced off parts of the path. Twice a day, the Tidal Basin floods and water spills onto the walkway.
Lioness displays teeth during light rainstorm in Kruger National Park, South Africa. johan63 / iStock / Getty Images
Ahead of government negotiations scheduled for next week on a global plan to address the biodiversity crisis, 23 former foreign ministers from various countries released a statement on Tuesday urging world leaders to act "boldly" to protect nature.