Kosovo's Keystone
Feb. 10, 2012 04:17AM EST
Energy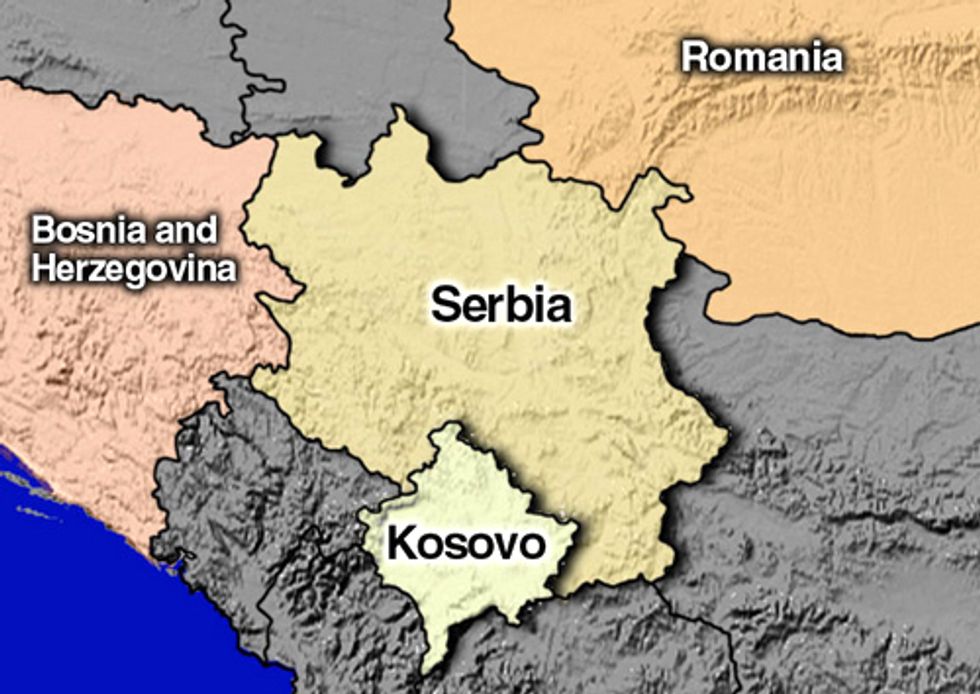 Erika Eichelberger
Bill McKibben calls it Kosovo's Keystone. Not only is the U.S. State Department pushing dirty energy on its own country, it's pushing it on Kosovo as well. It's just not as clear why.
The State Department is currently leaning on the World Bank to fund a new coal-fired power plant in Kosovo, part of a plan that includes shutting down an old, Soviet-era coal plant, refurbishing another and privatizing distribution of electricity. Just last week, an expert panel at the Bank decided that the project met environmental requirements and cleared the project to move into final approval stages.
What's ironic is that this project defies policies that the U.S. issued in the wake of Copenhagen, which called on the World Bank to phase out coal lending in light of climate change considerations, and urged lenders to establish "ambitious targets to substantially increase lending for no and low carbon energy services."
The Bank has been much maligned for boasting a leading role in climate finance while continuing to back dirty energy projects. It was burned a couple years ago by backlash over funding for a huge new coal plant in South Africa. The U.S. abstained from a vote on that project in protest. Though the Kosovo project is scaled back from its initial outsize proportions, the Bank is still so wary of repeat negative PR that it demanded written approval from the U.S.
In October, the Sierra Club issued a report slamming the project for failing to adequately demonstrate real need for new coal-fired generation, failing to consider cleaner solutions and low-balling the cost. The World Bank then drafted a new plan that takes into consideration some alternative energy sources, efficiency measures and revised cost estimates, but stuck to its stance that Kosovo still needs a new coal plant.
The most impoverished countries are exempt from U.S. and World Bank coal-lending restrictions. Kosovo, one of the poorest in Europe, is one of these. If Kosovo truly needed this plant to develop, there is a legitimate argument to be made that it should be permitted. Third world countries contend that industrialized nations shouldn't crimp development because they dirtied the planet. But in this case, greener alternatives are available.
A new evaluation conducted by the World Bank's own former chief specialist for renewable energy determined that adding new coal-fired power is not the most economical option for Kosovo because when social and ecological costs are taken into account, coal is up to three times more expensive. The report models a low-carbon path for the country's extra energy need that includes hydro-power, solar, biomass and wind, and makes a new coal plant unnecessary. This scenario would also create more jobs.
A recent report by the former head of the U.S. Environmental Protection Agency's air quality division charges that the World Bank's new plan still fails to demonstrate the need for new coal energy, stating that renovation and improved efficiency would cost Kosovo less than new construction. And a new plant with excess capacity would actually discourage efficiency. "It will create perverse incentives to increase the use of electricity to justify the initial investment," according to the report.
The World Bank claims that the project will be carbon-neutral or carbon-reducing.
A plan that requires zero new coal-fired electricity would be cleaner.
So why is the U.S. still pushing coal on Kosovo? The Treasury Department, which is charged with representing the U.S. position on the project, declined to comment specifically on the Kosovo case, instead providing a copy of their general environmental guidelines for coal lending by development banks.
Combinations of several possible motivations for U.S. support of the project have been floating in non-governmental organization and policy circles. Justin Guay, the Sierra Club's Washington representative says part of the reason stems from the fact that the project was initiated years ago, and its essence remains unchanged. "There is a lot of momentum behind this that is very old," he says.
A stubborn mentality that is out of step with the reality of climate change also pervades State, says Guay. "There's this idea that all [Kosovo's] natural resources should be exploited to help the country develop." Even if they happen to be dirty. Kosovo sits on the world's fifth largest deposit of lignite coal. It's "old-school thinking of energy in general," says Mijin Cha, senior policy analyst with the Sustainable Progress Initiative at Demos.
The U.S. could be trying to curry favor with the European Union, Cha speculates. The EU claims the project is key in putting Kosovo on the path to EU membership by shutting down its highest-polluting plant. (Environmentalists beg to differ, arguing that funding for lignite coal plants represents an obstacle to meeting the EU's ambitious emissions reductions targets and follows a pattern of creating high-carbon markets outside the EU community to avoid its steep carbon tax.)
Guay is dubious as to how much of the project is designed for the people of Kosovo and how much for international players. Four international consortiums, including two that are part-American, have been pre-approved for bidding on construction and operation of the plant. Electricity distribution is slated to be privatized as well. "It's questionable whether it's even for Kosovo," Guay says. "Revenues won't go to the country. They will get incredible debt in a foreign currency in the middle of the EU debt crisis." 
The potential for American companies to construct, own and operate the proposed new plant might be a factor in the U.S.'s drive to push this project, Cha says, "but it's still only a 50 percent chance that an American company would have part of the tender." She speculates the extra coal plant might "make [Kosovo] more attractive for foreign investment which would eventually make it more attractive for American companies," but says that's a long way off.
An "expert panel" was commissioned last year by the World Bank to determine whether the project complied with U.S. requirements for Bank coal lending, including full consideration of viable alternatives and environmental implications. Last week, the panel announced their decision, claiming the project met these criteria and permitting it to move forward. The next step is an environmental impact assessment before the project is submitted for final approval towards the end of this year.
In the meantime, Kosovars are fighting to halt the environmentally destructive project. Nezir Sinani, with the Kosovar Institute for Development Policy says, "We've joined community movements here that are protesting the project. We will use all legal means possible, and try to raise public awareness."
As the approval, bidding and construction process unfolds, it remains to be seen what's in the cocktail of motivations behind State's passion for this project. "It is a bit confusing," Cha says, "and really disappointing. There is definitely something fishy, it's just not so clear what it is."
--------
Erika Eichelberger works for The Nation Institute and is a freelance journalist. Follow Erika on Twitter at @erika_eee.

EcoWatch Daily Newsletter
Related Articles from EcoWatch
Recent Stories from EcoWatch