Koch Brothers Continue to Fund Climate Change Denial Machine, Spend $21M to Defend Exxon
The Kochs have spent more than $88 million in traceable funding to groups attacking climate change science, policy and regulation. Of that total, $21 million went to groups that recently bought a full page New York Times advertisement defending ExxonMobil from government investigations into its systematic misrepresentation of climate science.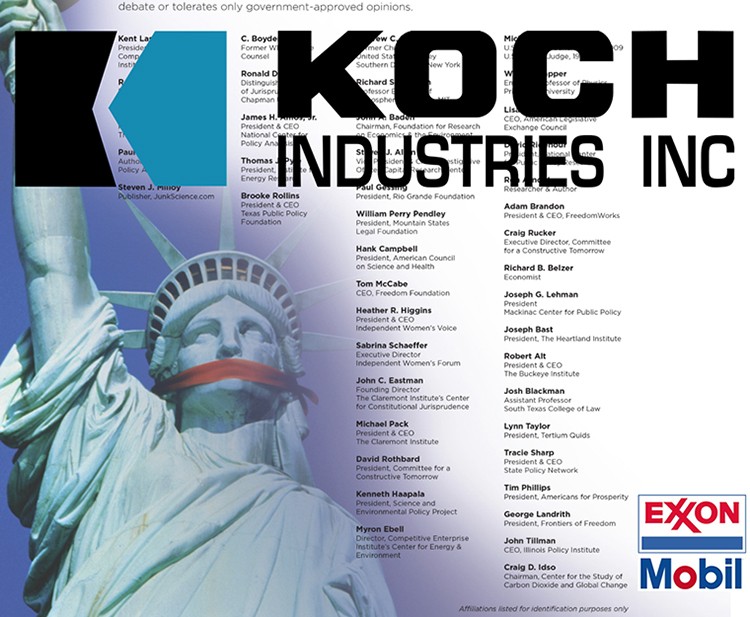 If you're an executive at a big oil company watching as ExxonMobil is finally exposed for studying climate change, covering up the science and spreading misinformation, you're probably worried now that state attorneys general are knocking on Exxon's door.
Charles and David Koch must be worried, anyway. Their foundations gave more than $21 million to the people and groups that signed a recent, full page New York Times advertisement that defends ExxonMobil's longstanding efforts to ruin the public's understanding of climate change science.
Here Are the Numbers: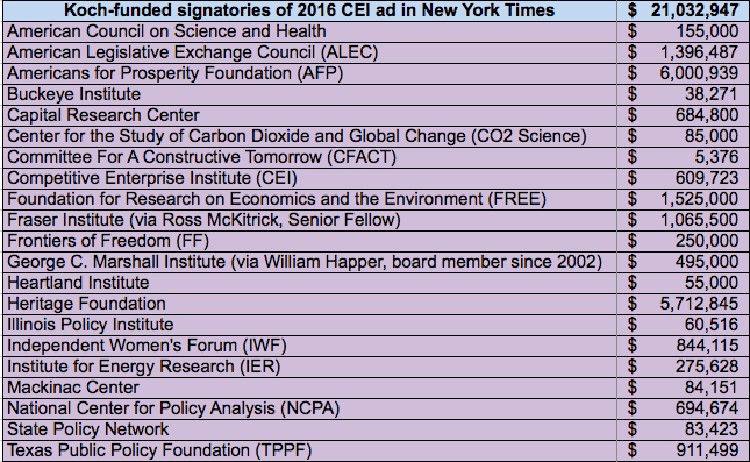 For comparison, Exxon itself spent half as much on the same people and groups, $10.1 million; money that the front groups spent on tactics like … a $100,000-or-so full page ad buy in the New York Times. (More info at Climate Investigations Center from my former colleague, Kert Davies).
The ringleader group behind the letter, the Competitive Enterprise Institute (CEI), is of particular interest. Exxon dumped CEI for its unsupportable climate stance back in 2006, a crushing blow for the aggressive beltway front group that continued to humiliate CEI staff for years.
But it appears that CEI is loyal to the cause of climate denial, despite being abandoned by Exxon a decade ago. Other financiers, like the Koch family and several coal and oil companies may explain why the denial campaign was sustained.
Traceable funds only represent a portion of the Koch family's contributions to CEI. At CEI's annual fundraising events, Koch Industries' lobbying subsidiary has been listed as a sponsor. Full-disclosure tax filings published by PR Watch revealed that Koch Industries directly paid Americans for Prosperity, the Texas Public Policy Foundation and other organizations.
PR Watch discovered another revelation in the full-disclosure tax documents that were leaked. Apparently, David Koch likes to cut CEI $100,000 checks straight from his own coffers. David Koch's money was not sent through his nonprofit foundation, which would have had to report the grants to CEI.
This incomplete patchwork of previously-undisclosed funds from Koch Industries and David Koch adds $3,124,834 to the accounting on groups that co-signed the CEI ad. This raises the question: who else is just cutting a direct check to the climate deniers?
And then there's the "Dark Money ATM" sister groups, DonorsTrust and Donors Capital Fund. The DonorsTrust franchise is run by CEI's former president, Lawson Bader, who helps donors—including Koch—anonymize tens of millions of dollars that go to dozens of front groups each year. DonorsTrust & Capital Fund have funneled millions of dark money dollars to CEI.
But that's still not the end of the financial trail. Other mechanisms used by Charles Koch and his army of donor friends include Freedom Partners Chamber of Commerce, a dark money umbrella group that has hidden hundreds of millions of dollars in politically-charged cash, shuffled between various trusts, nonprofits and limited liability corporations.
For the deep history, check out Kert Davies' post for the Climate Investigations Center, which spurred my own interest in the sponsors of the recent New York Times ad. Kert details the crucial history of some of the letter's signatories, the role they have served in the climate denial machine over the years and the exact documents that inform his understanding.
I have reproduced Kert's ExxonSecrets map (below) of the players involved, as it helps show how a small group of people funded by a few oil and coal companies can cast a shadow that is deceptively deep. The tobacco industry crafted this deceptive model and fossil fuel companies have innovated it since. It helps that the same people doing tobacco science denial moved on to climate science denial.
One of those tobacco denial alumni, lawyer Steve Milloy, himself an aggressive defender of ExxonMobil, knows that a small group of people can have an outsized impact with enough funding—even in the face of 97-99 percent of the world's climate scientists. Milloy once said, "There's really only about 25 of us doing this. A core group of skeptics. It's a ragtag bunch, very Continental Army."
This indicates that folks like Milloy aren't just deceiving the public, but themselves. If I was taking Charles Koch's money to attack science, I too would probably have to constantly remind myself of my American heroics.
Mr. Koch is as awkward as ever in his half-hearted attempts to understand climate change science (you'd think a MIT alumnus would get it), he has been wary of climate laws and regulations for a long time.
That's probably why he has rained cash on the organizations that stage the fight, groups that have given room for a top U.S. CEO, with a background in chemical engineering, to demonstrate such scientific ignorance. Since 1997, the Kochs have spent more than $88 million in traceable dollars into the network of groups that attack climate science, the scientists doing the research, the potential policy solutions and the champions of those policies.
ExxonSecrets Map of the Players: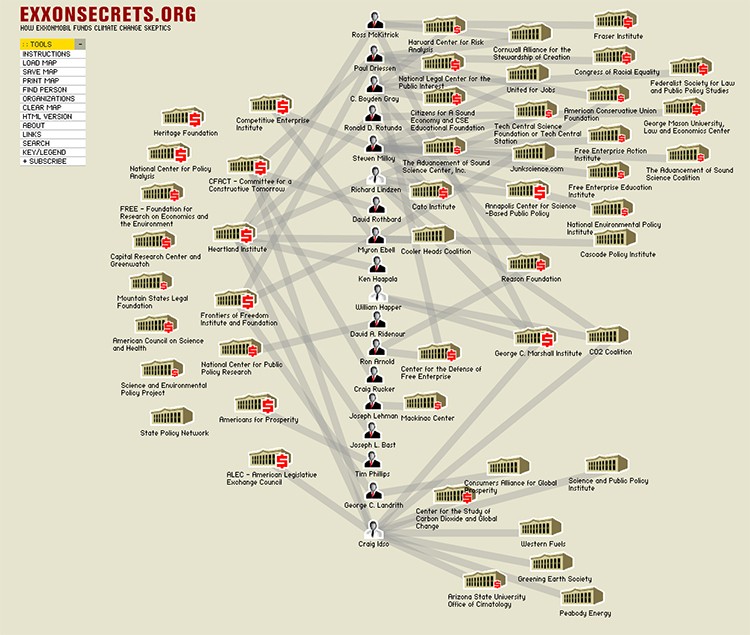 Connor Gibson does research for Greenpeace's Investigations team. He focuses on polluting industries, their front groups and PR operatives, particularly focusing on the Koch Brothers.
YOU MIGHT ALSO LIKE
Methane Emissions From Onshore Oil and Gas Equivalent to 14 Coal Plants Powered for One Year
185 Environmental Activists Across 16 Countries Were Killed in 2015
Obama Visits Yosemite, Warns of Risks From Climate Change
Exxon Sues Massachusetts Attorney General to Block Climate Fraud Investigation
www.youtube.com
President Trump visited Cedar Rapids, Iowa on June 21 to speak to a large crowd in the U.S. Cellular Center at a political rally organized by his campaign.
As Trevor Noah noted during The Daily Show episode last night (starts at 2:25), the real reason Trump has these rallies is to "get back in front of his loyal crowds and feed of their energy." Noah believes that "Trump supporters are so on board with their dude he can say anything and they'll come along for the ride."
Keep reading...
Show less
www.youtube.com
By Andy Rowell
Any day now we will truly witness climate change in action. Within days at worst, maybe weeks at best, scientists predict that a huge section of the Larsen C ice shelf in Antarctica will break off into the ocean, in what is called a major "carving" event.
Keep reading...
Show less
www.facebook.com
By Francine Kershaw
Seismic airguns exploding in the ocean in search for oil and gas have devastating impacts on zooplankton, which are critical food sources for marine mammals, according to a new study in Nature. The blasting decimates one of the ocean's most vital groups of organisms over huge areas and may disrupt entire ecosystems.
And this devastating news comes on the heels of the National Marine Fisheries Service's proposal to authorize more than 90,000 miles of active seismic blasting. Based on the results of this study, the affected area would be approximately 135,000 square miles.
Keep reading...
Show less
By Jill Richardson
Is coconut oil:
good for you
bad for you
neither good nor bad
scientists don't know
The subject of this question is the source of a disagreement. Initially, the question was thought to be settled decades ago, when scientist Ancel Keys declared all saturated fats unhealthy. Coconut oil, which is solid at room temperature, is a saturated fat.
Keep reading...
Show less
The U.S. Fish and Wildlife Service removed grizzly bears in the Greater Yellowstone region on Thursday from the Endangered Species List. The decision comes despite serious concerns in the scientific community about a declining, isolated population with diminishing food resources and record-high mortalities, as well as strong opposition from an unprecedented number of Tribal Nations.
Keep reading...
Show less
ArborGen pine tree field test site in South Carolina. BJ McManama
By BJ McManama
ArborGen Corporation, a multinational conglomerate and leading supplier of seedlings for commercial forestry applications, has submitted an approval request to the U.S. Department of Agriculture, Animal and Plant Health Inspection Service to deregulate and widely distribute a eucalyptus tree genetically engineered (GE) to be freeze tolerant. This modification will allow this GE variety to be grown in the U.S. Southeast. The reason this non-native and highly invasive tree has been artificially created to grow outside of its tropical environment is to greatly expand production capacity for the highly controversial woody biomass industry.
Keep reading...
Show less
By Kari Hamerschlag
Many health conscious consumers are reducing their consumption of red meat in favor of chicken—especially products labeled and promoted as "100% natural"—believing they are a healthier option produced without routine antibiotics, artificial substances or other drugs.
Keep reading...
Show less
Jun. 22, 2017 04:26PM EST
Stephen Hawking repeated his warning that humanity needs to leave Earth and colonize the moon, Mars or other planets in order for our species to survive the impending doom of climate change.
"We have given our planet the disastrous gift of climate change ... When we we have reached similar crises there has usually been somewhere else to colonize ... But there is no new world, no utopia around the corner," he said. "We are running out of space, and the only places to go to are other worlds."
Keep reading...
Show less
Jun. 22, 2017 02:28PM EST
www.youtube.com
Keep reading...
Show less


Get EcoWatch in your inbox