This website uses cookies to ensure you get the best experience while browsing it. By clicking 'Got It' you're accepting these terms.
Koch Brothers Continue to Fund Climate Change Denial Machine, Spend $21M to Defend Exxon
Jun. 22, 2016 08:06AM EST
The Kochs have spent more than $88 million in traceable funding to groups attacking climate change science, policy and regulation. Of that total, $21 million went to groups that recently bought a full page New York Times advertisement defending ExxonMobil from government investigations into its systematic misrepresentation of climate science.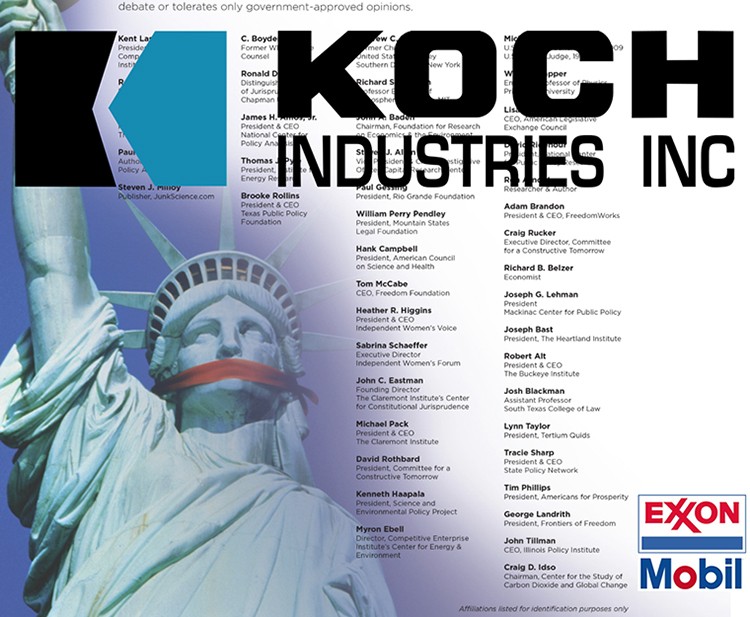 If you're an executive at a big oil company watching as ExxonMobil is finally exposed for studying climate change, covering up the science and spreading misinformation, you're probably worried now that state attorneys general are knocking on Exxon's door.
Charles and David Koch must be worried, anyway. Their foundations gave more than $21 million to the people and groups that signed a recent, full page New York Times advertisement that defends ExxonMobil's longstanding efforts to ruin the public's understanding of climate change science.
Here Are the Numbers: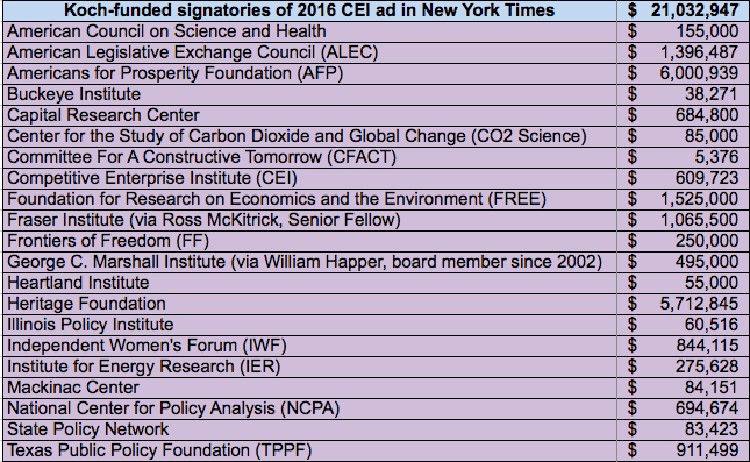 For comparison, Exxon itself spent half as much on the same people and groups, $10.1 million; money that the front groups spent on tactics like … a $100,000-or-so full page ad buy in the New York Times. (More info at Climate Investigations Center from my former colleague, Kert Davies).
The ringleader group behind the letter, the Competitive Enterprise Institute (CEI), is of particular interest. Exxon dumped CEI for its unsupportable climate stance back in 2006, a crushing blow for the aggressive beltway front group that continued to humiliate CEI staff for years.
But it appears that CEI is loyal to the cause of climate denial, despite being abandoned by Exxon a decade ago. Other financiers, like the Koch family and several coal and oil companies may explain why the denial campaign was sustained.
Traceable funds only represent a portion of the Koch family's contributions to CEI. At CEI's annual fundraising events, Koch Industries' lobbying subsidiary has been listed as a sponsor. Full-disclosure tax filings published by PR Watch revealed that Koch Industries directly paid Americans for Prosperity, the Texas Public Policy Foundation and other organizations.
PR Watch discovered another revelation in the full-disclosure tax documents that were leaked. Apparently, David Koch likes to cut CEI $100,000 checks straight from his own coffers. David Koch's money was not sent through his nonprofit foundation, which would have had to report the grants to CEI.
This incomplete patchwork of previously-undisclosed funds from Koch Industries and David Koch adds $3,124,834 to the accounting on groups that co-signed the CEI ad. This raises the question: who else is just cutting a direct check to the climate deniers?
And then there's the "Dark Money ATM" sister groups, DonorsTrust and Donors Capital Fund. The DonorsTrust franchise is run by CEI's former president, Lawson Bader, who helps donors—including Koch—anonymize tens of millions of dollars that go to dozens of front groups each year. DonorsTrust & Capital Fund have funneled millions of dark money dollars to CEI.
But that's still not the end of the financial trail. Other mechanisms used by Charles Koch and his army of donor friends include Freedom Partners Chamber of Commerce, a dark money umbrella group that has hidden hundreds of millions of dollars in politically-charged cash, shuffled between various trusts, nonprofits and limited liability corporations.
For the deep history, check out Kert Davies' post for the Climate Investigations Center, which spurred my own interest in the sponsors of the recent New York Times ad. Kert details the crucial history of some of the letter's signatories, the role they have served in the climate denial machine over the years and the exact documents that inform his understanding.
I have reproduced Kert's ExxonSecrets map (below) of the players involved, as it helps show how a small group of people funded by a few oil and coal companies can cast a shadow that is deceptively deep. The tobacco industry crafted this deceptive model and fossil fuel companies have innovated it since. It helps that the same people doing tobacco science denial moved on to climate science denial.
One of those tobacco denial alumni, lawyer Steve Milloy, himself an aggressive defender of ExxonMobil, knows that a small group of people can have an outsized impact with enough funding—even in the face of 97-99 percent of the world's climate scientists. Milloy once said, "There's really only about 25 of us doing this. A core group of skeptics. It's a ragtag bunch, very Continental Army."
This indicates that folks like Milloy aren't just deceiving the public, but themselves. If I was taking Charles Koch's money to attack science, I too would probably have to constantly remind myself of my American heroics.
Mr. Koch is as awkward as ever in his half-hearted attempts to understand climate change science (you'd think a MIT alumnus would get it), he has been wary of climate laws and regulations for a long time.
That's probably why he has rained cash on the organizations that stage the fight, groups that have given room for a top U.S. CEO, with a background in chemical engineering, to demonstrate such scientific ignorance. Since 1997, the Kochs have spent more than $88 million in traceable dollars into the network of groups that attack climate science, the scientists doing the research, the potential policy solutions and the champions of those policies.
ExxonSecrets Map of the Players: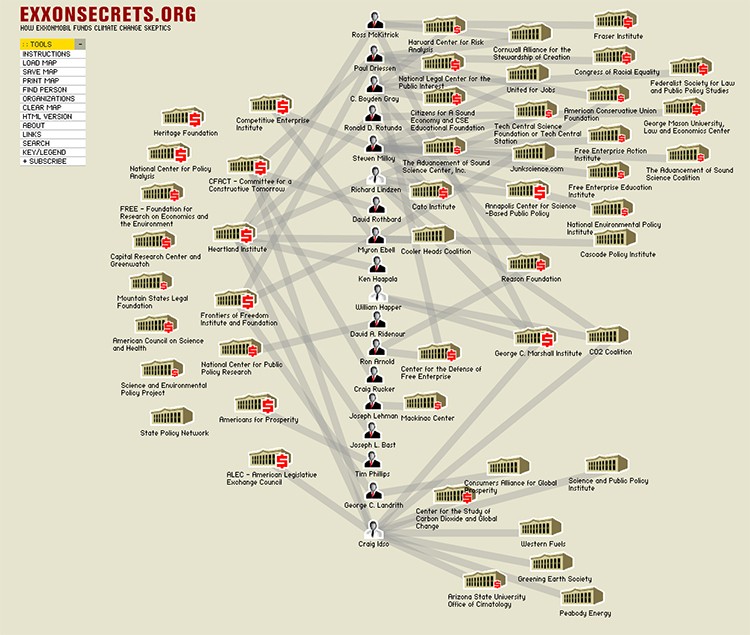 Connor Gibson does research for Greenpeace's Investigations team. He focuses on polluting industries, their front groups and PR operatives, particularly focusing on the Koch Brothers.
YOU MIGHT ALSO LIKE
Methane Emissions From Onshore Oil and Gas Equivalent to 14 Coal Plants Powered for One Year
185 Environmental Activists Across 16 Countries Were Killed in 2015
Obama Visits Yosemite, Warns of Risks From Climate Change
Exxon Sues Massachusetts Attorney General to Block Climate Fraud Investigation
Prince William and British naturalist David Attenborough attend converse during the World Economic Forum annual meeting, on January 22 in Davos, Switzerland. Fabrice Cofferini /AFP / Getty Images
Britain's Prince William interviewed famed broadcaster David Attenborough on Tuesday at the World Economic Forum's annual meeting in Switzerland.
During the sit-down, the 92-year-old naturalist advised the world leaders and business elite gathered in Davos this week that we must respect and protect the natural world, adding that the future of its survival—as well as humanity's survival—is in our hands.
Electric vehicle sales took off in 2018, with a record two million units sold around the world, according to a new Deloitte analysis.
What's more, the accounting firm predicts that another 21 million electric cars will be on the road globally over the next decade due to growing market demand for clean transportation, government subsidies, as well as bans on fossil fuel cars.
Teenager Alex Weber and friends collected nearly 40,000 golf balls hit into the ocean from a handful of California golf courses.
Alex Weber /
CC BY-ND
Southwest Greenland had the most consistent ice loss from 2003 to 2012. Eqalugaarsuit, Ostgronland, Greenland on Aug. 1, 2018.
Rob Oo / CC BY 2.0
Greenland is melting about four times faster than it was in 2003, a new study published Monday in the Proceedings of the National Academy of Sciences found, a discovery with frightening implications for the pace and extent of future sea level rise.
"We're going to see faster and faster sea level rise for the foreseeable future," study lead author and Ohio State University geodynamics professor Dr. Michael Bevis said in a press release. "Once you hit that tipping point, the only question is: How severe does it get?"
Finally, some good news about the otherwise terrible partial government shutdown. A federal judge ruled that the Trump administration cannot issue permits to conduct seismic testing during the government impasse.
The Justice Department sought to delay—or stay—a motion filed by a range of coastal cities, businesses and conservation organizations that are suing the Trump administration over offshore oil drilling, Reuters reported. The department argued that it did not have the resources it needed to work on the case due to the shutdown.
Most people have heard of the Amazon, South America's famed rainforest and hub of biological diversity. Less well known, though no less critical, is the Pantanal, the world's largest tropical wetland.
Like the Amazon, the Pantanal is ecologically important and imperiled. Located primarily in Brazil, it also stretches into neighboring Bolivia and Paraguay. Covering an area larger than England at more than 70,000 square miles, the massive wetland provides irreplaceable ecosystem services that include the regulation of floodwaters, nutrient renewal, river flow for navigability, groundwater recharge and carbon sequestration. The wetland also supports the economies of the four South American states it covers.
Demonstrators participate in a protest march over agricultural policy on Jan. 19 in Berlin, Germany. Carsten Koall / Getty Images Europe
By Andrea Germanos
Organizers said 35,000 people marched through the streets of the German capital on Saturday to say they're "fed up" with industrial agriculture and call for a transformation to a system that instead supports the welfare of the environment, animals and rural farmers.

The fire that erupted after a pipeline explosion in Mexico Friday. FRANCISCO VILLEDA / AFP / Getty Images
By Patrick Rogers
If you have ever considered making the switch to an environmentally friendly electric vehicle, don't drag your feet. Though EV prices are falling, and states are unveiling more and more public charging stations and plug-in-ready parking spots, the federal government is doing everything it can to slam the brakes on our progress away from gas-burning internal combustion engines. President Trump, likely pressured by his allies in the fossil fuel industry, has threatened to end the federal tax credits that have already helped put hundreds of thousands of EVs on the road—a move bound to harm not only our environment but our economy, too. After all, the manufacturing and sale of EVs, hybrids, and plug-in hybrids supported 197,000 jobs in 2017, according to the most recent U.S. Energy and Employment Report.