This website uses cookies to ensure you get the best experience while browsing it. By clicking 'Got It' you're accepting these terms.
Kinetic Energy-Harvesting Shoes Could Charge Your Smartphone or Be Wi-Fi Hot Spot
Feb. 13, 2016 09:02AM EST
Business
Mechanical engineers at the University of Wisconsin-Madison have developed electricity-generating footwear that lets you charge mobile electronic devices simply by walking.
As it turns out, "human walking carries a lot of energy," as UW-Madison mechanical engineering associate professor Tom Krupenkin said in a university news release.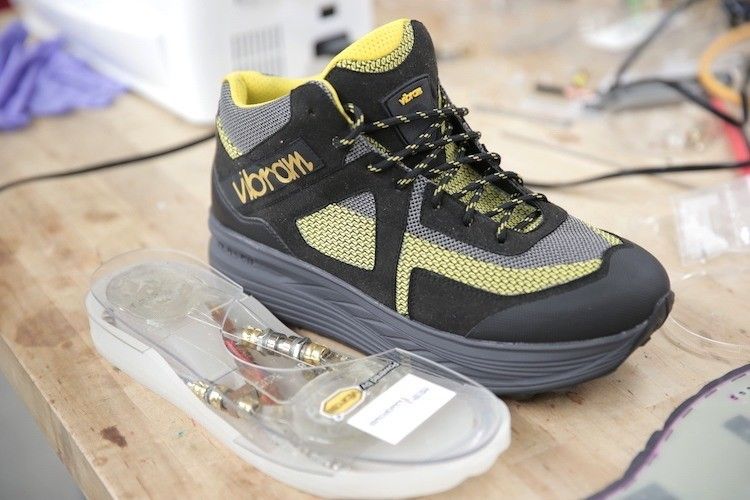 Researchers say this shoe could directly power mobile devices through a charging cable or act as a Wi-Fi hot spot. Photo credit: University of Wisconsin-Madison, College of Engineering
"Theoretical estimates show that it can produce up to 10 watts per shoe, and that energy is just wasted as heat," Krupenkin continued. "A total of 20 watts from walking is not a small thing, especially compared to the power requirements of the majority of modern mobile devices." A typical smartphone, for instance, requires less than two watts.
As the news release points out, the shoes could be especially useful for the military as soldiers have to carry heavy electronics such as flashlights, night vision devices, GPS and many pounds of batteries on top of that.
The shoes could also be a source of electricity to people living in developing countries where access to reliable power sources can be difficult.
In the video below, Krupenkin uses the shoes to directly power an LED flashlight.
There are already many other power-generating-shoe concepts, but successfully pulling it off for the market is quite the difficult task. That's because "traditional approaches to energy harvesting and conversion don't work well for the relatively small displacements and large forces of footfalls," according to the researchers.
However, by using a process called "reverse electrowetting," a phenomenon that Krupenkin and senior scientist J. Ashley Taylor pioneered in 2011, a conductive liquid interacts with a nanofilm-coated surface and the mechanical energy is directly converted into electrical energy.
This method can generate an electrical charge but it requires a high-frequency energy source such as a quickly vibrating or rotating motor.
To solve this problem, the researchers came up with the so-called "bubbler" method which combines reverse electrowetting with the growth and pop of, yes, bubbles.
According to the news release:
The researchers' bubbler device—which contains no moving mechanical parts—consists of two flat plates separated by a small gap filled with a conductive liquid. The bottom plate is covered with tiny holes through which pressurized gas forms bubbles. The bubbles grow until they're large enough to touch the top plate, which causes the bubble to collapse.
The speedy, repetitive growth and collapse of bubbles pushes the conductive fluid back and forth, generating electrical charge.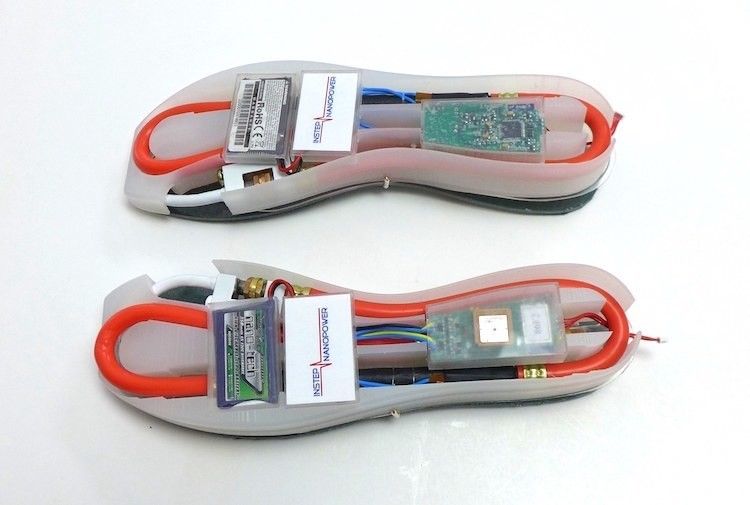 An energy harvester, battery and electronics suite are integrated into each sole. Photo credit: University of Wisconsin-Madison
"The high frequency that you need for efficient energy conversion isn't coming from your mechanical energy source but instead, it's an internal property of this bubbler approach," Krupenkin said.
"The bubbler really shines at producing high power densities. For this type of mechanical energy harvesting, the bubbler has a promise to achieve by far the highest power density ever demonstrated."
According to the engineers, their harvester can be integrated with a broad range of electronic devices embedded in a shoe, such as a Wi-Fi hot spot that acts as a "middleman" between mobile devices and a wireless network. This process "requires no cables, dramatically cuts the power requirements of wireless mobile devices and can make a cellphone battery last 10 times longer between charges," they noted.
Krupenkin and Taylor and their startup company, InStep NanoPower, is currently seeking to partner with industry and commercialize a footwear-embedded energy harvester.
The research team published their findings in a paper on Nov. 16, 2015 in the journal Scientific Reports. Additional authors on the s paper include UW-Madison mechanical engineering graduate students Tsung-Hsing Hsu and Supone Manakasettharn.
Learn more about the footwear in the video below.
YOU MIGHT ALSO LIKE
Check Out These Super Cool Lamps Literally Made From Mushrooms
Leonardo DiCaprio Joins Carbon Capture Technology Company to 'Bring About a More Sustainable Future for Our Planet'
Kelly Slater: World's 'Best Man-Made Wave' Is Powered 100% by the Sun
Health Scare Led This Woman to Launch an Organic Tampon Company
EcoWatch Daily Newsletter
Tuna auctions are a tourist spectacle in Tokyo. Outside the city's most famous fish market, long queues of visitors hoping for a glimpse of the action begin to form at 5 a.m. The attraction is so popular that last October the Tsukiji fish market, in operation since 1935, moved out from the city center to the district of Toyosu to cope with the crowds.

gmnicholas / E+ / Getty Images
Kristan Porter grew up in a fishing family in the fishing community of Cutler, Maine, where he says all roads lead to one career path: fishing. (Porter's father was the family's lone exception. He suffered from terrible seasickness, and so became a carpenter.) The 49-year-old, who has been working on boats since he was a kid and fishing on his own since 1991, says that the recent warming of Maine's cool coastal waters has yielded unprecedented lobster landings.
Aerial view of lava flows from the eruption of volcano Kilauea on Hawaii, May 2018. Frizi / iStock / Getty Images
Hawaii's Kilauea volcano could be gearing up for an eruption after a pond of water was discovered inside its summit crater for the first time in recorded history, according to the AP.
The Eqip Sermia Glacier is seen behind a moraine left exposed by the glacier's retreat during unseasonably warm weather on Aug. 1 at Eqip Sermia, Greenland. Sean Gallup / Getty Images
hadynyah / E+ / Getty Images
By Johnny Wood
The Ganges is a lifeline for the people of India, spiritually and economically. On its journey from the Himalayas to the Bay of Bengal, it supports fishermen, farmers and an abundance of wildlife.
The river and its tributaries touch the lives of roughly 500 million people. But having flowed for millennia, today it is reaching its capacity for human and industrial waste, while simultaneously being drained for agriculture and municipal use.
Here are some of the challenges the river faces.
By Jake Johnson
As a growing number of states move to pass laws that would criminalize pipeline protests and hit demonstrators with years in prison, an audio recording obtained by The Intercept showed a representative of a powerful oil and gas lobbying group bragging about the industry's success in crafting anti-protest legislation behind closed doors.
Reposted with permission from our media associate Common Dreams.

DESIREE MARTIN / AFP / Getty Images
Wildfires raging on Gran Canaria, the second most populous of Spain's Canary Islands, have forced around 9,000 people to evacuate.