Kinetic Energy-Harvesting Shoes Could Charge Your Smartphone or Be Wi-Fi Hot Spot
Mechanical engineers at the University of Wisconsin-Madison have developed electricity-generating footwear that lets you charge mobile electronic devices simply by walking.
As it turns out, "human walking carries a lot of energy," as UW-Madison mechanical engineering associate professor Tom Krupenkin said in a university news release.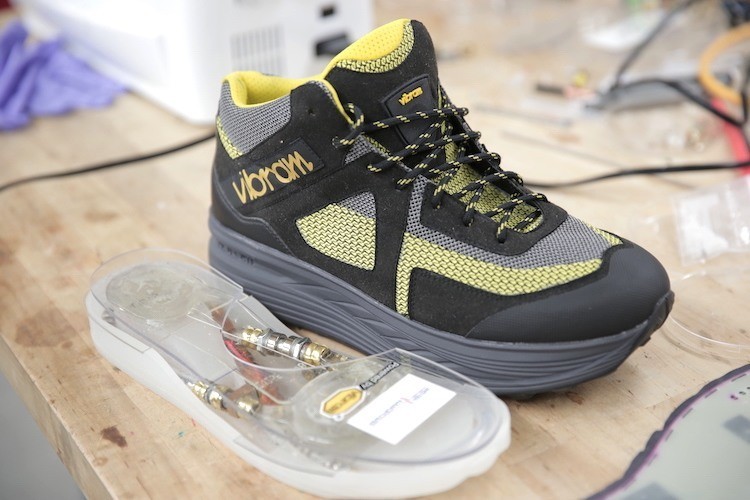 Researchers say this shoe could directly power mobile devices through a charging cable or act as a Wi-Fi hot spot. Photo credit: University of Wisconsin-Madison, College of Engineering
"Theoretical estimates show that it can produce up to 10 watts per shoe, and that energy is just wasted as heat," Krupenkin continued. "A total of 20 watts from walking is not a small thing, especially compared to the power requirements of the majority of modern mobile devices." A typical smartphone, for instance, requires less than two watts.
As the news release points out, the shoes could be especially useful for the military as soldiers have to carry heavy electronics such as flashlights, night vision devices, GPS and many pounds of batteries on top of that.
The shoes could also be a source of electricity to people living in developing countries where access to reliable power sources can be difficult.
In the video below, Krupenkin uses the shoes to directly power an LED flashlight.
There are already many other power-generating-shoe concepts, but successfully pulling it off for the market is quite the difficult task. That's because "traditional approaches to energy harvesting and conversion don't work well for the relatively small displacements and large forces of footfalls," according to the researchers.
However, by using a process called "reverse electrowetting," a phenomenon that Krupenkin and senior scientist J. Ashley Taylor pioneered in 2011, a conductive liquid interacts with a nanofilm-coated surface and the mechanical energy is directly converted into electrical energy.
This method can generate an electrical charge but it requires a high-frequency energy source such as a quickly vibrating or rotating motor.
To solve this problem, the researchers came up with the so-called "bubbler" method which combines reverse electrowetting with the growth and pop of, yes, bubbles.
According to the news release:
The researchers' bubbler device—which contains no moving mechanical parts—consists of two flat plates separated by a small gap filled with a conductive liquid. The bottom plate is covered with tiny holes through which pressurized gas forms bubbles. The bubbles grow until they're large enough to touch the top plate, which causes the bubble to collapse.
The speedy, repetitive growth and collapse of bubbles pushes the conductive fluid back and forth, generating electrical charge.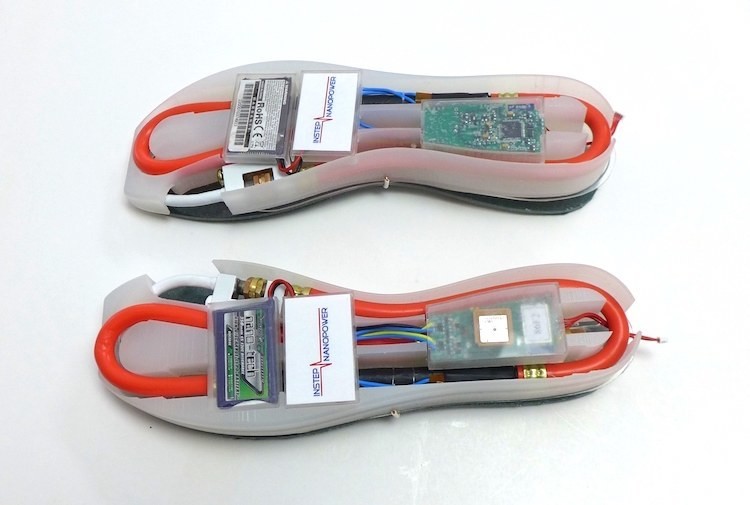 An energy harvester, battery and electronics suite are integrated into each sole. Photo credit: University of Wisconsin-Madison
"The high frequency that you need for efficient energy conversion isn't coming from your mechanical energy source but instead, it's an internal property of this bubbler approach," Krupenkin said.
"The bubbler really shines at producing high power densities. For this type of mechanical energy harvesting, the bubbler has a promise to achieve by far the highest power density ever demonstrated."
According to the engineers, their harvester can be integrated with a broad range of electronic devices embedded in a shoe, such as a Wi-Fi hot spot that acts as a "middleman" between mobile devices and a wireless network. This process "requires no cables, dramatically cuts the power requirements of wireless mobile devices and can make a cellphone battery last 10 times longer between charges," they noted.
Krupenkin and Taylor and their startup company, InStep NanoPower, is currently seeking to partner with industry and commercialize a footwear-embedded energy harvester.
The research team published their findings in a paper on Nov. 16, 2015 in the journal Scientific Reports. Additional authors on the s paper include UW-Madison mechanical engineering graduate students Tsung-Hsing Hsu and Supone Manakasettharn.
Learn more about the footwear in the video below.
YOU MIGHT ALSO LIKE
Check Out These Super Cool Lamps Literally Made From Mushrooms
Leonardo DiCaprio Joins Carbon Capture Technology Company to 'Bring About a More Sustainable Future for Our Planet'
Kelly Slater: World's 'Best Man-Made Wave' Is Powered 100% by the Sun
Health Scare Led This Woman to Launch an Organic Tampon Company
Dow CEO Andrew Liveris and President Donald Trump in February.
U.S. Environmental Protection Agency (EPA) administrator Scott Pruitt met with Dow Chemical CEO Andrew Liveris before deciding to reverse an earlier EPA decision to ban the company's toxic and widely used pesticide, chlorpyrifos.
According to records obtained by the Associated Press, the EPA boss met with Liveris for about 30 minutes at a Houston hotel on March 9. Later that month, Pruitt announced that he would no longer pursue a ban on chlorpyrifos from being used on food, ignoring his agency's own review that even small amounts of the pesticide could impact fetus and infant brain development.
Keep reading...
Show less
www.facebook.com
Native communities and environmental justice advocates in Louisiana opened a new resistance camp Saturday to oppose the proposed Bayou Bridge Pipeline project. Called L'eau Est La Vie, or Water is Life, the camp will consist of floating indigenous art structures on rafts and constant prayer ceremonies during its first two weeks.
Keep reading...
Show less
Continuing its march toward elimination of key Clean Water Act protections, the U.S. Environmental Protection Agency (EPA) on Tuesday issued a formal notice of withdrawal of the Obama administration's rule defining which waters can be protected against pollution and destruction under federal law.
Keep reading...
Show less
The U.S. Environmental Protection Agency (EPA) is not doing enough to prevent weed resistance to the herbicide glyphosate (Roundup) says a new report from the EPA's Inspector General's Office, which draws in part on a report from the agbiotech company, Pioneer: Weed Management in the Era of Glyphosate Resistance.
Keep reading...
Show less
SUMR
When it comes to the latest wind turbine technologies, size matters. A group of six institutions and universities is designing an offshore wind turbine that will stand 500 meters in height. That's taller than the Eiffel Tower and the Empire State Building.
The research team, led by researchers at the University of Virginia, believes that its wind turbine concept will produce 50 megawatts of peak power, or about 10 times more powerful than conventional wind turbines.
Keep reading...
Show less
www.facebook.com
Natural gas is often considered the cleanest fossil fuel, but could it actually be dirtier than coal?
Watch as New York Times reporter Mark Bittman, in the above Year's of Living Dangerously video, investigates how much methane is leaking at fracking wells. Find out how the natural gas industry's claims compare to what scientists are reporting.
See what happens when Gaby Petron, an atmospheric scientist with NOAA, converts her van into a mobile methane detector and sets out across northeastern Colorado for two years, taking thousands of readings to uncover the truth.
www.youtube.com
Adrian Grenier was named UN Goodwill Ambassador earlier this month. The Hollywood actor, best known for his iconic role of A-list movie star Vincent Chase in the HBO smash hit and film Entourage, will advocate for drastically reducing single-use plastic and protection of marine species, and encourage his followers to make conscious consumer choices to reduce their environmental footprint, according to the UN Environment announcement.
"Together we must usher in a new era of compassion and carefulness through forward thinking environmental programs to drive measurable change," Grenier said. "I am personally committed to creating ways in which the global community can come together to help solve our most critical climate crises through routine, collective action.
"The more we connect to nature in our daily lives, the more dedicated we will become to our individual commitments. Together, I believe we can go further, faster in our race to achieve the UN Sustainable Development Goals by 2030."
Watch the video above to learn more.
The last week has seen a flood of stories on clean energy's prospects—stories that make your head spin with their conflicting tales of renewable energy's prospects of ending our dangerous addiction to fossil fuel power from coal and gas.
Keep reading...
Show less