Keystone XL Opponents Rally in All 50 States
Jan. 14, 2015 11:44AM EST
Energy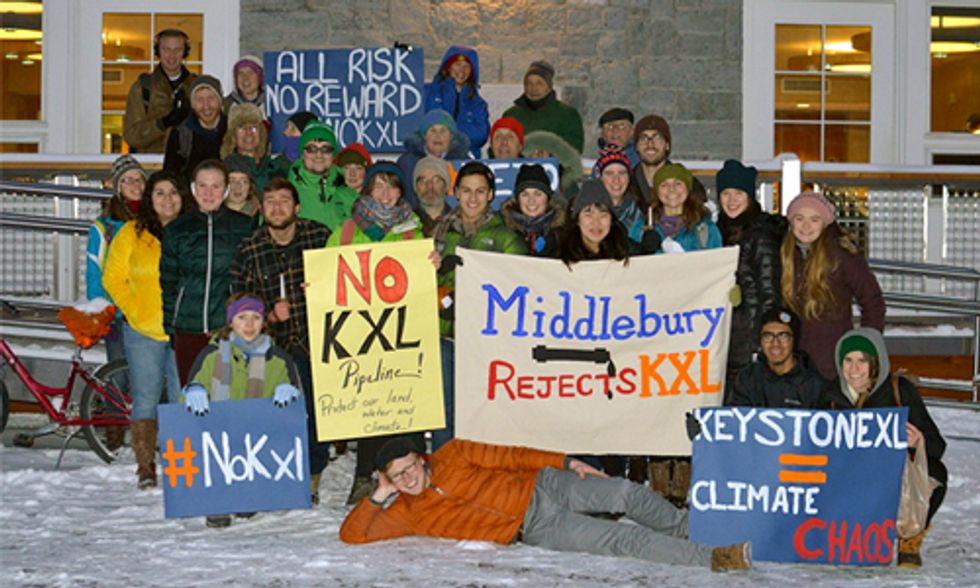 Thousands of people rallied yesterday in all 50 states urging President Obama to reject the Keystone XL pipeline. At 158 events from Maine to Los Angeles, with many weathering frigid temperatures in the single digits, people chanted, sang songs, and held signs and banners calling on President Obama to veto the Keystone XL bill if and when the bill passes the Senate.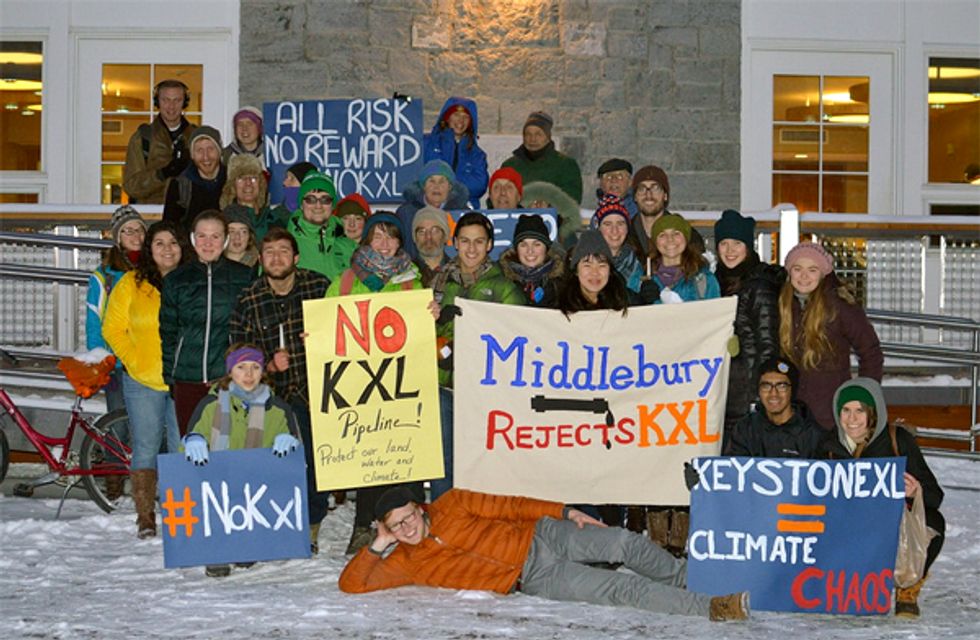 From high school students rallying in Mission, South Dakota on the Rosebud Sioux Indian reservation, where tribal leaders recently called the Keystone XL "an act of war" to Nebraska where Omaha Pipeline Fighters rallied outside the offices of U.S. Rep Brad Ashford (D-NE) to condemn his vote for pro-Keystone legislation in Congress to Seattle, Washington where hundreds encircled the Henry Jackson Federal Building to Milwaukee, Wisconsin where activists spelled out, "Reject KXL Now" in lights on a highway overpass to Washington, DC where a groups delivered 500,000 signatures calling on President Obama to veto the Keystone XL, last night's events showed solidarity among people across America that know the Keystone XL pipeline is the wrong direction for our country, our climate and our future.
"There's a healthy and growing movement of people in this country who want to see dirty fuels like tar sands stay in the ground and move rapidly to clean energy," said Michael Brune, executive director of the Sierra Club. "The events taking place today across the nation let President Obama know that the people have his back. If the president denies the Keystone XL pipeline it attests to the fact that nobody voted for dirty air, polluted water and climate denial."
Yesterday was also a big day in the Senate when Senator Bernie Sanders of Vermont introduced an amendment that would officially put Congress on record with their position on climate change.

"History will judge President Obama harshly if he fails to reject Keystone XL," said Rainforest Action Network climate program director Amanda Starbuck. "If the president is serious about his legacy on climate change, a clear 'no' on this destructive project is the only course of action. The science is clear: to avoid a climate catastrophe, we have to leave nearly all Canadian tar sands oil in the ground. It's time for the president to reject the pipeline."
Opponents of the pipeline are banking on President Obama's clear indication that he will veto the Keystone XL pipeline bill.
"We're here today to send one message loud and clear to this White House: the time for rejection is now," said Jason Kowalski, policy director for 350.org. "A lot's changed since we began this campaign, but the facts haven't—Keystone XL puts American land, air and water at risk while releasing tons of new carbon into the atmosphere to hasten the worst impacts of climate change. It's bad public policy, but President Obama's in a better position than ever before to put this issue to bed, and reject this pipeline once and for all."
YOU MIGHT ALSO LIKE
Tell President Obama: Veto Keystone XL Pipeline Bill
Senator Bernie Sanders Asks: Does Congress Believe Climate Change Is Real
Robert Redford: Why Keystone XL Is the Wrong Choice for America
EcoWatch Daily Newsletter