This website uses cookies to ensure you get the best experience while browsing it. By clicking 'Got It' you're accepting these terms.
Jail Time for Boss Who Ordered Employees to Dump Fracking Waste in Ohio River
Aug. 07, 2014 12:23PM EST
Fracking
The owner of a Youngstown, Ohio-based company was sentenced on Tuesday to more than two years in prison for ordering his employees to repeatedly dump toxic fracking waste into a local waterway.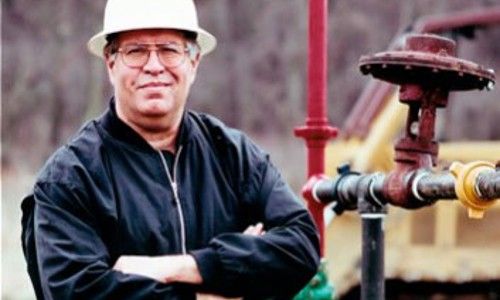 Ben Lupo. Photo: Ohio Citizen Action
Between Nov. 1, 2012 and Jan. 31, 2013, employees of Hardrock Excavating LLC, which provided services to the oil and gas industry including storing fracking waste, made over 30 discharges of fracking waste into a tributary of the Mahoning River. Sixty-four-year old Benedict W. Lupo, then-owner of Hardrock Excavating, directed his employees to dump the waste, which included benzene and toluene, under the cover of night into the waterway.
According to reporting by the Cleveland Plain Dealer, "employees tried to talk Lupo out of it, but he refused. [The judge] also pointed out a prosecutor's pictures that detailed six weeks of clean-up in an oil-soaked creek."
Ohio Environmental Protection Agency on-scene coordinator Kurt Kollar was among the witnesses. In his testimony he said, "There was no sign of aquatic life, whatsoever," in a tributary right after the fracking waste discharges, the Youngstown Vindicator reports.
According to previous reporting by The Vindicator, Lupo's lawyers said he ordered his employees to carry out the illegal dumping in order to keep them working because the company's wastewater wells had been shut over connections to earthquakes.
In addition to a 28-month prison sentence, U.S. District Judge Donald Nugent fined Lupo $25,000. The maximum sentence would have been three years in prison and a $250,000 fine.
Lupo had pleaded guilty in March to violating the Clean Water Act. Weeks later, the Ohio Department of Natural Resources permanently revoked operating permits for Hardrock Excavating. Two employees also previously admitted to a Clean Water Act violation. They were given three years probation.
"Ben Lupo put his own interests ahead of everyone else's, and he deserved to face a severe penalty for his actions," Ohio Attorney General Mike DeWine said in a statement. "The recent water crisis in Toledo is a grave reminder of how important it is to protect our waterways. Those who commit crimes against the environment jeopardize the health and safety of Ohioans, and our natural resources and wildlife. They must be held accountable."
"Intentionally breaking environmental laws is not the cost of doing business, it's going to cost business owners their freedom," added Steven M. Dettelbach, the U.S. Attorney for the Northern District of Ohio.
You Might Also Like
Ohio Executive Pleads Guilty, Faces Three Years in Prison For Dumping Fracking Wastewater
Ohio is Not the Nation's Fracking Waste Toilet
Dumping of Toxic Fracking Wastewater Reaffirms Natural Gas Industry Free-for-All in Ohio
EcoWatch Daily Newsletter
Environmental Investigation Agency
Last week, the Peruvian Palm Oil Producers' Association (JUNPALMA) promised to enter into an agreement for sustainable and deforestation-free palm oil production. The promise was secured by the U.S. based National Wildlife Federation (NWF) in collaboration with the local government, growers and the independent conservation organization Sociedad Peruana de Ecodesarrollo.
Pixabay
Leaked documents show that Jair Bolsonaro's government intends to use the Brazilian president's hate speech to isolate minorities living in the Amazon region. The PowerPoint slides, which democraciaAbierta has seen, also reveal plans to implement predatory projects that could have a devastating environmental impact.
XL CATLIN SEAVIEW SURVEY / THE OCEAN AGENCY
Hope may be on the horizon for the world's depleted coral reefs thanks to scientists who successfully reproduced endangered corals in a laboratory setting for the first time, according to Reuters.
Last week we received positive news on the border wall's imminent construction in an Arizona wildlife refuge. The Trump administration delayed construction of the wall through about 60 miles of federal wildlife preserves.
PhotoAlto / Frederic Cirou / Getty Images
Drinking water treated with fluoride during pregnancy may lead to lower IQs in children, a controversial new study has found.
National Institude of Allergy and Infectious Disease
A Greenpeace rally calls for a presidential campaign climate debate on June 12 in Washington, DC. Sarah Silbiger / Getty Images