Inland Oil Spills Could Threaten Lakes, Streams and Rivers if Keystone XL Approved
Jun. 08, 2012 12:38PM EST
Energy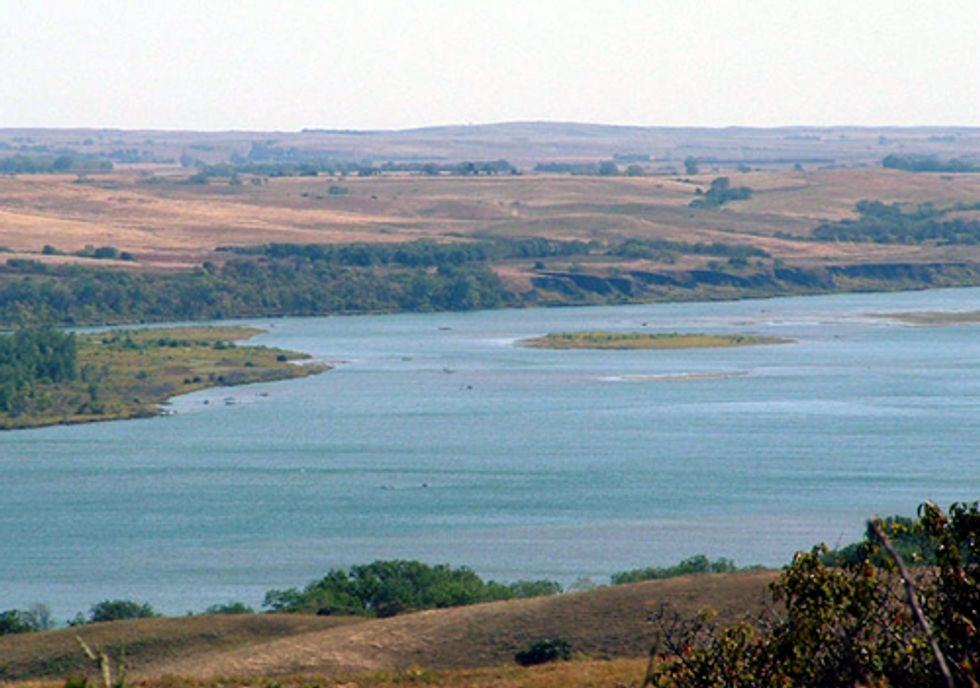 Below is a recap of this week's news related to the ongoing Keystone XL tar sands pipeline. A new report is more cause for concern regarding inland oil spills and the potential that Keystone XL could make worse and existing problem. Also, Republicans continue to slow negotiations on the transportation bill with their misguided insistence that TransCanada's tar sands pipeline be included. See below for more:

News & Developments:
This month's Risk Analysis magazine found that there is a significant risk of oil spills at inland locations that threaten lakes, streams, and rivers. This study is particularly relevant as Nebraska and other inland states determine the environmental impact of the Keystone XL tar sands pipeline. Currently, the Nebraska Department of Environmental Quality has no particular process or checklist for determining whether or not a pipeline is environmentally sound.
USA Today reported on the findings saying, "Despite the attention paid to the 2010 Gulf of Mexico oil spill disaster, which released about 4.9 million barrels of oil into the Gulf of Mexico, the majority of oil spills, about 60%, are inland ones…The data in the study showed that inland crude oil spills occurred way more often near small towns of fewer than 10,000 people, accounting for 77% of the spills, which might raise concerns about response times to accidents. The study evaluated several dozen 'high-risk' watershed locations, rating them as two to five times as vulnerable to spills than the great mass of other watershed locations. 'Mostly it is where there are pipelines,' Brody says, not a big surprise."

Senate conferees attempted to move forward negotiations on the transportation bill putting together a proposal for their House colleagues. However, The Hill reports House Republicans "gave it an initially cool reception" because Senators Boxer and Inhofe, the bipartisan duo who pitched the plan, did not include a provision for the Keystone XL tar sands pipeline.
While Republicans appear prepared to risk the passage of a necessary bill with their pet project, as the White House is threatening a veto of the bill if it includes the pipeline add-on. Politico's Morning Transportation this week quoted White House spokesperson Matt Lehrich who said "the GOP needs to 'put jobs and safety ahead of partisan politics.'" Anthony Swift of the NRDC agrees. Swift summed up why "Keystone has no place in the transportation bill" in an op-ed piece in The Hill.

In an AARP interview, President Obama states that Keystone XL is an export pipeline that will not reduce U.S. gas prices and acknowledges that the best way to keep gas prices low is to reduce demand. From the President: "they want to build a pipeline to pump from Canada to the Gulf of Mexico, where they can then export that oil all around the world. It's not going to make a dent in gas prices here in the United States."

Quotes of the Week:
"We're fed up with the tactics. We demand transparency. We demand EPA involvement. And we demand that our concerns be openly and publicly addressed." – David Daniel, landowner affected by the southern segment of the Keystone XL pipeline

"Right now, we delivered our transportation [proposal] to them. The other [issues] we'll deal with after we do that. This is a transportation bill." – Senator Barbara Boxer
In Case You Missed It:
It's Time to Move America Beyond Oil – The Sierra Club released an animation this week, narrated by actor Joshua Jackson, called "The Dirtiest Oil on Earth" which illustrates the dangers of spills, destruction of natural areas, contamination of air and water supplies and political influence exerted by the oil industry to build pipeline projects designed to transport tar sands across the U.S. to reach foreign markets.
Netroots Nation: The Last Stand Against the XL Pipeline – Esquire blogger Charles Pierce stopped by a panel held by folks taking a stand against Keystone XL at Netroots Nation.
Keystone XL: Will EPA concern over 61 water crossings go unanswered? – "An EPA letter that was once a mere blip on the radar for the Keystone XL oil pipeline may now be the last federal regulatory obstacle facing the controversial project."
Visit EcoWatch's KEYSTONE XL page for more related news on this topic.
EcoWatch Daily Newsletter