This website uses cookies to ensure you get the best experience while browsing it. By clicking 'Got It' you're accepting these terms.
In World Cup Spotlight, Amazon Tribes Call for End to Deforestation
Jun. 17, 2014 08:21AM EST
Chief Raoni Metuktire, head of the Kayapò indigenous group from the Xingu region, deep in the Amazon rainforest, sits in a packed lecture hall in London. With his jutting lip plate and large feather headdress, the elderly, gently-spoken tribal leader is an imposing presence.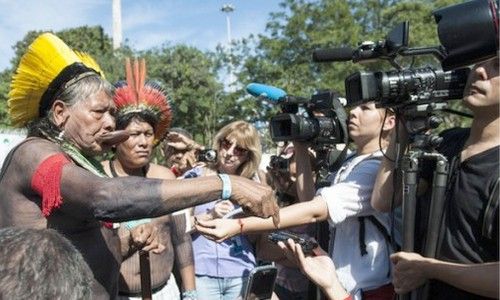 Photo credit: Sue Cunningham/ SCP
"When I'm gone I want my children and grandchildren to live in the forest as I have done," he says. "I ask for your help. In the past, we didn't knock down the trees, destroy the land and build dams, but now all that is happening.
"The climate in the forest is changing: it is a lot hotter than it used to be, and the pattern of the winds is altering."
Lungs of the World
The Amazon rainforest—often referred to as the lungs of the world—has a major influence on the world's climate. Its trees and vegetation act as a vital carbon sink, soaking up carbon dioxide from the atmosphere.
Megaron Txucarramãe, a long-time campaigner for land rights for indigenous tribes in the Amazon region, sits alongside Chief Raoni, his uncle.
"The logging in our region is increasing," he says. "Our lands and those of other indigenous tribes should be properly demarcated, but the Brazilian government is seeking to alter the constitution and undermine our land rights, giving more power to loggers, dam builders and mining companies.
"We went to Brasilia [Brazil's capital] to protest, but we were received with rubber bullets, tear gas and pepper spray. While the government worries about building stadiums for the World Cup, our land is being threatened. I would like to ask the world to pay attention to our problems and help us."
In a tour of European capitals that coincided with the opening of the World Cup, the two tribal leaders met Prince Albert of Monaco and, in London, Prince Charles. They also took their message to the Norwegian royal family.
The Kayapò are by far the largest ethnic group in the Xingu region. After years of campaigning and sometimes violent struggle, the group succeeded in having 19,000 square miles of land demarcated as an indigenous reserve in 1992.
The tribal leaders say the government of President Dilma Rousseff—which faces an election in October—is now threatening the land rights of indigenous groups and the health of the whole Amazon by allowing mining and other projects to go ahead.
In recent years, Brazil has embarked on a wide-ranging dam building program in the Amazon. The Xingu river, a major tributary of the Amazon river, runs through the Kayapò's lands. Despite various court judgements and continuing protests by the Kayapò and other groups, construction of the Belo Monte dam—which will be one of the world's biggest when it is completed—began on the Xingu in 2011.
After years of decline in deforestation rates in the Amazon rainforest, they then increased dramatically by 28 percent over the 2012 to 2013 period, with many blaming controversial reforms to Brazil's forest laws pushed through by a powerful and extremely wealthy land lobby.
Weather Patterns
In recent months, large parts of Brazil have been suffering a drought that is one of the worst on record. Environmentalists say deforestation in the Amazon has disturbed weather patterns and has resulted in less rainfall in many areas.
Patrick Cunningham, who has travelled extensively through the Xingu region, photographing and documenting the lives of the indigenous tribes, is a spokesman for Tribes Alive, a group that highlights indigenous peoples' issues.
Cunningham said: "Chief Metuktire and Megaron are not only asking for an end to the destruction of their lands, they are also campaigning to stop what is a suicidal rush to develop their region.
"Such actions will not only be a setback for them but also for the whole of Brazil as rain patterns alter farther south, in what is the most agriculturally productive region of the country."
EcoWatch Daily Newsletter
By Anita Desikan
The Trump administration is routinely undermining your ability — and mine, and everyone else's in this country — to exercise our democratic rights to provide input on the administration's proposed actions through the public comment process. Public comments are just what they sound like: an opportunity for anyone in the public, both individuals and organizations, to submit a comment on a proposed rule that federal agencies are required by law to read and take into account. Public comments can raise the profile of an issue, can help amplify the voices of affected communities, and can show policymakers whether a proposal has broad support or is wildly unpopular.
Alena Gamm / EyeEm / Getty Images
Picture this: a world where chocolate is as rare as gold. No more five-dollar bags of candy on Halloween. No more boxes of truffles on Valentine's day. No more roasting s'mores by the campfire. No more hot chocolate on a cold winter's day.
Who wants to live in a world like that?
Fabian Krause / EyeEm / Getty Images
Water protectors of all persuasions gathered in talking circles at Borderland Ranch in Pe'Sla, the heart of the sacred Black Hills, during the first Sovereign Sisters Gathering. At the center are Cheryl Angel in red and white and on her left, Lyla June. Tracy Barnett
By Tracy L. Barnett
Sources reviewed this article for accuracy.
For Sicangu Lakota water protector Cheryl Angel, Standing Rock helped her define what she stands against: an economy rooted in extraction of resources and exploitation of people and planet. It wasn't until she'd had some distance that the vision of what she stands for came into focus.
Hedges, 2019 © Hugh Hayden. All photos courtesy of Lisson Gallery
By Patrick Rogers
"I'm really into trees," said the sculptor Hugh Hayden. "I'm drawn to plants."
BruceBlock / iStock / Getty Images
Thanks to their high concentration of powerful plant compounds, foods with a natural purple hue offer a wide array of health benefits.